ARTS & ENTERTAINMENT
This New Western Australian Event Could Show Us What the Future of Aussie Music Festivals Looks Like
Good Day Sunshine is set to debut a game-changing festival format, featuring four separate audience quadrants and a rotating central stage.
This New Western Australian Event Could Show Us What the Future of Aussie Music Festivals Looks Like
Good Day Sunshine is set to debut a game-changing festival format, featuring four separate audience quadrants and a rotating central stage.
While much of the country is slowly starting to creep back to normality — and Melbourne has a roadmap to get there — there are some basic activities that'll be looking very different post-COVID. That includes the humble music gig and festival. With large crowds seen as a potential risk for virus transmission, all Australian states and territories still have density limits in place for gatherings and events, meaning that this year's festival season is set to be in stark contrast to all those before it.
While it's hard to tell exactly what the future of music shows looks like locally, plans for an upcoming Western Australian event could help shed some light. Hitting the Busselton Foreshore on Saturday, October 31, the inaugural Good Day Sunshine festival is set to debut a new COVID-safe festival format, featuring a revolving stage and four separate crowd areas. The design will allow event promoters Macro Music to safely host 5000 punters.
In the plans, the aptly named Turntable Stage sits at the centre of the site, rotating between four separated audience zones, each with a reduced 1250-person capacity. The lower numbers and crowd split will allow the festival to meet the state's current density restrictions of two-square-metres per person, while improving ease of contract tracing. Each of the four areas will operate as a separate event, complete with its own entry and exit point, and own amenities including bars, toilets and food outlets. A static sound system will service the entire site, while on-stage LED screens will provide all punters with concert visuals at each point of the stage's revolution.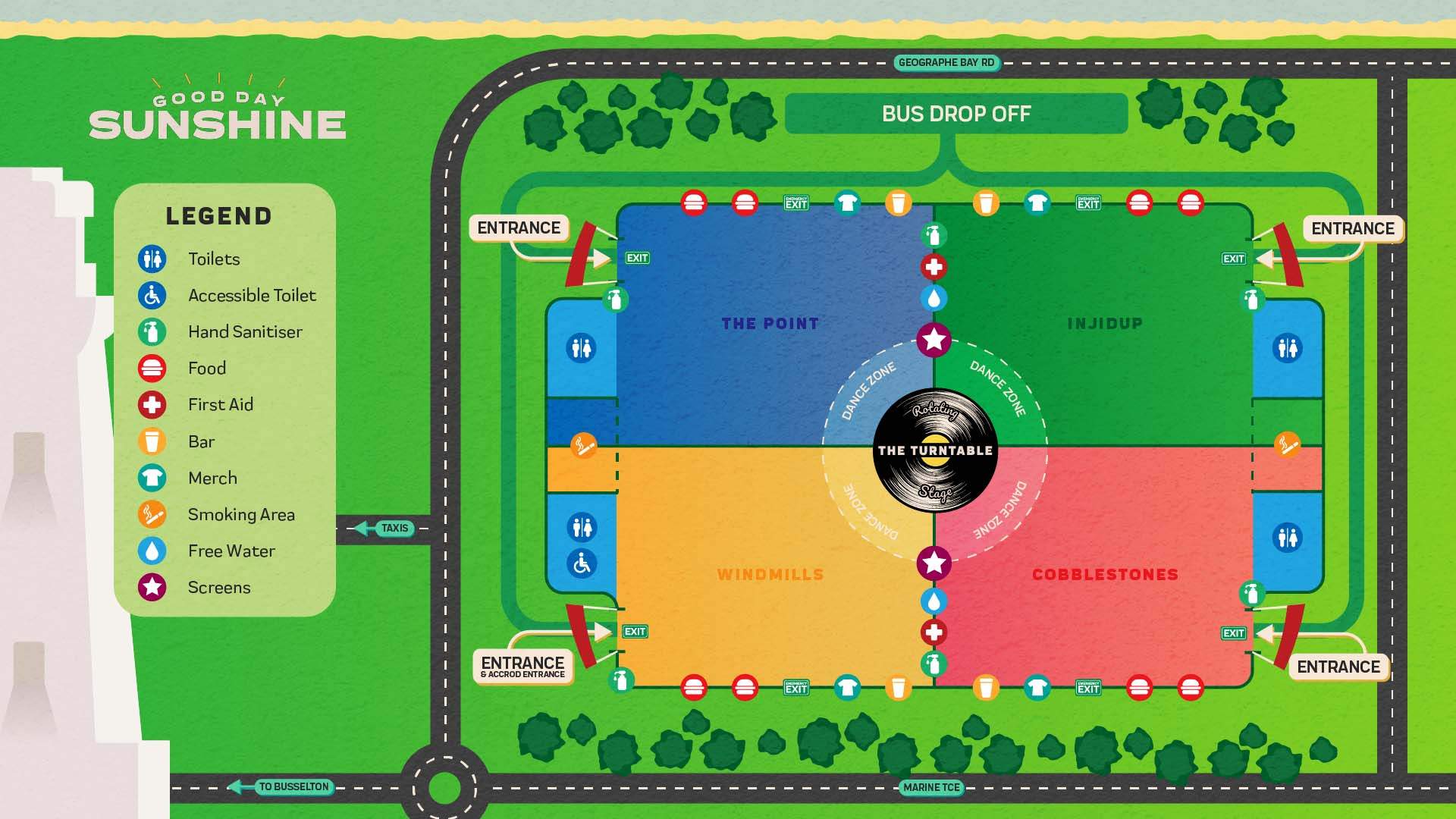 After purchasing tickets, Good Day Sunshine patrons were required to nominate one of the four quadrants, which is where they'll remain for the entirety of the festival. Each of the zones will have its own COVID safety officer, leading dedicated teams of staff that will continuously clean shared facilities and top up hand sanitiser stations.
The event is set to be closely monitored and, if it proves successful, could pave the way for future Aussie festivals. "I would be flattered if this format was to be used by other events in Australia and across the world," said Macro Music CEO and festival designer Ross Macpherson. "The sooner we can get large-scale live events back up and running, the better for everyone."
The Good Day Sunshine lineup has met some issues thanks to Western Australia's hard border lockdowns and difficulties securing approval for artists to enter the state. At this stage, acts including Eskimo Joe, John Butler Trio and Xavier Rudd are set to headline the October 31 debut.
Good Day Sunshine will debut at Barnard Park, Busselton, on October 31. Learn more about its new format at the festival's website.
Published on September 28, 2020 by Libby Curran