Melbourne's New NGV Contemporary Just Received a Massive (and Record-Setting) $100-Million Donation
Gifted by trucking magnates Lindsay and Paula Fox, it's the largest cash donation ever made to an Australian art museum by a living donor.
When any city becomes home to a brand-new art gallery, it's big news. Thanks to the NGV Contemporary, that's about to be the case in Melbourne. First announced back in 2018, and unveiling how it'll look just last month, the new 30,000-square-metre site at Southbank is set to be huge — adding a new landmark to the Victorian capital, complete with over 13,000 square metres of display space, plus a rooftop terrace and sculpture garden.
Also hefty: the cash donation the in-the-works gallery has just received, as gifted by trucking magnates Lindsay and Paula Fox. Building up almost 20 years of supporting the National Gallery of Victoria, the pair has pledged $100 million to the NGV Contemporary. Yes, that's an enormous sum — the largest cash donation ever made to an Australian art museum by a living donor, in fact.
As a result, the gallery now has a new name: The Fox: NGV Contemporary. When it opens its doors at 77 Southbank Boulevard in the coming years — with an exact launch date yet to be announced — that's what you'll see gracing the walls. Well, that and a whole heap of eye-catching modern art, of course.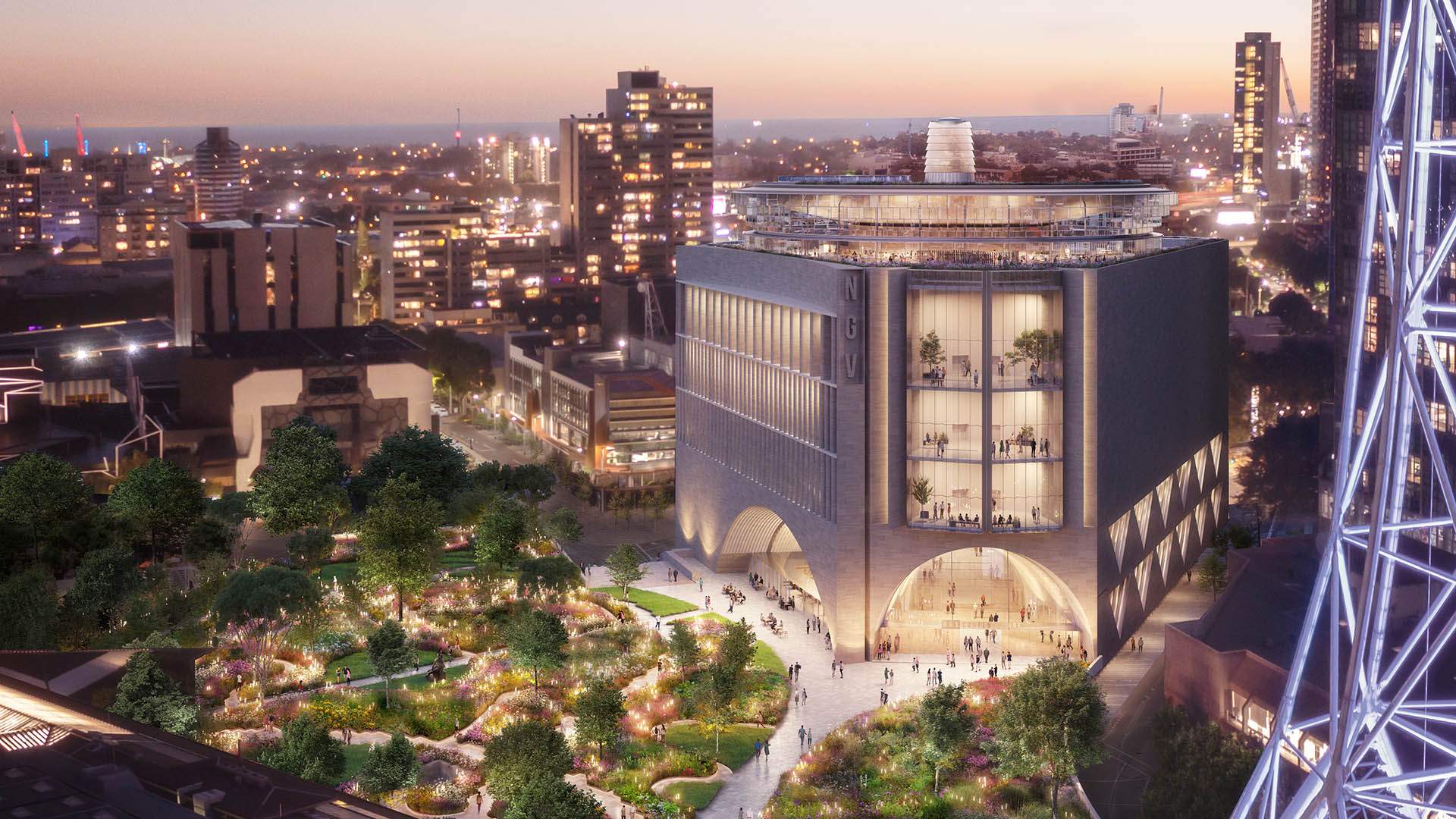 "We are truly astonished by this extraordinary act of giving from the Fox family and we are overwhelmed by the incredible generosity and support of Lindsay and Paula Fox. The Fox family should be commended on their leadership in this sector and for the real, tangible impact that their giving has, and will continue to have, on the lives of so many," said NGV director Tony Ellwood, announcing the news.
"This awe-inspiring donation will ensure that Victoria remains a centre of artistic excellence for many generations to come and that The Fox: NGV Contemporary will be a source of community pride for all Victorians, as well as a meaningful cultural legacy for the Fox family," he continued.
The Fox family's donation comes after the Ian Potter Foundation also committed $20 million to the NGV Contemporary — and it is hoped that both gifts will encourage more philanthropic support.
"Philanthropy can transform cities and NGV Contemporary will be a true game-changer — one of the largest galleries dedicated to contemporary art and design in the world and a global architectural icon," said Victorian Minister for Creative Industries Danny Pearson.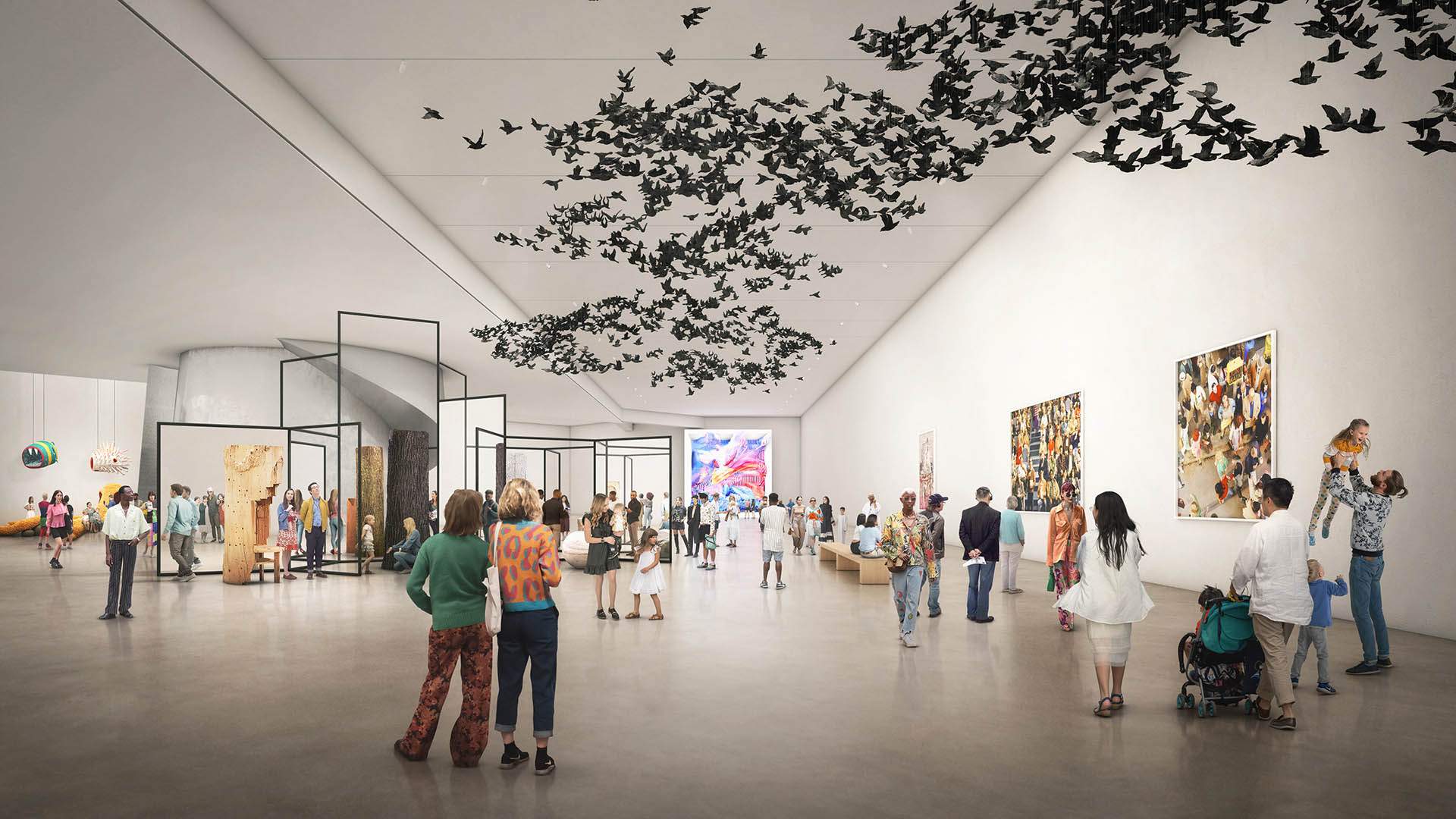 That money will go towards giving Melbourne a new must-visit gallery filled with the best and brightest in creative works, and a space that doubles as quite the spectacular site itself.
Thanks to a multidisciplinary team led by Australian architect Angelo Candalepas and Associates, the NGV Contemporary will feature stunning arched entryways, as well as a spherical hall that reaches more than 40 metres in height. That arresting-looking hall, dubbed 'omphalos' (the Ancient Greek word for the centre of the earth), will spiral upwards through all levels on the building, too. So, visitors will then be able to walk around it to scope out art — like New York's Guggenheim Museum — and get up to the rooftop.
Outside on that sky-high terrace, in addition to perusing the sculpture garden, patrons will be scoping out vistas over the CBD, parklands and the Yarra Ranges — views never seen by the general public before.
Also among the highlights: a large cafe that'll connect to an expanded public parkland, a multi-level veranda on the building's eastern side, a new NGV design store, a restaurant and member's lounge, and educational spaces, studios and laboratories focused on conserving artwork.
And, of course, there'll be large and flexible exhibition spaces that'll allow the NGV to host international blockbuster exhibitions — although with Chanel and Picasso showcases at NGV International in 2022, it hasn't been doing too badly in that department. Also, the new gallery spaces will also enable the NGV to present programs drawing upon its permanent collection of Australian and international contemporary art and design as well.
The Fox: NGV Contemporary will be located at 77 Southbank Boulevard, Melbourne. For more information, head to the NGV website. 
Images: Renders of winning concept design for NGV Contemporary by Angelo Candalepas and Associates, by Darcstudio and Secchi Smith.
Introducing Concrete Playground Trips
Book unique getaways and adventures dreamed up by our editors