The Best Advice Ever: TLC's Chilli on Career Longevity, Cruisy Hits, and Staying Cute and Comfortable
We chatted with Chilli from iconic 90s favourites TLC about staying timeless in both music and fashion — and the best advice MC Hammer ever gave her.
Nearly 30 years on from their breakout 1994 record CrazySexyCool, TLC's music continues to radiate a timeless quality. "It's just real-life stuff," Rozonda Thomas, aka Chilli of the group, tells Concrete Playground. "When you have lyrics like that, it can be 100 years later and people can still connect with those lyrics."
TLC remain the best-selling American girl group of all time, having sold over 85 million records worldwide while earning four number-one singles on the Billboard Hot 100: 'Creep', 'Waterfalls', 'No Scrubs' and 'Unpretty'.  Following the tragic passing of member Lisa 'Left Eye' Lopes in 2002, the group went on hiatus before reuniting in the 2010s to bring their hits back to the stage, and releasing a self-titled comeback album in 2017.
Chilli and her TLC partner-in-crime Tionne 'T-Boz' Watkins are currently Down Under as part of the Fridayz Live tour in Australia and Friday Jams in New Zealand, alongside a nostalgia-packed lineup featuring the likes of Akon, Craig David, Macklemore, Shaggy and Ashanti. They're also set to perform in Melbourne on Tuesday, November 8 at the Palais Theatre for a headline show billed as An Exclusive Evening with TLC.
On a bill filled with hitmakers of the last 30 years, TLC stands out as a group who have not only stayed relevant, but who've only grown in critical acclaim and industry praise over the years. So, we took the time to chat to Chilli about the band's influence and staying power in the worlds of music and fashion, as well as the best advice that she's ever received.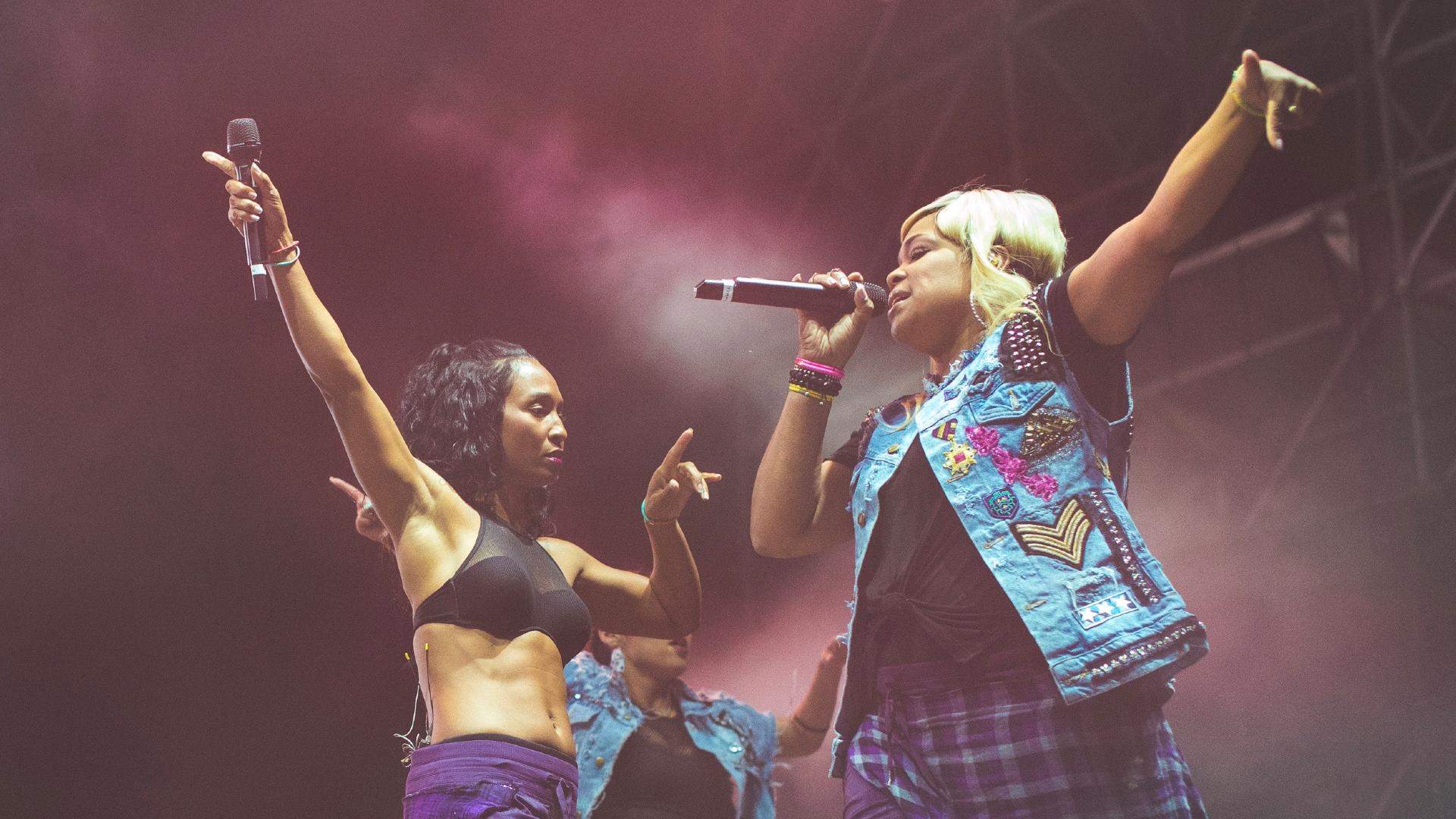 How do you approach a festival show, compared to if you're doing a solo headline show?
"I personally kinda like that middle slot. I think that's the best slot. Most artists are like 'oh, I want to headline', but especially when it's a lot of acts, you don't want to do that.
People are tired! They're probably drunk off the devil's juice — they don't know what's happening. They're kinda just there. And so, I like the middle because you get all that good energy from everyone."
When you're pulling together and performing your hits, are there any songs from your career that have had more staying power than you had ever thought or that still get a bigger reaction from the crowd than you would have expected?
"It's funny because people love 'Diggin' On You'. They really, really, really, really, really like that song a lot. I mean, it gets a really big reaction.
Because, you know, it's not like a tonne of energy or anything like that. It's just one of those feel-good records. It always makes me smile a bit more, because it's not one of those hype songs where we're doing signature dances or anything like that. So I'd have to say it's 'Diggin' On You'."
Another timeless quality of your music is the appreciation from other artists as it's been either sampled, covered, remixed or interpolated so many times — from Pharrell to Avicii, and even Ed Sheeran. How do you feel when an artist reimagines one of your songs?
"It's an honour. It really is. It is an honour. It kinda lets you know our body of work is still beloved and respected by so many — and up-and-coming artists.
Even artists that are just y'know, been around for a long time. They do covers of our songs when they're in concert and things like that. Like Hanson. They do. Taylor Swift has. And it's amazing to me. I just love it."
Is there any artist who hasn't sampled, covered or remixed your songs that you hope will one day?
"Well not even necessarily a sample or anything, but we would love to work with Bruno Mars. I just think that Bruno Mars and TLC goes together. This needs to happen at some point in time. So I'm really hoping, because, just the way he performs and all of that. I just love him as an artist, period. So I really hope that we get a chance to grace the stage together."
TLC have always been fashion icons — still are to this day — but your style from the 90s is really popular right now. How does that feel to see Gen Z revisiting the fashion trends that you pioneered?
"Well, I think everything kind of circles back. Just like with the 70s. I think right now, fashion from even the 70s is in. Everything is kind of in right now and it's been like that for the past decade, maybe.
I think that, the time that we first came out, with the bright colours, I haven't seen that so much. Or like, with girls wearing baggy clothes, like for real, I haven't really seen that. And I'm sure it's going to come back around, because I tell you, it's way more comfortable."
I feel like it's bubbling, even with pop stars like Billie Eilish who's really into bright baggy clothes at the moment.
"Yeah she is! She sure is. So you have artists here and there. And to me, I just think that it's more fun. Very colourful and, again, very comfortable. That's always been our thing. I mean to this day, look at my outfit."
Chilli then stands up to reveal her all-white matching Paul Frank tracksuit set. "I'm cute! I'm casually cute."
Are there any trends from that era that you don't want to see come back?
"When you sag too much. And we did touch on that because we'd run through the airport holding up our pants because they were falling down. So, we need a little happy medium there. You can sag a little bit. I don't want to see your underwear, period."
What's the best advice you've ever been given?
"To never take anything personal. In this business, it's business, it's not personal. No matter how many times people say 'I love you', because if you have to report something and do your job, it's business, right. It took me a while to get there because I'm such a love bug, and 'we said we love each other, and how could you…'. I could get all in my feels and have my feelings all hurt. So once I was able to get there, then it was like 'ok'."
Do you remember who gave you that advice?
"Well, you know what, I think it was [MC] Hammer. Hammer has given me so much advice, like in the beginning. He is definitely someone that I looked up to then, and still to this day is an amazing person. Just a great human being, y'know, besides a great artist. He really schooled us on a lot of things."
Catch TLC performing at Fridayz Live as it makes its way to Adelaide, Brisbane, Melbourne, Perth and Sydney in November, or at An Exclusive Evening with TLC at Palais Theatre in Melbourne on Tuesday, November 8.
In New Zealand, TLC play Friday Jams at at Western Springs Stadium in Auckland on Sunday, November 13.
Concrete Playground Trips
Book unique getaways and adventures dreamed up by our editors