Newtown Brewery Young Henrys Is Using a Glowing Vat of Algae to Help Combat Climate Change
The 400-litre bioreactor can consume carbon dioxide — and produce as much oxygen as one hectare of Australian forest.
Local Newtown legends Young Henrys are taking their brewhouse to the next level — and it's all in the name of sustainability. The beer brand has added a glowing bioreactor among its tanks, which they hope will drastically reduce the brewery's carbon emissions.
While the green tank may look like a radioactive science project, it's actually just a big ol' vat of microalgae. The single-celled organism is basically the super computer of photosynthesis and produces more than 50 percent of the world's oxygen. It does so by consuming CO2 (carbon dioxide) — one of the main byproducts of the brewing process — and produces O2 (oxygen) in its place.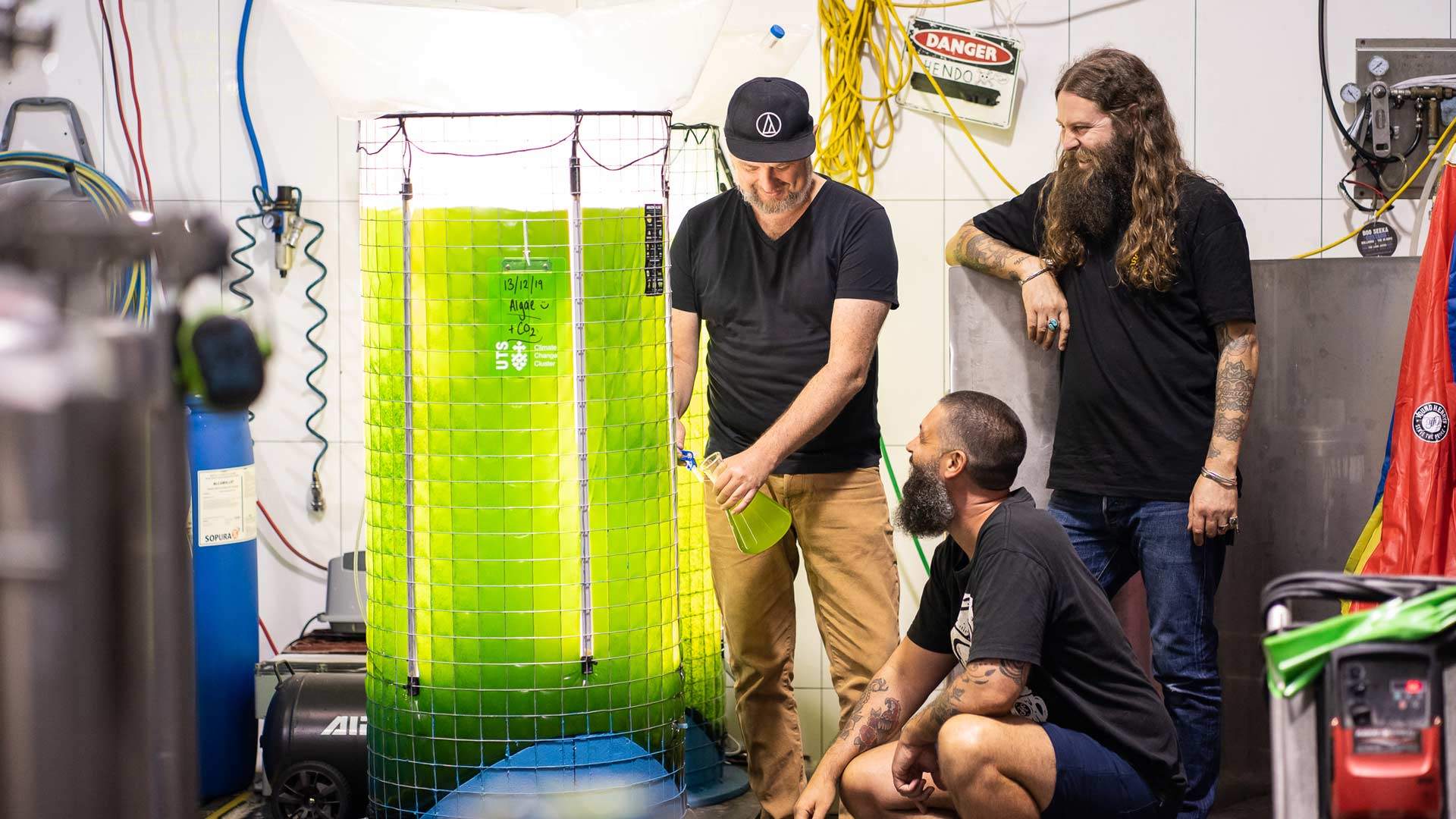 To give you a sense of the impact, it takes a tree 48 hours to absorb the CO2 emissions created from brewing just a single six-pack. Young Henrys' 400-litre bioreactor has the potential to produce as much oxygen as one hectare of Australian forest and to consume a lot of the brewery's CO2 byproduct in the process.
If you're wondering why producing lots of CO2 is a bad thing, let us detour into some chemistry 101 for a hot minute. Carbon dioxide is a key greenhouse gas, which collectively trap heat from the sun and keep it close to the earth's surface. Initially that was great, it meant the earth was habitable for humans and animals — but, thanks primarily to the burning of fossil fuels, the earth's atmospheric levels of CO2 are the highest they've been in the past 400,000 years, which has lead to global warming and the increase in extreme weather events, ie. climate change.
This project is partly funded an Innovation and Connections government grant and is in partnership with the scientists from the Climate Change Cluster (C3) at UTS. The group is working to find and develop uses for algae that can help combat climate change, and this project aims to pave a path for the wider brewing industry to become a carbon neutral process.
Young Henrys' microalgae bioreactor is just the first phase of the partnership with C3. The second phase will involve a large biomass of algae that will provide even more carbon capture and help the brewery to eventually become carbon neutral — more details on this will be released later in the year, so keep an eye on this space.
Find Young Henrys at 76 Wilford Street, Newtown.
Introducing Concrete Playground Trips
Book unique getaways and adventures dreamed up by our editors