Yayoi Kusama: The Spirits of the Pumpkins Descended Into the Heavens
The vibrant installation is touring from its permanent home at the National Gallery of Australia in Canberra.
Plan a trip to South Australia, and spending time surrounded by grapes is probably on your agenda. This year, you can pair all those winery visits with plenty of pumpkins, too, because Yayoi Kusama's pumpkin-focused infinity room The Spirits of the Pumpkins Descended into the Heavens will display at the Art Gallery of South Australia from Friday, April 1.
Australia just keeps going dotty for Kusama. Brisbane's Gallery of Modern Art's hosted a kaleidoscopic exhibition dedicated to the Japanese artist back in 2017, her Obliteration Room has proven a hit in the Sunshine State several times and, going one better, Canberra's National Gallery of Australia acquired The Spirits of the Pumpkins Descended into the Heavens back in 2018. While the latter is a permanent addition to the NGA's collection, it's also going on the road on — which is why Adelaide is your next place to see oh-so-many dots.
The piece was first exhibited in 2015. Comprised of a mirrored cube filled with yellow, dot-covered pumpkins, it's a quintessential Kusama work. Whether you're a devoted fan who considers visiting the artist's own Tokyo museum a bucket-list moment, or someone who has simply placed stickers around one of her obliteration rooms, you would've noticed that dots and the concept of infinity are crucial to her art — "our earth is only one polka dot among a million stars in the cosmos," she says.
Inside the cube, the bulbous vegetables appear to create an endless field thanks to the shiny surface. On the outside of the cube, the structure's mirrored exterior reflects the yellow-and-black walls in the surrounding installation room — again, making it appear as though the pattern stretches on forever.
The NGA's acquisition was made possible via a gift from Andrew and Hiroko Gwinnett, which is also supporting the infinity room's tour.
AGSA hasn't revealed how long it'll be on display, but entry will be free — and it's obviously a must-visit addition to any Adelaide itinerary.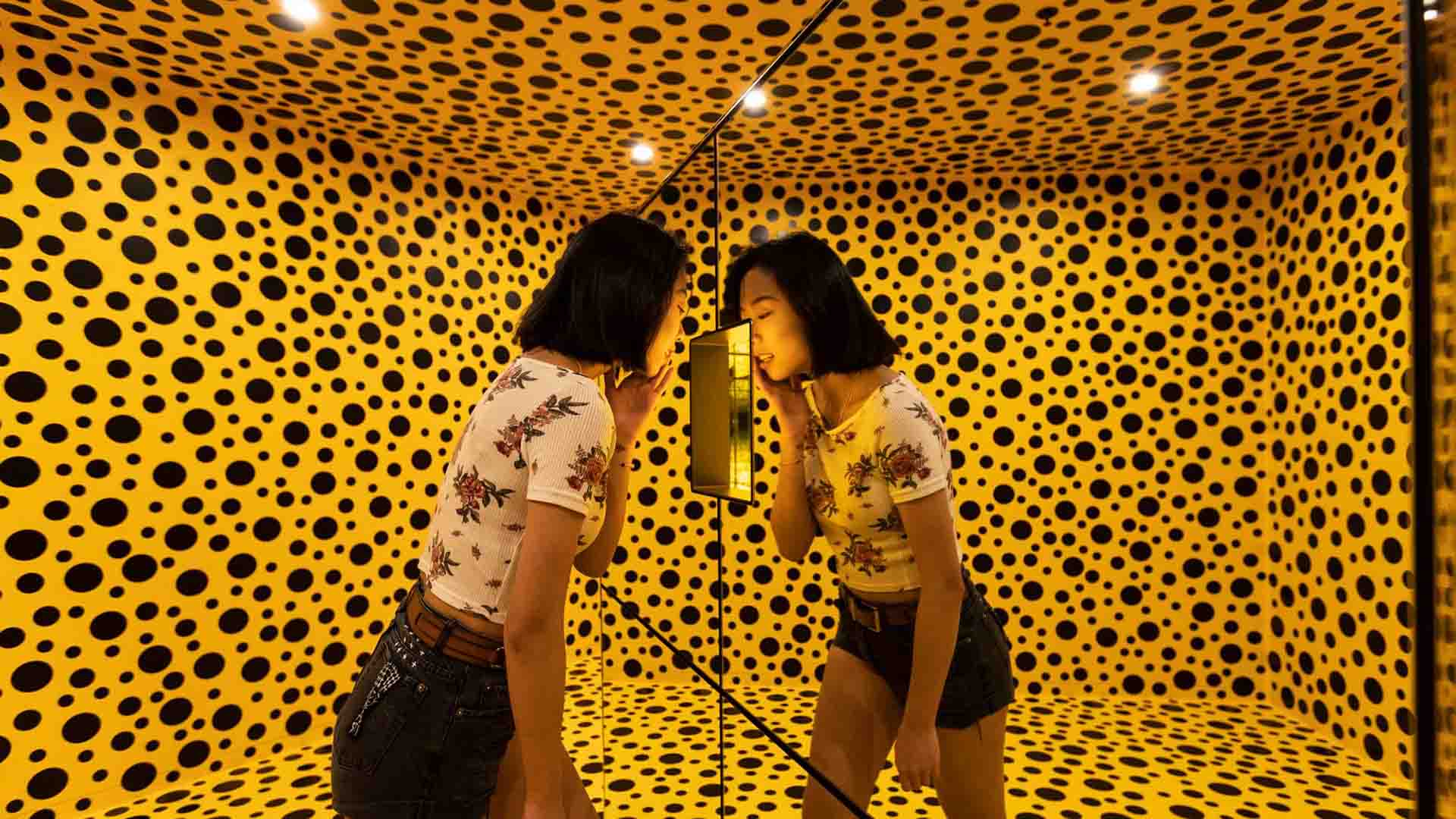 Images: Installation view, THE SPIRITS OF THE PUMPKINS DESCENDED INTO THE HEAVENS by Yayoi Kusama, 2017, National Gallery of Australia, Canberra. © Yayoi Kusama, courtesy of Ota Fine Arts, Tokyo/Singapore/Shanghai.