Six Ways to Easily Elevate Your At-Home Summer Cocktail Hour
Brightly hued glassware, salty snacks and stand-out sips: your cheat sheet for a deliciously boozy (and aesthetically pleasing) summer arvo.
in partnership with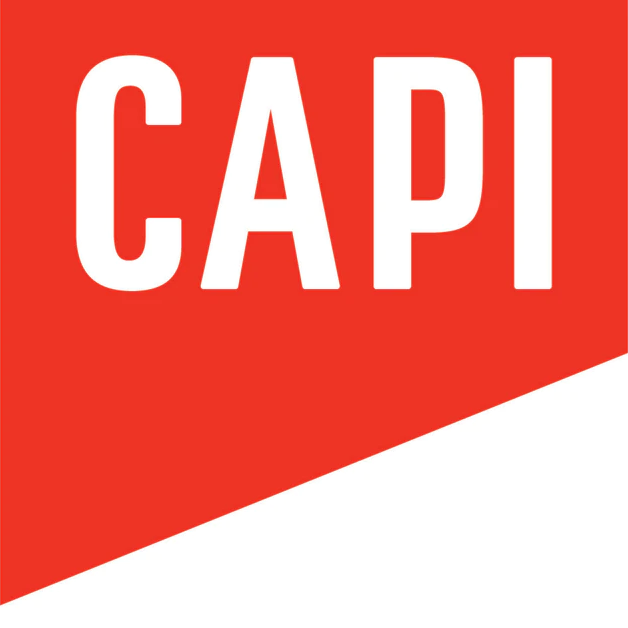 An ideal summer arvo of sipping should be two things: refreshing and aesthetically pleasing. Whether it's a grassy backyard or sunshine-soaked dining room, lo-fi picnic or no-expense-spared soirée, there are more than a few ways to elevate your summer cocktail hour, be it for yourself or if you're inviting all your faves.
Well versed in adding fizz and flavour to a party is CAPI, the family-owned and -run Victoria-based bev company that works creatively and passionately to deliver liquids that hit the mark on flavour with all natural ingredients and locally sourced water. Its latest release? Three summery cocktail mixers, bottled beautifully and only awaiting a few shots of your preferred liquor.
With a ready-to-go cocktails in the fridge, your friends on the way (or the next chapter of your book at the ready) and some of these aesthetically pleasing recs locked down, your at-home cocktail hour will be a true summer delight.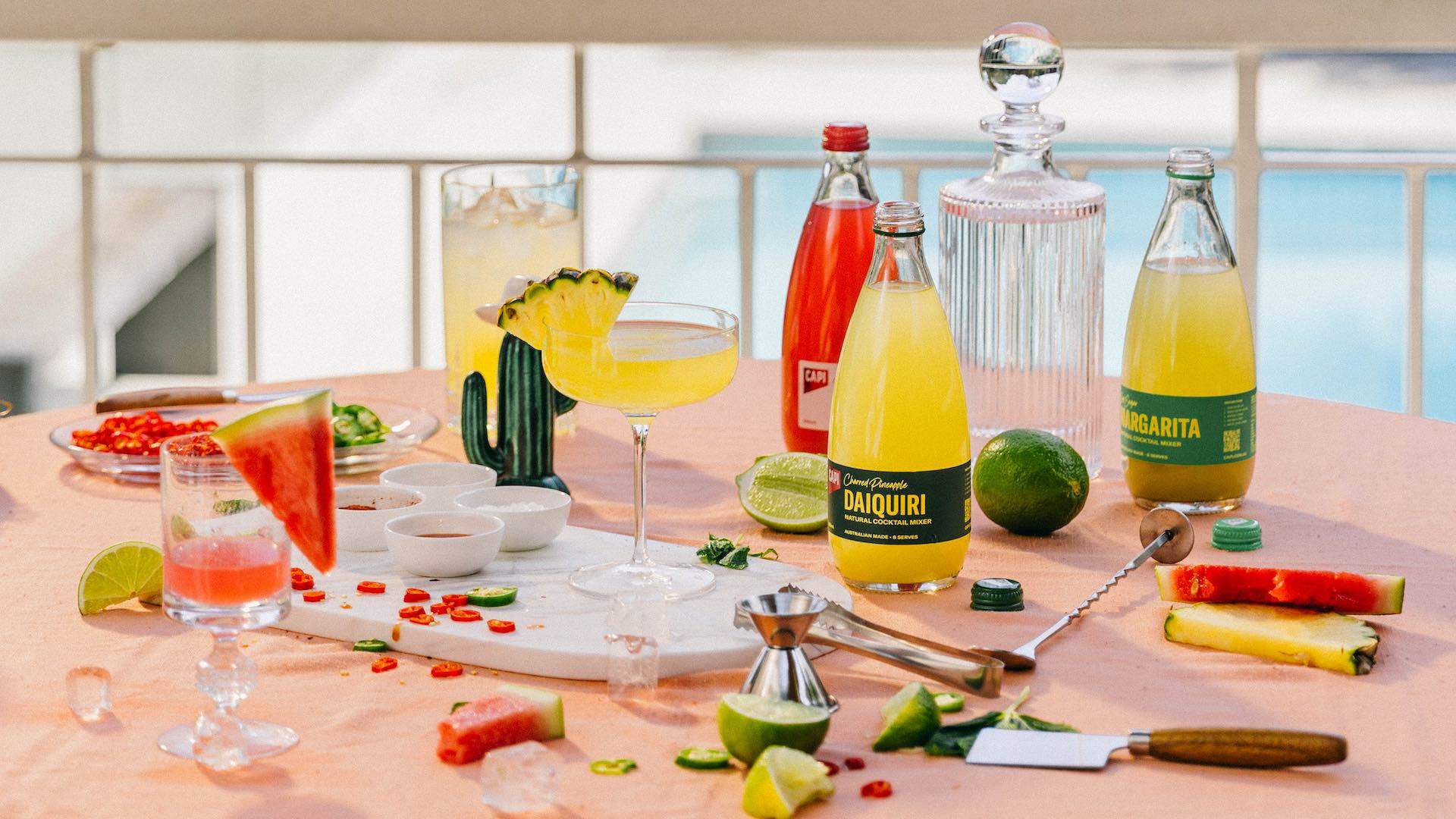 START WITH THE SIPS
Your afternoon drinks menu is looking persuasive thanks to CAPI's new cocktail mixers. A charred pineapple daiquiri, perhaps? With the tropical sweetness balanced with slightly charred caramel notes and the cocktail's signature squeeze of lime, all there's room for is ice, rum and summer thirst.
Can't go past a marg? We get it. But when you're leaning into an arvo with good company, you don't want to be hitting pause on the fun to shake your libation. This margarita mix is almost certainly lower in sugar than your local's pour, and combines Aussie limes, a lick of orange and the sweet kick of agave. Like it hot? The best people do. The spicy watermelon margarita mix beckons for your bottle of tequila, slices of the melon alongside and a chilli-salted rim.
Each eight-serve bottle is a fully recyclable (like each and every item in CAPI's lineup of more than 20), but that's just the start of the brand's sustainability specs: bottles are freighted aboard mostly electric vehicles, are made from a minimum of 40% recycled glass (and are then 100% recyclable) and the company partners exclusively with freight providers who are committed to reducing carbon emissions — we're into it.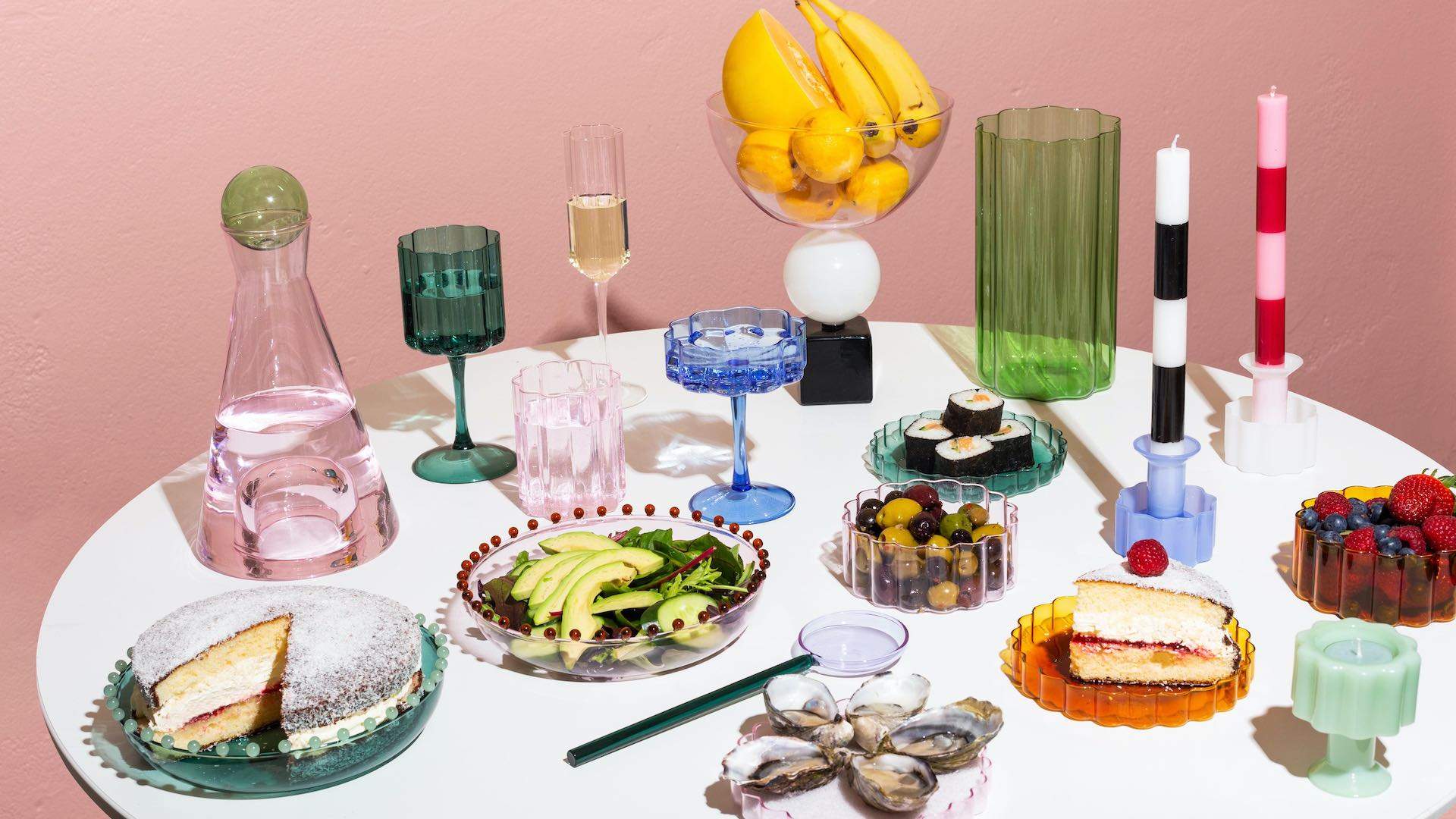 SERVE UP WITH A SIDE OF COLOUR
Don't think properly plating up changes the flavour of your food? Well, it certainly doesn't hurt. This is something the glassware gurus at Fazeek can attest to. Its range is bright, bold, architectural and a treat to look at (and dine off). For a lo-fi touch, pre-prepare your cocktail of choice and house it in the Vice Versa Carafe, then nab the Pearl Platter and pile it high with pickled veggies, a hunk of hard cheese and some rough-cut focaccia.
Serve a salad in style and grab some of the delightfully different vessels — think rippled coupes or highballs — in differing shades. Expecting to host well into the night? Keep it bright with these striped candles and structured holders, and lean back to enjoy the golden glow of a balmy summer evening.
SNACK SENSIBLY
We're calling it, it's going to be the summer of snacks: the salty and delicious gilda (pictured above) is finding its way onto many a menu, we're looking to long share-style meals that allow us to try it all and our tendency to finish a weekend with a pot-luck picnic is a nice tag-along to daylight savings. If you've got guests, ensure you're all fuelled by requesting they bring a plate of bite-sized morsels. Suggest the aforementioned gildas, a briny pintxo classic that sees an olive meet the salty hit of an anchovy and a pickled pepper. Or take the reins and grab your jarred goods, skewers and a funky plate, and lean in to the Mediterranean art of grazing away the daylight hours. Crusty bread alongside is a non-negotiable.
ADORN YOUR TABLE
Flirty and fruity — everything you want your cocktail arvo to be. After you get one of your five-a-day from your cocktail, get another from your table accessories. This woven pear placemat is an attention-demanding balance of on-trend and kitsch. Grab enough for all and set your table, or nab just one and use it at centrepiece. There are crabs and cakes, yellow pears and apples — all available from the cuter-than-cute Hands Shop, which brings the wares of local and international makers to Newtown's Australia Street.
CREATE SHADE
No one has the time (or desire) for burnt skin, so ensure you've got pockets of shade while you while away your arvo. If you're outside, opt for an expertly, sturdily crafted — and delightfully artful — umbrella. This one sees Basil Bangs join forces with Kane Lehanneur, the Sydney-based multidisciplinary artist known for his fluid, large-scale floral works. Lehanneur created the print exclusively for the shade-slinging Northern Beaches brand, delivering an aesthetically pleasing way to dodge the rays with a cocktail in hand.

CURATE SOME BOPS
Last yet absolutely not least, you'll want to elevate the vibes of your summer sipping with a playlist chock-full of bouncy beats. If you're looking for a goodie, wrap your ears around funk-lords Groove Therapy's Mood Booster playlist. Or if you're after something slightly more ambient (with some dancy undertones), chuck on Spotify's Pollen playlist for guaranteed good vibes.
Take your summer sips to the next level with CAPI cocktail mixers. Head to the website to have your bottles delivered, or find them in your nearest Dan Murphy's or Coles.
Concrete Playground Trips
Book unique getaways and adventures dreamed up by our editors