Eight Stunning and Unusual Places In Australia That Will Transport You to Europe
Experience spectacular lavender fields, world-class beaches and underground caves without leaving Australia.
With international borders regulated — and looking to stay that way for a while — a trip to Europe is a pipe dream at this point, but you don't actually need to leave Australia to feel like you've left the country. Right here in our own backyard, we have white sand beaches rivalling those on the Mediterranean, wineries that wouldn't be out of place in the rolling hills of Tuscany, quaint fishing towns similar to port villages you'd find in Ireland (and Normal People) and hotels in underground caves like those in Turkey. Go ahead and start dreaming, these trips may not be as far off as you think.

FOR TUSCAN WINERIES, VISIT MARGARET RIVER IN WESTERN AUSTRALIA
While Australia is home to heaps of wine regions, one of the most idyllic is Margaret River. Located a three hours' drive from Perth, it's one of the most isolated wine regions in the world. And, its maritime-influenced climate and rich soils make it perfect for grape growing, as well as feel like the old-world vineyards of Italy and southern France. Margaret River's principal grape many varieties you'd find in French terroirs, include cabernet sauvignon, shiraz, chardonnay, semillon and sauvignon blanc; while a number of wineries also use Italian grapes such as vermentino, sangiovese and fiano. The region is home to over 90 cellar doors and has wineries ranging from the well-established Vasse Felix to the rule-breaking Blind Corner. To add to the European atmosphere of your trip, rent a villa set among those rolling vineyards.

FOR TURKEY'S CAVE HOTELS, VISIT COOBER PEDY IN SOUTH AUSTRALIA
The desert surrounds of Coober Pedy are best known for two things: opals and villages located underground. After the discovery of opals, many miners descended on the outback town and dug their homes into the landscape to escape the heat. It's unlike anything else you've ever seen — unless, of course, you've been to the Turkish region of Cappadocia. Also known for its cave dwellings and impressive rock formations, Cappadocia bears an uncanny resemblance to this South Australian counterpart. Which makes a lot of sense — approximately 60 percent of Coober Pedy's tiny 2500 population has southern and eastern European heritage. To this day, about half of the opal capital's population live in homes that are excavated into hillsides. When you visit, you can stay in one, too, thanks to plenty of underground cave accommodation, including this Airbnb stay.

FOR QUAINT IRISH VILLAGES, VISIT PORT FAIRY IN VICTORIA
Live out your Normal People fantasies at the charming fishing village of Port Fairy. Think old stone churches, cottages built in the 1800s and greenery abound. Set along the Great Ocean Road, this coastal town reminds you of Ireland for a reason. The town's original name was actually Belfast, named after the hometown of one of the early European settlers. Many Irish immigrants settled here in the mid 19th century and their influence is still evident today thanks to over 50 heritage buildings that are protected by the National Trust. And, much like the Republic of Ireland's coastal town Sligo, the filming location of Normal People, you'll find rolling green hills, quiet beaches and buildings rich in history.

FOR GREEK ISLAND BEACHES, VISIT GRANITE BAY IN QUEENSLAND
Warm turquoise waters, secluded swimming holes and long stretches of sand await you at Granite Bay, located within Noosa National Park. You could easily use that exact same description to depict the stunning coastal beaches of Greece, but since you can't make it to the likes of Zakynthos or Milos right now, opt instead for Noosa's fairy pools. These natural tide pools lie between basalt rock and are as dazzling as any you'll find on the Greek Islands. There are also sandstone caves, walking tracks and lookout points to enjoy here. Granite Bay has one perk over Greece, too: its renowned surf.

FOR OLD-WORLD UK TOWNS, VISIT CENTRAL TILBA IN NEW SOUTH WALES
The National Trust-classified village of Central Tilba is nestled in the foothills of Mount Gulaga and will transport you back in time — or to the many old-world villages that dot the rural areas of the United Kingdom. The lush backdrop is matched by the town's heritage-listed cottages, artisan shops and quaint growers markets. The region's architecture and bucolic landscapes will make you think you're road tripping around Scotland, not New South Wales. And it also has the added benefit of striking coastal views.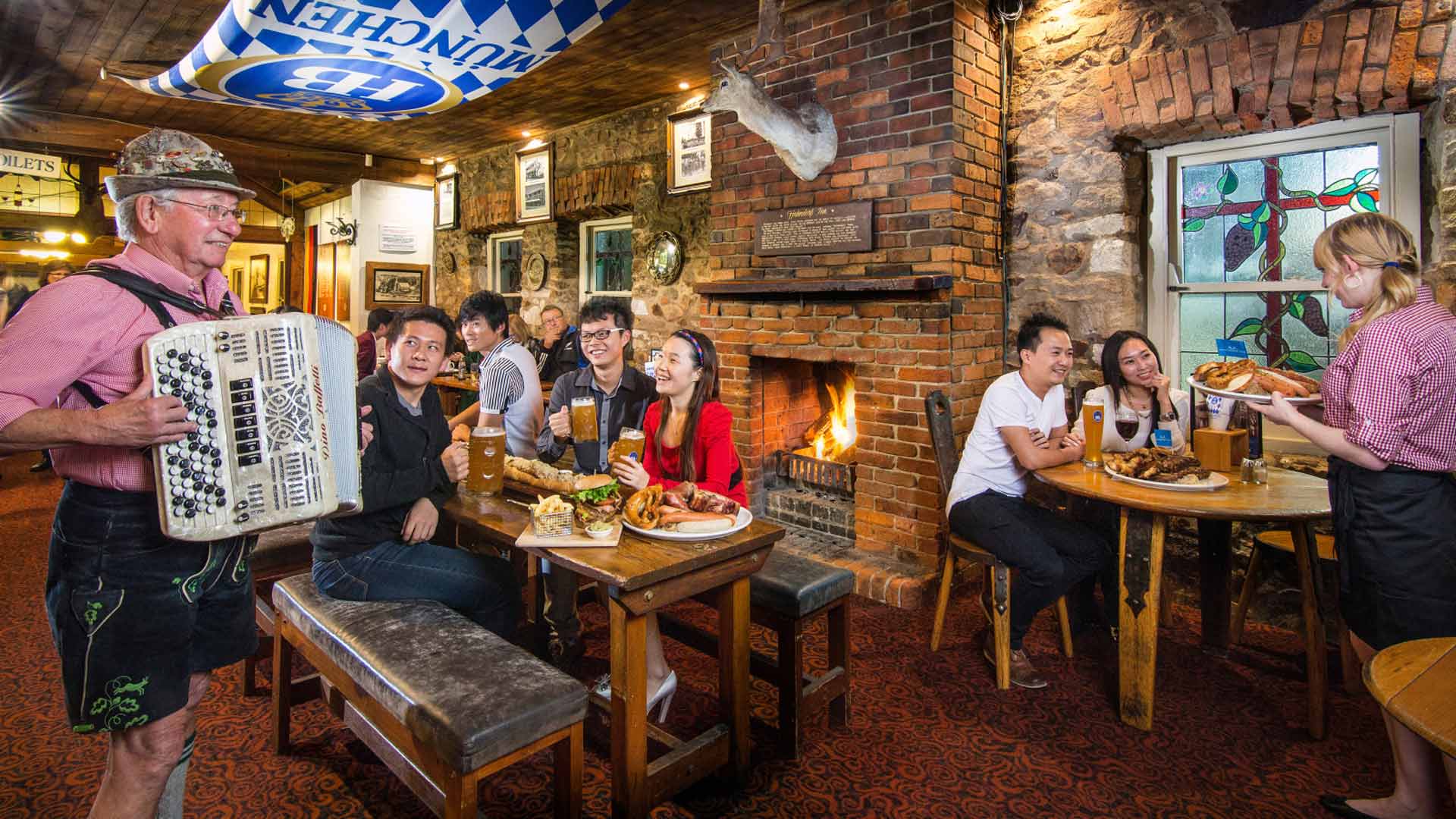 FOR BAVARIAN BIER HALLS, VISIT HAHNDORF IN SOUTH AUSTRALIA
Few Aussie locations hit the European vibes as on the nose as the South Australian town of Hahndorf. It's Australia's oldest German settlement, made rather obvious by the Bavarian name. Settled in the 1800s by Lutheran migrants, the small town's German-style architecture is matched by its many German pubs, restaurants and shops. If you want to learn more about the town's history and culture on your visit, head to the Hahndorf Academy, which houses the German Migration Museum. Or travel a bit north of town where you can find the artist studio of German-born painter Sir Hans Heysen. The entire region feels like something out of a folktale.

You don't need to travel to Provence, France to explore the famed lavender fields found there. Tasmania is home to its very own bucolic lavender offering, and it was founded with proper French blossoms at that. That's thanks to London perfumer CK Denny, who migrated to Tasmania in 1921 with a packet of French Alps lavandula angustifolia seeds in his pocket. Bridestowe Estate is set on 260-acres of Nabowla farmland, about 45-minutes' drive northeast of Launceston. The region's climate is rather similar to Provence, and now produces some of the finest lavender the world has to offer. If the expansive, bright purple views aren't enough to draw you here, the soothing bath products will.


FOR THE AZURE WATERS OF MALTA, VISIT FOR COCOS KEELING ISLANDS OFF THE COAST OF WESTERN AUSTRALIA
Why go to the blissful Mediterranean archipelago of Malta when you can find true paradise right here in Australia? The Indian Ocean boasts its own group of islands that you'll never want to leave. Instead of overlooking the North African Coast, embrace the azure waters of the Cocos Keeling Islands, an Australian territory roughly a six hours flight from Perth. Both locations offer some of the best diving in the world, with abundant marine life unique to the area. Not to mention plenty of other water sports to choose from and, in Cocos Keeling's case, 25 uninhabited islands to explore.

FYI, this story includes some affiliate links. These don't influence any of our recommendations or content, but they may make us a small commission. For more info, see Concrete Playground's editorial policy.
Top image: Vijay Chennupati via Flickr