TRAVEL & LEISURE
Seven Extremely Cosy Cabins Around Australia That You Can Escape To This Winter
Instead of hibernating at home, bundle yourself up and head to an off-grid log cabin, a snow-covered heated hut or a tiny house with an outdoor glass-walled bath.
Seven Extremely Cosy Cabins Around Australia That You Can Escape To This Winter
Instead of hibernating at home, bundle yourself up and head to an off-grid log cabin, a snow-covered heated hut or a tiny house with an outdoor glass-walled bath.
Under current COVID-19 restrictions in Australia, you can't go on a holiday (locally or overseas). But, you can start dreaming. Bookmark this for when you can explore once again.
Winter is (almost) here. You could sit about, piling on jumpers, moaning and crying into your hot chocolate. Or you could calmly pack your bubble bath and your pyjamas, then drive to an irresistibly cosy winter cabin to soak in a spa bath and drink your favourite bottle of wine by an open fireplace.
Ultimately, the choice is yours. But just in case you're opting for the latter, here are seven getaways that will have you daydreaming about frosty mornings and reading books by the fire. We've got an an off-grid log cabin, a dog-friendly tiny house and a farmstay with donkeys for petting — all of which offer a soaking tub and/or a fireplace. Is that the sound of you collecting your things? Go on.

HEE HAW HUT, GOULBURN VALLEY, VICTORIA
Located in remote farmland just two hours northeast of Melbourne, Hee Haw Hut is a rustic one bedroom cabin built from upcycled materials. Its homey interior features a wood-burning fireplace and a fully equipped kitchen. Outside, there's a deck and double hammock overlooking the barbecue and outdoor fire pit area. If the winter weather gets especially blustery while you're here, there are plenty of board games, books and videos to keep you occupied while you keep warm by the blazing fire. Plus, you have the added (and rare) benefit of snuggling up with the many donkeys that are raised on the adjacent Hee Haw Farm.
How much? From $180 a night.

KOOKAWOOD FARM, BLUE MOUNTAINS, NSW
This 200-acre property in Rydal offers breathtaking views of the Blue Mountains. Kookawood Farm is a stone farmhouse that took ten years to build, and its interiors house antiques from years gone by. The space boasts both a large open fireplace inside and a fire pit outside, so you'll never feel the winter chill here. If the temperature isn't too low, you can even enjoy a hot bath in the outdoor bathtub, which offers views aplenty. Plus, the indoor bathroom features underfloor heating and yet another claw-foot tub for soaking in. And, as it's a two bedroom cabin, this getaway is suitable for groups, too. It's on the expensive end, but, if you've got it, so worth the extra cash.
How much? From $390 a night. 


FOREST VIEW BUSH CABINS, CRADLE MOUNTAIN, TASMANIA
Highlanders Cottages offers self-contained cabins right smack in the middle of Cradle Mountain National Park — which is, coincidentally, where one of the ten Australian mountains you should climb at least once in you life is located. Each Forest View cabin has been hand-built using local Tasmania timber. It offers two bedrooms, den lounges and a log fireplace, plus a private deck and a fully stocked kitchen. The bathroom features both a soaking tub and a shower, too. It's an ideal spot to unwind after your gruelling 13-kilometre hike up to the pristine views at Cradle Mountain Lake.
How much? From $215 a night.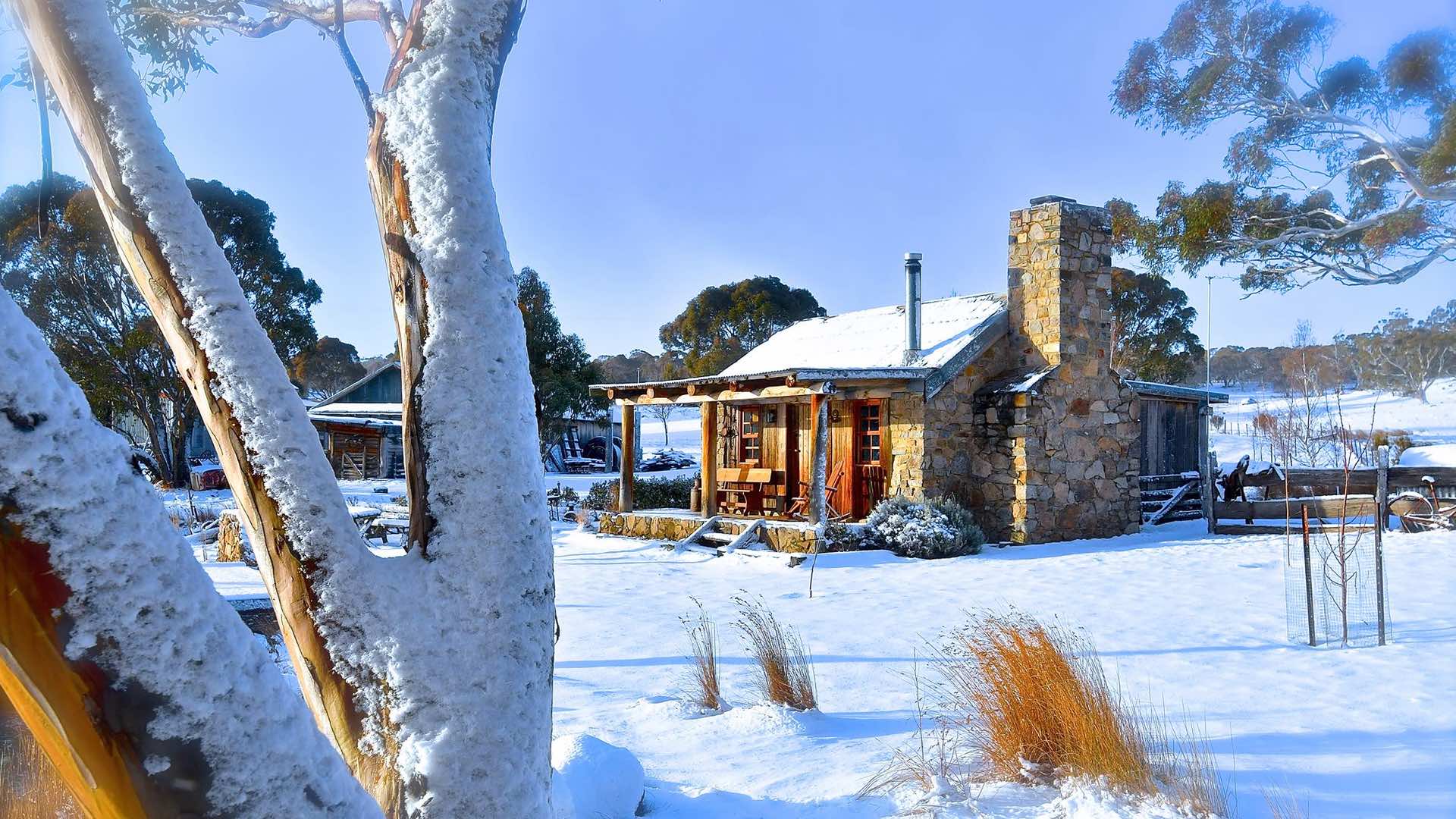 MOONBAH HUT, SNOWY MOUNTAINS, NSW
This requires some extra driving, but the stunning rewards are well worth it. Moonbah Hut is located on private frontage on the Moonbah River, the Snowy Mountains' cleanest, most unspoilt home for trout. Give your fishing muscle a flex from your front doorstep, while keeping an eye out for wildlife, from wombats to deer to brumbies. Or bunker down inside, with a huge, open stone fireplace for company. Previous guests have taken the experience next level and even invited personal chefs along for an evening.
How much? From $245 a night. 

THE SIMPLE LIFE CABIN, MOUNT TOOLEBEWONG, VICTORIA
This off-grid log cabin is as rustic as it gets — and it's a great budget option, too. At The Simple Life Cabin, there's no television or wifi to speak of. Instead, expect an old-school record player and vinyl collection, a wood-fire heater to keep you warm and a cast iron bath to while your afternoons away in. The cabin was created as a ceramicist's studio and remnants of this past life can be seen in the kitchen tableware and the polished concrete workbench that's been converted into a dining table. Set within four-aces of forest, the cabin is completely secluded and lets you forget all the woes of that cold, wintery city life — for a few days, anyway.
How much? From $130 a night.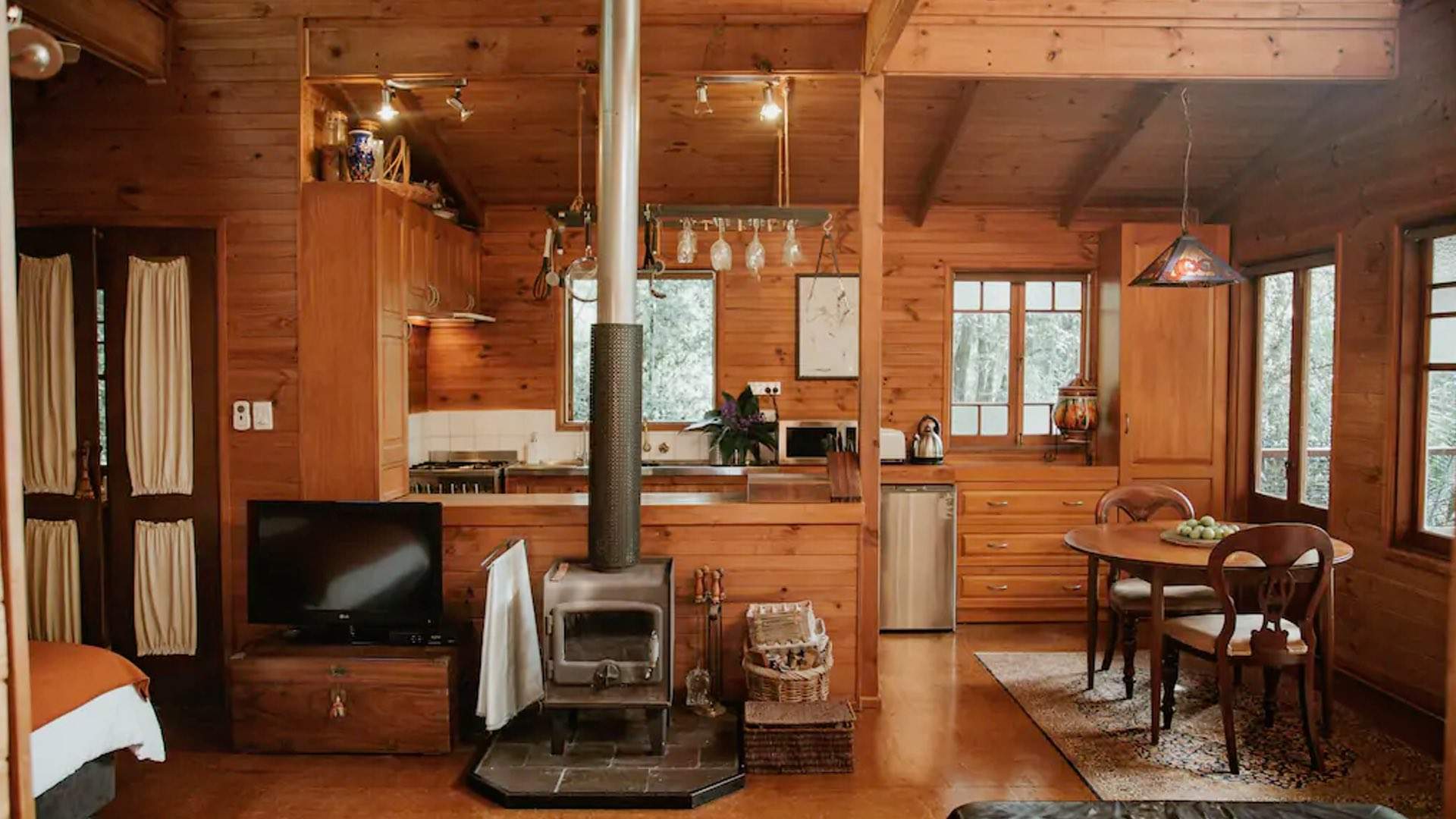 THE BOWER, SUNSHINE COAST HINTERLAND, QUEENSLAND
It might not get that cold in Queensland, but this little wood-panelled cabin in the Sunshine Coast Hinterland will have you hoping for chilly days and nights. That's because The Bower — located near the little township of Maleny, about an hour north of Brisbane — has lots of wintry amenities that you'll most definitely want to make the most of. Like the antique claw food bath, the fireplace and the fairy light-lit deck that's prime for stargazing with a glass of wine and a blanket. It's secluded and surrounded by trees — in other words, it's the perfect Queensland winter escape.
How much? From $120 per night.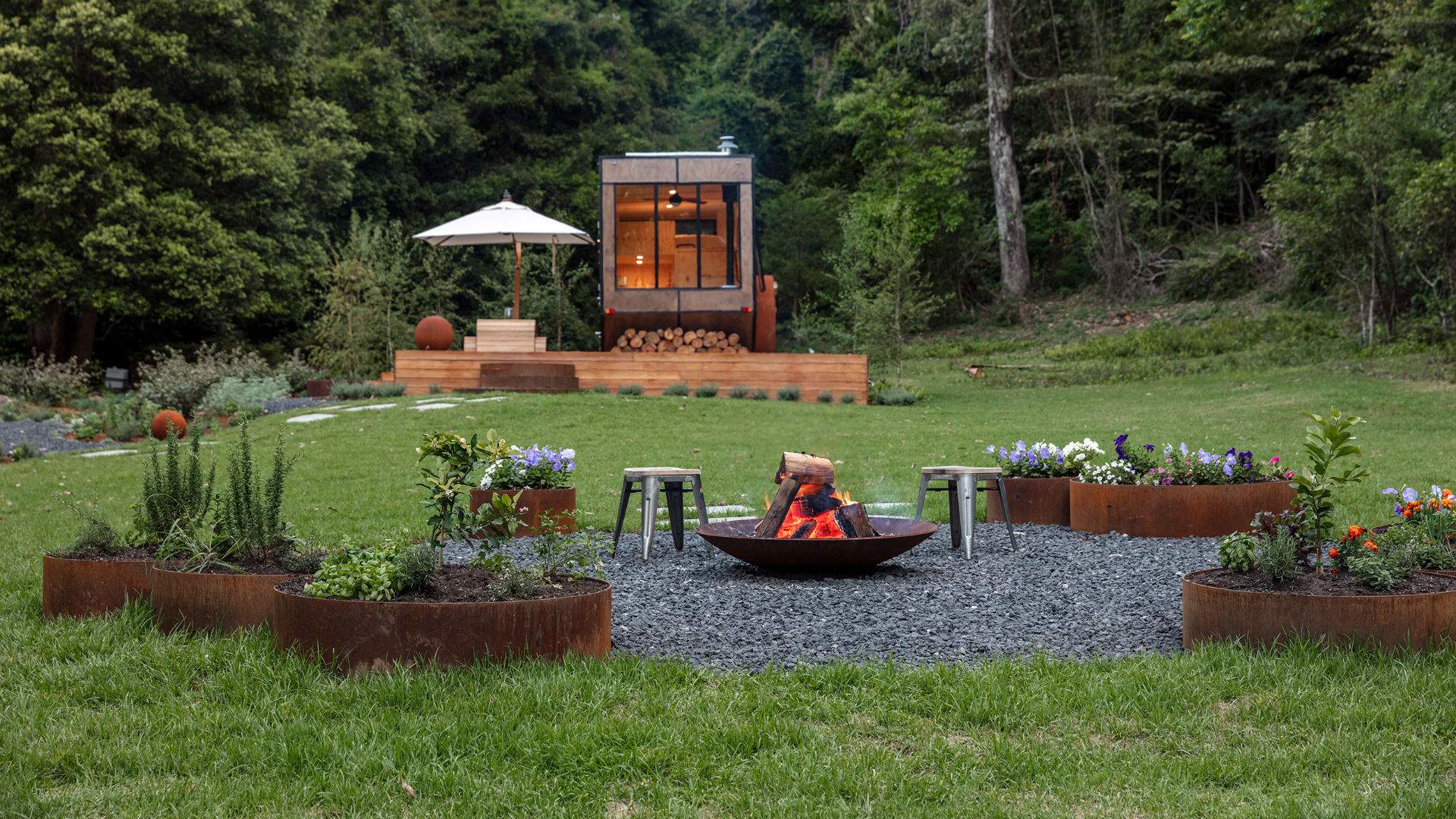 CABN, KANGAROO VALLEY, NSW
Sydney locals have their own off-grid retreat to look forward to, and it's luxurious as. Despite some of the connotations the term 'off-grid' may have, Cabn is a far cry from roughing it. This solar-powered tiny house sits on 140-acres of bushland, on the site of a former dairy farm in the Cambewarra Range, just a 15-minute drive from Kangaroo Valley and about three hours south of Sydney. The secluded location is perched high above the valley and overlooks a sea of endless clouds on the right day. The cleverly designed timber fit-out includes a loft with king bed, a fully stocked kitchen and indoor gas heater. A big wintertime draw is the glass-walled, 'outdoor' soaking tub, which is set in the bush adjacent to the house and offers a rare occasion to (sort of) bathe in the great outdoors — with all of the warmth of bathing inside. Outdoor amenities include a gas barbecue and picnic area, as well as an adjacent fire pit. And it's dog-friendly to boot.
How much? From $289 a night. 
Published on April 18, 2019 by Marissa Ciampi