ARTS & ENTERTAINMENT
Sex, Lies and Tickling: Behind the Scenes of the Year's Strangest Documentary
'Tickled' all started with a very strange online ad and prompted legal threats within a week of pre-production.
Sex, Lies and Tickling: Behind the Scenes of the Year's Strangest Documentary
'Tickled' all started with a very strange online ad and prompted legal threats within a week of pre-production.
---
Tickled is, to put it mildly, pretty bloody weird. Brilliant and fascinating, sure, but also bloody weird. Directed by New Zealand journalist David Farrier along with fellow first-time filmmaker Dylan Reeve, the documentary purports to be about a strange and some would say rather homoerotic subculture that the pair discovered after stumbling across an online ad — an ad offering to fly young, fit men out to Los Angeles where they would be tied down and tickled on camera.
In truth, however, the tickling is merely the tip of the iceberg. Indeed, Farrier and Reeve had barely started their investigation when they began receiving threatening emails from Jane O'Brien Media, the company responsible for the ads. Before long, the filmmakers found themselves neck deep in a story of bullying, intimidation, sexual fetishes and a search for the truth — one that is still very much ongoing, despite the film being out in theatres as we speak.
Prior to the documentary's release, we sat down with Farrier at the Melbourne International Film Festival, where we spoke about everything from his first run-in with Jane O'Brien media, to being sued for defamation, to the moment when the film's villain crashed a Q&A screening in LA. Like we said… bloody weird.

WELL THAT ESCALATED QUICKLY
"All I've done for the last ten years are these two minute whacky subculture stories, and I just thought this would be one of those," says Farrier, when we ask about the origins of the project. "But that response I got back was so strange. I just remember being so blown away by it. And it happened very quickly. Within the first week I was getting legal threats."
The threats weren't just legal, but personal too, attacking Farrier for being gay and even going after Reeves' wife and children. "I got quite upset," admits Farrier. "It was really stressful. It's hard to get across how non-stop all those emails were. It was unrelenting."
Of course, the irony is that, had the company not reacted so viciously, Farrier would have probably dropped the whole thing. "If they'd responded like normal humans, there would have been no documentary. Even if they'd just said, 'We're a bit busy,' I probably would have just moved on to something else," he says.
The other tipping point was when the pair found upwards of 50 websites featuring videos of former tickling competitors, complete with their names and personal information. "It was just a really clear example of doxing, where you suddenly had people's cell phone numbers and addresses, and all their tickling videos, mixed in with a whole bunch of lies about them," says Farrier. "Once Dylan found those domain names, that [existed] purely to bully people, we thought that a film was what we could use to expose this."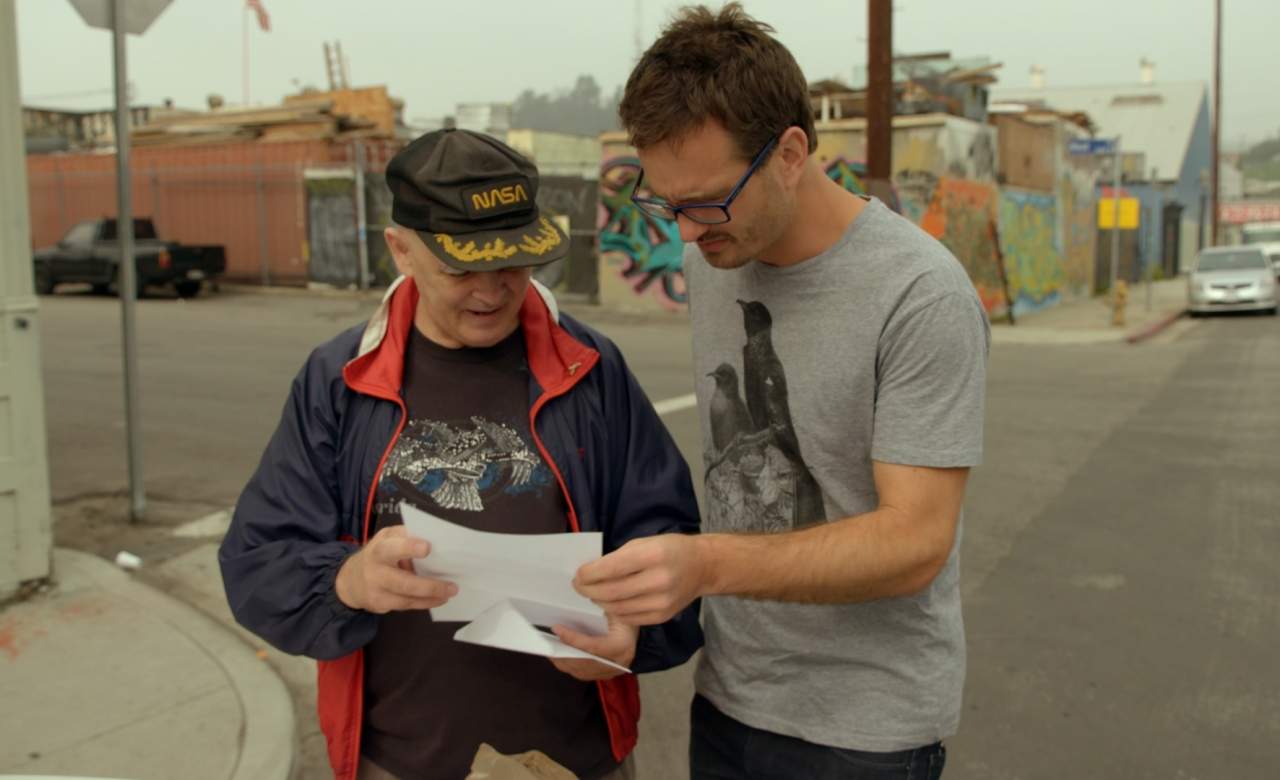 A QUESTION OF ETHICS
One of the challenges of making Tickled was the fact that many of its subjects — the people who worked for O'Brien, if she even existed — didn't want to be filmed. "When you're making a film about people who don't want a film made about them, there's going to be ethical questions," says Farrier. "If someone says, 'We don't want to be on camera, we don't want to give you an interview,' then of course you have to [ask], 'Okay, is there no film? Or do you proceed on and record them anyway?"
Watching the film, you get the distinct sense that Farrier wanted to give his subjects a taste of their own medicine — that after exploiting and publicly humiliating so many people, it was high time sometime turned the camera on them. Ultimately, Farrier stands by the decisions he and Reeve made, saying that they were conscious of "the bigger picture, of what we wanted to expose," adding that he feels "very comfortable about the direction we took things."
When asked to speculate on the motivations of the person who (the film purports) sits at the centre of the conspiracy, Farrier smiles before offering a carefully worded response. "I've already been sued twice for defamation, so I can't talk on my opinion on any of the characters in the film," he says. "I'd like to. I've got a lot of theories."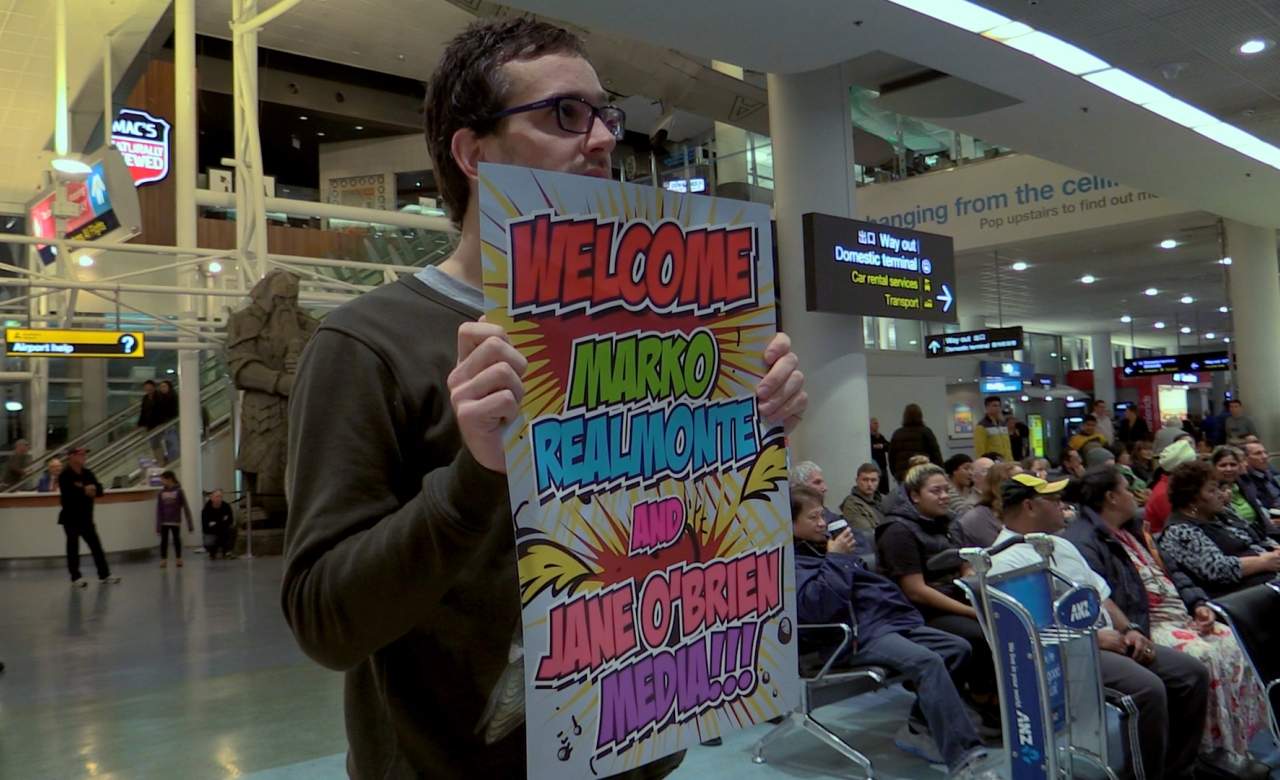 THE STORY CONTINUES
As strange as the content of documentary may seem, what's happened since the release has arguably been even stranger. Not only have the filmmakers been sued, but a website has appeared — www.tickledmovie.info — that aims to discredit the film. But the most surprising moment came at a screening in Los Angeles back in June, when two of the major players from Jane O'Brien media showed up unannounced and got into a heated discussion with Reeve. The film's US distributor posted footage of the confrontation on Facebook and, like everything else in this story, it is absolutely bizarre.
"It's publicity for us, to the level where people think we've hired actors to do it," says Farrier. "I don't know. We're dealing with people who aren't fully grounded in reality, and who don't fully understand how the online world works… I genuinely don't think they were expecting us to have cameras there, but I'm sorry, you can live stream from your cell phone."
Fittingly, Tickled is very much a film about that online world, and how it has become a breeding ground for harassment. "I think people respond to the film because we're super aware of online bullying at the moment," says Farrier. "It's always existed, but it seems to have reached a kind of extreme, whether it's Gamergate or this hate campaign against females because they're in a Ghostbusters film. We're at this peak level of harassment, and I think this is just another crazy reminder of that."

Tickled is in cinemas now. Read our full review here.
Published on August 26, 2016 by Tom Clift