FOOD & DRINK
Ten Spots to Dine Along Auckland Waterfront
Settle in for crayfish mac and cheese and a bottle of something crisp by the water.
Aucklanders, summer is in full swing — and you would pity the fool who wasted these glorious days. While in winter we may huddle in dark corners, cradling a mulled wine and some form of hot comfort food, summer nights are about seasides and sunsets, cocktails and cool breezes. Whether you want to eat crayfish mac and cheese next to the harbour or sip a bottle of something crisp right over the water, these are the best restaurants along Auckland waterfront to settle in for a splendid long lunch.


If you don't already know Princes Wharf's The Culpeper from their Tuesday all-you-can-eat ribs or $10 cocktail happy hour, then you should at least pay this modern waterfront restaurant a visit for its hearty modern American food. It serves the most tender beef briskets and hearty meat platters. It also puts a spin on classic American staples such as the corn dog, jalapeno poppers and pork ribs that are so good that makes you want to lick the plate clean.


The old Crew Club, this restaurant has retained the cool and relaxed vibe of its previous owner, but has completely transformed to an Asian fusion restaurant with dumplings, buns and curry. On its vast menu, you'll also find rare plates such as the Peking duck and wagyu beef. If you feel a bit overwhelmed with choices, then why not give its $65 set menu a go. Trust me, you'll leave with a happy mind and happy belly. Make sure to grab a glass or two of some of the most amazing cocktails in Auckland.


Overlooking the stunning Viaduct Harbour, Soul Bar & Bistro offers a dining experience not to be missed. If you're looking for an excuse to wear a new outfit, Soul Bar is the ideal place to dress to impress. Hands down one of the classiest venues on the Viaduct, the celebrated location draws crowds from all over Auckland. Sit back and watch the yachts while eating a feast of the freshest ceviche and blackened hapuka. The bar menu is extensive so whatever you fancy to drink, you'll find it at Soul Bar.

Simon Gault's latest opening Giraffe is elegant, poised, filled with both character and charisma. Whether it be breakfast, brunch, drinks, a date night or a work-day refuel, this is an all-day eatery that will sort you right. The menu is split into sections, starring snacks, cool, hot, social feasts, limited and sharing dishes. Whatever your choice, you can trust it's been created using the best, organic Kiwi produce. You know you're eating fresh when the menu notes that availability is subject to fishing weather.

After 20 years at the helm of top restaurants including The Grill by Sean Connolly, Botswana Butchery and Harbourside, award-winning chef Stuart Rogan has branched out on his own, opening his first restaurant along the Viaduct Harbour. While Hello Beasty is tipped as "contemporary New Zealand fusion cuisine," the restaurant takes inspiration from the cuisines of Japan, Korea and China. Together with head chef Giann Ordonio, Stuart has created a menu including spicy sticky beef buns, tteokbokki rice cakes, slow-cooked lamb shoulder in spicy Sichuan curry, as well as options from the Hibachi grill — the char siu double pork cutlet is a must try.


With a million dollar view, you cannot look passed Ostro. It's another one of chef Josh Emett's restaurants, so you know it's got to be good. Perfect for any occasion, we suggest sampling the dinner menu and watching dusk fall over the harbour. Favourites include the Beef Wellington, pork belly and lamb, as well as the afternoon high tea menu. Booking is highly recommended.


With the oyster season on the horizon, make sure you pay Euro a visit to make the most of the summer sun, sea breeze and fresh and briny bivalves. They also have a great selection of wine that will go down a treat with the raw fish. It's a great place if you feel like something fancy, and extending lunch to a three-course meal.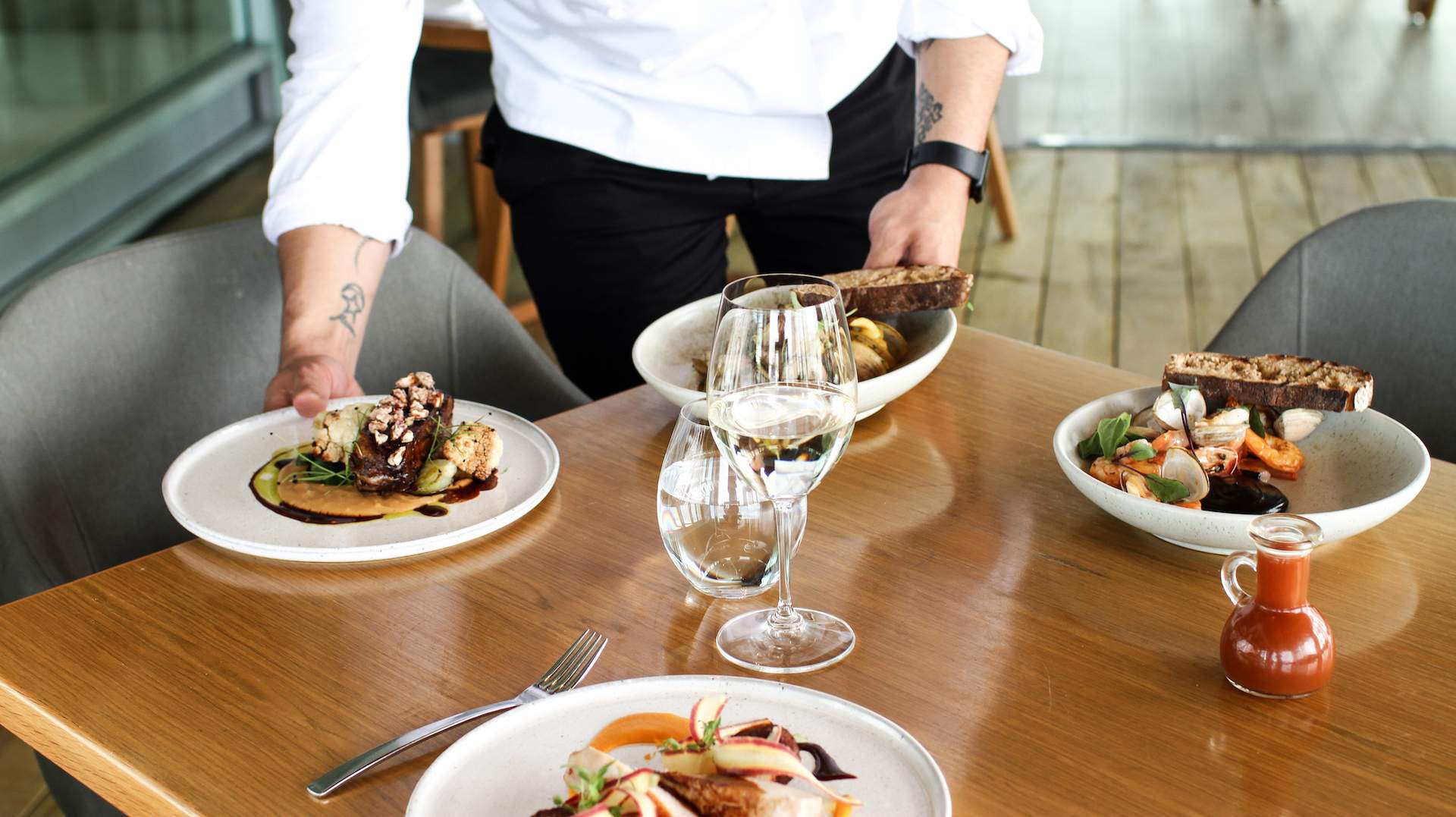 Perched on the end of Princes Wharf, FISH Restaurant is a destination for uninterrupted views of the Waitemata Harbour and a fresh seafood experience. Taking the helm at the end of last year, chef Wallace Mua's menu features foods traditionally grown in the Pacific with the French style of cooking he learnt after six years in the motherland. In line with the overarching seafood theme, sustainable kai moana is the core theme of his new menu, showcasing some of the freshest produce available. Standout dishes on the new menu include a rich bouillabaisse fish stew and crayfish mac and cheese.


This Auckland favourite is classy, beautiful with the most sophisticated Italian food. Start with the hand-rolled meatballs — both the beef and crayfish varieties are recommended. The kitchen's handmade pasta is absolutely divine — personal favourites include the duck and beetroot. Several proteins can be ordered individually, making it easy to try many things. And make sure to give the signature tiramisu a try too, you won't regret it.


Seafood lovers rejoice — not only does The Crab Shack satisfy all your crab cravings (it even has the King Alaska Crab, expensive but worth every penny), but it also makes it hard to say no for either lunch or dinner with its daily special deals. Perfect for a snack or meal after work on a hot day.

Published on January 31, 2019 by Annie Ren