FOOD & DRINK
The Ten Best Burger Joints in Auckland
The journey of a thousand pounds begins with a single burger.
Burgers are once again becoming the 'in' thing, following Japanese, Mexican, re-hashed childhood classics and the myriad of other trends that shape our gastronomic and Instagram trends.  We tend to go on regarding analysis of the burger revolution (read about the how and why here), but the crux of the matter is simple - burgers matter. Now more than ever, in a world of fast-times, budget-cuts, social media content voids and the need to feed.
We at Concrete Playground know about burgers. We assess, we analyse, we cover all the angles and try all the options. Why? Because we care, because good burgers matter - as do the joints that strive for burger supremacy. Recent years has seen a veritable explosion of burger offerings in our fair city with the competition reaching fever pitch. It has created a divide - the humble takeaway shops on one side, the trend-setting eateries on the other. At this point it really becomes your interpretation of perfection - what is the perfect burger joint to you?
In hunting for the best there are many factors to consider; taste and flavour (obviously), the B2B (beef to bun) ratio, quality of ingredients, generosity, innovation, ambiance, joint-ness and commitment to overall excellence. At the same time, this isn't a search for the most expensive ingredients, or how you could turn a $100 piece of Wagyu into a burger - of course it'll taste like Jesus Christ of Nazareth whipped it up, but it won't be your regular haunt for satisfaction or a cheeky Friday night feed.
When the chips are down, when you've got that hankering, that craving (or that hangover)... you turn to those that know, those that care. Those that bust their asses to make the best burgers around. And that's why, without further ado, we present Auckland's ten best burger joints. Godspeed, and good eating.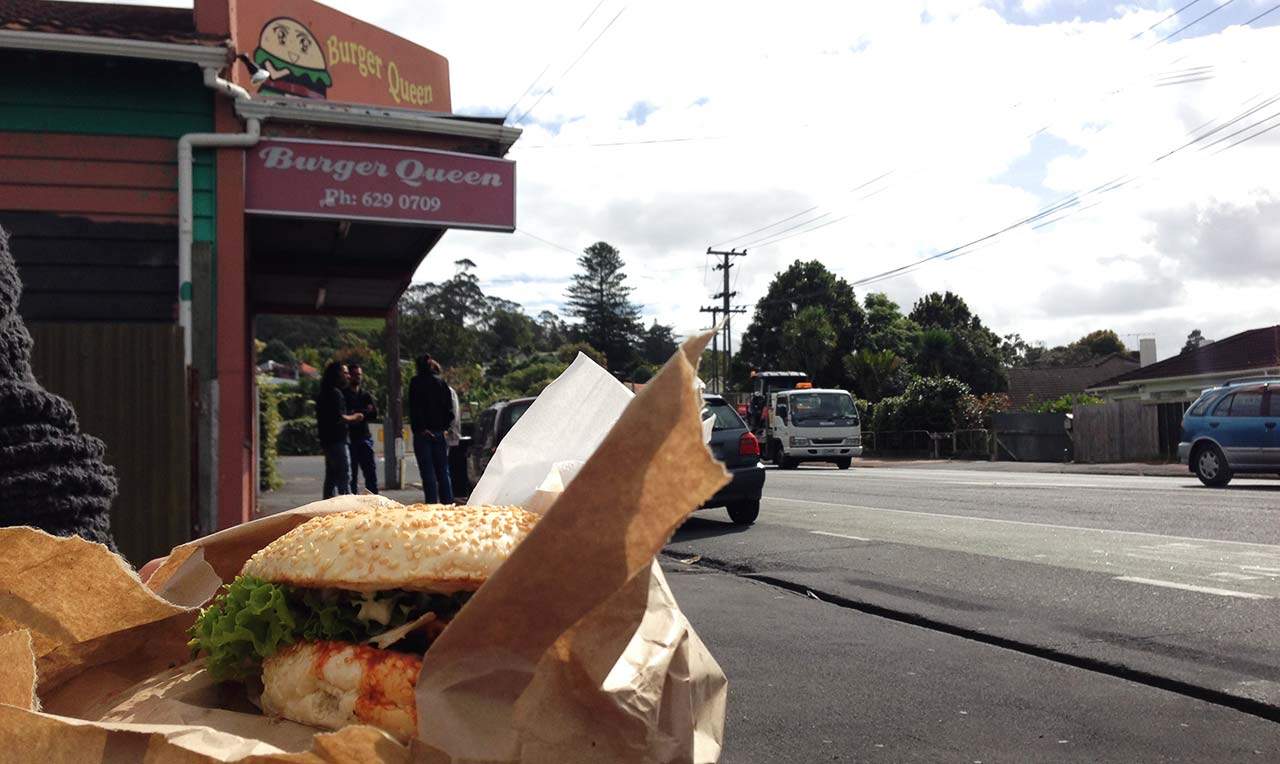 Our suggestion: Anything from 'The Queen' menu i.e. The Mammoth - featuring a beef pattie, steak and onions.
Hidden away in the 'burb of Mount Albert, this small, rustic spot is the very embodiment of an Aotearoa local takeaway. No flashy fit-out here, just hardwood floors, a chalk-board menu and the smells of fried and sizzling delights. With prices to match its low-key appearance, Burger Queen can't be beat on value - you'll find the burgers juicy, flavourful and generous - however the patties do leave a little to be desired when it comes to quality. They're big and tasty, but a little... cheap?
Consider this the ultimate evolution of the fairground burger, but with better salad and all the trimmings - plus the charm of a community haunt and likelihood of you munching your burger perched on the neighbour's concrete block fence. Choice is abundant, with plenty of variety and hefty temptations (e.g. The Beast - beef, chicken, steak, pineapple, egg and bacon) beefing up the classics. Generous to a fault, the Queen is worth the travel for those in search of a very, very satisfying burger that won't cost you the earth. As their slogan goes: Taste it, you will like it. Truth.
151 Mount Albert Road, Mt Albert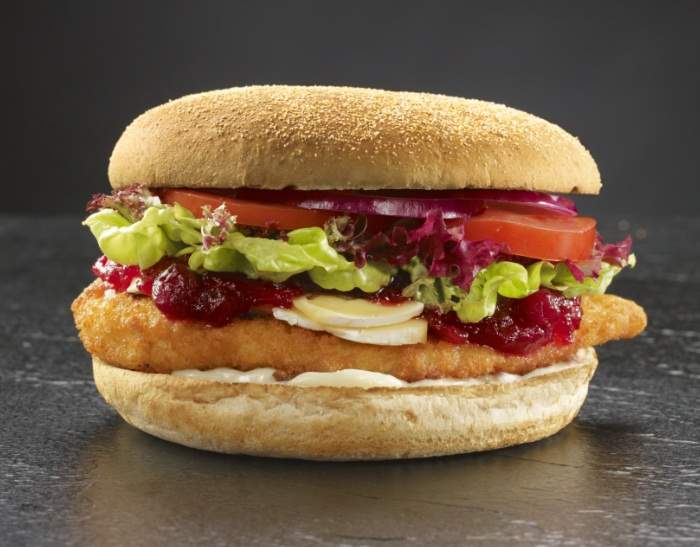 Our suggestion: The chicken, avocado and bacon burger was particularly tasty, but the venison and Otago plum is worth a try if you're after something new.
Burger Wisconsin was doing gourmet burgers before it was cool, way before. Despite being a nationwide chain, unlike many of their ilk they take care in burger development - being a bastion of happy-night-out takeaways in many neighbourhoods. They're nothing too fancy, but consistently satisfying. A set apart from many of the more modern or trendier places, they march to their own tune and stick to doing what they know: good burgers.
The menu is well-balanced - offering your usual beef and chicken, then getting a bit more eclectic with a notable venison & Otago plum (Bambi tastes delicious) or minted lamb that's done just right. Oh, and the aioli. Still the best we've seen in a burger joint; rich, herby and creamy - we'd buy it if possible.
Effort is made with the ingredients and construction, but we think there is room for improvement when it comes to really standout flavour that'll knock your socks off. The chicken breast? Good. The beef? Good. The extras? All good. We also tried the CAB, featuring namesake quality ingredients (a soft, fresh bun, stacks of ingredients and a very reasonable relish), and while it will happily beat the majority of burgers at your regular haunts, it won't blow your mind  (unlike some of our other options below). This isn't of course a negative. Wisconsin is damn fine, but there is room to grow, develop and excel when it comes to burger perfection.
Nationwide


Our suggestion: The beefroot burger - beef & beetroot pattie, baby cos lettuce, tomato, gherkin & awesome sauce on a toasted spelt flour bun. And a pink lemonade on the side, love that stuff.
Formed from a TV show centering on chef Michael van de Elzen using his 25 years of experience in the kitchen to create healthier versions of our nation's favourite takeaways, the Food Truck Garage offers a shortlist of chicken, beef and vegetarian burgers.  While the Garage doesn't quite fit in with the rest of the burger joints on this list, we included it due to the current cultural state of play with clean-living in NZ (and hell, the rise in obesity). It's worth recognising those who are simultaneously keeping it delicious when it comes to burgers, but not smashing the ol' ticker in to the stratosphere with high fat and salt content at the same time.
Despite having less 'bad' stuff (let's be honest though, we're not that worried given the total calorie consumption of this article) the beef/beetroot patties are still incredibly juicy and delicious, the veggies are crisp and the 'awesome' sauce is just so.  Having recently released a new menu that features a 'burger bowl' (meat of choice, quinoa, baby spinach, carrot, beetroot, fresh avocado, beet sauerkraut, flax seeds & your choice of chipotle yoghurt or sesame yoghurt) we continue to be impressed and stomach-satisfied every time - even though they got rid of the roasted veggies side (why!?).
Sure, this isn't your atypical take on a burger - but is that so wrong? Believe us, they're better than 8th place when ranked purely on taste.
City Works Depot, CBD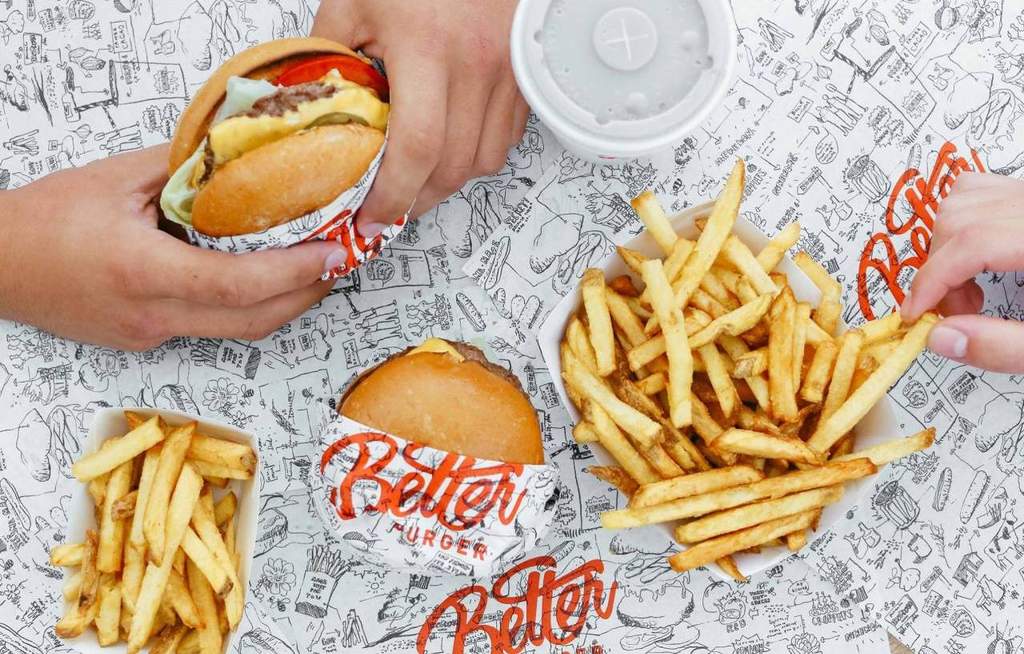 Our suggestion: Cheeseburger with a deep fried mushroom, fries and a shake.
Although they don't say as much, Better Burger is New Zealand's answer to In-N-Out Burger, the American cult-classic-chain famous for beautiful simplicity in the arena of meat, bread and potatoes. Options are limited on the tiny menu; a hamburger, cheeseburger or a mushroom burger - plus slim pickings of soda, shakes and fries. But that isn't a bad thing, Better Burger isn't (we think) setting out to tackle the likes of ultra-gourmet eateries. They only sell hamburgers and cheeseburgers after all.
The additions (fries and shakes) are particularly tasty - skins on is definitely the way to go when it comes to french fries, and these are as crisp and crunchy as you get, a sure fine winner. The burgers have drawn some criticism of late, but we reckon they do the job - focusing on tastiness that you can scoff down - containing a well-balanced mix of veggies, decent B2B (bun to beef) ratio and a reasonable sauce. Pro tip: get a deep fried mushroom on a cheeseburger for the best flavour mix if you're wanting something closest to 'gourmet'. Although the addition of bacon would really work here, hopefully it'll make an appearance sometime soon...
Provided you think of Better Burger as your quick-stop burger fix, and less the ultimate burger experience, we think you'll have a fine time.
31 Galway St & 19 Vulcan Lane, CBD


Our suggestion: The Ringburger, revel in the now, pay for it later.
The burger chain that would be king.
They say when a business goes global it can lose the heart, the soul and the essence of what they do. Burger Fuel does not suffer from this affliction. Despite being a chain they continue to deliver (as far as we can figure having tried a number of their outlets - shout out to Henderson BF, you excelled) great burgers, with good flavours, crisply fresh ingredients, very reasonable buns and the right attitude. Hell, they even innovate well (we mean burgers, but the doofer...damn) - which says something about the purple giant's commitment to our favourite food given the challenge of a nationwide roll-out. Their limited edition Peanut Butter & Jelly for example. Not my jam, but I admire the attempt.
The last time we ranked burgers we had this to say, and in all honesty it still applies, which makes it doubly true: As a franchise chain, you're always going to get the same formulaic product wherever you are, and that's certainly not a bad thing when it these meat-and-bread dealers. While not having that homemade or chip-shop feel, they're nonetheless not to be underestimated and make a convenient stop for when you just want a quick burger that's going to satisfy. Consider it the Toyota Hilux (the expensive model with all the high-quality additions) of burgers: trustworthy, dependable and a good all-rounder.
Everywhere - Google it.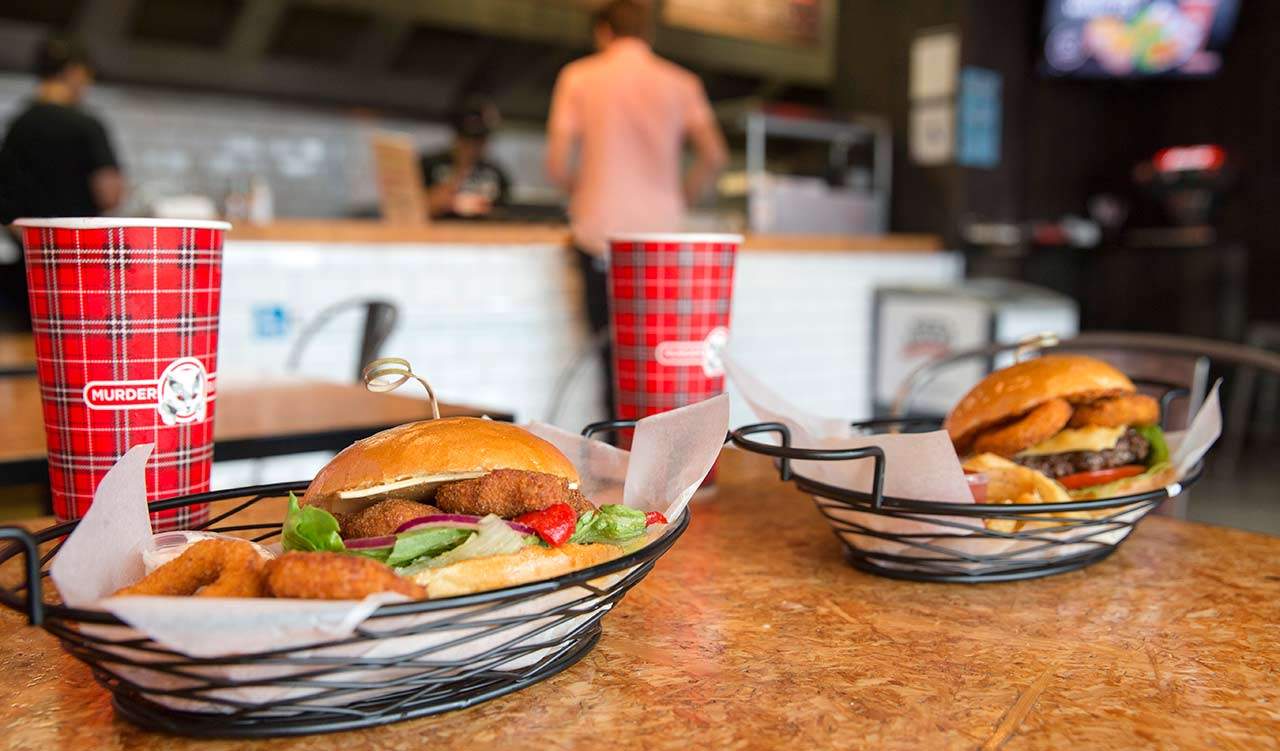 Our suggestion: Signature BBQ Bacon - 1/3 pound grass-fed Angus beef, home style bbq braai sauce (boom), their 'famous' cheese sauce, lettuce, tomato, bacon, gourmet relish. Wash it down with a 10/10 milkshake.
Funny story, years ago a former flatmate used to sleep with one of the Murder Burger managers, so I was often sent out to 'mystery shop' their offerings.  What a job - bloody good food too. But, probably unrelated to other people's bad life decisions, Murder Burger vanished off the Ponsonby Road radar some years ago (having inhabited a prime spot), took a serious tumble when it came to quality and relocated to Manukau. Now, they have re-emerged in Mount Eden and Ponsonby with a new team, revitalised and full of vigour.
We for one welcome their return to notoriety, and were happy to dive into their extensive and varied menu (The Mexican, The Creole, Deer on 'Shrooms' etc partnering with all the classics). The B2B (beef to bun) ratio was ace, with excellent presentation of the burger, fresh and crunchy veggies and a top-notch bun that didn't implode despite a rich dollop of sauces. The pattie was good but interesting - quite a herby, lean flavour (their website says "no processed shit"). It didn't 100% win my heart when it came to juicy-meatiness, but was nonetheless very, very tasty.  Having tried the 'novelty' Mexican and Creole I found the beef, already under-pronounced, was a little overwhelmed by the sauces - not much of an issue as they were tasty as hell anyway, but a trap for young players craving a meat fix. And in the case you're looking for the polar-opposite, the B.B.B. (herbed & spiced black bean pattie, veggies including roasted peppers, guacamole and relish) was the best vegetarian option we've found to date.
All up I'm glad to see these carnivores back in action, finding them not too 'chainy', nicely gourmet and feeling like what homemade would be if you lived in Grey Lynn and drove a Porsche Cayenne.
95 Ponsonby Road, Ponsonby & 225 Dominion Road, Mount Eden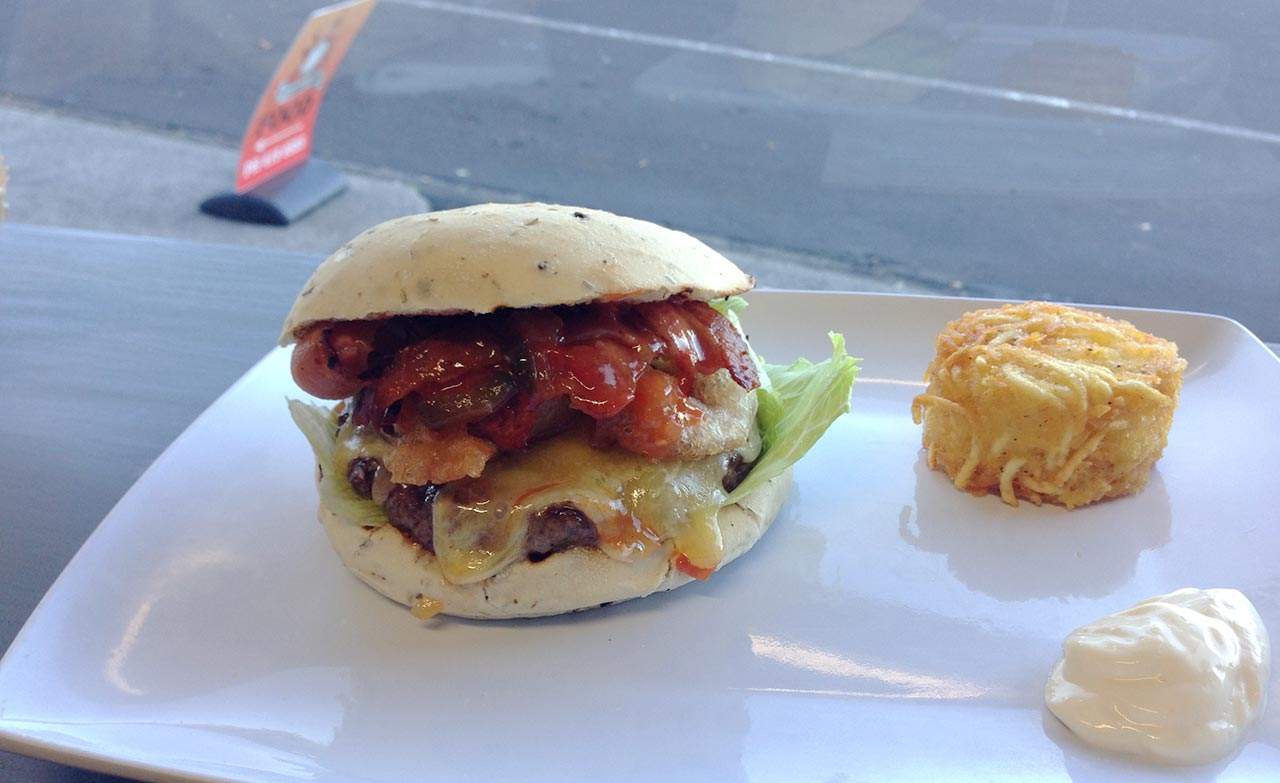 Our suggestion: Matt Attack and a potato rosti - the best feed we've had to date from the Flaming Onion.
Although humble in appearance and location the North Shore's Flaming Onion shouldn't be underestimated in quality or flavour. Driven by two local lads, one of whom is a former chef at Euro and The Engine Room, it's local takeaways in gourmet fashion. The menu features such goodies as steak-fold burger lashed with caramalised onions and hefty bacon & egg stack or the usual takeaway fish'n'chips, kumara fries and lots more besides, all of which are worth a try. Oh, and a regularly changing burger of the week for you intrepid flavour explorers.
When it comes to burgers...free-range products, home-made relish and aioli that'll knock your socks off, focaccia-esque buns packed with herbs... it's a little bit flash in taste, but not in price or wankyness - they're just damn good. We dug into the latest addition to the menu, the Matt Attack (named after a well-connected punter), a former burger of the week gone pro - beef, streaky bacon, onion rings, cheese, salad and an epically delicious relish.  Despite the amount of content going on, it wasn't greasy - but juicy, flavoursome and basically a real quality burger - a good representation of what Flaming Onion has going on.   For a bit of a change we swapped fries for a potato rosti - crispy, golden and a spot-on addition to the meal.
Whilst the burgers could be a touch larger, the hand-made goodness, salt-and-pepper seasoning, gourmet taste and overall quality leaves you with lingering mouth-happiness for quite a long while afterwards.
1 Lydia Ave, Northcote

Our suggestion: The Hottie (beef with grilled mango and chilli mayonnaise). Spice up your life, then quench it with a Double Brown.
With a legacy of satisfied student hangover-buster history in Dunedin, Velvet Burger continues to just... do it right. The Fort Street location makes it a mecca for inner-city dwellers and alcoholic imbibers, is a lovely spot for a hangout and with 2-for-1 Tuesdays, you know they're keen to take the taste to the masses.
The burgers are well sized, excellently flavoured, juicy, with fresh ingredients and a decent bun to boot (although they are a tad fluffy for my liking). The signature Velvet Relish sits perfectly on the tastebuds. While the beef patties could be thicker, overall it is hard to say a bad thing about VB - they're everything you want in a great burger joint, and deliver a consistently superior product.
Do we like, scratch that, love, it?  Yes, yes, yes. It's a little hard to describe what it is about these burgers that makes them so spot-on, and maybe for each person it's a different thing - the lack of greasiness? That damn-fine relish? The combination of flavours, possibly? Either way, trust us, your taste buds will suffer no such confusion.
Menu-wise, the big options (i.e. Big Bro or Gone Burger) are heart-stoppingly potent, and the regular or mini-burgers are just right to scratch that itch.  Serving up decent french fries and a range of cold beers - we'd fairly say you won't find a better burger joint in the CBD.
18 Fort St, CBD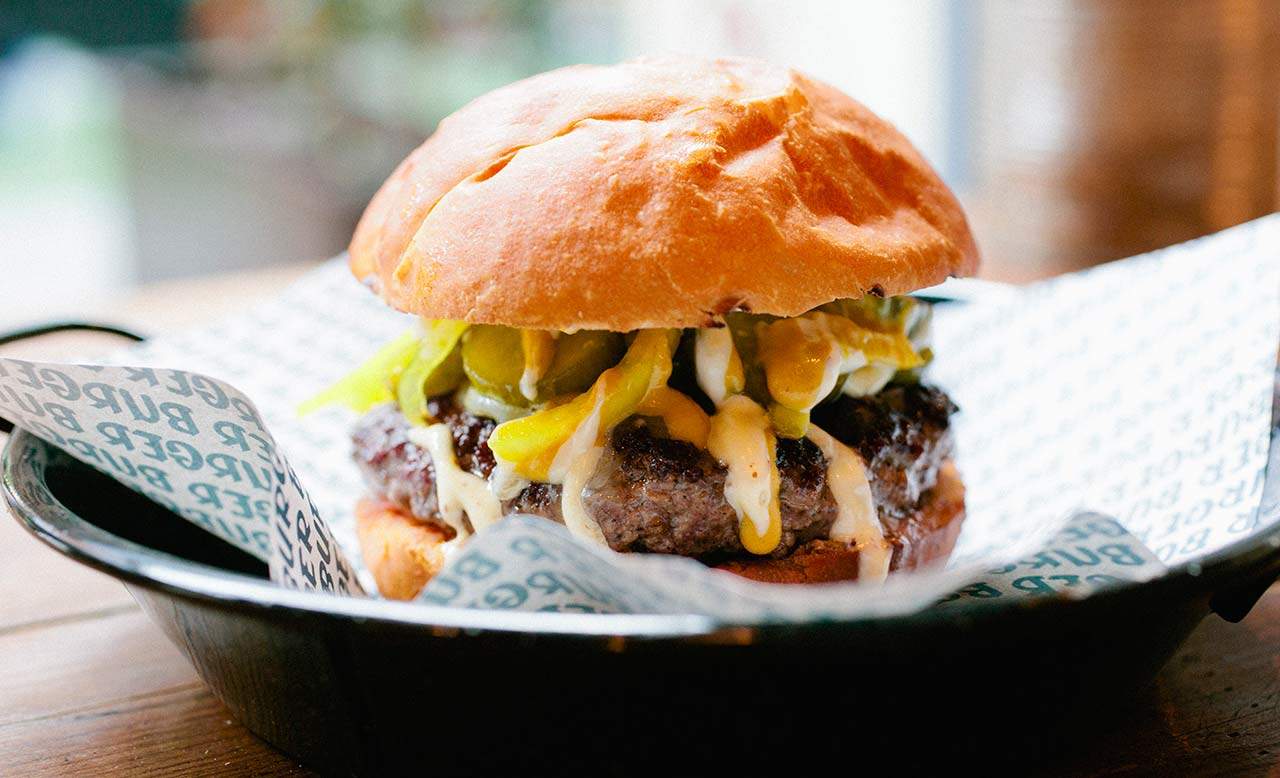 Our suggestion: Burger of the Week, and some of that god-damn amazing grilled broccoli.
Burger Burger represents one-half of the dichotomy existing within Auckland's burger joint scene - the pinnacle of the flash, hip and trendy joints that have arisen following the humble burgers ascension to the 'in thing'. Located in the heart of Ponsonby (and more recently in Newmarket), it offers champagne with your sandwich, ticks every ethical box and meets the needs of clean-living (swap your bun for lettuce) should the consumer require. BB's staff of bright young things work tirelessly as the waves of popularity dash against it, whipping out Instagram-ready meals that are worth the 30+ minute wait you'll regularly encounter.
They are the new wave of coolness, taming the burger joint at a professional level - a simple selection (beef, lamb, chicken, fish, veggie or pork) with contemporary sides that reach new heights of delicious (potato skins and truffle aioli, grilled broccoli for a healthier choice and/or honey glazed carrots) and a regularly rotating burger of the week. We were lucky enough to try the fried chicken burger with Wild Turkey BBQ sauce and bacon. It was so incredible I almost died. In all honesty it was sexy. Beyond that, the buns are light, fluffy, brioche-esque and easily the best we've ever had, while the trendy scene made me feel like the popular kid at school. Suffice to say the burgers rate. They are the goodness, if a touch undersized (perfect for the average punter).
So, trimmings, glitz and glamour aside, we know the burgers are exceptional.  The New Zealand Herald called them number one, partially on account of their "wine and craft beer list, decent music, atmosphere, table service".  So the question becomes, is this what a burger joint is? Or should be?
We think yes, in 2015, this is what the public wants - the populist vote if you will. When we consider the Auckland rankings, we feel that Burger Burger is the clear winner in setting, service, ambiance, sides, buns, ingredient 'quality' (i.e. Neat Meat for most flesh, Il Forno Bakery for buns), appearance, beverages (those milkshakes, god) or a date location to impress.  If having a good burger and a great experience is what matters, this is your hero - and that interpretation is OK because you'll find happiness here. But our decision is clear, Burger Burger wins, in all but one category. The best burger.
Because at the end of the day, when we look into our hearts, we're forced to concede that if we had to choose a final meal, it would still be…
Ponsonby Central, Ponsonby Road & York St, Newmarket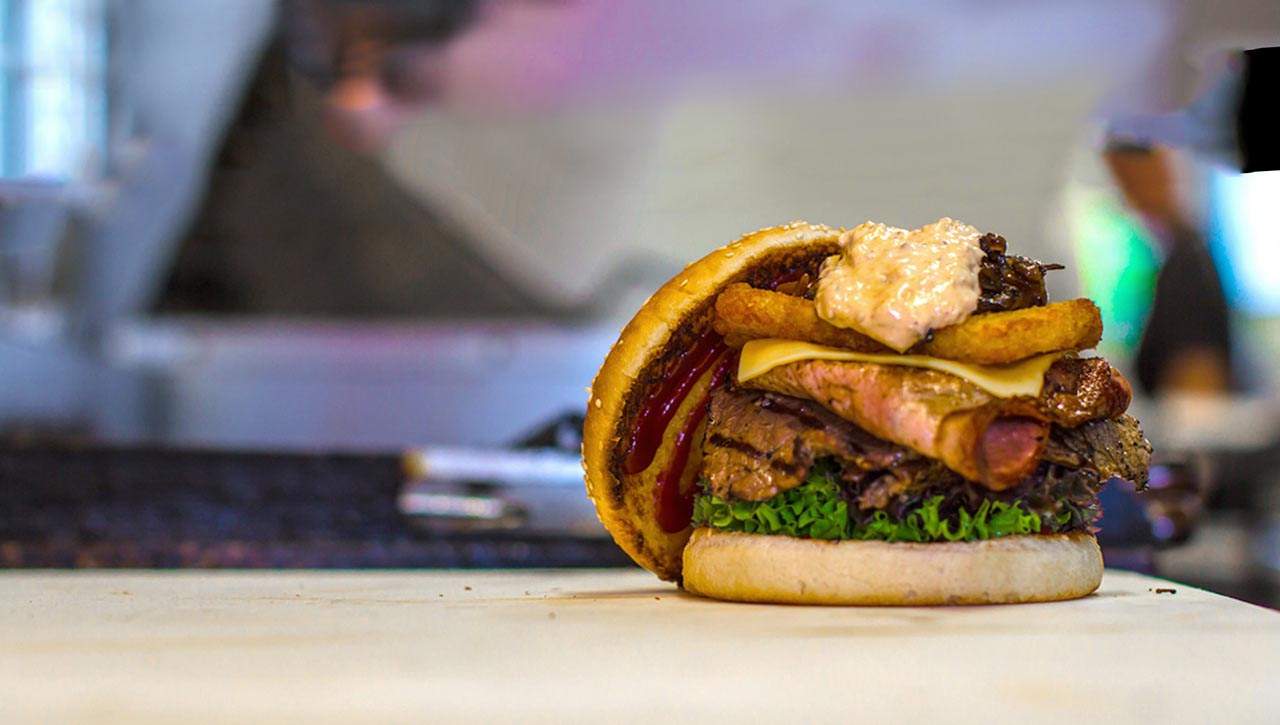 Our suggestion: Burger of the Week or a cheeseburger (mmm) - with arguably the best onion rings in town and aioli.
Our two-time incumbent, Big J's Takeaways in Mount Wellington has continued to surpass all expectations and deliver exceptional quality burgers - no overdone frills here, just honest-to-goodness perfection in a bun. The sauces are saucier, the meat meatier and the satisfaction fever pitch. Despite it's modest location and simplistic setup, Big J's has led the way when it comes to taste - from the most basic of burgers through to the ever-sensational Burger of the Week (of which they led the trend). This is the benchmark when it comes to burgers, and while they've hit some quality bumps in the road from long wait times, fill-in staff and rushed orders (due to the aforementioned excellence and resulting popularity), on-going taste tests indicate they're still setting the bar.
If you could distil your best home-made burger from childhood, the one bedazzled by time and innocent wonder at Dad's creations from the BBQ, this is the closest you'll get.
Taste, satisfaction and innovation - this is where Big J's continues to lead the pack and remain on top.  Although we'll be honest, they've never been challenged to such extent before and their supremacy was sorely tested, because the new kids on the block got game.
That they can take what they've got and turn it into something so incredible, and challenge Ponsonby's new darling, is what makes Big J's so special.  It's a mark of their skill and dedication that they can outplay the challengers, that I could rip into a steak burger feeling like a man's man, the sauce and juices running down my chin, over my hands and down onto the pavement of Mount Wellington.  Similarly, their Burger of the Week innovation (Cajun chicken with bacon and banana for Christ's sake) has yet to be surpassed, although it's never been closer.
While we hate to draw comparisons, given the race between first and second place was literally neck and neck, we feel it's fair to say that while Burger Burger offers a whole lot more, Big J's wins at the humble burger.  They offer polar opposite interpretations of what a burger joint should be, and if a hip setup, picture-perfect burger and funky-milkshake is your jam we think you'll disagree with our choice - fair enough.  Both are notably streets ahead of  the competition, and either will provide nothing but happiness.
But, for 2015, we're proud to announce that Big J's Takeaways remains at number one for providing the pinnacle of classic burgerness - and we think that's pretty choice. The flavour just can't be beat. They're giant, they're juicy and they will take you to burger heaven with a taste that'll linger long in to the night.
1 Melton Rd, Mt Wellington

View all Auckland Restaurants.
Published on May 14, 2015 by Will Seal