The Best Things to Do in Auckland This Weekend
Make plans.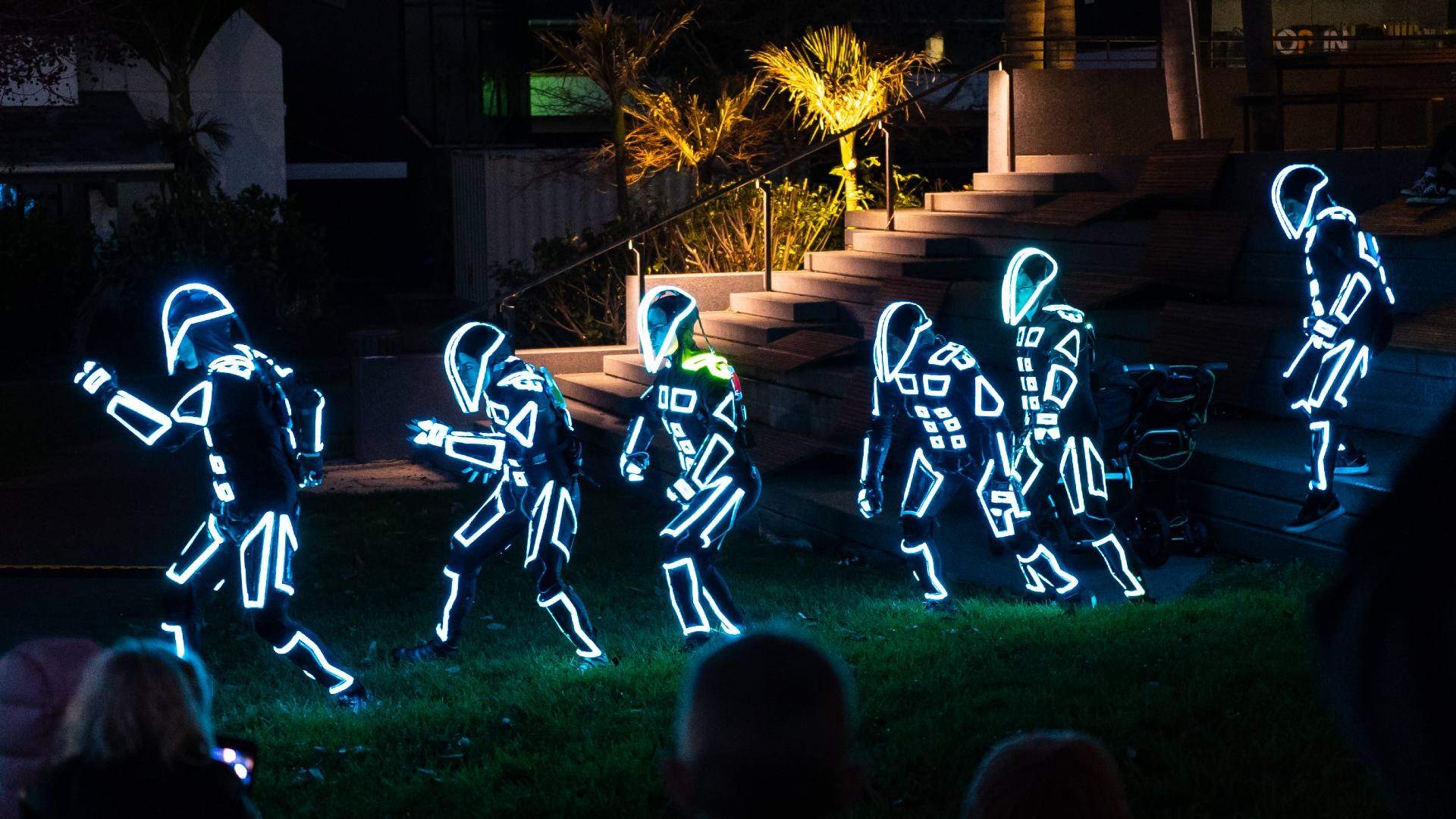 Weekends are precious. Two glorious days devoid of responsibility and overflowing with possibility. Luckily, Auckland's got plenty happening to make sure you don't spend the days indoors binge-watching Netflix and instead discovering new bars, absorbing art and feasting your way through food markets. Here are our picks of the weekend's happenings.
Top image: Takapuna Winter Lights Festival
Arts & Entertainment

Tom Gould has captured a suite of striking portraits and films featuring people from Te Tairāwhiti.

Arts & Entertainment

Tender, affecting and resonant, and filled with wonderful performances, this Gaelic-language coming-of-age drama tells a small tale with a big impact.

Arts & Entertainment

Rug up warm and check out the twinkling sculptures and light displays illuminating Ponsonby.

Arts & Entertainment

This 2018 bestseller jumps from the page to the screen, but proves as pristine and polished as a swampy southern gothic murder-mystery melodrama can be.

Arts & Entertainment

Reteaming with his 'Sinister' director Scott Derrickson, Ethan Hawke is unnervingly excellent in this tense and eerie 70-set horror film.

Arts & Entertainment

Ryan Gosling and Chris Evans bounce off of each other with chalk-and-cheese aplomb in this globe-hopping action-thriller, Netflix's most expensive film to date.

Arts & Entertainment

Based on a true story, this entertaining Mark Rylance-starring underdog comedy focuses on the British man dubbed "the world's worst professional golfer".

Arts & Entertainment

With discounted ticket prices and even a 'pay as you feel' evening, there's no excuse to miss this gritty family drama.

This exciting new exhibition of contempoary British artwork confronts themes and social topics that are often considered taboo.

Food & Drink

Enjoy festive vodka cocktails, write down your wish — and go in the draw to win a trip to Japan.

Arts & Entertainment

Taika Waititi's second 'Thor' film is a ball of playful, goofy, 80s-worshipping chaos — in both fun and messy ways.

Arts & Entertainment

Rug up warm, head over the bridge and prepare to be dazzled by larger-than-life light installations.

Travel & Leisure

Banish those winter blues by cosying up by the fire with a glass of red at one of Waiheke's gorgeous wineries.

Food & Drink

The one-day event will see fried chicken fans able to get their greasy mitts on wings, chicken-topped waffles, burgers, baos and other delights.

Travel & Leisure

Cosy up in your own private igloo while scoffing snacks and sipping drinks

Arts & Entertainment

Wrap up warm and head to Onehunga after dark to see some of the suburb's historic buildings come to life.

Food & Drink

Think truffle-topped crayfish ravioli, shaved truffle over a four-cheese pizza and of course, truffle burrata.

Arts & Entertainment

This groundbreaking exhibition of works dating from as far back as 1350 is the largest exhibition of icons to be staged in Australasia.

Arts & Entertainment

This mammoth exhibition is set to be the largest selection of ancient artefacts ever loaned by a museum to New Zealand.

Arts & Entertainment

Do you dream of being a famous artist? Manifest it the right way and practice your skills in the Auckland Art Gallery.

Travel & Leisure

The weekly one-hour Hatha yoga class takes place in a new gallery space each week, allowing you to catch new works from local and international artists.

Food & Drink

Hop between three venues during this progressive dining experience.

Food & Drink

You'll enjoy six local and international drops and accompanying snacks — and none of the usual winery worries about catching that last ferry home.

Food & Drink

This weekly inner-city farmer's market sells everything from fresh produce and flowers to coffee, vegan foods, pastries, sweet buns, crepes, juices and savoury snacks.

Food & Drink

See out the last sunny evenings of autumn with fresh pasta handmade by an ex-Baduzzi chef and ice-cold beers on tap.

Arts & Entertainment

This hour-long tour takes you behind the curtain of one of Auckland's most iconic landmarks.

Food & Drink

Start your adventure in Auckland with some craft beer and a nose-to-tail feast.
Tap and select
Add to Home Screen
to access Concrete Playground easily next time.
x