Everything You Need to Put in Your Diary for November
Catch brand new art exhibitions, scoff delicious treats at an Italian festival and get groovy at a Studio 54-themed roller-disco — it's all happening around Auckland in November.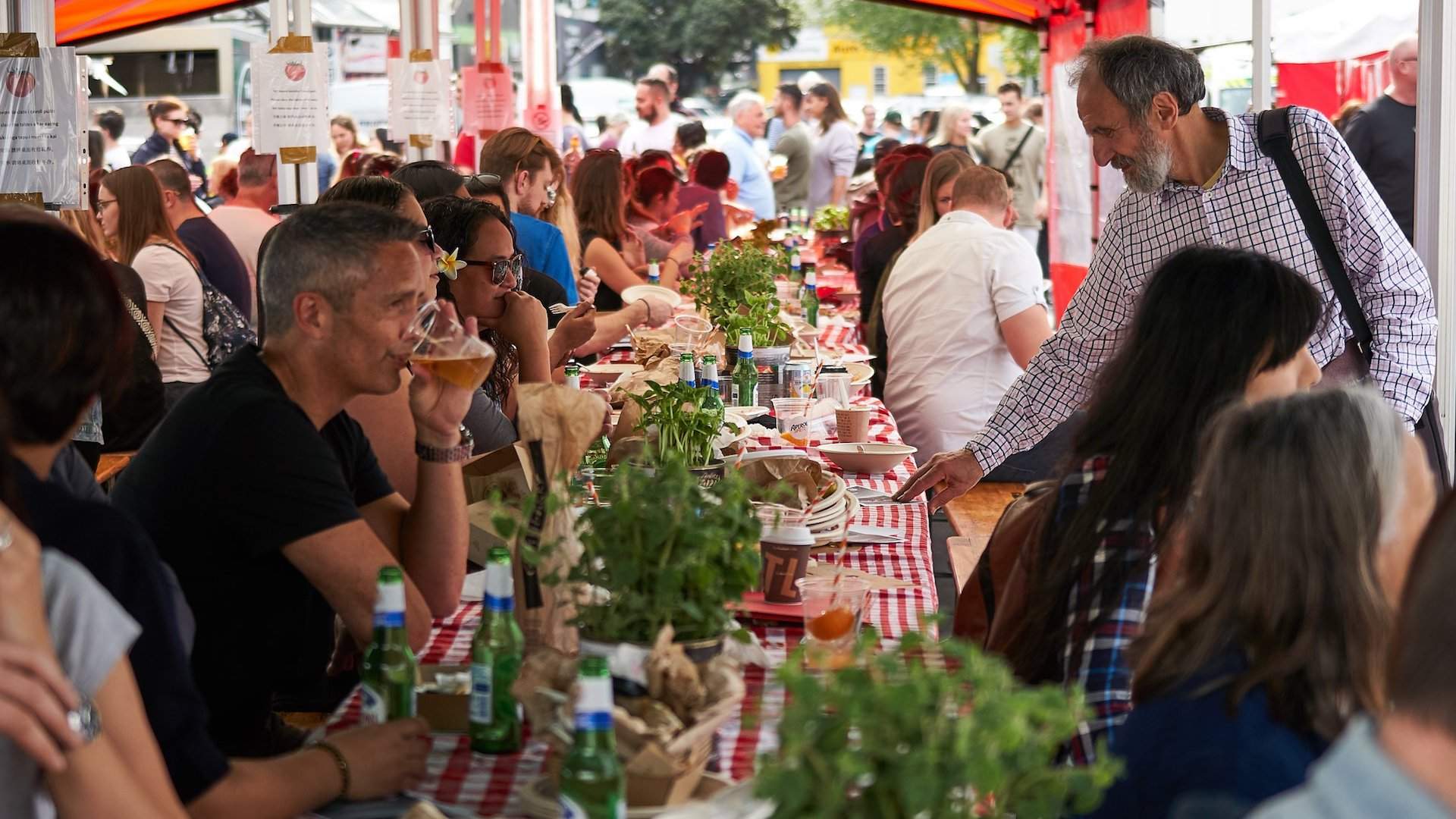 A lot happens in this big, bustling city of ours. Think movie marathons, exhibitions, and everything from booze-fuelled shindigs to outdoor adventures in between. And, of course, there's always more around the corner, with next month no different. That means that there's plenty to look forward to, and plenty of activities to fill your diary to the brim. To help you plot things out, make plans with the gang and make the most of every moment, we've rounded up Auckland's best happenings for September. Don't say you don't have anything to do this month.
Top image: Festival Italiano
Food & Drink

Embrace summer with two hours of bottomless frosé by the water's edge — complete with fruity flavours and fun toppings.

Arts & Entertainment

A culinary thriller-slash-black comedy with bite, this Ralph Fiennes- and Anya Taylor-Joy-starring cinematic dish is savage, savvy and slickly satisfying.

Food & Drink

Celebrate the warmer months with this special sunset dinner deal.

Arts & Entertainment

Auckland's favourite annual Christmas comedy show is making its hotly anticipated return.

Arts & Entertainment

This dazzling digital larger-than-life dance performance is taking up residence in Wynard Quarter this November.

Design & Style

Get a jump on your Christmas shopping before hitting one of the many delicious surrounding eateries for lunch and coffee.

Arts & Entertainment

Taking a journey to the centre of an otherworldly realm, Walt Disney Animation Studios' 61st film is heartfelt, urgent and visually stunning.

Arts & Entertainment

The 'The Shape of Water' and 'Pan's Labyrinth' director's stop-motion take on the beloved 19th-century Italian tale might just be the most magical yet.

Arts & Entertainment

Benoit Blanc is back on the case in this sequel to 2019's whodunnit hit 'Knives Out', which serves up another smart and superbly cast puzzle box of a film.

Food & Drink

Auckland's newest farmers market arrives across the harbour.

Food & Drink

See out the last sunny evenings of autumn with fresh pasta handmade by an ex-Baduzzi chef and ice-cold beers on tap.

Travel & Leisure

Boot camp, boxing, barre and nutrition classes — a four-day health and wellness pop-up is hitting Auckland next week.

Food & Drink

This weekly inner-city farmer's market sells everything from fresh produce and flowers to coffee, vegan foods, pastries, sweet buns, crepes, juices and savoury snacks.

Travel & Leisure

The weekly one-hour Hatha yoga class takes place in a new gallery space each week, allowing you to catch new works from local and international artists.

Arts & Entertainment

Do you dream of being a famous artist? Manifest it the right way and practice your skills in the Auckland Art Gallery.

Arts & Entertainment

Top off your museum trip with a visit to the historic building's exclusive rooftop.

Arts & Entertainment

Timothée Chalamet and Taylor Russell play cannibal lovers road-tripping through America's midwest in this evocative and exquisite film from 'Call Me By Your Name' director Luca Guadagnino.

Food & Drink

Get ready to abandon any reservations with gluten and dairy.

Arts & Entertainment

A seductive, stunningly shot noir murder-mystery and romantic thriller, Park Chan-wook's latest is one of the South Korean filmmaker's absolute best.

Arts & Entertainment

This hour-long tour takes you behind the curtain of one of Auckland's most iconic landmarks.

Arts & Entertainment

New Zealand filmmaker David Farrier has done it again, chronicling another story so wild that it can only be true — and this one started with an antiques store's car park.

Arts & Entertainment

Paying tribute to the one and only Dolly Parton, this Australian comedy follows a plucky impersonator swapping the nine-to-five for playing her idol.

Food & Drink

See your week out the right way — at this Sunday afternoon party filled with food, booze and tunes.

Arts & Entertainment

For his first movie in seven years, Oscar-winning director Alejandro González Iñárritu ponders the weight of being a filmmaker in a feature both spectacular and indulgent.

Arts & Entertainment

Carey Mulligan and Zoe Kazan lead this powerful newspaper drama, which follows the journalists who broke the Harvey Weinstein story.

Arts & Entertainment

This charming and thoughtful strangers-on-a-train romance follows a Finnish student and Russian miner en route from Moscow to Murmansk.

Travel & Leisure

Get a peek behind the fences surrounding some of the city's most stunning gardens.

Food & Drink

Get your mitts on a double portion of local Te Matuku oysters every Thursday this month.

Travel & Leisure

Take your yoga practice to a whole new level — level 51, that is.

Food & Drink

Start your adventure in Auckland with some craft beer and a nose-to-tail feast.

Food & Drink

Welcome the warmer months by enjoying delicious gin cocktails and tasty bites under the blossoms, beachside.

Arts & Entertainment

Sublimely sinister, savvy and smartly executed, this creepy flick about an Airbnb mixup is one of the best horror movies of the year.

Arts & Entertainment

This series of portraits capturing tulips as they age hopes to inspire a sense of zen in the viewer.

Arts & Entertainment

The Marvel Cinematic Universe's most electrifying instalment yet gets an engaging-enough sequel, which grapples with grief and also franchise box-ticking.

Food & Drink

This harbourside bar is now serving up boozy ice cream everyday.

Arts & Entertainment

Forget stuffy and outdated museum halls — all you need to experience this virtual reality exhibit is your phone and your walking shoes.

Arts & Entertainment

Exquisitely led by Florence Pugh, this 19th century-set tale of faith versus fact is mesmerising, ambitious and sumptuous.

Food & Drink

Delicious eats and ice-cold drinks are all on offer as a flurry of food trucks arrive in the city.

Arts & Entertainment

Javier Bardem is magnetic in this Spanish award-winner, which savagely and smartly satirises power, privilege and workplace life.

Arts & Entertainment

Billy Eichner and Luke Macfarlane shine in the first romantic comedy about two gay men to be released by a major Hollywood studio.

Arts & Entertainment

If you like mysterious characters in your films and books, you'll want to catch this enigmatic exhibition.

Arts & Entertainment

After the lacklustre 'Halloween Kills', the iconic slasher franchise returns with a weighty — and gory — apparent farewell to Michael Myers and Laurie Strode.

Arts & Entertainment

Dwayne Johnson dons spandex and joins the DC Extended Universe, but can't inject any personality into this blandly by-the-numbers superhero affair.

Food & Drink

Three days of tap takeovers, delicious food and live music.

Food & Drink

A day dedicated to cured meats, cheeses and everything in between.

Arts & Entertainment

This mammoth exhibition is set to be the largest selection of ancient artefacts ever loaned by a museum to New Zealand.

Arts & Entertainment

Drawn from a true story, this 'Zodiac'-meets-'Mindhunter'-style French investigative thriller is potent and gripping.

Arts & Entertainment

Jessica Chastain and Eddie Redmayne star in this chilling true-crime tale about a serial killer in the medical profession.

Arts & Entertainment

Viola Davis is fierce, formidable and fantastic in this rousing historical epic, which brings the tale of the Agojie, the all-female west African warrior troupe, to the screen.

Arts & Entertainment

'Westside's' Antonia Prebble and 'Shortland Street's' Ryan O'Kane have taken the titular roles in the new stage production of Hitchcock's classic thriller.
Tap and select
Add to Home Screen
to access Concrete Playground easily next time.
x