Ten Music Festivals Worth Travelling For
Take a coffee break adventure.
in partnership with

Need a bit of a break and love your music? Sure you could leave it all behind and head up to Splendour, if you were lucky enough to get tickets. You didn't? Why not look a little further afield for your music festival fix? Festival season is about to kick into action in the Northern Hemisphere. With a plane ticket in your hand, you need never quit the dancefloor.
Take a coffee break and take a scroll through some of the world's most incredible music festivals. We've teamed up with NESCAFÉ to help you take the desk break you, as a hardworking human being, deserve. They're events we'd nab an airfare for just for the festival itself — from big name-driven classics like Glastonbury to boutique gatherings in extraordinary settings, like Japan's mountaintop festival The Labyrinth. The lineups are a bonus.
PRIMAVERA SOUND, BARCELONA, SPAIN
If you were championing Courtney Barnett before anyone else was listening and spend more than your fair share of hours searching YouTube for undiscovered artists, you'll love Primavera Sound. Just a few of the acts to have made their Spanish festival debut here are LCD Soundsystem, Franz Ferdinand, Wilco, Arcade Fire and Bon Iver. Primavera is all about giving stages to indie and alternative music. When the show's over, hang around for a few days at least to explore Barcelona's winding alleyways, sparkling coastline and late, late (lockout free!) nightlife. This year, Primavera's scheduled for June 1-5.
THE LABYRINTH, JAPAN
Lovers of mountains and electronica, add this one to your bucket list. Held among the spectacular peaks of Japan's Niigata Prefecture, The Labyrinth is famous for its amazing surroundings, as well as its hours and hours of uninterrupted music. DJ sets run back-to-back, so you'll have to bring a deckchair to catch your breath. Acts to have made previous lineups include Peter van Hoesen, Donato Dozzy, Svreca and Petar Dundov. The only catch is that only 5 percent of tickets are sold outside Japan, so you need to get smart to get hold of one. Labyrinth 2016 is yet to be announced, but you can expect it to happen in September.
LOVE INTERNATIONAL FESTIVAL, CROATIA
Started in 2006 as Garden Festival, this event has morphed into the Love International Festival. Lesser known than many listings here, it's a week-long, boutique affair, set in a magical garden in Tisno, Croatia, right on the edge of the Adriatic Sea. In fact, there's even a private beach, so you can cool off after sweating it out on the dancefloor. You have a choice of six stages, including one on the sand, one in an olive grove and two on wooden boats. The program is mainly electronica, with a smattering of live acts. Get to Love International 2016 between June 29 and July 5.
SXSW (SOUTH BY SOUTHWEST), AUSTIN
Back when Bob Hawke was Prime Minister and shoulder pads were boss (we're talking 1986), a bunch of music-loving folks in Austin, Texas, got together to talk about the future. What bothered them most was that so many stupendously talented local musicians were struggling to attract interstate — let alone international — attention. So, they decided that if Austin couldn't get to the world, they'd bring the world to Austin. And in 1987, the first ever South by Southwest Festival was held. 29 years on, the event is one of the planet's most influential tastemaking music happenings, featuring more than 2000 acts, 200+ workshops and over 100 stages. The 30th edition is programmed for 10-19 March, 2017.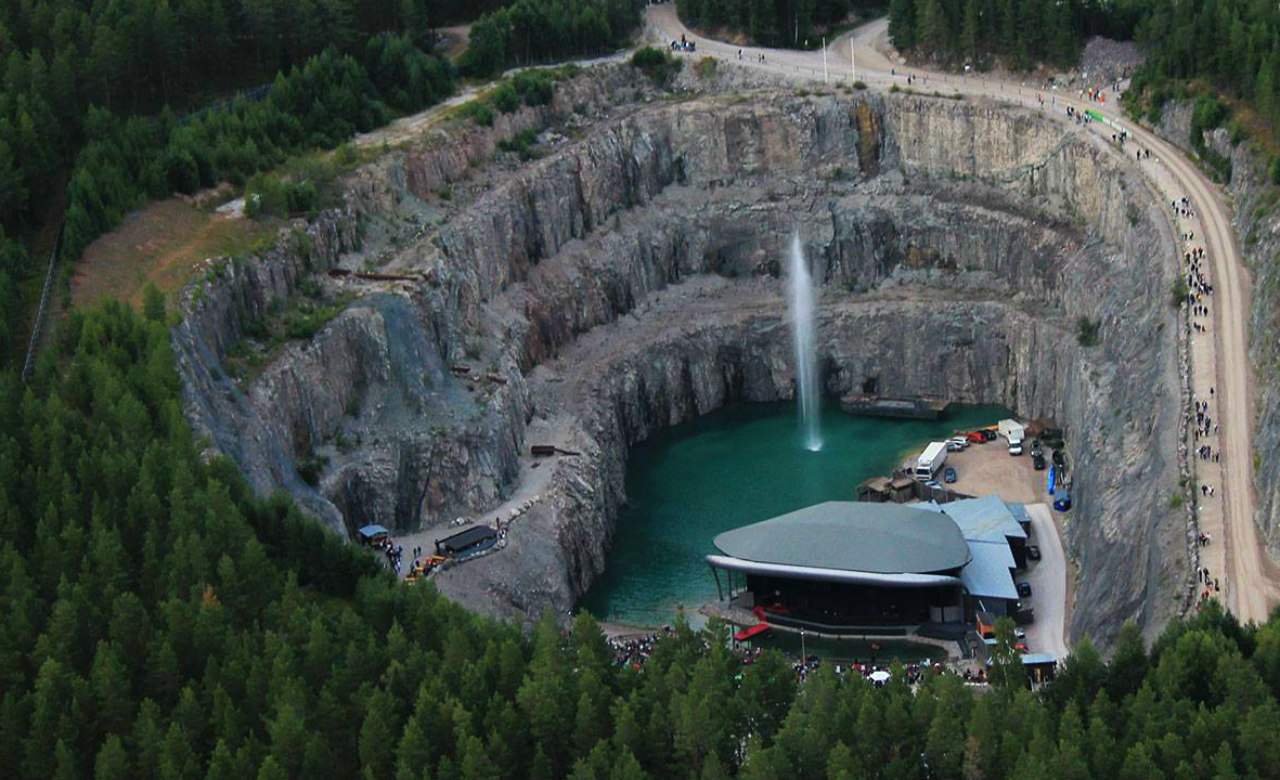 INTO THE VALLEY, SWEDEN
Sweden's Into the Valley might be the only festival in the world held in a limestone quarry, which was formed by a meteorite. Not only does such a setting make for infinite Instagramming opportunities, it's also means cracking acoustics. The organisers get the best out of both, with a solid house and electronic lineup booming through super powerful sound systems, as well as fantastical light shows. Plus, there's a brilliant, turquoise swimming hole. Into the Valley takes place in Rättvik, 280 kilometres north of Stockholm. This year, it'll be on July 29-31.
NEW ORLEANS JAZZ AND HERITAGE FESTIVAL, LOUISIANA
Jazz makes up just one chunk of the New Orleans Jazz and Heritage Festival (aka Jazz Fest). You can also count on blues, soul, R&B, rock, Latin, rap, country and bluegrass. Take 2016's program, for example — it's spearheaded by Stevie Wonder, Pearl Jam, Red Hot Chilli Peppers, Neil Young and Snoop Dogg. Running for eight days, the extravaganza takes over New Orleans' every nook and cranny. To keep you fuelled up between sets, there are more than 70 food stalls, serving up soulful nosh — from crab po' boys and boiled crawfish to fried green tomatoes and oyster patties. 2016's Jazz Fest is running April 22 - May 1.
MEADOWS IN THE MOUNTAINS, BULGARIA
If smaller crowds are more your thing, book a ticket to Bulgaria's Meadows in the Mountains. Set high in the Rhodopes Mountains, this four-day festival offers a blend of live acts and DJs — and loads of time to settle into a hammock and relax. There's also a dedicated 'healing field', where you can partake in yoga lessons, meditation sessions, tantra workshops, cacao ceremonies, sound baths and wholesome food. Stay in a genuine Bulgarian rustic mountain hut or a teepee or carry your own tent with you. Meadows in the Mountains 2016 is on June 10-13.
GLASTONBURY, UK
Should Byron Bay's Bluesfest fail to deliver your annual quota of mud, you can always try again at Glastonbury. Held every June on a farm in Somerset, this legendary event often cops a good ol' British deluge — but that only doubles the fun. What's more, if you've just hit sunny Primavera, it's a refreshing sequel. Glastonbury's lineup is always littered with massive names — this year, Muse, Adele, Coldplay, Disclosure, PJ Harvey make up just a sprinkling of them. Needless to say, the tough bit is getting your mitts on a ticket — they sell out faster than Usain Bolt can smash 100 metres. Glastonbury 2016 is coming up June 22-26.
MONTREAL JAZZ FESTIVAL, CANADA
After Glastonbury and a couple of days at Love International, jump the Atlantic for a change of scene. Like New Orleans Jazz Fest, the Montreal Jazz Festival isn't only about jazz, but also covers its close musical relatives. 2016 headliners include Rufus Wainwright, Ben Harper and Noel Gallagher, alongside jazz stars like Wynton Marsalis, Chick Corea and Christian McBride. All in all, you can prepare to see 3000 musicians, representing more than 30 nations, across 650 shows (of which 450 are outdoors and free!). The 35th Montreal Jazz Festival is on June 29 - July 9 2016.
BURNING MAN, NEVADA
Each year, as the Northern Hemisphere's summer draws to a close, tens and thousands of people gather in the Black Rock Desert, Nevada, to take part in Burning Man. It's the only festival on this list to create itself as it happens. In other words, all attendees are participants — rather than followers of a neatly organised, timetabled plan. Over the course of seven days, they build art installations, themed camps, mutant vehicles and performances, thereby creating a temporal and ever-changing metropolis named Black Rock City, which vanishes when the event finishes. If you're travelling solo, you can hook up with others by volunteering. Burning Man 2016 is on August 28 - September 5 (and you'd better go soon before Silicon Valley suits eat it up.
Top image: The Labyrinth.
Published on June 20, 2016 by Jasmine Crittenden