Ten Incredible New Zealand Road Trips
List off ten of the best road trips in New Zealand.
New Zealand is one of the most beautiful countries in the world, and a place where a lot of people would rather be - there's no doubt about it.  But when it comes to getting out and seeing that beauty for yourself, maybe showing off to your international friends what a glorious and picturesque nation you call home, you can be sure as hell that it doesn't involve a trip to Mission Bay or a cruise around the Auckland suburbs (sorry Auckland – I still love you).
No. It involves getting in the car, packing your bags, and embarking on the best activity imaginable…
"The Great Kiwi Roadtrip"
Requirements include:
Working car, preferably recently serviced or god help you
A breakdown service that will come anywhere, anytime
A map (getting lost on those country roads can be a real bitch)
Passengers (although solo can also be awesome)
And that's about it. Food and drink can be collected on the way (you think they put a KFC in Hamilton for fun?) and if you really want to keep the budget down, sleeping in your clothes is totally, fully sweet mate – you're in NZ, chill out!
So thanks to Corona and keeping in theme with From Where You'd Rather Be, we imagined where we would love to be, who we would rather be with, pretended to pack our bags and put together ten incredible road trips across this lovely country of ours.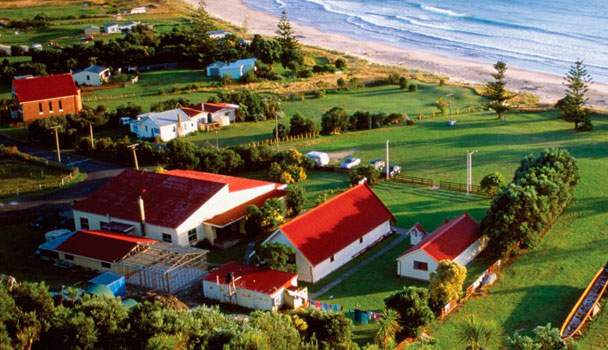 (Napier to Opotiki via East Cape)
If you're looking for remoteness, isolated beauty and a real slice of classic Kiwi culture, the East Cape has the lot. Beginning in art-deco Napier with its collection of retro-styled buildings and café scene that just exudes entertainment, the town starts your trip with a bit of zest.
The journey is a long one and we'd say give it a few days to do it properly – because there's nothing quite like the East Cape.  Once you've passed Gisborne (and visited the superb local vineyards) it could seem like you're the only people out there – it's untouched, isolated and amazing. Dotted with small towns you'll find anything from fine chardonnay to a hare pie along the way.
It's what I imagine 1950s New Zealand to be like – laidback, cultural and easy-going. A superb driving experience as you make your way along the coastline, soaking up the sunshine the region is so famous for.

(via Haast Pass and Fox Glacier)
Queenstown, Arrowtown, Fox Glacier… it's the stuff 100% Pure NZ ad-campaigns, Lord of the Rings movies and Mainland Cheese adverts are made from. Depending on the time of year, you're looking at a hot and dry summer adventure through the hills, or a snow-covered winter-land – but a real pro will visit in autumn when the hills and mountains literally shine with gold. It's awe inspiring stuff.
Past the plains and hilly tussock of the Lakes District (including the picturesque beyond imagining Lake Wanaka), you'll hit the Gandalf-cilmbed mountains of the Southern Alps and Mount Aspiring National Park. This is where the 'rugged mountain beauty' of New Zealand really comes to the fore and tourists start to get weak at the knees – so scenic stops are a must.
As you continue the mountain ascent and the road gets a little tricky, you begin to approach Haast Pass (one of three road passes over the Southern Alps) which is itself a beautiful experience – trumped only by Fox Glacier (worth spending the night) and the long but serene drive to Greymouth along our South Island's West Coast.
Oh, and while you're in Central Otago (around Queenstown etc)… try the wine, it is really good, but remember that wine and road trips don't go hand in hand.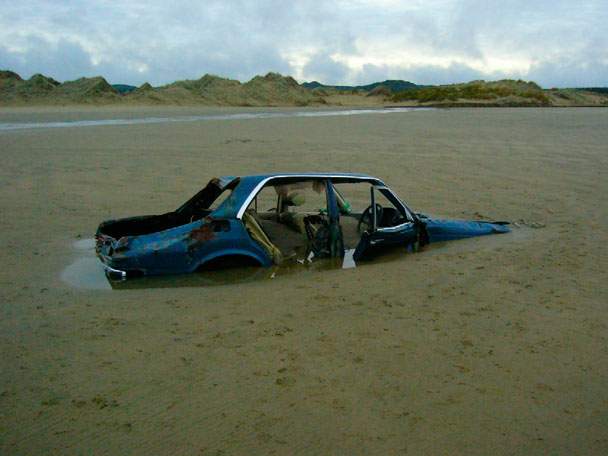 (via Paihia and Kerikeri)
Admittedly this trip isn't the most direct route to Ninety Mile Beach, but the Auckland to Northload road is amongst some of the finest scenery our collection of islands has to offer. North of Orewa its long country roads and 1000 shades of green – rolling farming country – with frequent peeks of the ocean and nearby beaches.
What are well worth the detour are Paihia and Kerikeri, two towns overlooking the Bay of Islands and each with their own charm and personality. Passing fruit orchards, coastal cliffs and jaw-dropping vistas across this massive collection of islands, your trip will enter the realms of unforgettable in these parts.
The final leg takes you to Ahipara, the bottom of the incorrectly labelled Ninety Mile Beach (it's actually 55 miles long). Here you've reached a massive expanse of sand, sun and body-boardable sand dunes stretching from the sea to the sky –truly magic stuff. And their are surf breaks galore, and there are not many places in the world where you can surf the East and West coast, all in one day. Just be weary of the tides when driving along the coastal highway.

(via the Desert Road)
After hitting the tourist trap that is Taupo, including my personal favourite, the golf tee overlooking the lake, there's nothing like cruising the length of NZ's largest body of fresh water. An average of 33km across, 186m deep and 46km long it makes for an idyllic drive by the lakeside – real convertible, wind in your hair kind of driving.
But once you've passed this trout-infested oasis the real fun begins – the Desert Road and Tongariro National Park. Like much of mountainous Aotearoa, you'll be facing a sweltering summer day or plenty of snow, but either way it's going to be a beautiful experience. With Mounts Tongariro, Ruapehu and Ngauruhoe claiming much of the skyline, these snow-covered caps are a sight to behold. I've yet to see it with smoke coming out from the infrequent eruptions – but I imagine this would add a whole new level.
While not your atypical desert, the Desert Road does earn its namesake – it's harsh-looking and desolate yet has a unique appeal to it that is unmissable. Past the hill and dale, streams and culverts of this barren area you'll come to Ohakune, capital of the mighty carrot and home to many alpine lodges to while away the winter hours with wine and a roaring fireplace.  Too good.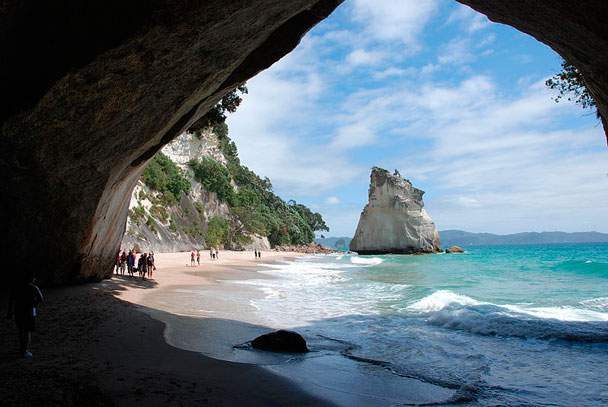 (Thames to Opito Bay and back the other way)
Only a short jaunt from Auckland through countryside and along the Hauraki Plains puts you in Thames – gateway to the summer Jaffa (Just Another Fucking Aucklander) playground of the Coromandel Peninsula. With Coromandel, Matarangi, Whitianga, Pauanui, Whangamata and Waihi Beach to choose from (that's only the major outposts) the options are truly endless for long summer drives to iconic Kiwi beaches, bachs and towns.
If workable in your plans, the coastal drive north from Thames at sunset is pure beauty – the sun beaming across the water as you follow a windy (often single lane) road meters from the sea past sandy beaches, clusters of homes nestled in the rocks and overhanding pohutakawa trees.
Once up into the hills the landscape becomes classic Kiwi bush and windy roads – until you come across the next mini-resort town or dairy/collection of houses. Personal highlights of the route include visiting Kuaotunu for the Kuaotunu Killer ice-cream, Opito Bay (world's prettiest beach) or stopping at any of the regular summer music events spread across the peninsula in the summer time.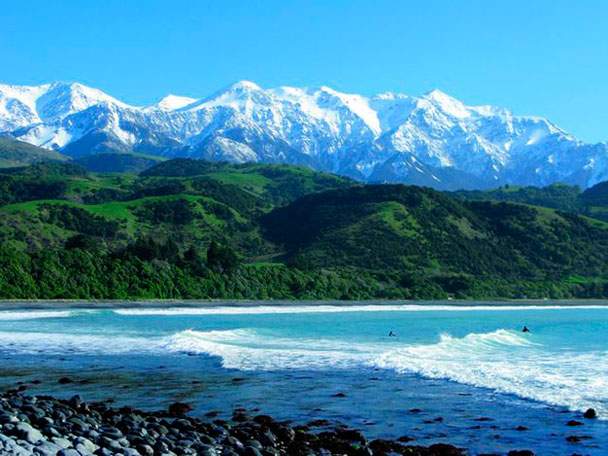 (via Picton and Blenheim)
Perhaps not a trip for those with an inclination to motion sickness, the drive north of Nelson through Havelock to Picton will take your breath away. With sheer cliff drops overlooking the mighty Marlborough Sounds, you'll see why this region of NZ is often considered one of the most beautiful.
A region noted for its exceptional food and wine, it's worth availing yourself of the facilities in each town to have a munch – Havelock for their mussels, the entire area for wine and Kaikoura for everything seafood related. Truly the area is a food and wine nirvana.
But as we all know, drinking cuts down on driving time (unless you brought the gang along, in which case, great planning) so it's on your bike for the costal leg of trip – as you climb down from the peaks of the sounds and hit Blenheim and Kaikoura. Here you'll find sweeping outlooks to the ocean, rocky shores (although there are some good beaches) and if you have good eyes – whales.
The costal drive to Kaikoura is a long and often windy one, and can be a bit harsh if the sun isn't out. But stop for some fresh crayfish and breath in the fresh southern air and enjoy the rugged beauty the South Island is so famed for. There's also a good chance you'll see seals on the coast, which if you look at my last name, will know it is an omen of great fortune on your travels.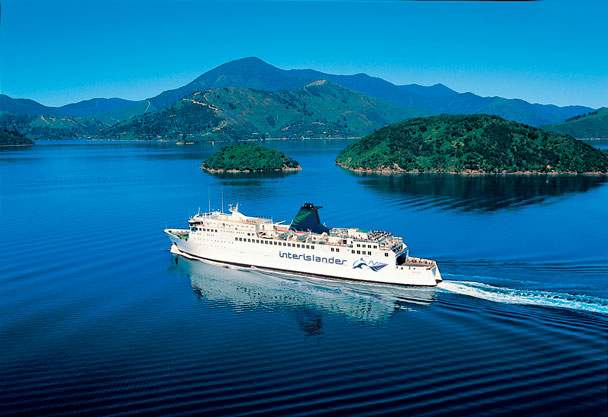 (Cruising on the Interislander)
Less of a roadtrip and more of a vehicular aquatic passage, there is none the less something magical about the Interislander ferry passage.
Motoring out of Fitzroy Bay (Wellington) you're treated to sensational views of the capital until it is replaced by the cliffs, hills and wilderness that makes up everything South or West of Wellington.  Environment conscious travellers may spot the wind farms dotting the hills, while those less interested can simply enjoy the sights.
Unless you are of iron stomach we would strongly advise to go for a calm-weather crossing day – because once you're past the protection of land and into the Cook Strait it can get exceedingly bumpy (hence you travel on the big boat). But with a few hours of sea under your belt you'll soon approach the Marlborough Sounds and some of the finest settings to be found.
With a great route past more than 100 bays and inlets you'll discover the part of NZ that post cards are made of. A seasoned tip – once in Picton head towards Havelock, and about halfway along you'll come to Linkwater, your gateway to a hidden collection of bays, resorts and beaches nestled amongst towering cliffs and plunging sounds. While it's great from the boat, it's even better up close.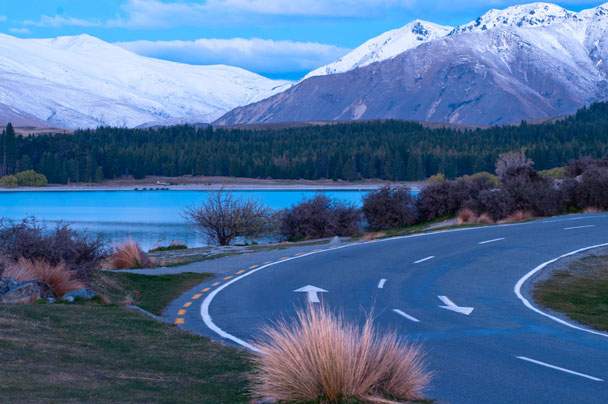 (via Twizel)
Connecting two of New Zealand's most entertaining towns, the route between Christchurch and Queenstown takes you through two totally separate kinds of Kiwi environment. Beginning with the long, flat Canterbury Plains (dotted with great places to stop and eat – Geraldine is a personal hit) the route approaches the Southern Alps offering dramtatic views of these towering peaks – including Mount Cook (our highest mountain).
The trip offers a real diversity and a limitless supply of places to stop and marvel at the natural beauty – seeing really is believing in this region.  Once off the plains you'll hit a region veritably bursting with glacial-fed lakes, towering snow-capped mountain peaks and quiet towns.
Lake Tekapo and Pukaki offer a range of delights; including hot pools for a mid-trip relax, while a short diversion to the town of Wanaka is well worth the drive. If Queenstown is NZ's Aspen, Wanaka is the even more upmarket version – offering plenty to see and do and even more ways to spend your dollars.
And finally you come to Queenstown – offering more outdoor adventures, experiences, wining and dining opportunities and generally awesome stuff than anywhere else in Aotearoa for its size.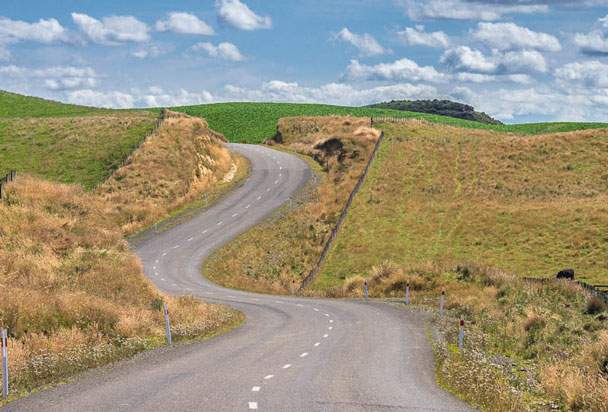 (The Gentle Annie)
This was recommended by friend's father as one of his favourites, based on it's history as being one of the most roughest touring routes in the country. Now fully sealed and offering a more smoother journey, the central North Island route offers some of the best vistas in the country, including the mountainous views of the Central Plateau, marino sheep, rivers, gorges, forests and the rolling vineyards of the Hawkes Bay.
The gentle descent from the Central Plateau into the Kaweka Forests is where she gets her name from, and also worth to note is a sheep station called erehwon. (Nowhere spelt backwards).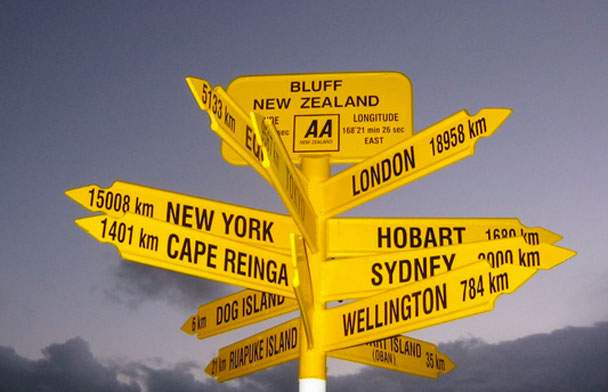 And to round off the ultimate road trip list would have to be travelling the 1401km 'up the guts' of Aotearoa. From Cape Reinga to Bluff, (or of course, if you would prefer to finish in a warmer spot, start at the bottom and work your way up) you would not only find yourself ticking off at least four of the above mentioned great kiwi roadies along the way, you would also get the fulfillment of experiencing New Zealand's unique climates on offer.
While it would be expected to take 1-2 days to complete the challenge, you would obviously want to be able soak up the rest areas and attractions along the way. After all, it is not a race. However, there is an idea. Either way, you'll have earned a beer or two by the end of it!
Introducing Concrete Playground Trips
Book unique getaways and adventures dreamed up by our editors