Five Romantic Brisbane Date Ideas for This Week From Budget to Blowout
Just think of us as your cultural wingman.
Tired of the classic movie and dinner date night combo? Us too. That's why we're always on the hunt for new things to do, scouring the city for not-boring Brisbane activities — ones that are guaranteed to take your next date way beyond done-before beers at the pub. Whether you're taking someone on a second date or doing your 100th with your significant other, we've got some killer (and, yes, cute) ideas for dates to go on this week, no matter how much money you've got to spend. Just think of us as your cultural wingman. You're welcome.

FREE
EXPLORE INDIGENOUS ART AROUND THE CITY
Peering at art isn't just an indoor activity confined to galleries and museums. It's something that you and your plus one can do across the Brisbane streets, too, if you know where to look. That's what Brisbane City Council's Outdoor Gallery offers the city's art lovers, first popping up in 2016 and filling 12 locations around the CBD with eye-catching work ever since — in spots as varied as Howard Smith Wharves and Fish Lane.
Exactly what graces the Outdoor Gallery changes regularly — and until Sunday, August 7, First Nations art is in the spotlight. OUTstanding brings together pieces by emerging and early career creatives, and also turns this showcase of their work into a celebration of Aboriginal and Torres Strait Islander heroes. That includes in communities, families and history, and heroing the land itself.
Twelve artists have works on display, such as Jody Rallah, Kyra Mancktelow, Elisa Jane Carmichael, Chris Bassi, Keemon Williams and Mia Boe. If you've seen Dylan Mooney's superhero-focused efforts at Brisbane City Hall over the past year, you can spot another of his pieces as part of OUTstanding as well.
As for where to visit, Edward Street plays host to some of the exhibition's works, and hitting up a laneway — including Eagle Lane, Irish Lane, Edison Lane, Giffin Lane and Hutton Lane — is recommended. Or, you can head to 80 Ann Street or the King George Square car park.

UNDER $50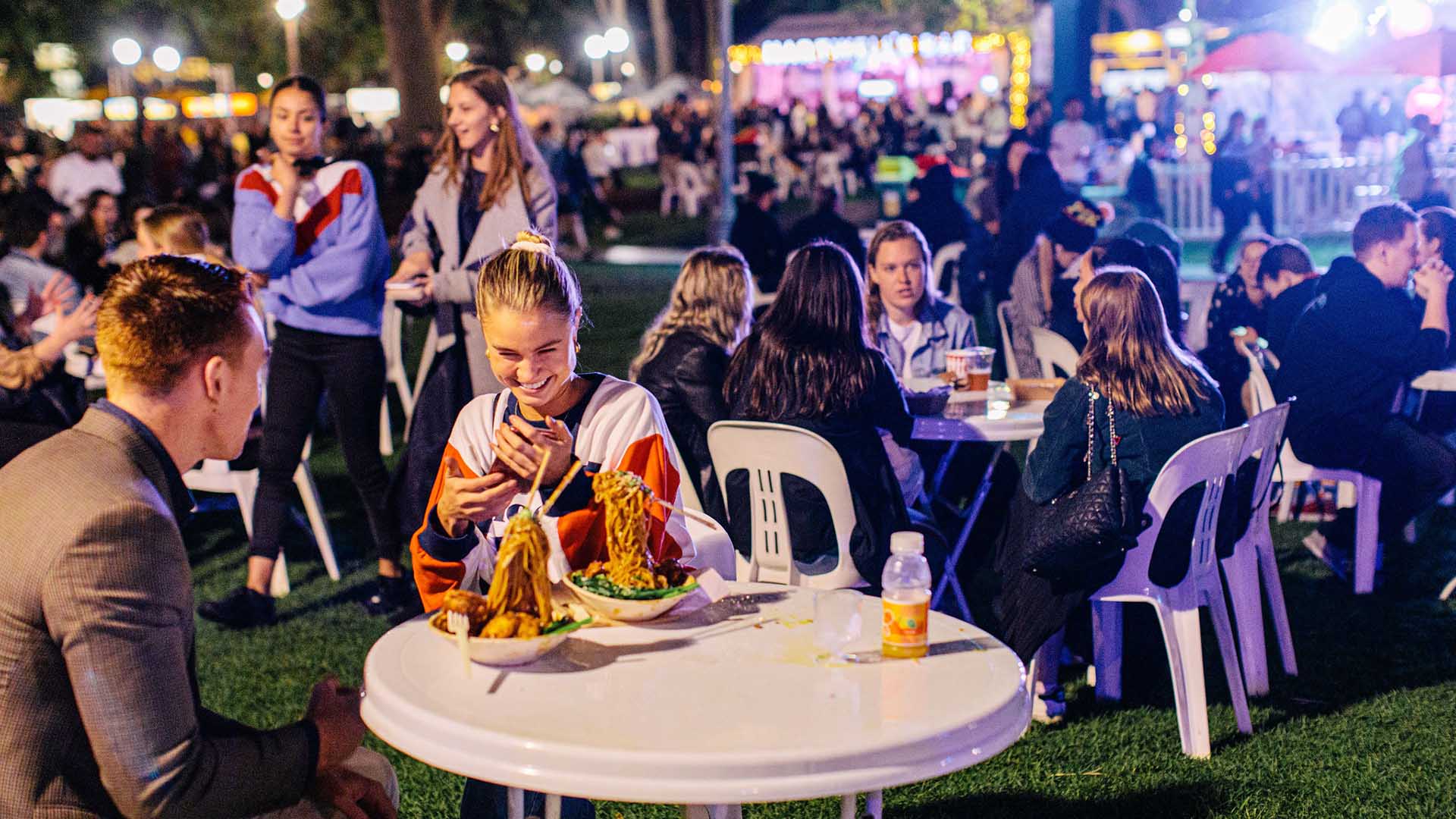 EAT YOUR WAY THROUGH THE NIGHT NOODLE MARKETS
This year marks three years since Brisbanites last feasted their way through the Night Noodle Markets. Dishing up hawker-style food and plenty of edible items on sticks, the event is an always-popular addition to the city's culinary calendar — but, due to the pandemic, it hasn't been able to set up its stalls since 2019.
Thankfully, that's changing until Sunday, June 26 — and at a brand-new venue, the Brisbane City Botanic Gardens, too. That's where you'll find an openair Asian street food festival, as well as live entertainment and lion dances to go with all those stalls and pop-ups serving bites to eat and beverages to sip. And, you and your other half can also bring your pets along as well.
The full food lineup includes the likes Hoy Pinoy, Flying Noodles, May's Malaysian Hawker, Wonderbao, Gelato Messina and Twistto. So, that means you'll be tucking into everything from noodles and dumplings to bao and desserts, spanning options from local, interstate and nationwide eateries — and also including vegan, vegetarian, gluten-free and Halal options.
On the drinks list, there's a Gage Roads Beer Garden, an Aperol Spritz Kombi Bar and the Dan Murphy's Zero% Bar — with the latter following on from the bottle-o chain's alcohol-free Melbourne venue and only serving up non-boozy beverages — plus Heaps Normal's alcohol-free beers and Rekorderlig's boozy ciders.

UNDER $150
TRAVEL BACK TO THE 1920S AT AN INTERACTIVE THEATRE PARTY
Movies about Deloreans, phone booths and hot tubs might all claim otherwise, but travelling through time isn't currently a possibility. But if you and your special someone would like a Doctor Who-meets-Midnight in Paris experience — with Ernest Hemingway chatting to Joan of Arc included, too — this immersive Brisbane show lets you definitely pretend otherwise.
Taking over Woolloongabba's Mr Badgers, The Time Travel Cafe is actually a big theatre party. You'll sit, you'll talk with your fellow attendees and you'll feel like you've leapt back to 1920s Paris. Oh, and because Bill and Ted really are pioneers when it comes to messing with all things temporal, you'll also chat with travellers from throughout history.
It's not how you'd usually spend an hour at a bar, but that's a big part of the attraction between Wednesday–Sunday until Sunday, June 26 (with sessions at 6.15pm, 7.30pm and 8.45pm nightly).
Tickets cost $65, and you're encouraged to dress up in either formal or surreal attire — and, if you're wondering what the latter entails, you can be the judge.


FEAST ON CRAB AND CRAYFISH
As well as having a catchy name, Kangaroo Point's One Fish Two Fish always serves up a decent catch. And if you and your significant other are fond of shellfish, you'll particularly agree with that statement this winter. From Friday, June 24–Sunday, June 26, the seafood eatery is focusing on crab and crayfish. It's plating up its fancy feast for lunch, in fact — so get ready to treat yo'self with a four-course midday meal.
This year's Crab and Cray Cray includes both food and booze, all for $79 per person. Tempting your tastebuds: Fraser Isle crab bruschetta (with picked Queensland crab, fennel, lemon, caviar, olive oil and dill), painted cray salad nicoise (with painted crayfish, cherry tomatoes, red onion, roasted red peppers, steamed green beans, olives, kipfler potatoes, white anchovies and a six-minute egg) and sand crab lasagne.
For dessert, lemon cream tiramisu is on the menu — as made with Limoncello, mascarpone and savoiardi — and yes, that's the one course that doesn't include crayfish or crab. Drinks-wise, you'll be sipping rosé and limoncello.
Bookings are essential by contacting the venue, with sittings from 12–2pm and 2.30–4.30pm.

ONE BIG BLOWOUT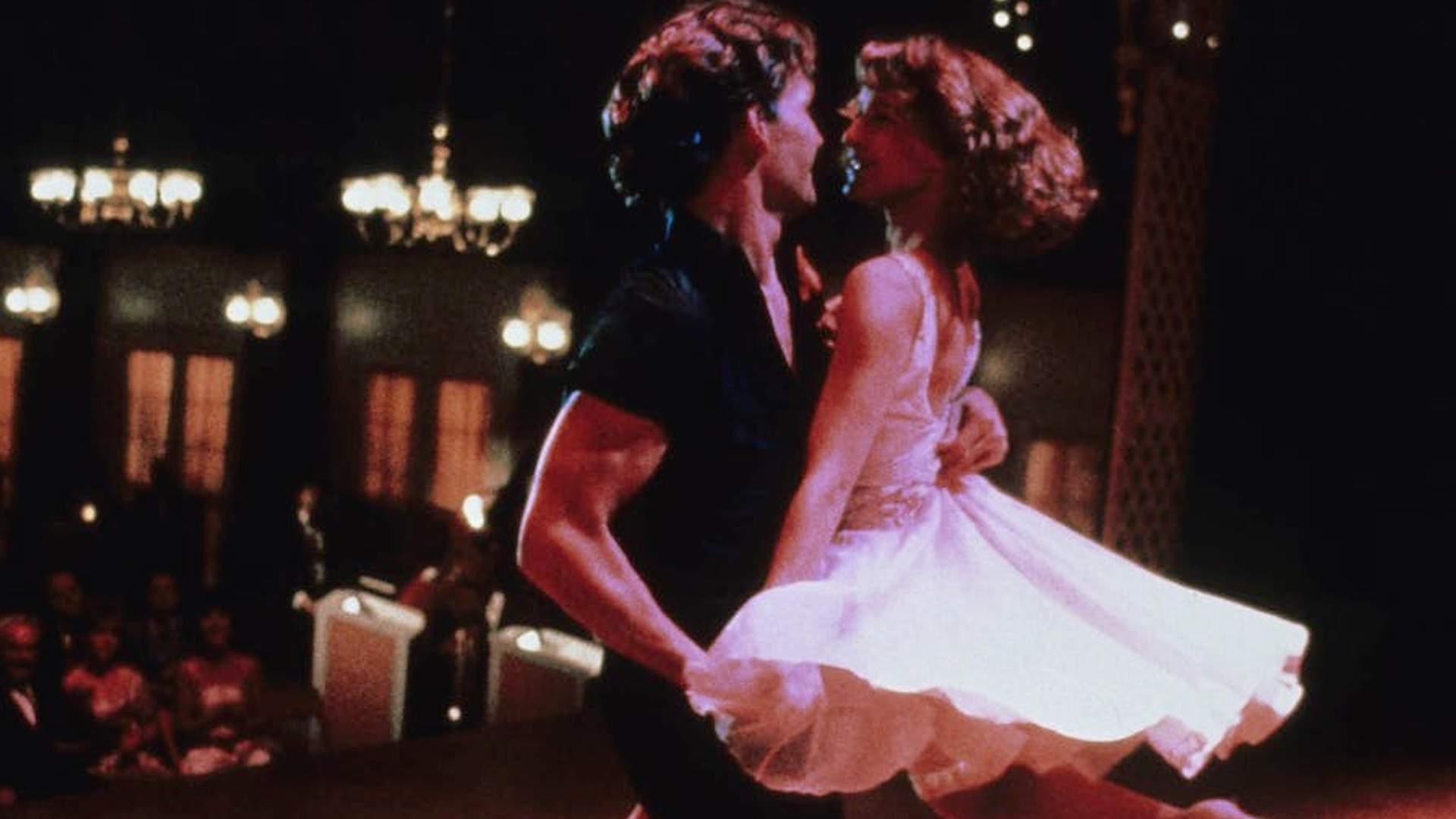 HAVE THE TIME OF YOUR LIFE AT 'DIRTY DANCING' IN CONCERT
Pairing movies with music is no longer new news, but the latest event that's serving up that combo is hoping for two things. Firstly, it's betting on a whole lot of love for Patrick Swayze and Jennifer Grey dancing up a storm in a classic 1987 romantic drama. Secondly, when it comes to getting excited about seeing that now 35-year-old flick on a big screen with its soundtrack performed live, it's hoping that you've never felt like this before.
Obviously, Dirty Dancing in Concert wants to give you and your other half the time of your lives as well — and to not only let you celebrate one of Swayze's biggest and most charming film roles, but to immerse you in the movie from the moment you take your seat. No one will be carrying watermelons or checking into Kellerman's Mountain House in the Catskills, but the digitally remastered feature will grace the big screen, and a live band and singers will perform its iconic songs as it plays.
Just as swoon-worthy: the fact that those musicians will stick around afterwards to headline a party that'll naturally have you singing and dancing. If you're feeling adventurous and inspired by the movie, you might even want to try to recreate the famous lift.
Here, nobody will put you or Francis 'Baby' Houseman in a corner — and you'd be just a fool to believe otherwise. Your hungry eyes will soak in Baby's first taste of dirty dancing, her eager rehearsals and her growing infatuation with Johnny Castle, as well as her parents' bitter unhappiness about the entire situation.
This blast-from-the-past affair hits Brisbane Convention and Exhibition Centre on Saturday, June 25 — with shows at 3.30pm and 8pm.