Five Romantic Brisbane Date Ideas for This Week From Budget to Blowout
Just think of us as your cultural wingman.
Tired of the classic movie and dinner date night combo? Us too. That's why we're always on the hunt for new things to do, scouring the city for not-boring Brisbane activities — ones that are guaranteed to take your next date way beyond done-before beers at the pub. Whether you're taking someone on a second date or doing your 100th with your significant other, we've got some killer (and, yes, cute) ideas for dates to go on this week, no matter how much money you've got to spend. Just think of us as your cultural wingman. You're welcome.

FREE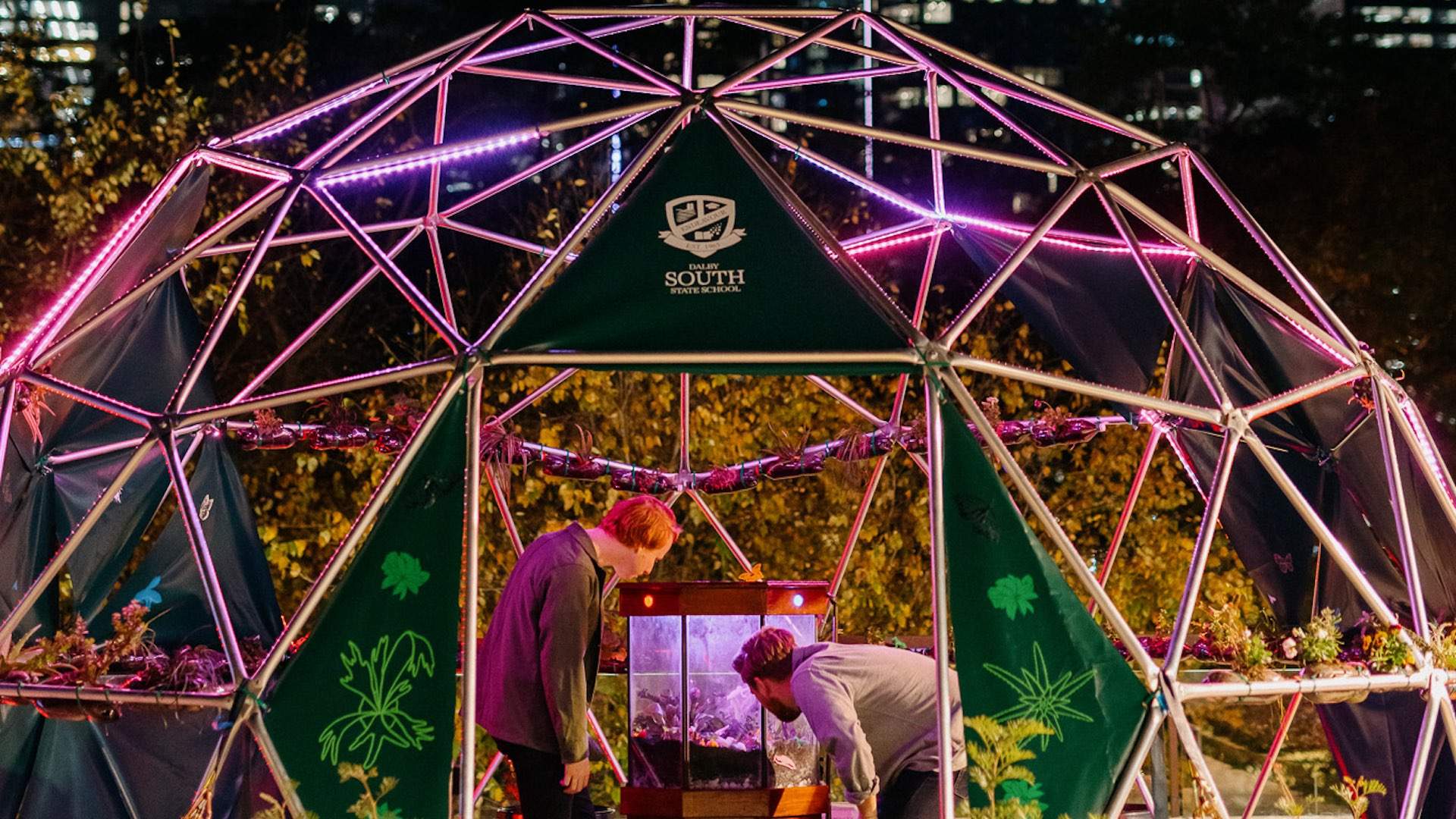 TRACK DOWN 20 IMMERSIVE AND INTERACTIVE OUTDOOR INSTALLATIONS
Walking around Brisbane is a great way for you and your other half to enjoy your own backyard, see the local sights and get in some exercise. And until Sunday, July 10, doing just that will also allow you to engage with a series of interactive installations. They're called 'curiocities', and they're part of the returning Curiocity Brisbane festival, which focuses on the interaction of science, technology, innovation and the arts.
If this all sounds familiar — and not just from past years — that's because Curiocity Brisbane was planned to go live during World Science Festival Brisbane in March. Instead, it's here now, spread across South Bank, the Cultural Centre, the Goodwill Bridge, the Brisbane City Botanic Gardens and the Queen Street Mall. And, it's enlivening winter with its lineup of art-meets-science creativity, panel discussions and tours.
Standout installations span Acknowledging Place, which asks participants to sit and consider an Indigenous perspective of caring for Country; public sculpture OHCE/ECHO, which captures your portrait and embeds it in the work; and The Wandering Birds Have Returned to the River (Even Bernice), featuring imaginary giant bird nests made out of repurposed and reusable consumer goods.
Other Curiocity must-sees include Luminous Threads, which combines embroidery with modern fibre optic technology; Mirage Project [Iceberg], which uses stereoscopic photography to inlay an iceberg from Antarctica into South Bank; and light and soundscape In the Air, a time-lapse piece that uses data from Antarctic ice-core samples to map changes over the past 400,000 years in a half-hour music and light show.

UNDER $50

MUNCH YOUR WAY THROUGH A TAIWANESE NIGHT MARKET
Two nights. Twenty-five food stalls. One bustling place — and one big celebration of Taiwanese culture. That's the formula behind Sunnybank Hills Shoppingtown's Taiwan Night Market, which is finally back for the first time since 2019, serving up a feast of bites to eat on Friday, July 8–Saturday, July 9.
If you and your plus one have been along before, you'll know that this excuse to tuck into noodles, bao, dumplings, bubble tea and more is always busy. With roti, sweet potato taro fries and desserts on offer as well, that'll still be the case this year. Around 15,000 people usually make a visit, so prepare to have company — from 4.30–9.30pm on the Friday and 1–9pm on the Saturday.
As well as oh-so-much to taste and sip, the openair market will also span live entertainment, carnival games and activities for kids.
Entry is free. Obviously, you'll still need to bring your wallet to purchase whatever tempts your tastebuds from the hefty Taiwanese street food selection as you wander along.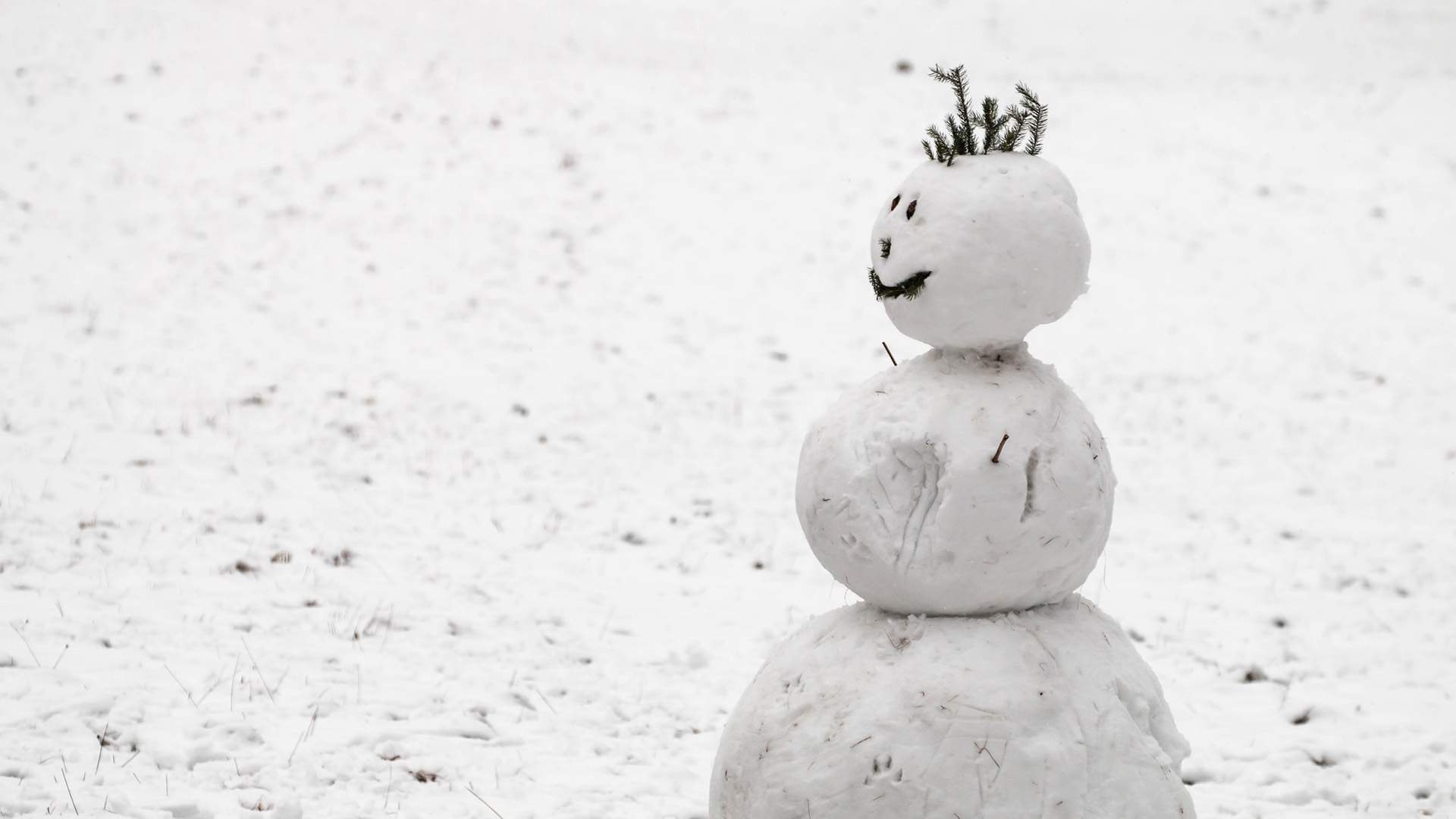 BUILD A SNOWMAN
It doesn't snow in Brisbane. It doesn't usually get all that cold in winter, either, although 2022 has been putting that idea to the test. Still, for a few weeks until Sunday, July 10, Brisbanites will be able to walk through snow, build a snowman, make snowballs and throw the latter at targets in an arcade — all by heading to Springfield.
No, the weather won't be extra frosty just in the westside suburb. No, we're not living in a Hollywood disaster movie. Rather, Snow4Kids is returning for 2022. The idea is simple: this winter wonderland will bring a heap of real snow to the Orion Shopping Centre, then let anyone with a $25 ticket frolic through it, with the space open daily from 9.30am–4.30pm.
This is a family-friendly event, as the name gives away. Adults without any kids in tow are still able to head along, though, but the organisers ask that you be mindful of the fact that you'll have plenty of pint-sized company.
Also: no snowball fights. Yes, they're a staple of romantic movies, but they won't be when you and your significant other get snowy here.

UNDER $100

GIGGLE YOUR WAY THROUGH A MINI COMEDY FESTIVAL
As much as we all might want to, not everyone can make it down south for the Melbourne International Comedy Festival when it rolls around each year. No, we're not happy about it — but it's time to turn that frown upside down, because you and your favourite person can go to the next best thing.
Yes, the Melbourne International Comedy Festival Roadshow is back for another year of touring hilarity. Bringing the best of the fest to the Brisbane Powerhouse on Friday, July 8 and Saturday, July 9, this showcase of highlights and hijinks is almost like being there.
This year's line-up of local and international acts is certain to tickle your funny bone, with Blake Freeman, Chris Ryan, David Quirk and Nikki Britton on the bill, plus Daniel Connell on MC duties.
Catch their funny acts live on stage during the chuckle-heavy set, trading their best jokes for your loudest laughs.

ONE BIG BLOWOUT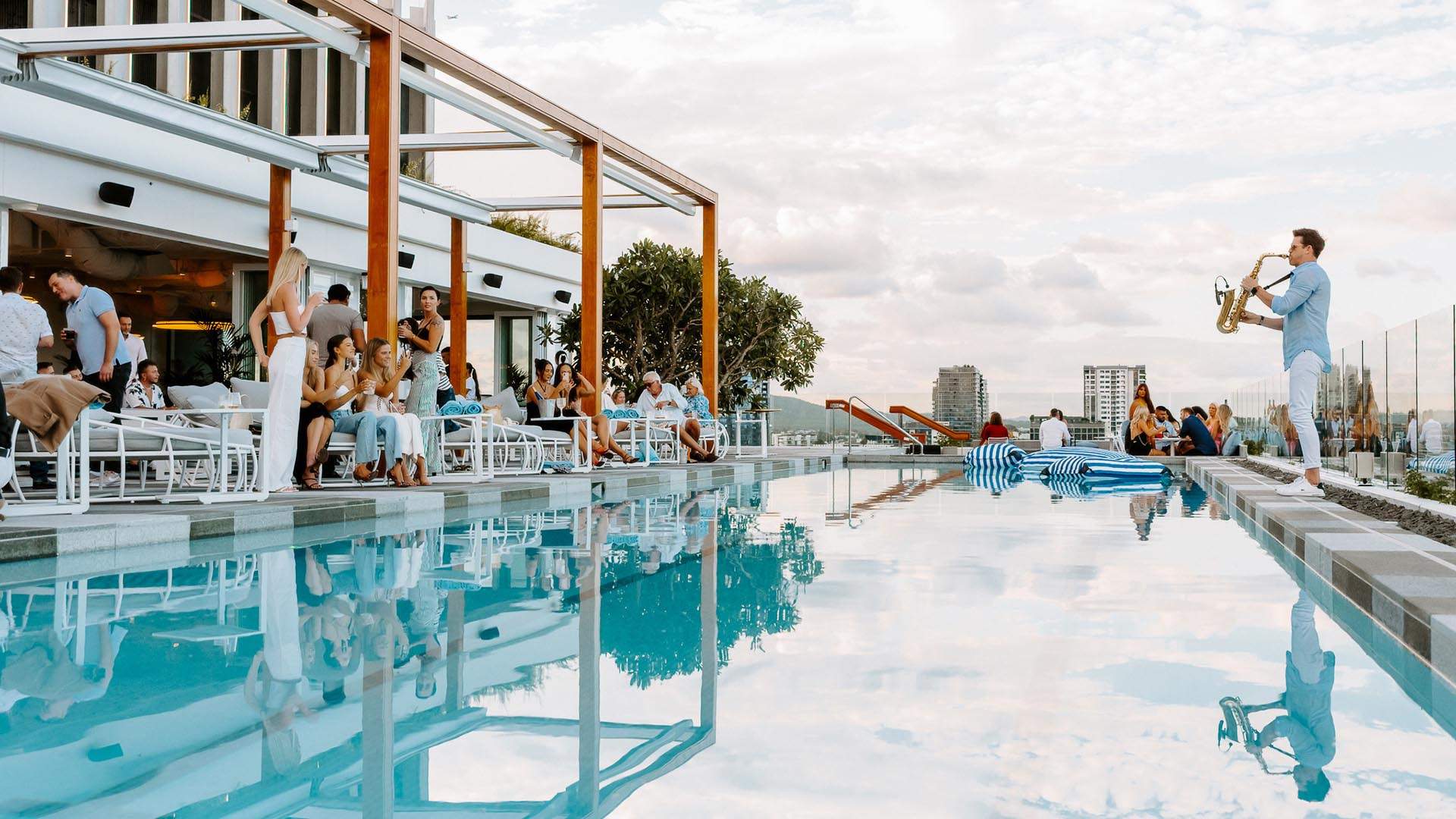 HIT UP A ROOFTOP POOLSIDE BRUNCH
In plenty of cities around the world, spending winter drinking on a rooftop by the pool might sound ridiculous. Not in Brisbane, though. We're a city with a sultry climate, even when the temperature does get chillier — and we sure do love taking advantage of our usually sunny weather.
South Brisbane's Lina Rooftop is doing just that every Sunday throughout winter, and it wants you and your special someone to join in. Because poolside bottomless brunches with a view is a year-round activity in Brissie, the sky-high bar is turning on the drinks each week from 1–3pm.
On the menu up at this level-12 spot: two hours of bellinis, bloody marys, beers and wines for $89 per person, over a two-course set-menu food spread that includes grilled prawns, sashimi and nigiri, popcorn chicken, caramelised cauliflower arancini, pulled pork sliders, and chorizo and seafood paella.
Spend $125 instead and you'll also get bottomless spritzes and cocktail slushies, too (because no, Brisbane in winter isn't too frosty for that).