ARTS & ENTERTAINMENT
Five Brisbane Date Ideas for This Week That Aren't Dinner and a Movie
Just think of us as your cultural wingman.
Five Brisbane Date Ideas for This Week That Aren't Dinner and a Movie
Just think of us as your cultural wingman.
---
Tired of the classic movie and dinner date night combo? Us too. That's why we're always on the hunt for new things to do, scouring the city for not-boring Brisbane activities — ones that are guaranteed to take your next date way beyond done-before beers at the pub. Whether you're taking someone on a second date or doing your 100th with your significant other, we've got some killer (and, yes, cute) ideas for dates to go on this week, no matter how much money you've got to spend. Just think of us as your cultural wingman. You're welcome.


FREE
FEAST ON FREE CHEESE TOAST
Gone are the days when a Sizzler seemingly sat in every second suburb, tempting Brisbanites with its all-you-can-eat buffet — and, let's admit it, with the real drawcard that is the chain's delicious cheese toast. Over the past few years, the company has downsized in a big way. But, at the few local stores that still exist, that favourite dish is still on the menu.
On Saturday, January 18, it's the star of the show, in fact. Sizzler knows how much everyone loves its pecorino-slathered grilled bread — including you and your other half — so it's celebrating National Cheese Toast Day. Head on in between 11am–2pm and you'll both score some free cheese toast without needing to buy a meal, a trip to the salad bar or anything else.
You'll also get the chance to try Sizzler's new cheese toast flavour. There's no real need to mess with perfection, but hey, more cheese toast is never a bad idea. And, cheese toast merchandise will be on offer — because that's something that exists.
If you're wondering where you can find a Sizzler these days, you'll need to head down to Loganholme or up to Caboolture. For those further afield on Saturday, stores also still exist at Mermaid Beach, Maroochydore and Toowoomba.

UNDER $20
GO HUNTING FOR SECONDHAND BOOKS
Between Saturday, January 18 and Monday, January 27, the Brisbane Convention and Exhibition Centre is hosting a sales event of most peculiar stock. Strange things they are, full of pages, rampant with words and with covers of the most beautiful colours. You can't charge them, they don't run out of battery, their brightness is unalterable, and they won't smash when you drop them and have them lost forever.
Lifeline Bookfest is back for another round of vintage bargains and startling ranges of everything from Australian Women's Weekly Cookbooks to a bit of cheeky erotica. If you and your partner have been before, you'll know there are warehouse quantities of books for sale – one of your grade five diaries is probably hidden under a copy of Shantaram, and you'll come across at least three copies of Cooking with Days of Our Lives.
Prices range from cents to the big bucks — bring a trolley and your glasses, and absorb yourself in books.
Bookfest runs from 7.30am–6pm on its opening day, then from 8.30am–6pm afterwards.

UNDER $100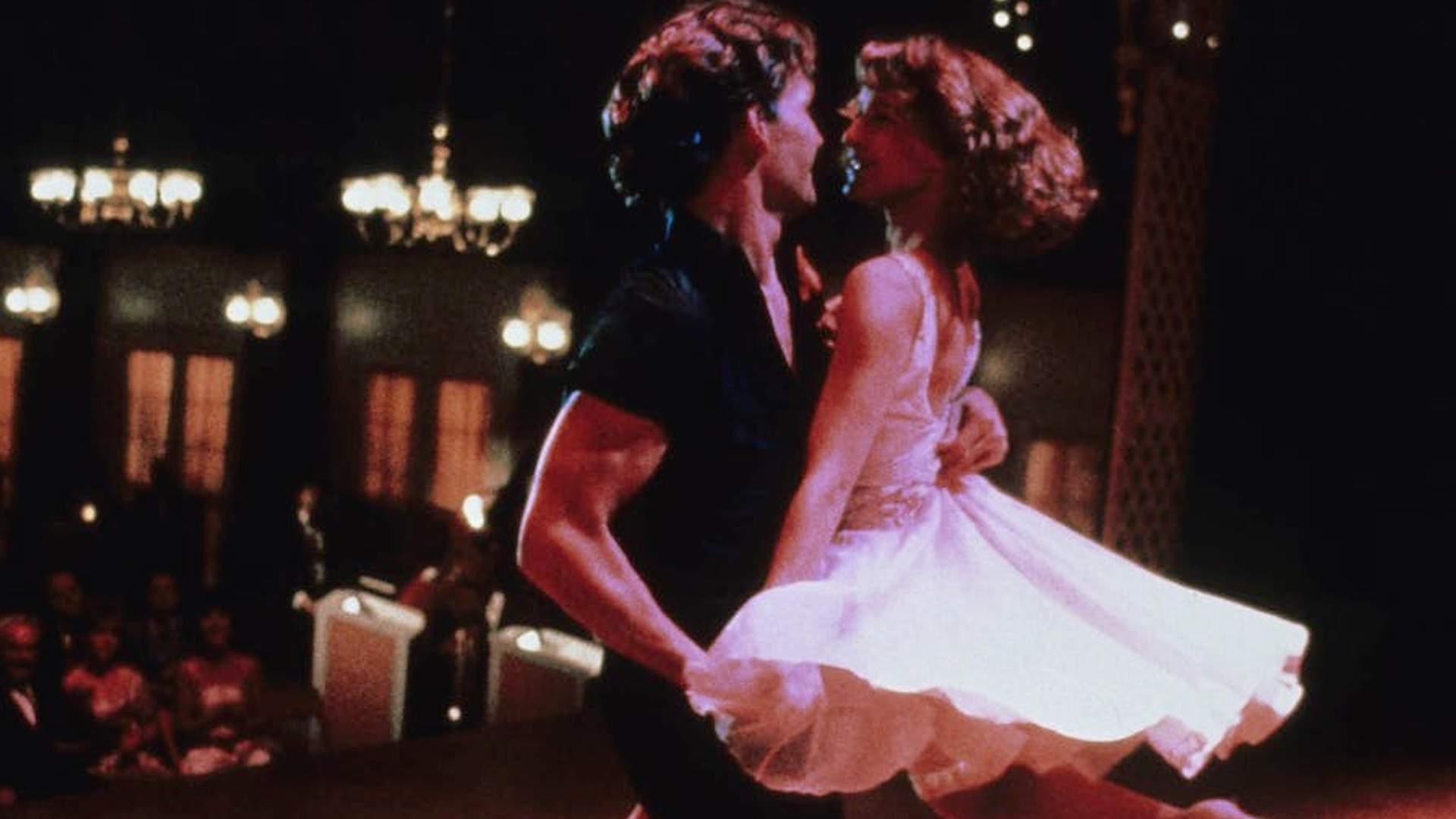 HAVE THE TIME OF YOUR LIFE LISTENING TO 'DIRTY DANCING'
If you and your special someone have hungry eyes for one of the most popular movie soundtracks of all time, and have practised your dance moves with watermelons — and one of you fancies getting lifted up into the air Patrick Swayze-style, too — then make a date with The Triffid on Saturday, January 18. From 8pm, that's when Cheap Fakes will be living out every 80s film-loving couple's romantic dreams by playing the entire Dirty Dancing soundtrack live.
Obviously, you'll have the time of your life. Prepare to hear the Brisbane and Gold Coast band belt out their rendition of the Swayze-crooned and co-written 'She's Like the Wind', too. From the sultry sounds of Eric Carmen's 'Hungry Eyes' to The Ronettes' classic 'Be My Baby', if it's on the Dirty Dancing soundtrack, it'll be echoing through the Stratton Street venue.
The gig will be accompanied by visuals from the movie and the appropriate dance moves, naturally — and dressing the part is encouraged.
Tickets cost $35.10, and remember — no one will be put in a corner here.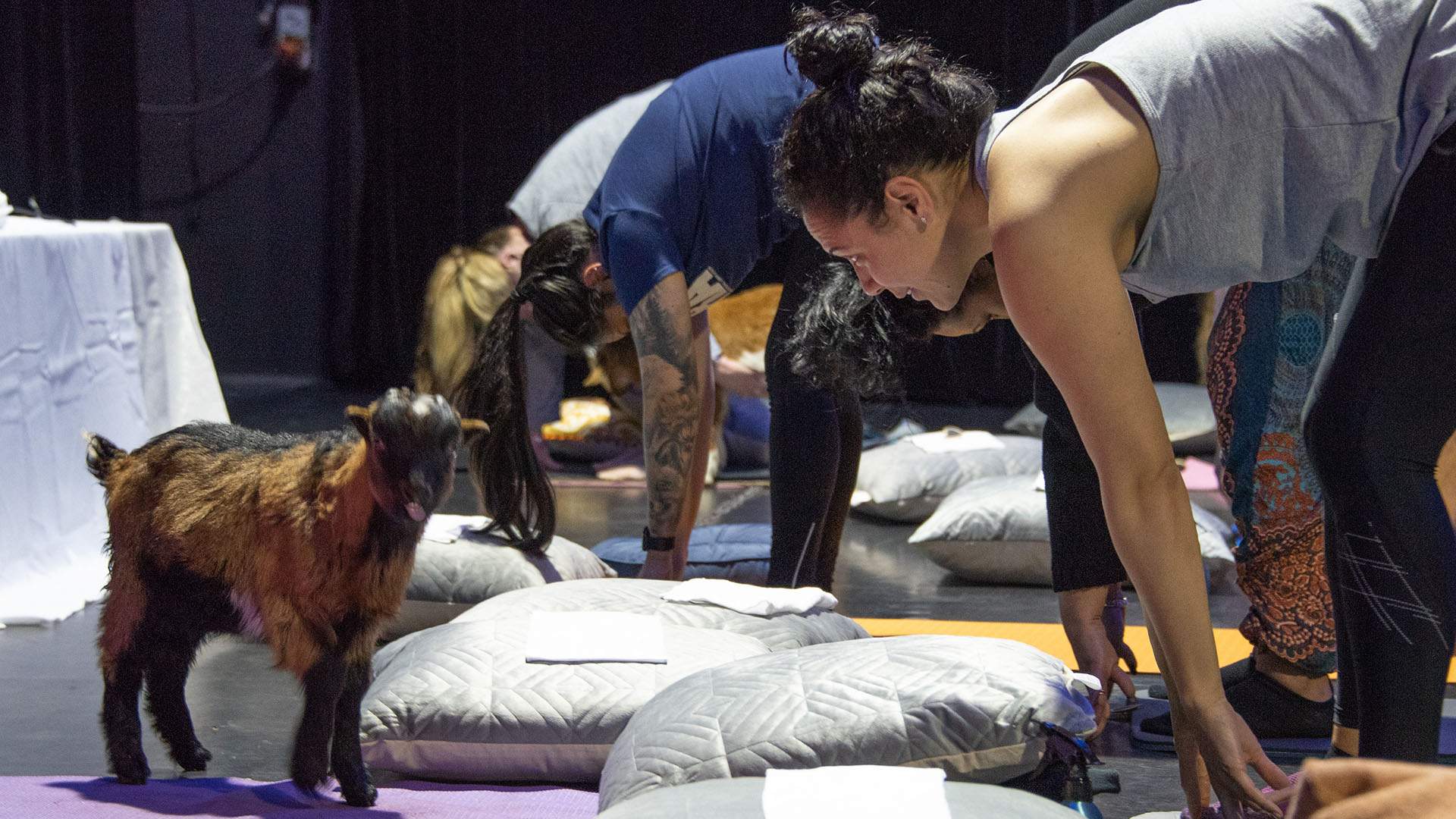 FIND YOUR BLISS WITH BABY GOATS AND LAMBS
That soothing feeling that sweeps over you when you spy a cute canine, spend too much time watching internet cat videos or even just spot a picture of a newborn animal — that's the feeling at the heart of Karmably's wellness sessions. Sure, you and your favourite person might've been to kitten yoga and puppy pilates, and they're both great. But we're guessing that you haven't tried meditating with baby goats or getting mindful with soft, cuddly lambs.
Currently held in Brisbane and on the Gold Coast, attendees at Karmably's classes attempt to find inner bliss while they're surrounded by rescued baby farm animals. In short, it's the best way to de-stress when life's got your goat. After all, who can remain overwhelmed, exhausted or annoyed when they're sharing their chill-out session with actual goats?
The classes focus on relaxation techniques, like Breathe In & Bleat Out, which gives you an idea of just what's in store. Those heading along can expect three parts to the session: mindful stretching, meditation and snuggling the four-legged participants.
If you're wondering where the concept came from, it was inspired by organiser Berenice Tan's own experiences trying to find something other than the usual mindfulness classes within Australia. Unimpressed with the options already available, she flew to Los Angeles, New York and San Francisco "and experienced every meditation class under the sun," she explains. "Funnily enough, I heard about goat yoga and laughed it off as something ridiculous I wasn't interested in trying."
Upon returning to Brisbane, Tan began to research animal therapy and, after learning of the benefits (and realising that everyone loves cute critters), her sessions with goats, lambs and even piglets were born. The bliss goes both ways, too — with Karmably not only helping humans to relax in a fun manner, but also assisting animals in need. Tan works with sanctuaries, rescue centres, and organisations such as Harmony Hooves Healing Hearts, Brisbane Pony Parties and My Little Farm Friends. They're all outfits that raise baby creatures who have either been rejected by their mothers or lost their mums in other ways, and hand-rear them until they can be adopted out as pets to families who live on suitable properties.
After setting up shop in 2018, classes frequently sell out in advance — but there's currently spaces for the latest Brissie session at 10.15am on Sunday, January 19. The calming cuteness takes place at 46 Evesham Street in Moorooka.

ONE BIG BLOWOUT
HEAD TO AN ADULTS-ONLY BLEND OF CIRCUS AND CABARET
Bending, twisting, somersaulting, swinging — on the stage and in the air, that's what a Circa production serves up. The Brisbane-based company doesn't put on your stereotypical kind of circus shows, instead showcasing the physical art form in its contemporary guise. It's acrobatic, it's inventive, and it also blends movement, dance and theatre into one stunning circus performance.
Naturally, all of the above is on display at Circa's Peepshow, the company's hit adults-only show. Imaginative, playful, and featuring a heap of extreme aerial work and contorted poses, the circus cabaret production debuted in 2018, sold out a six-month season in Berlin, and has been seen by more than 47,000 people. Now, it's hitting Brissie to start off 2020 in style.
Filled with eye-popping feats, Peepshow will light up QPAC's Cremorne Theatre from Tuesday, January 14–Saturday, January 25. Take your date along, and expect a production that's both amusing and athletic — and sultry, too.

Top image: Peepshow, Andy Phillipson.
Published on January 14, 2020 by Concrete Playground