ARTS & ENTERTAINMENT
Five Brisbane Date Ideas for This Week That Aren't Dinner and a Movie
Just think of us as your cultural wingman.
Five Brisbane Date Ideas for This Week That Aren't Dinner and a Movie
Just think of us as your cultural wingman.
Tired of the classic movie and dinner date night combo? Us too. That's why we're always on the hunt for new things to do, scouring the city for not-boring Brisbane activities — ones that are guaranteed to take your next date way beyond done-before beers at the pub. Whether you're taking someone on a second date or doing your 100th with your significant other, we've got some killer (and, yes, cute) ideas for dates to go on this week, no matter how much money you've got to spend. Just think of us as your cultural wingman. You're welcome.


FREE
SPEND A DAY MOSEYING AROUND A HUGE NATIONAL PARK
Feeling a little (or a big) dose of wanderlust after this stay-at-home year? You and your special somoene can't venture on an overseas holiday, but you can make the most of this stage of ours.
About an hour south of Brisbane, you'll find Tamborine National Park. Part of the Gold Coast hinterland, this eight-kilometre mountain plateau is home to countless waterfalls, gorges, heritage-listed sites and a botanical garden — plus, plenty of native wildlife. The best way to experience it is on foot, with a number of tracks between one and five kilometres available, which you can find online.
If, however, you're looking for all the reward without the effort, there are a couple of lookouts that you can directly to and marvel at the epic views across the Scenic Rim and Great Dividing Ranges.

UNDER $20

SIP SIX DIFFERENT TYPES OF SPRITZES
Brisbane couples haven't had much to say cheers to this year — but with the city slowly reopening after the most recent COVID-19 lockdowns, that's changing. And if you're looking for something to sip with your favourite person, South Bank's Mister Paganini is doing an aperitivo special every single day.
From 4–6pm daily, you can head by for $10 spritzes — with six varieties available. Choose from Pimms with prosecco, cucumber, mint and ginger ale; elderflower liqueur with lime and soda; or pink gin with rose syrup and strawberries. Or, you can opt for a version with Cointreau, orange juice and chilli sugar syrup; a mix of Chambord, chardonnay, lemonade, lemon and berries; or the classic that is Aperol, orange, soda and prosecco.
If you're also feeling peckish, Mister Paganini's usual menu will be on offer.

UNDER $50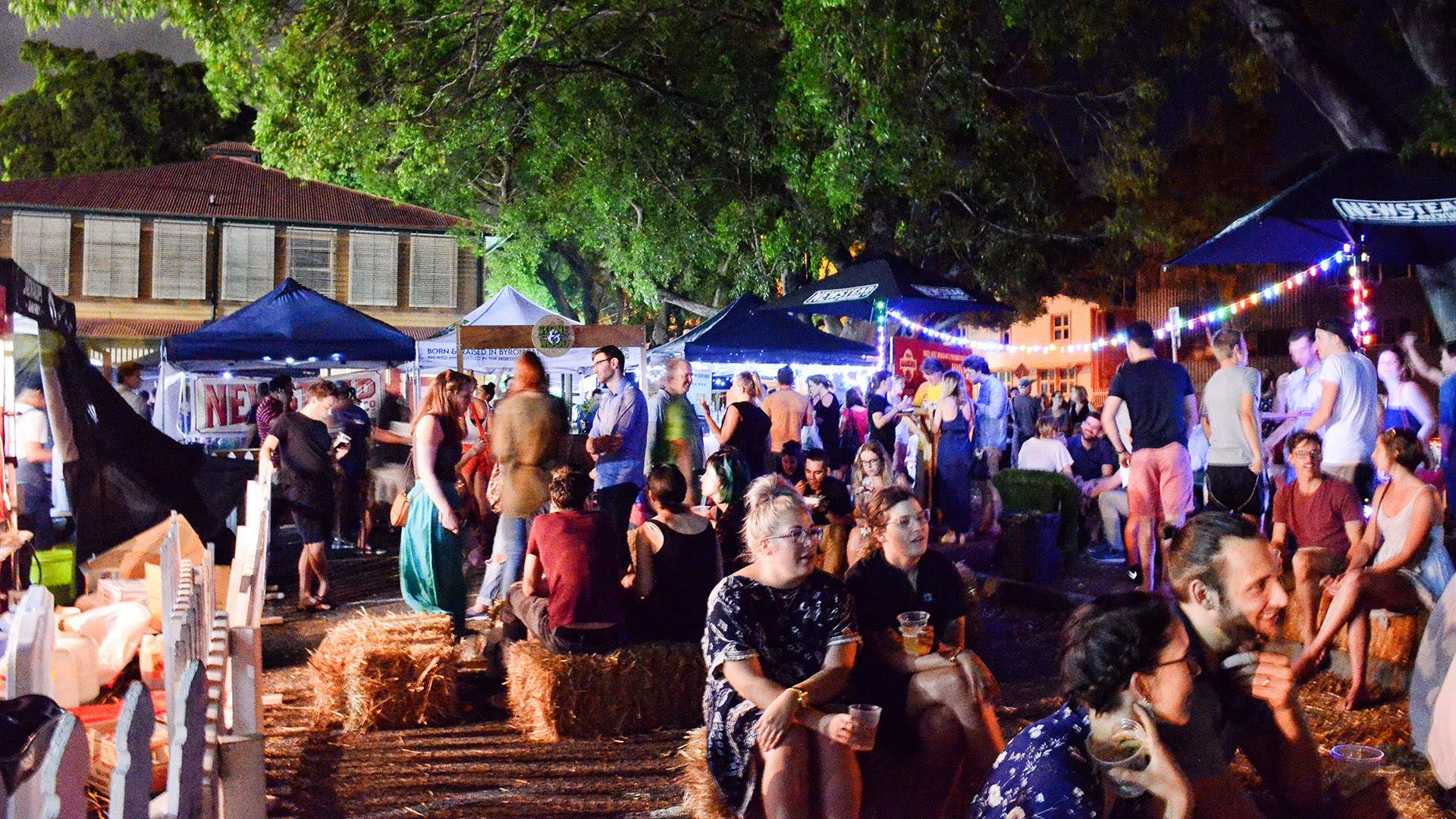 HIT UP ONE, TWO OR THREE SUPER-FESTIVE MARKETS
It's that time again. And, it's honing in on a month until Christmas day. Yes, 2020 has felt like it has stretched on forever, but it really is the part of the year that's all about feeling merry, jolly and happy.
In the lead up to the big occasion, Brisbane is bringing back a heap of favourite markets — and they never serve up the same thing twice. Grab your other half and shop for knick-knacks and gourmet packaged produce, handmade goods and presents for each other (obviously). We'll take that over a crowded shopping centre any day.
Eager to hop between three markets? There's Carseldine's yearly event, on Friday, November 27 — then Christmas on Cribb in Milton and the BrisStyle Twilight Markets in King George Square on Saturday, November 28.


WATCH YOUR WAY THROUGH A HEAP OF BRITISH FLICKS
Of all the country-specific film festivals that reach Brisbane's big screens each year, the British Film Festival might have the weakest reason to exist. Rather than showcasing flicks from a particular part of the world that viewers probably won't get the chance to see in cinemas otherwise, it screens a number of movies that are destined for a bigger release — and a heap of films with very well-known stars, too. But if you and your film-loving partner want to spend some time immersed in the latest and greatest that UK cinema has to offer, all at once, it's definitely the event for you. And, in 2020 as it does every year, it features a jam-packed lineup.
Now showing at Palace Barracks until Sunday, November 29, this year's BFF boasts one of the most anticipated movies of 2020: Ammonite, the Kate Winslet and Saoirse Ronan-starring romance set in 1840s England, as directed by God's Own Country's Frances Lee. The tender tale only premiered overseas in September, so it's coming to Australia rather quickly — and yes, it's already garnering awards buzz.
From the 22-film lineup, other highlights include Misbehaviour, in which Keira Knightley helps recreate the true story of feminist protesters at the 1970 Miss World competition in London; thriller The Nest, with Jude Law playing a British entrepreneur who moves his American family to an English country manor; and Summerland, a World War II-set romantic drama led by Gemma Arterton. There's also opening night's Blithe Spirit, based on the Noël Coward's comedy and starring Dan Stevens, Isla Fisher, Judi Dench and Leslie Mann — plus folk-horror thriller Fanny Lye Deliver'd, about a woman in 17th-century Shropshire whose unhappy marriage gets a shake up by a younger couple on the run.
The British Film Festival also looks back at British greats gone by, so expect to check out 80s sci-fi flick Flash Gordon, and watch Sir Alec Guinness and Peter Sellers in The Ladykillers for its 65th anniversary. Something extra special: a 40th anniversary screening of David Lynch's The Elephant Man, which earned him the first of his three Oscar nominations for Best Director, and is a movie that everyone genuinely needs to see at least once..

UNDER $100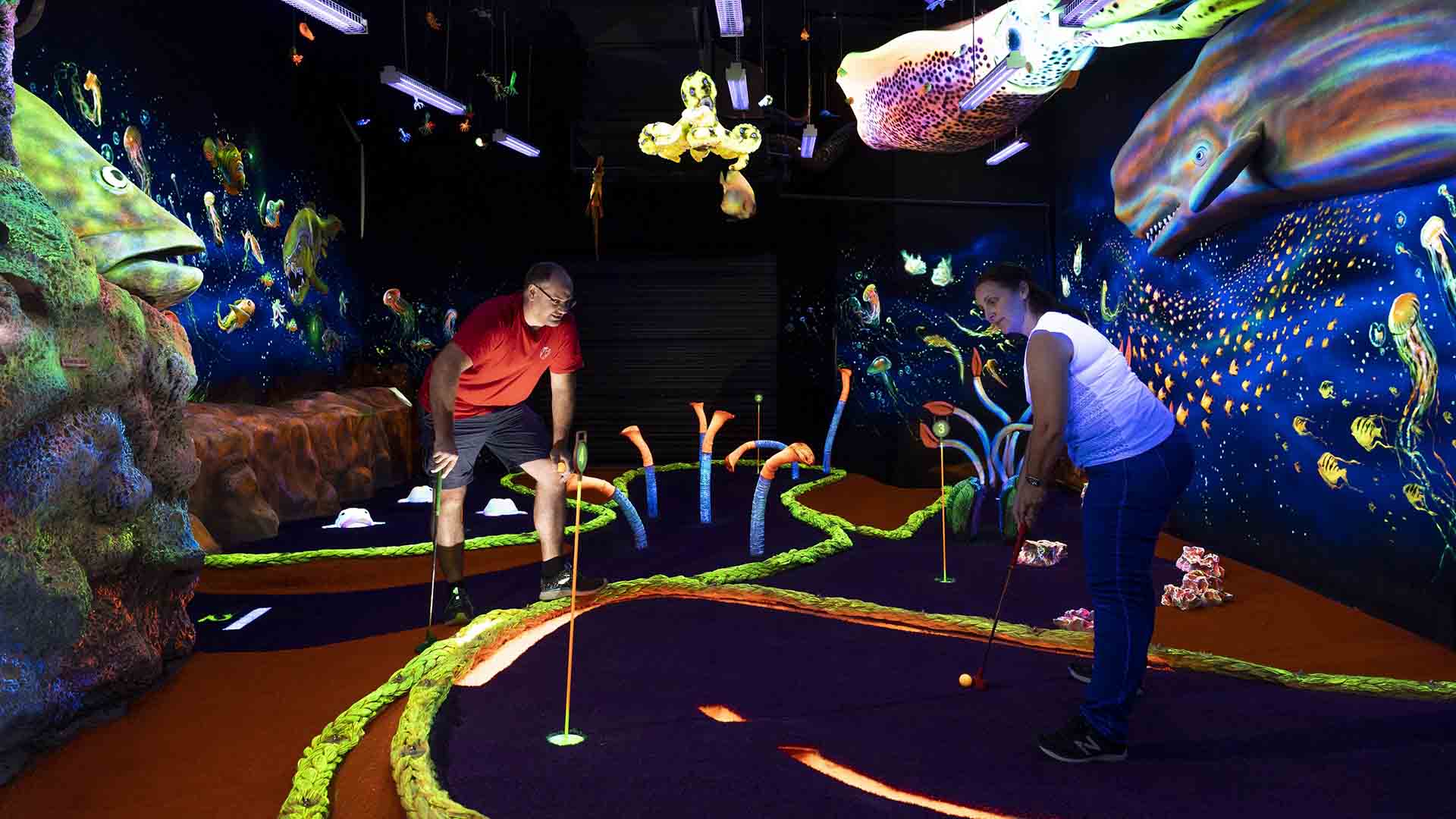 PUTT AROUND A NEW UNDERWATER-THEMED MINI-GOLF COURSE
You've putted your way around Holey Moley's neon-lit themed mini golf greens at its two Brisbane venues. When the most festive time of the year rolls around, you've tap, tap, tapped through Victoria Park's Christmas-adorned site. And, when it stopped by the city, you swung a club at Pixar Putt as well. But one thing even the most enthusiastic Brisbane mini golf fan hasn't done is head to Redcliffe and channel your inner Happy Gilmore on an underwater-inspired 18-hole course — until now.
Now open at Bluewater Shopping Centre, Undersea Putt & Play features everything from sharks and fish hanging above the course to turtles and pirates scattered among the greens. Some holes are decked out in glowing hues, like you're in the deepest parts of the ocean, while others have tropical backdrops. You'll enter through the jaws of a dunkleosteus, an extinct ancient fish that grew up to eight metres long, and you'll also spot squid, jellyfish, whales, turtles, stingrays, mermaids and treasure chests (all fake, of course).
It's all family friendly, so you and your date should expect to have company of all ages. That's the type of game that mini golf is, after all. The same applies to the arcade that's also part of Undersea Putt & Play — if you've ever wondered what Timezone would be like if gropers and crocodiles were part of the decor.
Open seven days a week, Undersea Putt & Play also has a cafe and bar onsite for pre-golf snacks and post-match celebrations.

Top image: Tourism and Events Queensland
Published on November 22, 2020 by Concrete Playground