ARTS & ENTERTAINMENT
Five Brisbane Date Ideas for This Week That Aren't Dinner and a Movie
Just think of us as your cultural wingman.
Five Brisbane Date Ideas for This Week That Aren't Dinner and a Movie
Just think of us as your cultural wingman.
Tired of the classic movie and dinner date night combo? Us too. That's why we're always on the hunt for new things to do, scouring the city for not-boring Brisbane activities — ones that are guaranteed to take your next date way beyond done-before beers at the pub. Whether you're taking someone on a second date or doing your 100th with your significant other, we've got some killer (and, yes, cute) ideas for dates to go on this week, no matter how much money you've got to spend. Just think of us as your cultural wingman. You're welcome.


FREE
SPLASH AROUND IN A WATERSIDE POOL
Brisbane isn't a beach city, but if you and your special someone venture out of the CBD, away from the shadows of tall buildings and past the suburban sprawl, and you can find the holy grail of outdoor pools. Yes, if you head east until you can't go any further, you'll find a fine example of a man-made area filled from the sea and replenished by the tide.
Built during the 1930s depression as part of the Unemployment Relief System, the Wynnum Wading Pool is the ideal place to enjoy the warm weather with an ocean view. There's plenty of places nearby for a picnic, too.
Of course, if you're happy splashing around by the river instead, there's always Streets Beach at South Bank Parklands as well. And, also on our pools list: Settlement Cove Lagoon at Redcliffe, which overlooks Moreton Bay.

EXPLORE THE HISTORY OF BRISBANE'S LIVE MUSIC SCENE
Brisbane's solid live music scene has filled the city's venues for decades — and it has inspired more than a few tributes in other places around town, too. Back in 2019, the Museum of Brisbane filled its walls with blasts from our musical past. Now, it's the State Library of Queensland's turn.
On display until Sunday, May 9, Cut Copy: Brisbane Music Posters 1977–87 showcases all the artwork that helped advertise often independent and underground Brissie gigs for a ten-year period — and its links to Brisbane music history don't end there. Curators Robyn Hamilton and Rueben Hillier took inspiration from material collected by Dr John Willsteed during a research project. Willstead was part of The Go-Betweens in the 80s, so he obviously knows a thing or two about the subject.
The Go-Betweens are one of the bands featured, unsurprisingly, alongside everyone from The Saints, The Riptides and The Leftovers to The Upsets, Razar and The Black Assassins.
As well as letting you and your partner peer back at the designs of the era, the exhibition is likely to leave you both with a heap of legendary local acts to add to your playlist.
Entry is free, but bookings are required — with Cut Copy: Brisbane Music Posters 1977–87 open from 10am–5pm daily.

UNDER $20
SLURP UP SOME RAMEN TO START THE WEEK
No one likes Mondays. Tuesdays are hardly anyone's favourite day either. But while you and your other half can't escape the fact that the weekend is over, you can start off your working week with a few slurps of cheap ramen.
Every Monday and Tuesday between 4.30–5.30pm, Hai Hai serves up its number one dish for $10 a pop. And, here's a tip: when you're staring at a brothy bowl filled with noodles, char siu, bean sprouts, eggs and more, the fact that you're still days and days away from a break doesn't seem so bad.
With the popular deal making a comeback post-pandemic lockdowns, there are a few conditions — including the fact that you absolutely must be seated by 5.30pm. The $10 ramen isn't available for takeaway, there's no waiting list for a table and you can't hold tables either. In other words, getting there early is recommended.

UNDER $100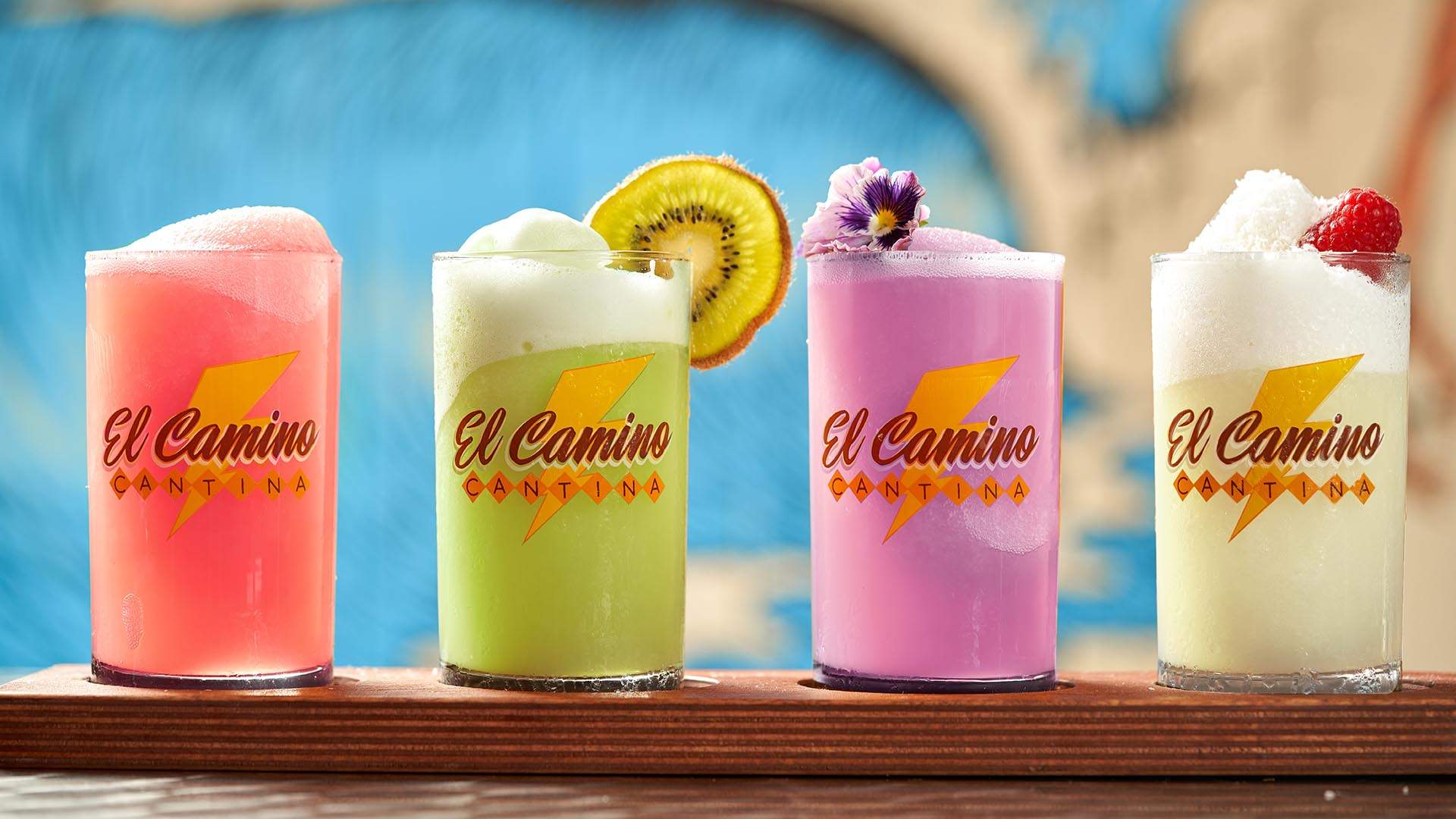 SIP ICED VOVO AND FRUIT TINGLES-FLAVOURED MARGARITAS
Combining tequila, orange liqueur and lime juice, a classic margarita isn't all that complicated. But, this beloved cocktail can also be rather versatile. If you and your favourite person have grabbed a meal and a drink at El Camino Cantina, you've probably tasted one or several non-traditional varieties. And if you head by the lively Tex-Mex chain's Bowen Hills, Chermside, Robina or Sunshine Plaza venues before Friday, January 22, you'll be able to sip four new types that are certain to get you feeling nostalgic.
When you were a kid and eating Iced VoVos at recess, we're guessing that you didn't ever imagine drinking an Iced VoVo-inspired margarita — but, that's now a reality. It's one of El Camino Cantina's 'retro ritas', alongside a Fruit Tingle-inspired version, one that takes its cues from Cottee's cordial and a guava flavour.
All four are available cadillac-style, which means they come with a float of Grand Marnier. You'll pay $20 for a 15-ounce drink, $24 for a 24-ounce serve and $30 for a tasting paddle of any four (in 220-millilitre glasses).

ONE BIG BLOWOUT

RELIVE ONE OF YOUR CHILDHOOD FILM FAVOURITES ON THE STAGE
Fancy a trip back in time, to your much younger years, with your next theatre ticket? That seems to be the current trend. Harry Potter and the Cursed Child did big business in Melbourne pre-pandemic, the Charlie and the Chocolate Factory musical took its golden tickets around the country, and now Shrek the Musical has brought its all-singing, all-dancing version of the animated movie franchise to Brisbane's Lyric Theatre — after a COVID-19 delay, because it was originally supposed to hit QPAC in 2020.
Expect plenty of green now that this Tony and Grammy award-nominated stage show has finally moseyed our way, after first premiering on Broadway back in 2008. Since then, everyone's favourite ogre — originally voiced by Mike Myers — has sung his way through theatres in the UK, Asia Europe, Canada, Latin and South America, Israel and Scandinavia.
You and your date know the story, of course — unless you somehow managed to miss the original 2001 Oscar-winning film, its sequels in 2004, 2007 and 2010, and the heap of spin-offs, shorts, TV specials and series that all followed. Based on the 1990 picture book Shrek!, the tale follows the reclusive but kindly titular figure who endeavours to rescue the feisty Princess Fiona from the the fairy tale-hating Lord Farquaad, all while trekking along with a talking Donkey sidekick.
Shrek lovers can expect a whopping 19 songs, an obvious colour scheme and plenty of other fairy tale references — with the 2021 Brisbane season running through until Sunday, February 7.
Published on January 18, 2021 by Concrete Playground