ARTS & ENTERTAINMENT
Five Brisbane Date Ideas for This Week That Aren't Dinner and a Movie
Just think of us as your cultural wingman.
Tired of the classic movie and dinner date night combo? Us too. That's why we're always on the hunt for new things to do, scouring the city for not-boring Brisbane activities — ones that are guaranteed to take your next date way beyond done-before beers at the pub. Whether you're taking someone on a second date or doing your 100th with your significant other, we've got some killer (and, yes, cute) ideas for dates to go on this week, no matter how much money you've got to spend. Just think of us as your cultural wingman. You're welcome.

FREE
WANDER THROUGH A LEAFY OUTDOOR ART EXHIBITION
More than just that patch of grass and trees at the edge of the CBD, the Brisbane City Botanic Gardens boasts a whole heap of wonders — gorgeous greenery, ponds filled with cute turtles, free exercise classes and more. Until Sunday, May 16, it's also the site of Brissie's returning major outdoor contemporary art exhibition, Botanica. And this time, it's all happening after dark.
From 5pm onwards each day, the gardens are coming alive with artworks, talks, installations and microprojections — plus talks, workshops, guided tours, a live drawing performance, spoken word events and a poetry slam evening. Also on the bill: live music, food trucks and a pop-up bar on the weekend.
You and your partner can scope out nine dazzling new outdoor pieces from artists Hiromi Tango, Simone Eisler, Georgie Pinn, Esem Projects, Charlotte Haywood, Jenna Lee, Kellie O'Dempsey, Paul Bai and Georgia Hillas.
And if you missed the first two fests in 2018 and 2019 — or if you went along and loved it — 2021's event promises a whole heap of new garden wonders. Either way, prepare to roam through the centre of Brisbane and see its natural splendour in a whole new way.

UNDER $50
SIP BREWS, PLAY BOARD GAMES AND CHAT ABOUT WINTER
Time flies when you and your other half are obsessing over a big blockbuster fantasy TV series, as HBO's biggest hit of the past decade demonstrates. Last month marked ten years since Game of Thrones first hit screens and became a pop culture phenomenon — broadening the world's awareness of George RR Martin's books, pointing out how often Sean Bean meets an untoward end on-screen and delivering more dragon-fuelled drama than anyone ever knew they needed.
Keen to celebrate the occasion like you're in a Westerosi tavern? That's an option, all thanks to a new collaboration between Moon Dog Brewing and Warner Bros Consumer Products. The two have joined forces on a new line of GoT beers, so get ready to sip a Breaker of Chains imperial stout and a Watchers on the Wall imperial white ale. The former features chipotle chilli, vanilla and a chocolate finish, while the latter pairs white chocolate with orange and coriander.
Winter might be coming, but these brews will be available on Thursday, May 13 — so, in autumn — at Saccharomyces Beer Cafe. The South Brisbane watering hole is also whipping out a Game of Thrones board game to keep everyone entertained, with a round and a brew costing $20.

UNDER $100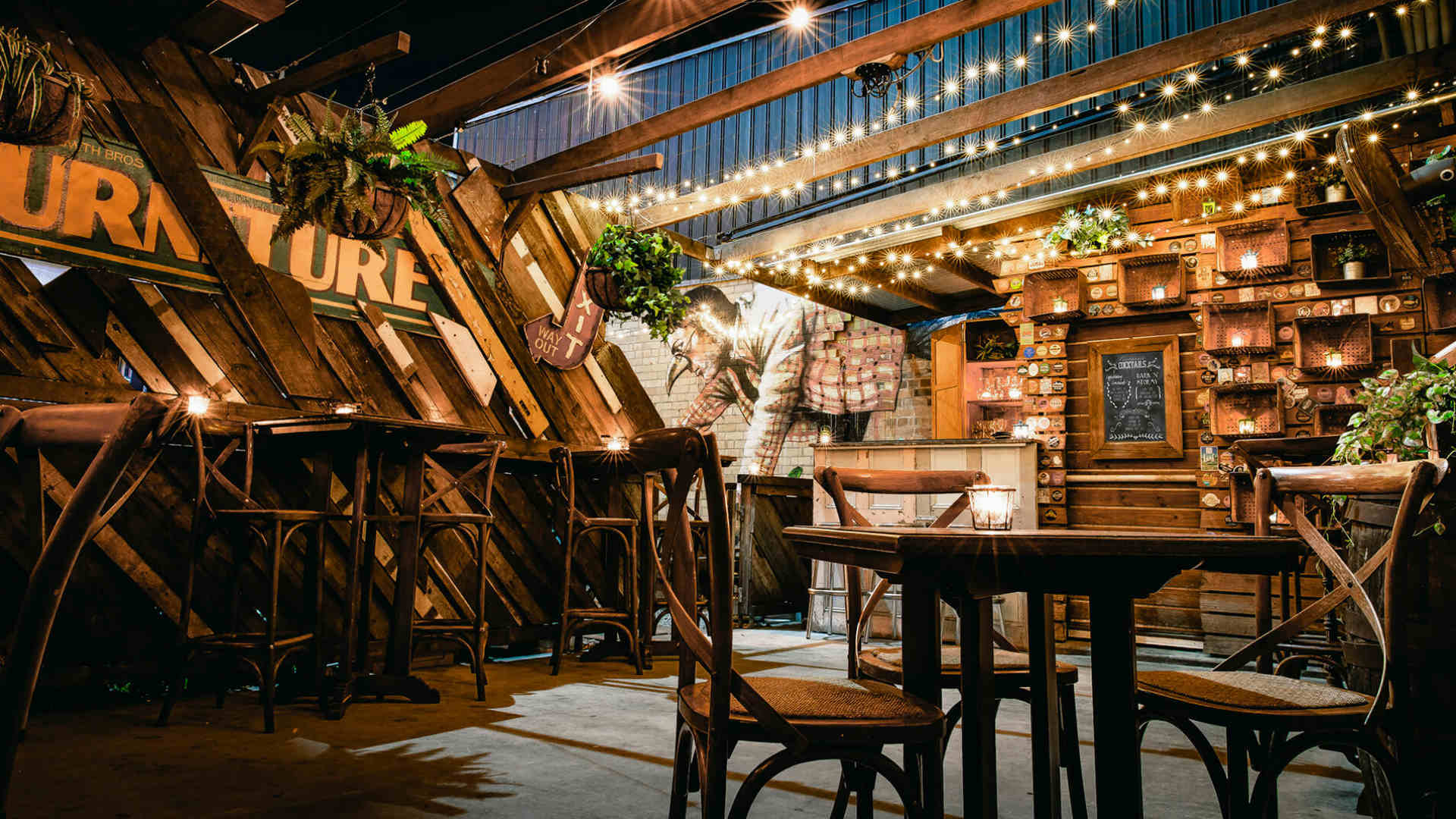 PRETEND YOU'VE TRAVELLED BACK TO 1920S PARIS AT AN IMMERSIVE THEATRE SHOW
Movies about Deloreans, phone booths and hot tubs might all claim otherwise, but travelling through time isn't currently a possibility. At the moment, travelling too far physically is also proving a little tricky — but at this immersive Anywhere Festival show, you can definitely pretend otherwise.
Taking over Woolloongabba's Canvas Club, The Time Travel Cafe is actually a big theatre party. You and your significant other will sit, talk with your fellow attendees and feel like you've leapt back to 1920s Paris. Oh, and because Bill and Ted really are pioneers when it comes to messing with all things temporal, you'll also chat with travellers from throughout history.
It's not how you'd usually spend an hour at a bar, but that's a big part of the attraction between Wednesday–Sunday until Sunday, May 23.
Tickets cost $45, and you're encouraged to dress up in either formal or surreal attire — and, if you're wondering what the latter entails, you can be the judge.

UNDER $150

SPICE UP YOUR SUNDAY LUNCH
Some folks like a bit of heat with their food. Others prefer not to blast their tastebuds with spicy flavours. At Hello Please's next Sunday session, only couples in the first category need head along — because Sriracha features in every dish, and there'll even be Sriracha bloody marys.
On Sunday, May 16, the Fish Lane eatery is hosting its next fun cha lunch session, complete with Sriracha mayonnaise prawn san choi bow, quail karaage with a Sriracha glaze, potato rosti with creme fraiche and sweet Sriracha, and Sriracha-spiced tuna tartare in a wonton cone. Rounding out the food offerings: barbecue pork ribs with Sriracha honey, plus lap cheong hot dogs with Sriracha mustard.
You'll pay $60 per person for your session, with two sittings available. Add some zing to your lunch from 12–2.15pm, or get spicy a bit later between 2.30–5pm — with bookings essential. And yes, Hello Please is usually closed on Sundays, but it's opening especially for this zesty occasion.

ONE BIG BLOWOUT

CELEBRATE AN ICONIC VENUE'S 21ST BIRTHDAY
Brisbane Powerhouse has been such a large part of the city's cultural scene during the 21st century that it's easy to forget that it hasn't always existed. Well, not in its current form as an arts venue, at least — because, before it opened in 2000 as a place to see shows, hear live tunes, laugh at comedy gigs and scope out exhibitions, it was a literal power station.
2021 marks a big 21 years since Brisbane Powerhouse started keeping us all entertained, and it's throwing a party to celebrate — naturally. Running until Saturday, May 15, the birthday celebrations comprise multiple parts. You and your special someone can feast your eyes or your ears, and also give your funny bone a good workout.
Exhibition Regenerate is showcasing the building's story, history and secrets — so if you want to know more about its past and evolution, this'll keep you clued up. Or, on Wednesday, May 12, a conversation session will delve into a 1994 shindig called Tranceplant, a large-scale performance and installation event that held a ten-night season in the then-derelict building 27 years ago, and welcomed around 100 performers each night.
To cap things off, a big 21st birthday concert is also on the bill, taking over the Powerhouse Theatre from 7.30pm on Saturday, May 15. Hosted by Mel Buttle, it boasts a lineup that spans Kate Miller-Heidke, Clare Bowditch, Wil Anderson, Briefs Factory, William Barton with Camerata, CIRCA, Benjin Maza, Alinta McGrady, Bombshell Burlesque and Tom Thum. That's not all, either, as a secret headliner will be revealed when you're there on the night.

Top image: Christine Ko, Botanica 2019.
Published on May 10, 2021 by Concrete Playground