ARTS & ENTERTAINMENT
Five Top-Notch (and Not Boring) Brisbane Date Ideas for This Week
Just think of us as your cultural wingman.
Tired of the classic movie and dinner date night combo? Us too. That's why we're always on the hunt for new things to do, scouring the city for not-boring Brisbane activities — ones that are guaranteed to take your next date way beyond done-before beers at the pub. Whether you're taking someone on a second date or doing your 100th with your significant other, we've got some killer (and, yes, cute) ideas for dates to go on this week, no matter how much money you've got to spend. Just think of us as your cultural wingman. You're welcome.

FREE
RELAX ON THE GRASS WHILE WATCHING A ROM-COM
Planning a date night during June? Lock it in for the middle of the week — because Post Office Square has the perfect activity. Each Wednesday, the inner-city space is hosting Rom Coms & Nom Noms for another year. There'll be flicks and food, obviously.
Attendees can feast their eyes on the pop-up big screen for free — but if you're keen on a snack, there'll be grazing boxes for available from micro pub Isles Lane. And, if you're thirsty as well, the pop-up bar can help with that as well. It'll be serving wine, beer and soft drinks.
As for the movies, a swoon-inducing lineup is gracing the big screen, including Suddenly 30 on June 9. Can't make it this week? Pencil in Sleepless in Seattle on June 16, Ali's Wedding on June 23 and 17 Again on June 30.
The event opens at 5pm each week, with films starting at 5.30pm.

UNDER $50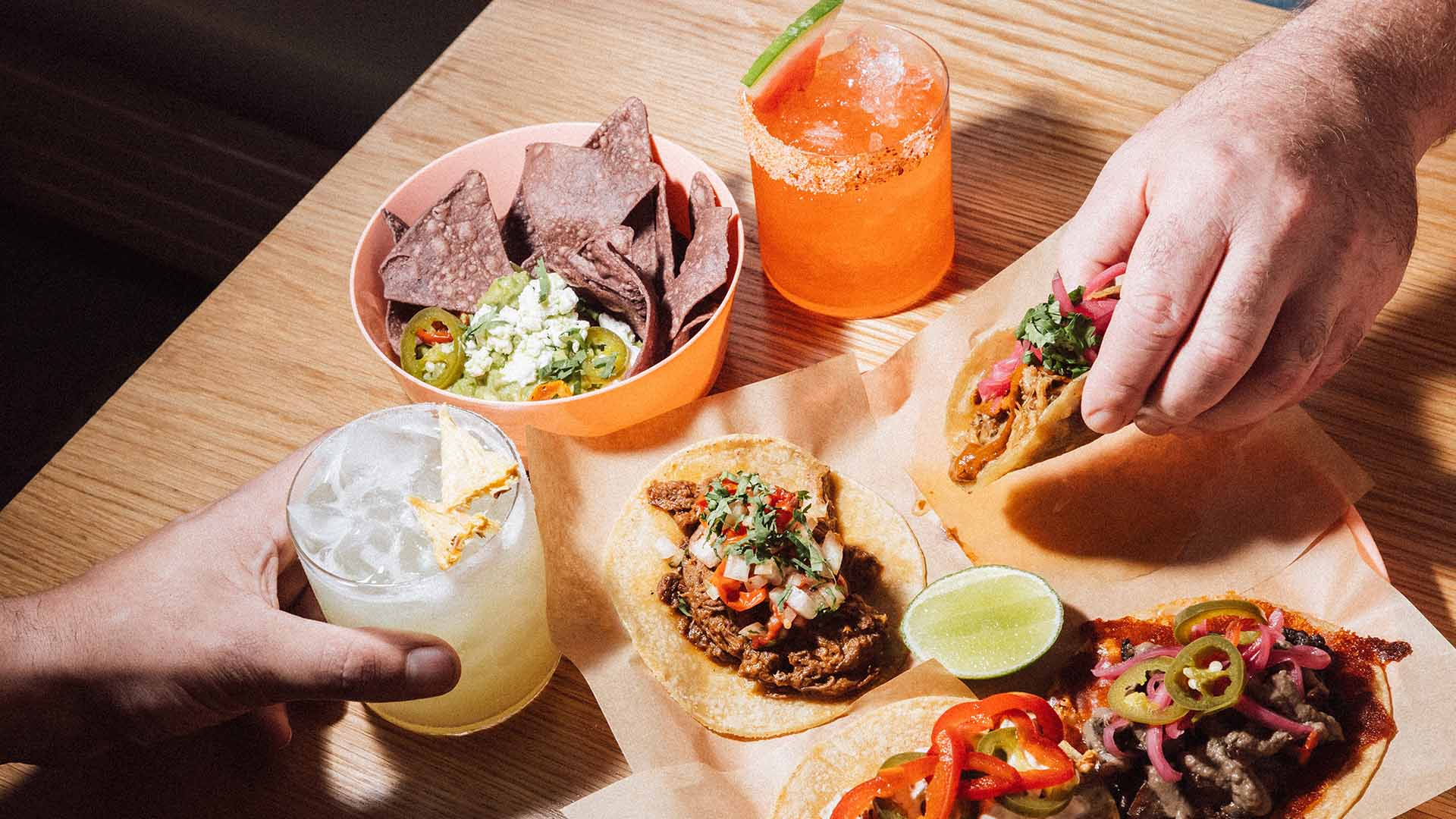 PAIR $6 TACOS WITH COCKTAILS
Since 2019, Baja Modern Mexican has been combining Mexican cuisine and Southern Californian vibes on Brunswick Street, and serving up everything from twice-cooked octopus tentacle to five different types of tacos. But on Tuesdays, it's now going all in on street food dishes. Tacos still feature — of course they do — but you and your other half will only be paying $6 a pop.
The once-a-week menu comes courtesy of Baja's Los Tacos spinoff, which you'll usually find at the Mt Gravatt Street Food Market on Saturday afternoons. It's now taking over the kitchen at Baja's Fortitude Valley digs from 5pm every Tuesday as well, and whipping up spans pork carnitas, fried chicken, beef barbacoa and vegetarian tres frijole tacos, as well as esquites (for $7) and ceviche (for $11).
Margaritas are on the menu as well thanks to Baja's regular drinks lineup, with its signature version blending tequila, elderflower, maraschino liqueur, lemon and lychee — and both classic and agave syrup-heavy varieties also available.
Bookings are recommended, or you can just mosey on in come quittin' time.

UNDER $100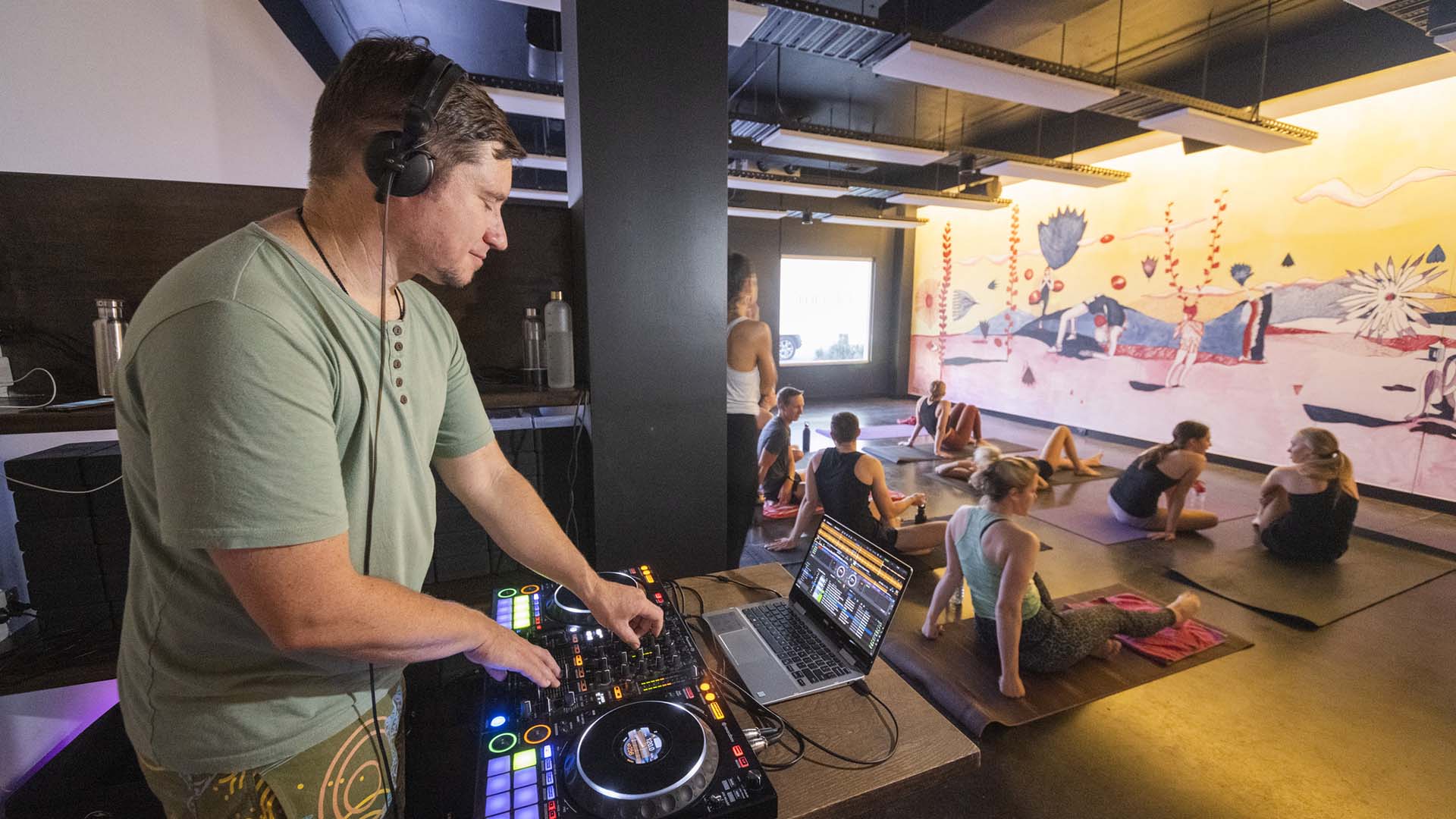 BEND AND STRETCH TO LIVE BEATS
That rush you get when you and your special someone knock off work, then work up a sweat during an exercise session? It's a great (and addictive) feeling. That said, when the end of the week hits, you might want to do a little more than simply bend and stretch. That's one of the reasons that boozy yoga was invented — and, now, why Live DJ Yoga exists as well.
You won't be sipping tipples at this exercise session, so consider it a post-work, pre-drinks kind of activity. But, you will be busting out your best downward dog while listing to DJs drop beats right there in front of you. If the pose calls for it, you'll probably also find yourself watching a heap of Brisbane's best behind-the-decks talent do their thing while you test our your flexibility.
Fish Lane's just-opened Pilgrim Hot Yoga is hosting the 90-minute classes each Friday at 6pm, and you can expect a who's who of Brissie DJs spinning tracks. And, price-wise, tickets cost $20 for studio members and $35 otherwise.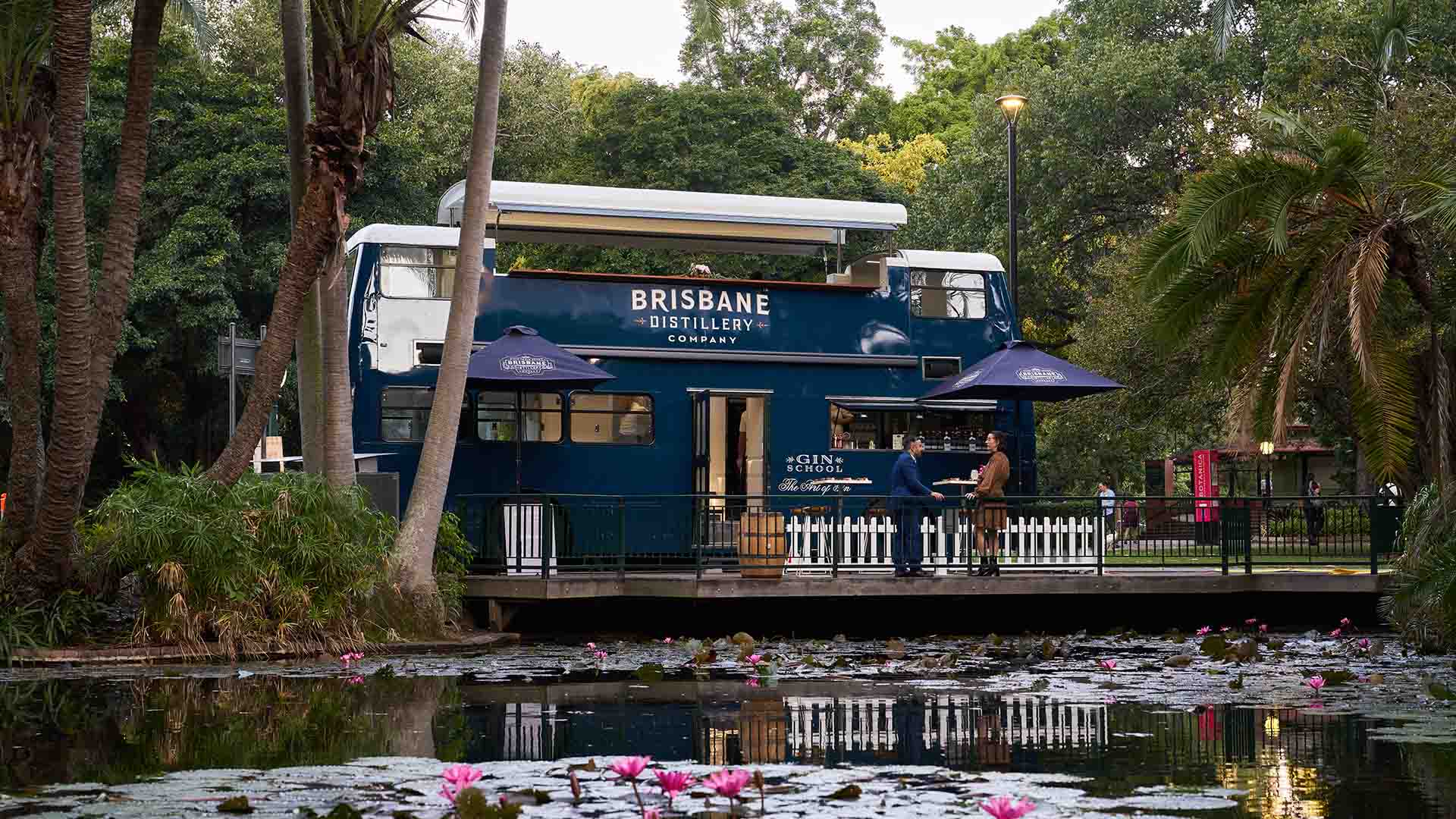 HOP ONBOARD BRISBANE'S DEDICATED GIN BUS
Next time you sip gin with your favourite person, you could both be hanging out in a double-decker bus in scenic surroundings — and either enjoying free tastings of strawberry eucalyptus-flavoured gin on the vehicle's bottom level, or heading upstairs to work your way through a three-drink cocktail flight. Thanks to Brisbane Distillery, this very experience is now on the menu, with the West End-based spirits company launching its new True Spirit of Brisbane bus.
Hitting up the Riverside Markets in the City Botanic Gardens every Sunday, the True Spirit bus sports a blue exterior, serves samples out of the window and features booth seating under the pop-up roof on the top deck. For those happy with a tasting (or several), you'll be able to choose from Brisbane Distillery's Game of Eucalyptus Gin, Queensland Dry Gin and Brown Snake Rhum. You'll also be able to buy bottles to take home with you, too. Fancy hanging for a bit longer? The cocktail flights cost $24.99, and feature three beverages, each coming in at half a standard drink.
Two different flight menus are available — both starting with a G&T, of course. From there, you can opt for a tomato-flavoured tipple and a citrusy drink called Parks and Recreation. Or, you can channel your inner Paddington with a marmalade cocktail, then follow it with a pink concoction.

ONE BIG BLOWOUT

CHECK OUT A SUPREMELY 80S MUSICAL ABOUT CHESS
Prior to 2020, if someone told you and your significant other that Chess the Musical was a very real thing that definitely exists, you could've been forgiven for being a little perplexed. But it does and, with everyone obsessed with the chess-focused Netflix series The Queen's Gambit over the past six months or so, it's hitting QPAC's Concert Hall between Tuesday, June 8–Thursday, June 10.
Chess the Musical actually dates back decades, first hitting London's West End in 1986. In line with that era, it's set against the background of the Cold War. Here, Soviet and American forces both try to use an international chess championship for political gain, and manipulate the outcome. The tale that also involves a love triangle, between Hungarian-born refugee Florence Vasse and two chess grandmasters.
If you thought that singing about chess mightn't be all that exciting, ABBA's Benny Andersson and Björn Ulvaeus wrote the tunes, while Ulvaeus and musical veteran Tim Rice (Jesus Christ Superstar, Evita, Beauty and the Beast, The Lion King) penned the lyrics. And, if you've ever heard 80s tracks 'I Know Him So Well' and 'One Night in Bangkok', they actually hail from Chess the Musical.
Published on June 08, 2021 by Concrete Playground