ARTS & ENTERTAINMENT
Five Top-Notch (and Not Boring) Brisbane Date Ideas for This Week
Just think of us as your cultural wingman.
Tired of the classic movie and dinner date night combo? Us too. That's why we're always on the hunt for new things to do, scouring the city for not-boring Brisbane activities — ones that are guaranteed to take your next date way beyond done-before beers at the pub. Whether you're taking someone on a second date or doing your 100th with your significant other, we've got some killer (and, yes, cute) ideas for dates to go on this week, no matter how much money you've got to spend. Just think of us as your cultural wingman. You're welcome.

FREE
CHECK OUT A POWERFUL PHOTOGRAPHY EXHIBITION
Since 1966, the World Press Photo Foundation has showcased raw visual journalism and storytelling, with its annual photography contest now one of the world's most prestigious competitions and global travelling exhibitions of its kind. The 64th edition of the World Press Photo Exhibition will touch down in Brisbane this year, and be on display at Brisbane Powerhouse from Saturday, June 26–Monday, July 18 — and if you and your partner are looking for a different date idea, these pics make for powerful viewing.
The winners from this year's contest were chosen by an independent jury that reviewed 74,470 photographs by 4315 photographers from 130 countries — with more than 150 images from 45 photographers in 28 countries included in the exhibition.
Taking top honours for 2020: Mads Nissen's First Embrace. The COVID-19 pandemic was always going to play a part in this year's batch of winners, with the image showing 85-year-old Rosa Luzia Lunardi being embraced by nurse Adriana Silva da Costa Souza at the Viva Bem care home in São Paulo, Brazil. This will be on display alongside other finalists, such as Luis Tato's stunning image of locust swarms in Kenya — and eye-catching images in other categories, such as contemporary issues, the environment, general news, nature, portraits and sports.

UNDER $20
SHOP YOUR WAY AROUND A EUROPEAN-STYLE DESIGN MARKET
Last Christmas, Woolloongabba's South City Square did what plenty of other patches of Brisbane tend to when things get festive. Yes, it played host to a sprawling market setup. It isn't that time of year again yet, but the site is still welcoming in a collection of stalls selling plenty of items — this time from 10am–2pm on Saturday, June 27.
That's when The Market Folk will once again take over the place, putting on a winter pop-up. We hope you and your other half like clothes, jewellery, ceramics, plants, pots, homewares and art, because you'll find it all here. Expect a big focus on design — so you won't be browsing and buying just any old wares.
It all tales place in a brick-lined, industrial-style space, which'll make you feel like you're wandering around a European-style market. And, as well as the shopping, there'll be live music and creative workshops. There'll be bites to eat as well, thanks to a range of food trucks.

UNDER $50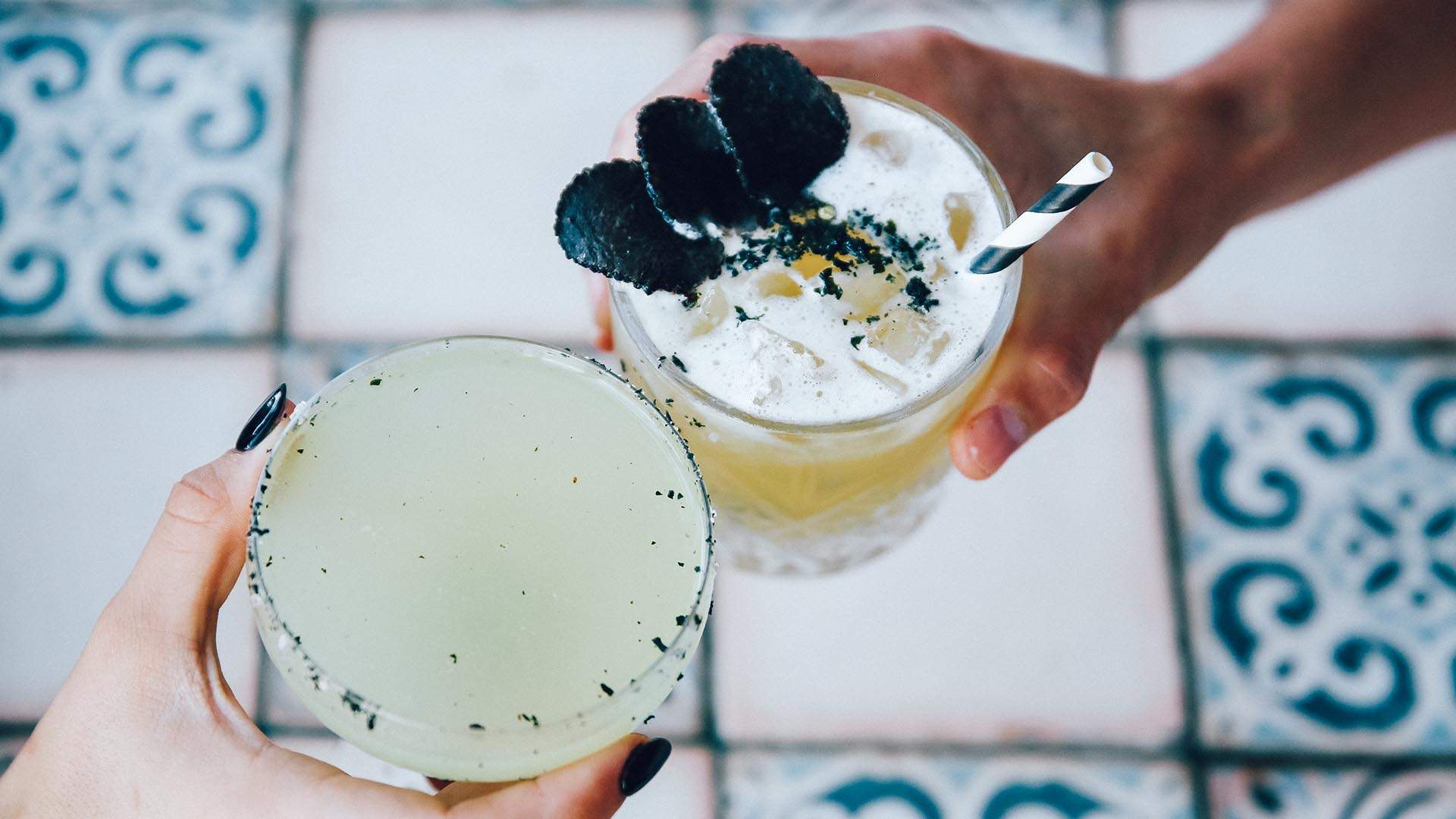 ADD TRUFFLES TO EVERYTHING — EVEN COCKTAILS
As you and your significant other will know, treaing yo'self hasn't been the easiest thing to do over the past year or so. But for one week, Salt Meats Cheese is serving up a rather tasty menu that'll do the trick. That'd be its Truffle Week lineup, with truffles popping up in all kinds of dishes. Yes, that includes truffle cocktails.
From Monday, June 21–Sunday, June 27, SMC will be adding truffles to pizza, polenta, gnocchi and pappardelle — so that's four of Italian staples covered. It'll also be whipping up baked truffle brie and deep-fried bocconcini with truffles, if you feel like getting extra cheesy with your truffles. And, still on that topic, you can add a jug of truffle cream cheese to any dish you like as well.
You'll need something to wash it all down with, so truffle margaritas are also on offer. They'll be garnished with freshly shaved truffle, and also feature a truffle salted rim. Or, you could opt for a truffle sour, which even includes truffle oil.
Truffle Week is taking place at all SMC venues during its seven-day period. And if you're wondering why the Italian chain has suddenly gone truffle crazy, it's to celebrate the Australian truffle season — which is as good a reason as any.

UNDER $100

PAIR SCENIC SIGHTS AND PLENTY OF FOOD
Sometimes, even the most adventurous among us need a little push, a dash of motivation or some extra incentive to take a particular leap. So you and your special someone have always wanted to wander around southeast Queensland's Scenic Rim region, but have never found the time? Well, consider the area's annual Eat Local Week all the reason you need.
If exploring, eating and drinking can't get you in the car and down the highway, then nothing can. Unsurprisingly, that's just the big-picture view of this nine-day festival. Promoting Scenic Rim produce and the people behind it, the event marks its tenth year in 2021 — and it has a big lineup in store to mark the occasion.
On the bill: more than 125 events at 48 locations, so you won't be bored during this fest. A number of festivals are taking place within the broader event, for starters, so you can head to the fest for a winter harvest festival, street food festival, and a beer, food and wine festival.
The program also includes everything from a citrus mini market, olive grove tastings, brewery banter, and wine and cheese in a vineyard, to picnics in an alpaca farm, macadamia farm tours, cocktail masterclasses and multiple long lunches. Basically, if it's an event in the Beaudesert, Boonah, Beechmont and Mt Barney area between Saturday, June 26–Sunday, July 4, it's on the agenda.

ONE BIG BLOWOUT

FOLLOW AN OUTBACK MUSIC TRAIL
Among the many things we've all been missing over the past year or so — including you and your favourite person — big events and venturing far and wide both rank high on the list. Large-scale music festivals have only just started making a comeback around the country, and being allowed to leave the country to holiday in New Zealand is still a relatively new development. But if you'd like to an excuse to explore Queensland — and to enjoy a heap of live tunes while you're doing so — Queensland Music Trails is here to take you on a statewide road trip.
A new event from the team at QMF (formerly Queensland Music Festival), Queensland Music Trails is hosting an array of gigs and shows across the state, all as part of set trails. Kicking off on Friday, June 25, it's heading to the state's southern outback region first up. Until Thursday, July 8, everywhere from Jimbour to Charleville — and Quilpie, Windorah and Birdsville, too — will host different parts of the program, spanning opera shows in a homestead, chamber music under the stars, a blend of puppetry and tunes against a scenic backdrop, and more.
If Opera at Jimbour sounds familiar, that's because it has happened before. This time, Jimbour House in the Western Downs will  host two galas — and camping over four nights, if you want to turn your visit into a proper getaway. Or, for those keen on a stint of peering at the sky, you'll be able to do just that at Music for Stargazing at the Charleville Cosmos Centre — with Kate Miller-Heidke and William Barton leading the lineup.
At Baldy Top in Quilpie the southwest, Topology and Dead Puppet Society are joining forces to pair the former's sounds and the latter's visual theatre — and in Rabig Park in Windorah, blues, roots and acoustic artists such as Karl S Williams, Emily Wurramara and Hussy Hicks will treat your ears. Also on the bill is Birdsville's Big Red Bash; however, it has already sold out.

Top image: Tourism and Events Queensland.
Published on June 23, 2021 by Concrete Playground