ARTS & ENTERTAINMENT
Five Top-Notch (and Not Boring) Brisbane Date Ideas for This Week
Just think of us as your cultural wingman.
Tired of the classic movie and dinner date night combo? Us too. That's why we're always on the hunt for new things to do, scouring the city for not-boring Brisbane activities — ones that are guaranteed to take your next date way beyond done-before beers at the pub. Whether you're taking someone on a second date or doing your 100th with your significant other, we've got some killer (and, yes, cute) ideas for dates to go on this week, no matter how much money you've got to spend. Just think of us as your cultural wingman. You're welcome.

FREE
TAKE A ROAD TRIP TO A WEIRD AND WONDERFUL ART EXHIBITION
Back in 2018, the strange and sublime combined in Patricia Piccinini's Curious Affection exhibition at Brisbane's Gallery of Modern Art. In the acclaimed artist's mind, bulbous creatures float through the sky, automobiles may as well be animals, and the line between humans and other critters is razor thin. It all sounds like something out of a science-fiction movie (or several), but Piccinini explores the way that nature and technology, people and animals, and the unusual and the sublime all blend across a range of mediums.
If you and your other half missed this striking showcase a couple of years back, the Toowoomba Regional Art Gallery has great news — and a great reason for you to take a road trip west. Until Sunday, February 27, it's displaying Patricia Piccinini: Curious Affection On Tour in conjunction with GOMA, complete with some of Piccinini's best-known sculptures, photographs and videos.
Entry is free, too, so you'll be entering this otherworldly showcase without spending a cent. Expect curious creatures; boundary-pushing visions of critters that don't actually exist; a creative and probing mix of humans, animals and machines; and an all-round surreal experience thanks to one of Australia's most distinctive artists.

UNDER $20
FEAST ON TASTY FRENCH PASTRIES
Not content with launching its own rooftop bar already this year, Woolloongabba favourite C'est Bon has added another venue to its lineup: Le Bon Bakery, a baked goods pop-up that's slinging tasty French pastries right up until Christmas.
Because being jolly at this time of year isn't just about attitude, the temporary newcomer is serving up everything from cinnamon brioche to baguettes. 'Tis the season to treat you and your special someone's tastebuds, including when Le Bon Bakery adds festive items to its menu as Christmas approaches.
The regular lineup features more than 30 items anyway, such as bechamel-laden croque monsieurs, the buttery cake that is gâteau basque, cheese and herb gougères (aka bite-sized bread puffs), Toulouse sausage rolls and rum baba — everyone loves a run-flavoured cake, after all. Takeaway coffee using Roast by Yili beans is also on the menu, as well as prepackaged granola. And, if you're now hungry, you'll need to head by from 7am–2pm Wednesday–Saturday up until Christmas eve.

UNDER $50

GET SNOWY IN SUMMER WITHOUT LEAVING BRISBANE
It doesn't snow in Brisbane. It doesn't really get all that cold in winter, either. And, it obviously doesn't even resemble cooler weather at Christmas, given that summer is always in full swing. But, as all things festive take over the city for this year, Brisbanites can still walk through snow, build a snowman and make snowballs. You and your favourite person just need to head to a pop-up Snow Village at Toombul.
No, the weather won't be unseasonably frosty just in the northside suburb. No, we're not living in a Hollywood disaster movie. Rather, Snow4Kids is back with a new setup. The idea is simple: this merry wonderland will bring a heap of real snow to the Toombul Shopping Centre, then let anyone with a $22 ticket frolic through it — with the space first welcoming in patrons on Saturday, November 27, but open daily from 10am–5pm between Saturday, December 4–Sunday, January 9.
This is a family-friendly event. In fact, it's a family-focused activity, so if you have littlies to bring along, that'll be welcome news. If you're an adult without any kids in tow, you're still able to head along — but the organisers ask that you be mindful of the fact that you'll have plenty of pint-sized company. Also: no snowball fights, although this pop-up does boast its own snowball arcade, complete with at targets, for you to throw them (you just can't hurl them at other people).

UNDER $100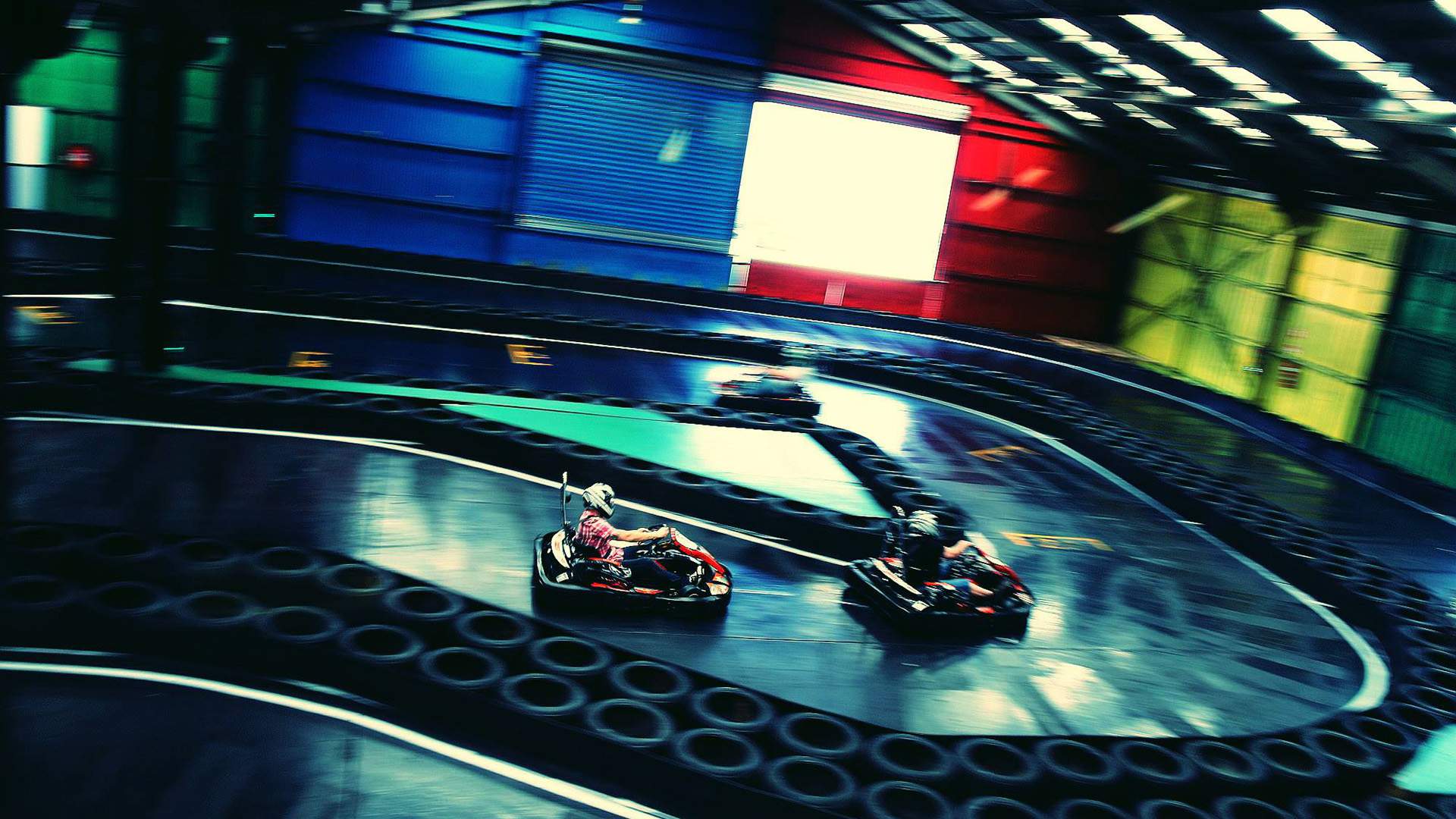 ESCAPE THE WET WEATHER IN A BAR, SPA OR GO-KART TRACK
Brisbane is best known for its glorious sunny days and blue skies, so when it rains, we're often caught off-guard. But this shouldn't be an excuse for your and your significant other hide in bed under the doona all day.
Thankfully, our city is teeming with wet weather-friendly activities, so don't let a bit of drizzle keep you from making the most of Brisbane. Here are some ideas to keep you entertained and sufficiently dry before you consider hiding under your doona forever — binge-watching Netflix not included.
On the list: treating yo'selves to a spa day, getting cultured at a gallery, zooming around a go-kart track and hitting up an arcade bar.

ONE BIG BLOWOUT

TAKE YOUR PICK OF BRISBANE'S BOOZY BRUNCHES
At some point in human history, some clever person found a way to improve eggs, bacon, waffles, pancakes, fruit platters and croissants. They're all breakfast go-tos, and they're all delicious. But they taste better when paired with a stiff drink — especially if it's a weekend morning (or let's be honest, even around midday or early afternoon), and you and your date happen to be either recovering from the night before or starting your day as you mean to go on.
Yes, we all owe whoever discovered boozy brunches a big debt. The person who decided that those beverages should keep flowing deserves all of our gratitude as well. Why pair your brekkie burger, sardines on toast or mid-morning yum cha with just one drink when you can keep the sipping going?
If you're looking for somewhere in Brisbane to do just that, we've picked a few standout spots for a bottomless boozy brunch.
Published on November 30, 2021 by Concrete Playground