ARTS & ENTERTAINMENT
Five Top-Notch (and Not Boring) Brisbane Date Ideas for This Week
Just think of us as your cultural wingman.
Tired of the classic movie and dinner date night combo? Us too. That's why we're always on the hunt for new things to do, scouring the city for not-boring Brisbane activities — ones that are guaranteed to take your next date way beyond done-before beers at the pub. Whether you're taking someone on a second date or doing your 100th with your significant other, we've got some killer (and, yes, cute) ideas for dates to go on this week, no matter how much money you've got to spend. Just think of us as your cultural wingman. You're welcome.

FREE
SPLASH AROUND IN A MAN-MADE WATERSIDE POOL
Brisbane isn't a beach city, but venture out of the CBD, away from the shadows of tall buildings and past the suburban sprawl, and you and your other half can find the holy grail of outdoor pools. Yes, if you head east until you can't go any further, you'll find a fine example of a man-made area filled from the sea and replenished by the tide. Built during the 1930s depression as part of the Unemployment Relief System, the Wynnum Wading Pool is the ideal place to enjoy the warm weather with an ocean view.
Of course, if you're happy splashing around by the river instead, there's always Streets Beach at South Bank Parklands as well. And, also on our pools list: Settlement Cove Lagoon at Redcliffe, which overlooks Moreton Bay.
Whichever spot you choose, if you pack some food from home, you've got a picnic-and-pool date — with bonus waterside vistas.

UNDER $20

CELEBRATE 'VEGANUARY' AT A BIG VEGAN MARKET
Heading to a major shopping centre and only buying vegan goods mightn't always go hand in hand, but they do now at Toombul. Since late 2021, the northside venue hosts the North Brisbane Vegan Markets once a month, with the regular Brisbane Vegan Markets spreading its footprint across town.
The event is back for 2022, so you can mosey along from 9am–4pm on Sunday, January 23 to browse more than 30 stalls selling cruelty-free wares, all at Toombul's Upstairs precinct. And at the January event, the markets are celebrating veganuary — if you and/or your special someone have started the year by ditching meat.
The plant-based spread will include everything from burgers, nachos, pizza and pasta to coconut ice cream sundaes, doughnuts, cupcakes, fudge, brownies and almond croissants. You know the motto here: all of the taste, none of the animal products. The site's regular eateries will all be getting in on the action as well, so you'll have plenty of options, food-wise. Entry is free, and so is the live music that'll soundtrack your vegan shopping.

UNDER $50

SIP BREWS AND LISTEN TO LIVE TUNES A FIVE-DAY BEER FESTIVAL
January might be in full swing and the memories of your summer holiday may be fading, but that doesn't mean that you and your significant other have to stop celebrating — and saying cheers to the new year. Your latest excuse comes courtesy of Pint Palooza, The Osbourne Hotel's new five-day beer festival, which is serving up brews and more from Saturday, January 22–Wednesday, January 26.
A constant across the whole event: beer, obviously, with Young Henry's doing the honours at a pop-up bar at the Fortitude Valley venue. You'll be able to sip the brewery's tins, play games and even win prizes, all while listening to tunes.
The fest kicks off with two Hottest 100 countdowns — music and the Gabs Hottest 100 Craft Beer Countdown — with the lineup also spanning live performances from 4–8pm on the Sunday afternoon, DJs from 9pm on the Tuesday, drag queen bingo and an 80s-themed glow party. Entry is free, but contacting the venue in advance to book a table is recommended.

UNDER $100

RELAX ON THE SAND WITH A DRINK IN YOUR HAND
If you and your favourite person have ever spent a day on your towel at the beach, wished you had something comfier to sit on and dreamed of getting a drink from a bar right there on the shore, you definitely aren't alone — and, on the Gold Coast this summer, your fantasy has become a reality.
Meet Kurrawa Beach Club, which has set up shop on Kurrawa Terrace in Broadbeach until Sunday, January 30. It's serving up all the things that its moniker promises; think: cabanas, daybeds, volleyball nets, cocktails, live tunes, seafood and salads, and just generally having a cruisy yet still luxe trip to the seaside, all while surrounded by oh-so-much sand, Queensland's dazzling sun and plenty of blue salty water.
This European-style stint of lounging, sipping and relaxing by the ocean is pairing cocktails and brews — including margarita slushies, plus sips from Black Hops Brewing, Wheel & Spoon and Hard Fizz — with a food menu from its container kitchen. So, you can tuck into prawn and Moreton Bay bug rolls, fried haloumi with watermelon, seafood skewers, salads, burgers, and other summer-friendly snacks made using local and seasonal produce. Also on the agenda: live tunes from Gold Coast locals, pilates brunches and beach volleyball games, as well as hanging out on those aforementioned daybeds and in the VIP cabanas.

ONE BIG BLOWOUT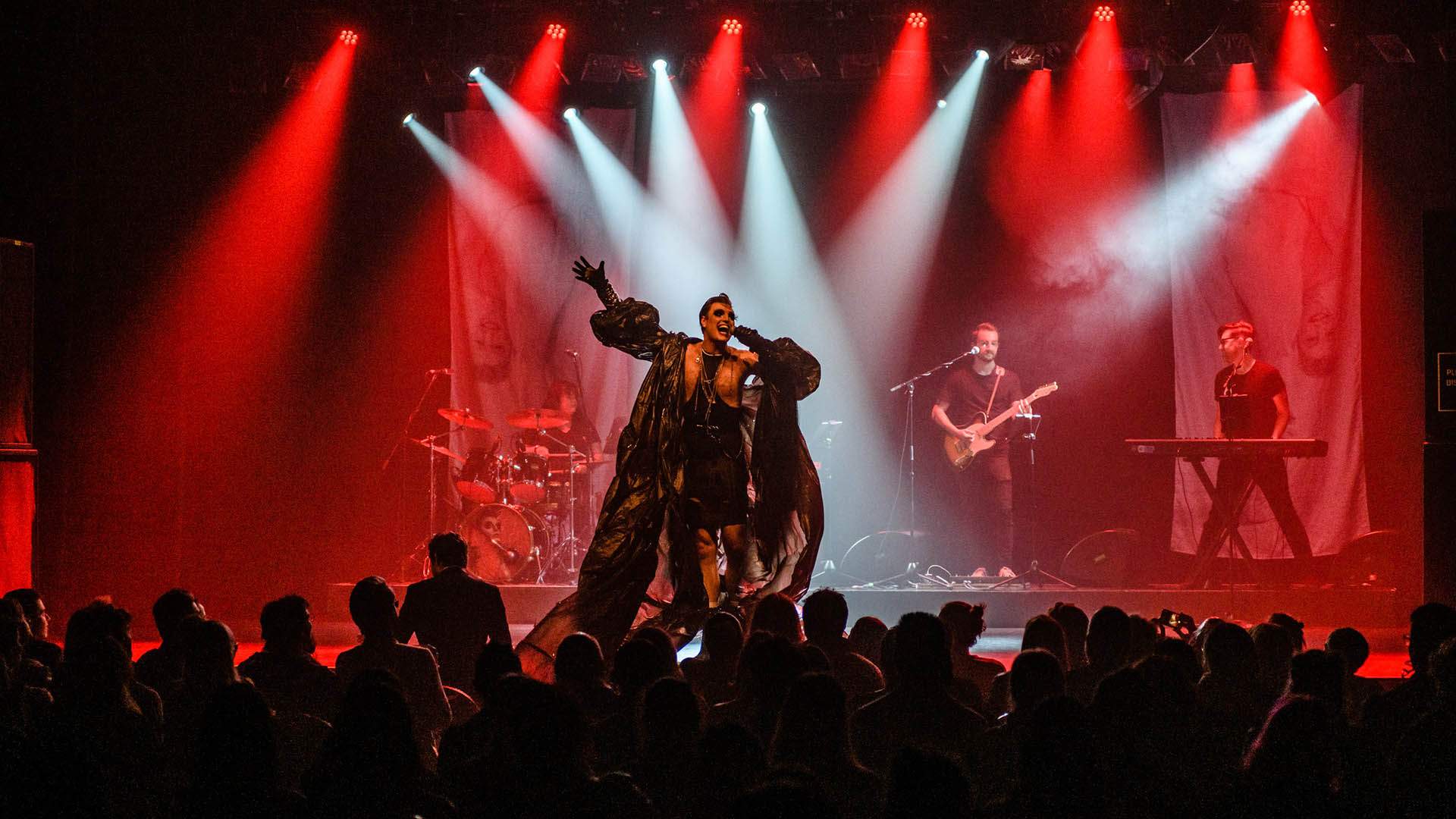 WATCH CABARET, COMEDY, CIRCUS, BURLESQUE AND DRAG ALL IN ONE SHOW
If you and your date have caught more than one or two shows at South Bank's Queensland Performing Arts Centre in your time, as every Brisbanite has, then you've likely watched a thing or two at its Cremorne Theatre. But you've probably never seen the space like it will be at The Kaye Hole, the new performance by cabaret star Reuben Kaye — which is turning the venue into a cocktail-slinging speakeasy.
Those libations will pair well with the show's blend of circus, comedy, burlesque and drag — and cabaret, of course — which is firmly an adults-only affair. While sipping, you can say cheers to a performer who's nabbed the Best Cabaret Awards at Fringe World Perth and Adelaide Fringe Festival 2021, and also earned a nomination for the most outstanding show at last year's Melbourne International Comedy Festival.
Kaye will unleash his cabaret variety act with a little help from his friends, which include fellow cabaret star Tina Del Twist, dance and fire artist Jacqueline Furey, aerialist and contortionist Ashleigh Roper, pole dancer Charlie Love, beat box artist Hope One, performance artist Leah Shelton and the THICC shake crew's drag artists and dancers. You can check out their delights from Thursday–Sunday until Saturday, February 12, with 8pm shows every night except Sunday and 4pm gigs each weekend as well.

Top image: Kurrawa Beach Club.
Published on January 18, 2022 by Concrete Playground