ARTS & ENTERTAINMENT
Five Brisbane Date Ideas for This Week That Aren't Dinner and a Movie
Just think of us as your cultural wingman.
Five Brisbane Date Ideas for This Week That Aren't Dinner and a Movie
Just think of us as your cultural wingman.
---
Tired of the classic movie and dinner date night combo? Us too. That's why we're always on the hunt for new things to do, scouring the city for not-boring Brisbane activities — ones that are guaranteed to take your next date way beyond done-before beers at the pub. Whether you're taking someone on a second date or doing your 100th with your significant other, we've got some killer (and, yes, cute) ideas for dates to go on this week, no matter how much money you've got to spend. Just think of us as your cultural wingman. You're welcome.


FREE

GO FLY A KITE
Brisbane's big blue sky is about to get brighter — no, summer isn't here again, but Brisbane Kite Festival is. From 10am until 3pm on Sunday, April 28, the event will take over the Murarrie Recreation Ground, filling the air with colourful structures flapping in the wind.
It's a family-friendly affair, but kids small and big are welcome to roll out their kite and watch it float in the wind — and, if you need some help, there'll be kite workshops onsite, too. Plus, if you and your high-flying partner want to be part of the fun, but don't have your own kite, there'll be some for sale on the day, as well as professional kite flyers (yep, that's a thing) to give you a hand.
When you're not holding a string and staring at the clouds, you can also grab something to eat or do a little browsing, with the festival also featuring markets and food stalls. Entry is free, but gold coin donations are welcome — as are pets, so bring your doggo along.

UNDER $20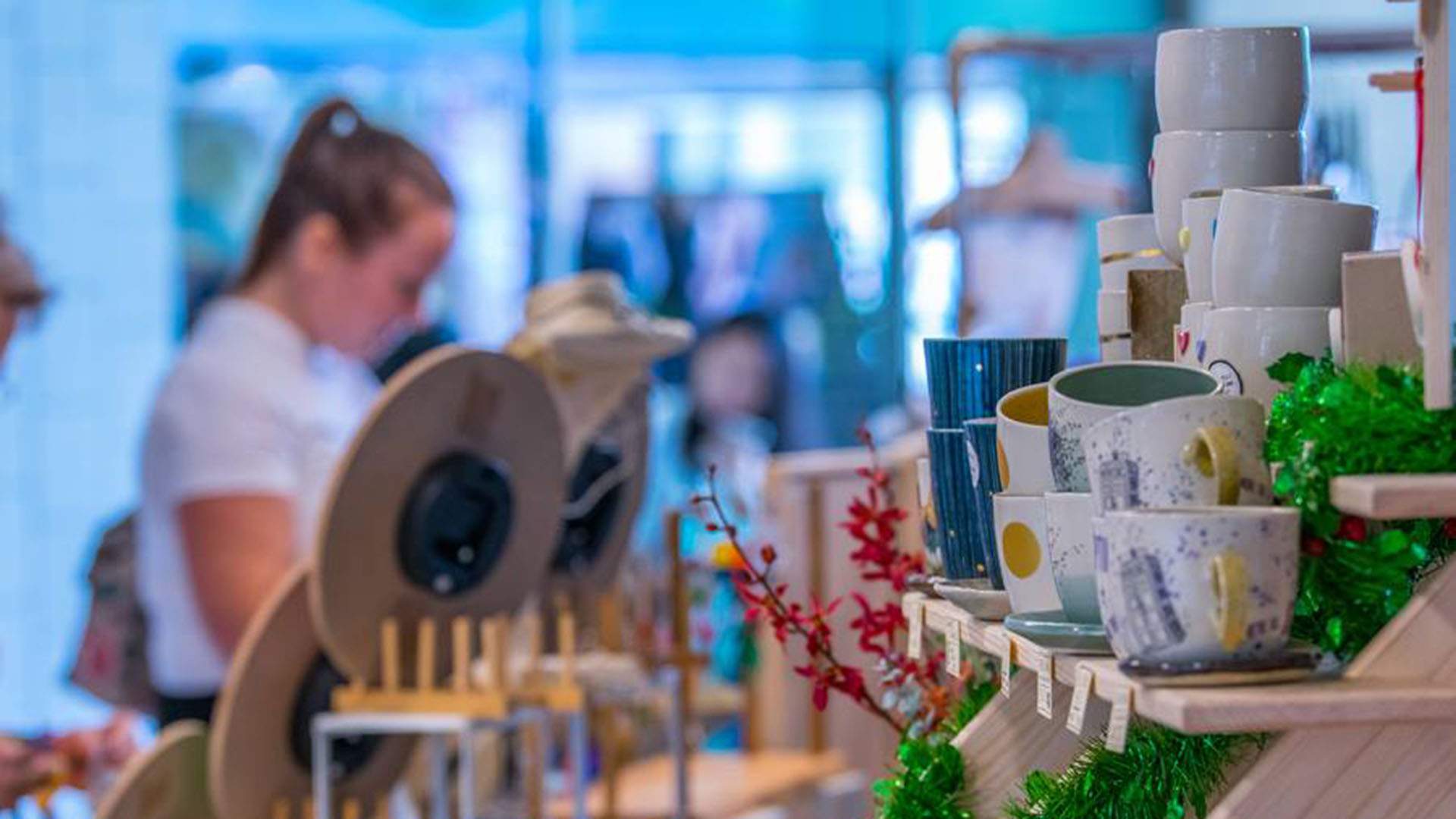 BROWSE FOR HANDMADE GOODIES
The folks at BrisStyle are a rather busy bunch. A few times a year, they put on twilight markets in King George Square. Also on their agenda: a decluttering craft market. And, if you and your favourite person are particularly keen on a treasure trove of handmade goodies (and who isn't?), they're hosting another opportunity to browse and buy that's dedicated to those kinds of objects.
Fashion, art, jewellery, homewares — if someone's been using their nimble fingers to make it, then you can probably trade your hard-earned cash for their hard work. While you're shopping, you'll also be able to grab a bite at the market's food precinct and listen to live tunes from local musos.
The BrisStyle Handmade Markets will run three times in 2019, so mark your calendars now. Head along from 10am–6pm on selected Saturdays — on April 27, August 24 and December 7 — with it all taking place outside the State Library of Queensland.
Image: BrisStyle.

UNDER $50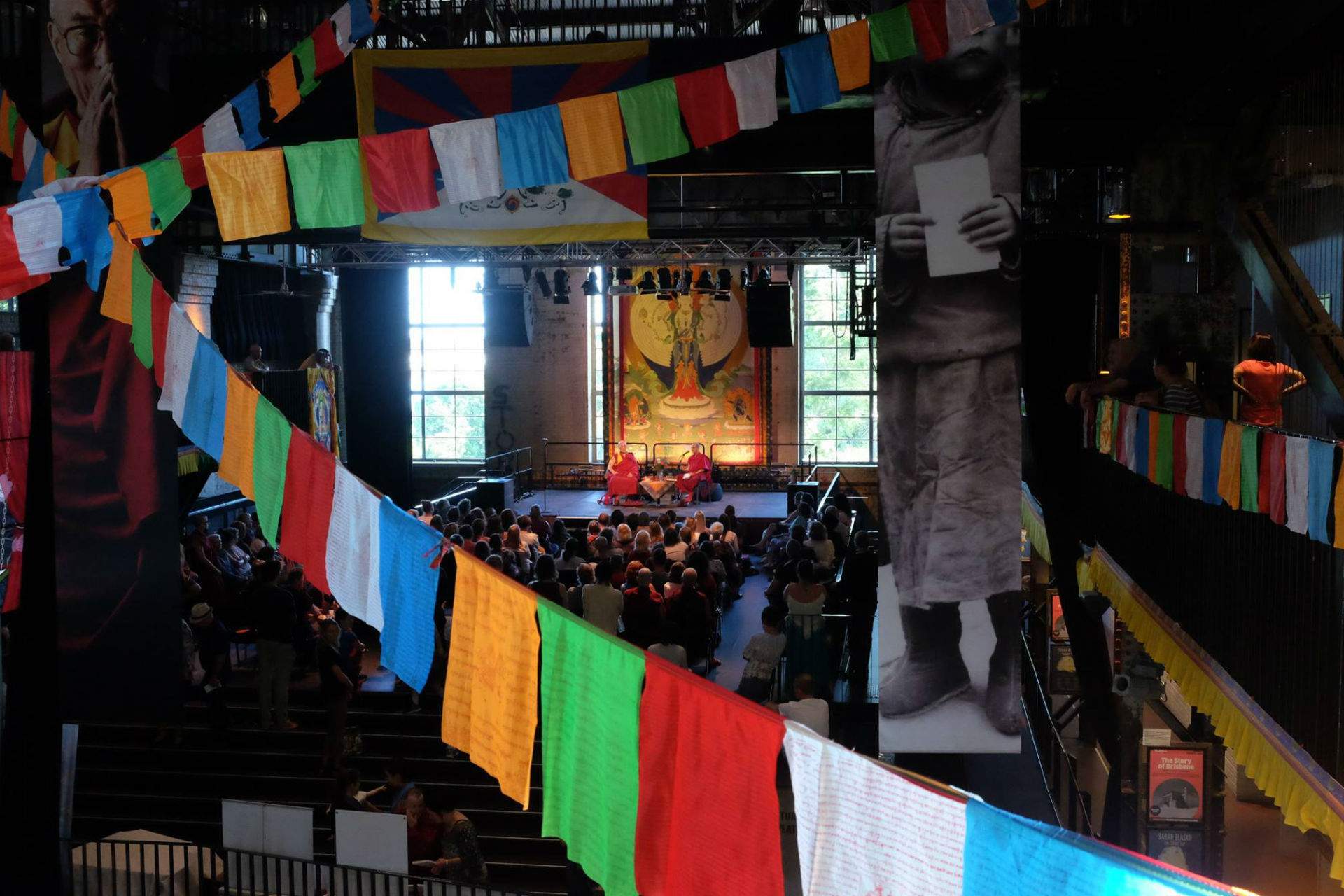 FIND INNER BLISS WHILE LEARNING TO MAKE DUMPLINGS
Tibet is the type of place everyone wants to visit — and the kind of destination few of us will actually make it to. Don't worry, the Festival of Tibet offers up the next best thing. It'll either help ease the pain of not being able to jump on a plane with your special someone, or make you book a ticket overseas as soon as you can.
Learning how to practice meditation, paint, whip up momos, do yoga and make sand mandalas, all Tibetan-style, will do that of course. And there's more where that came from. For the 11th year running, the event celebrates the resilience and optimism of a people and culture under threat through a showcase of the country's way of life.
Hitting up Brisbane Powerhouse from Friday, April 26 to Sunday, April 28, that includes 1000 Stories, a performance art piece that combines live painting with a live score, plus a night of songs and tales all about the country. Or, head along to discussions about Tibetan nomads and their traditional way of life, as well as using compassion as a guiding principle.
Image: Festival of Tibet.

UNDER $100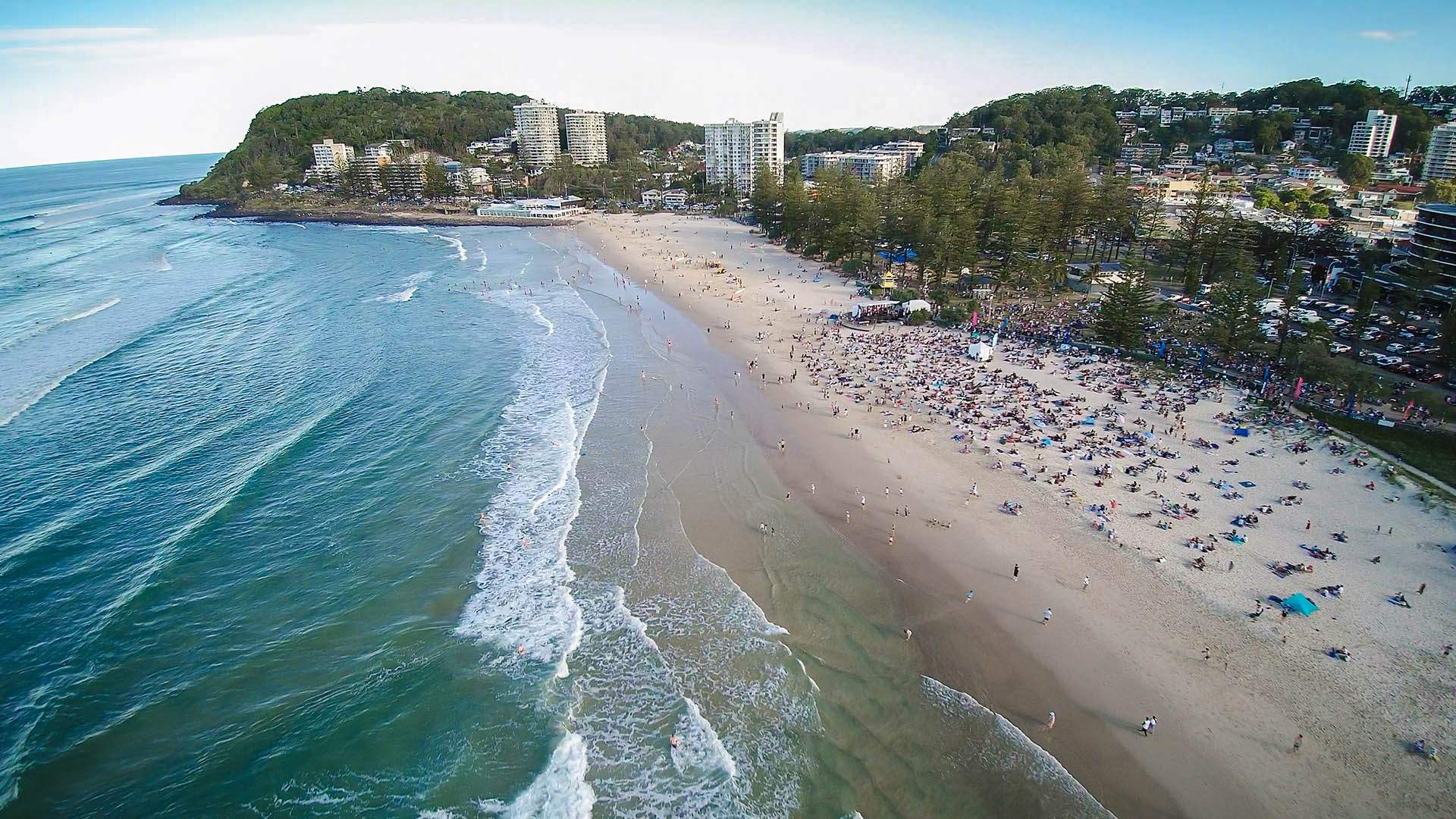 HEAD TO A BEACHSIDE ARTS AND MUSIC FESTIVAL
Returning for 2019, Bleach* Festival boasts the event's biggest lineup yet, and all the proof you need that there's more to the Gold Coast than the trio of sun, surf and sand. Of course, running until Sunday, April 28, the fest's 2019 program doesn't forget the Goldie's biggest attraction.
Instead of simply sunbathing and splashing around at the beach, attendees can peer up at The Cleaners' performance installation, which takes place seven metres above the ground. At the festival's beachside hub at Burleigh, there'll also be live music, a pub choir session and a bar on the sand. Or, you can listen to the sounds of a hand-operated, multi-octave fire organ. It's free, and it really is driven by a furnace.
With festivities taking place all across the coast, the list of shows goes on — whether you want to see a dark staging of Verdi's Requiem, enjoy the mesmerising sights of Limbo Unhinged, or watch street dancers face off in Between Tiny Cities. You can also go for a swim as part of Landing, where folks will take part in a continuous watery relay that covers the distance between Manus Island and Australia, or sit in your car for Throttle, aka a live-action drive-in.
And the visual arts spread also delivers too, with an exhibition dedicated to surfers who make art (and surf culture in general) an obvious standout.
Image: Scott Belzner

ONE BIG BLOWOUT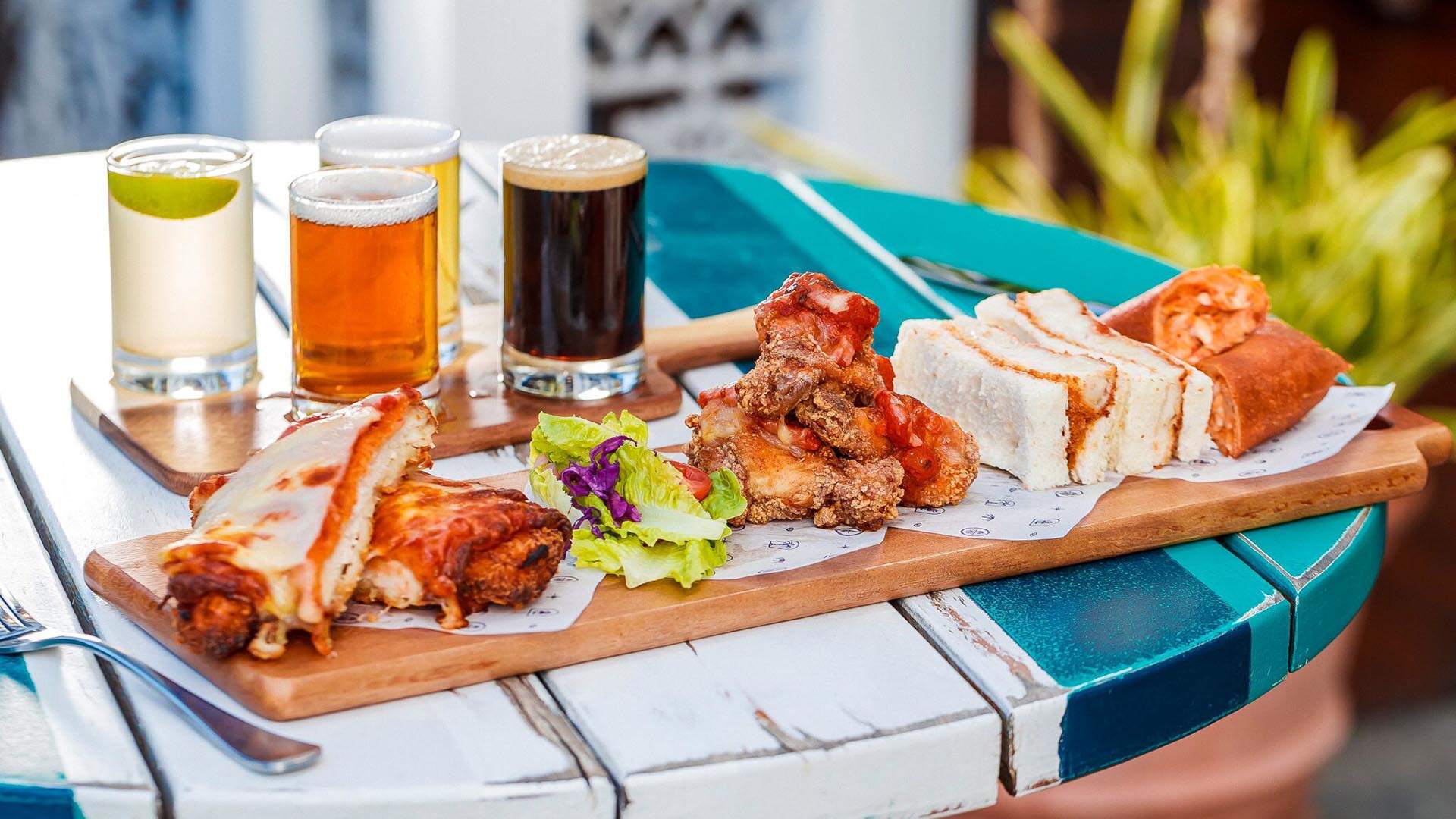 EAT YOUR WAY THROUGH A PARMY DEGUSTATION
When Little Big House opened its doors, it did so with a strong parmigiana game. The South Bank pub's chicken parmy spring rolls quickly proved worth a trip alone, because some unlikely food combos really are as great as they sound. Plenty of Brisbanites have paired the dish with plenty of beers as a result; however adding a few other parmy delights — and a few more brews — is on the menu come April. Every Sunday, the watering hole is slinging Parmy and Paddle Degustations, so you'd best prepare your tastebuds.
Available all day each Sunday — with the last session happening on April 28 — this four-course feast will set parmy-loving couples back $48. It'll also soak your stomach in oh-so-much chicken and tomato, as well as a different 4 Pines beer with each round.
Kicking off the meal with a classic, it all starts with a good ol' chicken parmy with a Pacific Ale. Next, you'll tuck into those chicken parmy spring rolls with a Brookvale Union Ginger Beer, and savour the unusual flavour combo. Third on the lineup is a parmy katsu sando, which comes with a Cold Brew Coffee Kolsch. Then, finishing up the degustation, you'll munch on some chicken parmy wings while downing a Pale Ale.
If you dream of parmys afterwards, you'll know why.
Published on April 24, 2019 by Concrete Playground