Brisbane's Most Instagrammable Spots by Day and Night
Fall in love with Brisbane all over again at these prime photo spots.
in partnership with

Sydney and Melbourne may grab the headlines thanks to their larger populations, but there are plenty of reasons to love Brisbane. The home of the 2032 Olympic and Paralympic Games offers urban exploration, waterside luxury, natural beauty and, in some cases, all of the above at the same time.
We've teamed up with Samsung to pick out the best places to visit in the Queensland capital if you want to pimp your Insta feed. Not only that, but we've separated them out into day and night. Why? Well, thanks to the Samsung Galaxy S22 Series' Nightography feature, you don't have to worry about your phone not being able to cope in low-light conditions, meaning you can enjoy each of these locations at the times when they're at their very best.
DAY
The Calile Pool
Yes, admittedly, it is just a hotel pool on paper, but somehow, every picture you see of the pool at The Calile looks like it's been handpicked to promote a film where the characters live a life of opulent, worry-free luxury. Maybe it's the semi-circular raised section in the middle of the pool where you can bask in the sun, maybe it's the gold lettering on the tiles on the bottom of the pool or maybe it's the way the pastels of the poolside furniture seamlessly blend with the surroundings to give an air of elegance. Either way, prepare your camera for a dreamy snap.
Roma Street Parkland
Noted as the world's largest subtropical garden located in a city centre, Roma Street Parkland's incandescent displays are spread over several hectares, providing a riot of colour whichever way you turn. If you want to curate your pics even further, volunteers offer a range of free guided tours, so you can learn about the history of the park, local bush tucker, the rainforest experience and more.
Mount Coot-tha Lookout and Tropical Dome
Want to see as much of Brissie as you can in one go? Head on up Mount Coot-tha and make your way to the lookout. From Brisbane's highest point, you get spectacular views of the city, Moreton Bay and beyond. Up here, you'll also find the Tropical Dome: a climate-controlled haven for tropical plants which gives them the precise conditions they require to thrive. You'll think you're on an island paradise instead of just a 20-minute drive out of the centre of the River City.
South Bank Beach and Grand Arbour
Put aside any preconceptions you may have about a man-made beach right a proverbial stone's throw from the city centre, and soon you'll be wondering why more places don't follow suit. At South Bank, you can experience golden sands and crystal waters, with the stunning backdrop of the imposing CBD just on the other side of the river. Located right nearby is the Grand Arbour – ostensibly a pedestrian walkway but in practice, a kilometre-long pergola where a vibrant bougainvillea canopy provides a beautiful covering for your leisurely stroll.
Emporium Hotel rooftop pool
There are few phrases in the English language quite as decadent as "rooftop infinity pool". Twenty-three metres long and 21 storeys up, the Emporium Hotel's pool offers incredible views over South Bank Parklands, the Brisbane River and even further afield. This kind of position gives the kind of view you'd more likely associate with a gleaming metropolis such as Dubai or Singapore, but Brisbane gleams as brightly as any of them.
Kangaroo Point Cliffs
Easily accessible and just over the river from the CBD, the Kangaroo Point Cliffs are a spectacular heritage-listed natural formation. People visit to picnic, climb or abseil and, at the base of the cliff, there's a small park with facilities and artworks. In terms of views, though, beyond the majesty of the cliffs themselves, you can see the Captain Cook Bridge, the CBD, Story Bridge, the botanic gardens and hordes of mangroves, all from the one vantage point.
Fortitude Valley laneways
You think laneways and you probably think Melbourne, but Brisbane can certainly give the Victorian capital a run for its money. Street art, hip coffee joints and al fresco eateries sit side by side in a series of alleyways that will inspire your creativity. You'll stumble upon hidden gems everywhere you look – perfect fodder for a series of high-quality snaps documenting your exploration.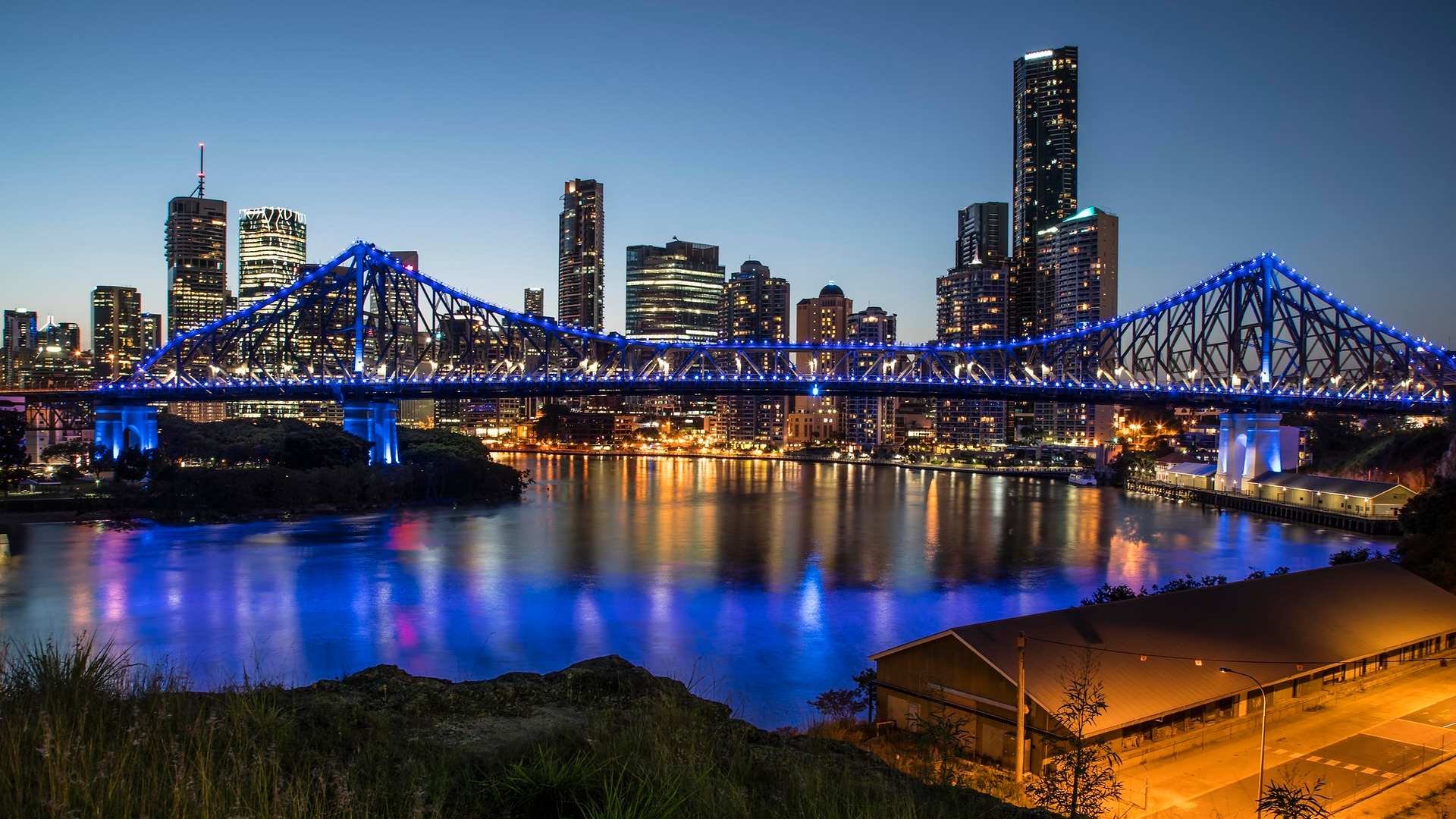 NIGHT
The Calile Exterior/James Street
We've already covered how The Calile's swimming pool is one of the best places to kick back but by night, head on outside and check out what the hotel's exterior and surrounds have to offer. The hotel's quietly brutalist style belies the sandy colours and resort feel you get in one of Brisbane's most bustling precincts. And just beyond the front door, the tree-lined James Street positively glows in the evening under soft street lamps and fairy lights.
Fairy light trees at QUT
The clue's in the name with this one. Go to QUT and look for the trees with fairy lights in them. While there are multiple public sites in Brisbane where fairy lights illuminate the night sky, the QUT side of the Goodwill Bridge is the biggest and, in our opinion, the best. Pro tip: try to arrive around dusk so you get the opportunity to see the lights turn on for the night.
Clem Jones Promenade
Science probably can't explain it, but it's surely beyond dispute that a leisurely stroll is always improved when it's adjacent to a waterway. And the Clem Jones Promenade is a fantastic way to see Brisbane in all her glory – it's a wide, well-kept walkway in South Bank that gives you fantastic views of the city across the river while also providing a picturesque canvas for your best social media shots.
Wilson Outlook Reserve
Is this little stretch of grass Brisbane's best-kept secret? Wilson Outlook Reserve is a small park in New Farm that if you know, you know — but if you don't, it's the ideal vantage point for a view over the spectacular city skyline. And it's even better at night, as the lights from the skyscrapers, bridges and residential towers combine to make a glittering urban artwork.
Fish Lane
Strings of lights, cute restaurants, hip bars – a trip to Fish Lane at night is like wandering into a painfully chic European quarter. A dazzling array of artworks, galleries, sculptures, murals and performance spaces all coexist side by side with the food and drink options, meaning it's impossible not to find something you love every time you visit.
Captain Burke Park
Most parks are generally daytime places and, to be fair, Captain Burke Park more than holds its own in the sunlight. But it's after sunset that this park at the northern tip of Kangaroo Point really reveals its treasures. It's well lit, meaning you never have to worry about navigating your way around, but it also provides an unspoilt view across the river to Brisbane's cityscape. See the multi-coloured lights of the CBD reflect in the river back at you and marvel.
Make nights epic with Samsung Galaxy S22. For more info, head to the website.
Top image: Jamie McGlinchey (Unsplash)
Concrete Playground Trips
Book unique getaways and adventures dreamed up by our editors