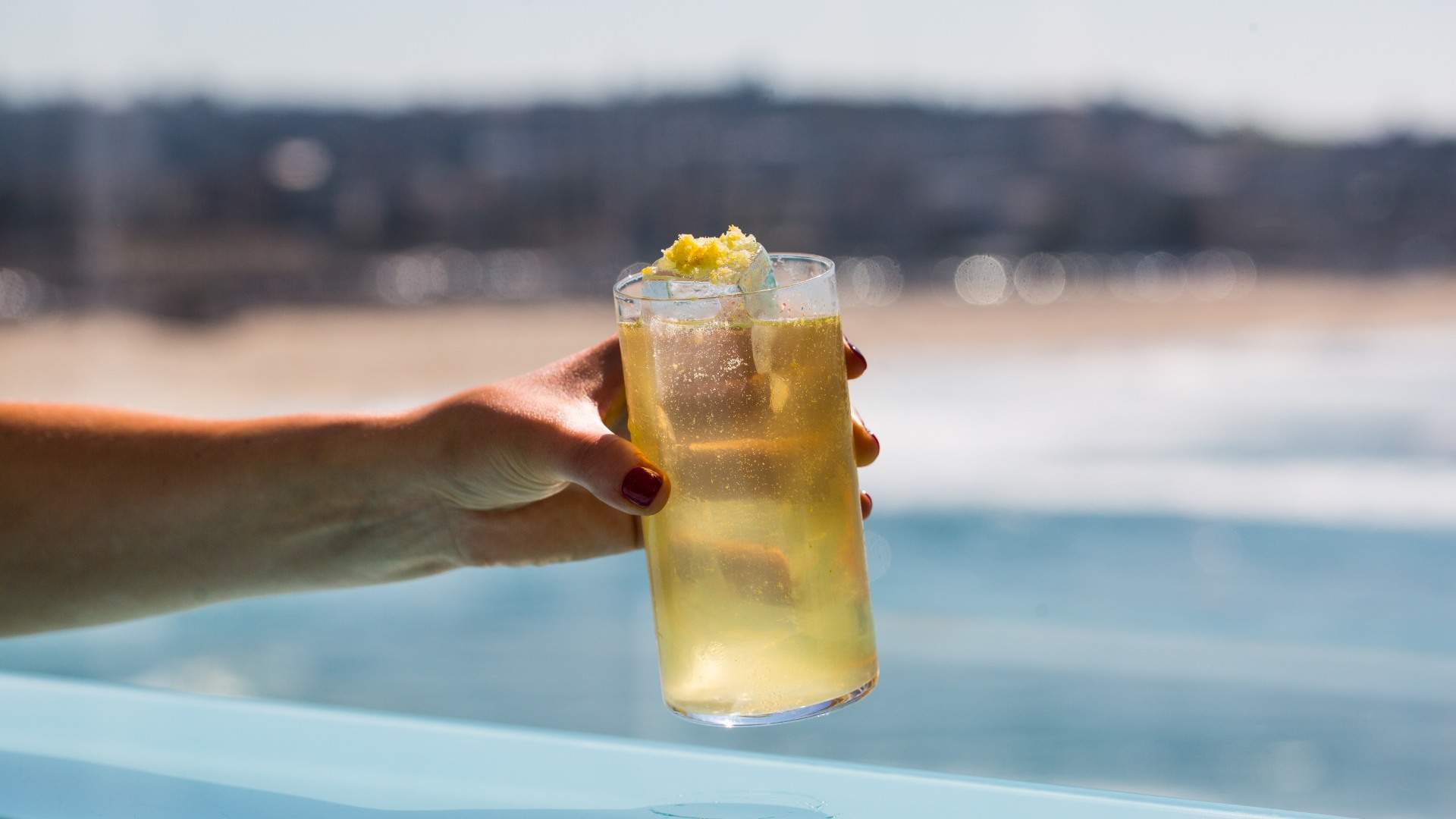 Cocktail Hour
Three Top Aussie Bartenders' Twists on the Classic Highball
These fresh takes on the sessionable classic will elevate your cocktail hour, whether you're wanting to shake up savoury, sweet or spicy tipples.
If you're looking for a reliable — and refreshing — cocktail, it's hard to go past the highball. Over the years, this carbonated concoction has become an essential tool in the bartenders arsenal. And while there are many incarnations of this tall, fizzy tipple, we reckon the ginger highball is a winner. It's a very versatile sip, so you can introduce almost any whisky to the core fizz of ginger ale, as the mixer's spice and subtle sweetness melds wonderfully with the smokiest or oakiest of amber liquors. Perhaps best of all, though, is that the ginger highball is a cinch to whip up in your own home.
So, in partnership with Fever-Tree, we're exploring new highball horizons. We tasked three excellent Aussie bartenders to come up with their own inventive spin on the classic drink, using Fever-Tree Dry Ginger Ale, naturally. Here's what they came up with — and how you can recreate these riffs at home.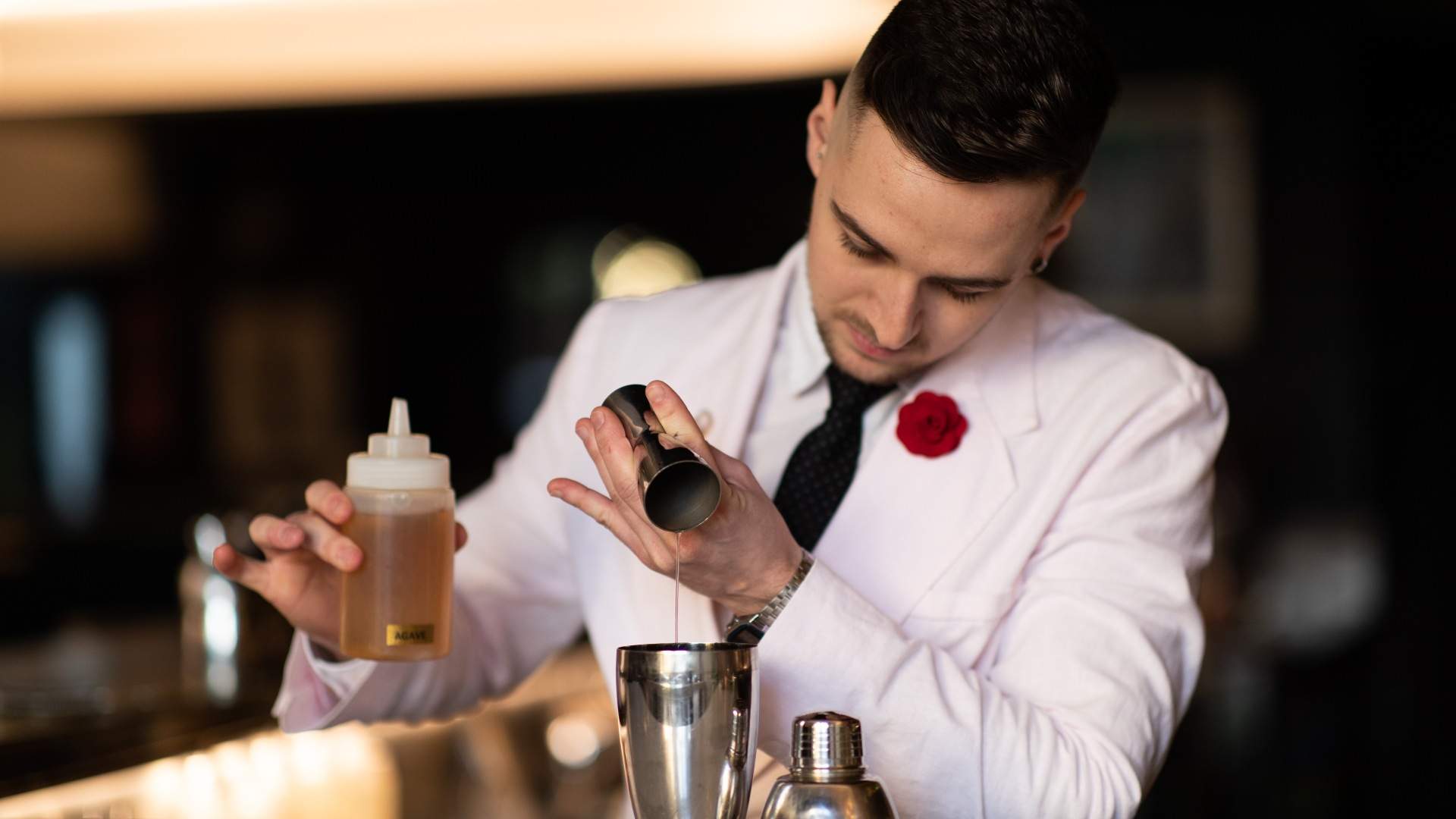 The Breezy Johnnie
Maybe Sammy's Paolo Maffietti
It's all good vibes and healing aromatics in Paolo Maffietti's highball twist, the Breezy Johnnie. You can usually find Maffietti behind the bar at awarded Sydney bar Maybe Sammy, and for this concoction he follows the bar's penchant for creativity.
Maffietti, rather expectedly, has taken things up by more than a few notches with this drink. For one, he uses a bit of palo santo, a South American tree. Yep, you read that correctly. Why? "Because, according to shaman history of South America, it was used to clear negative energy around you," he says. Since his A-class cocktail is centred on positive energy — and, let's face it, we need some after this last year — we reckon palo santo is a superb addition. Plus, the wood brings a fragrant smoky, vanilla-infused spice to cocktails. Maffietti also uses plum bitters, which, thanks to its tart sweetness, he calls a "game changer".
Don't be intimidated, though — it is called Breezy Johnnie for a reason. Not only named after its mix of refreshing, uplifting ingredients that complement the chocolate and smoke notes of Johnnie Walker Black Label, but it's also a drink you can make at home — once you get you track down some palo santo sticks and get your cordial prepped, that is.
BREEZY JOHNNIE
Serves one
Ingredients
30ml Johnnie Walker Black Label
15ml Noilly Prat dry vermouth
30ml palo santo cordial*
2 dashes plum bitters
Fever-Tree Dry Ginger Ale
Fresh mint and ginger candy for garnish
Ice
Method
First up, you'll want to make your palo santo cordial, which you can do in advance. Steep palo santo in water or, if you like things on the sweeter side, sugar syrup. Simmer for a few hours, then reserve until use.
For your Breezy Johnnie, simply add ice to a highball glass and pour in Johnnie Walker Black, dry vermouth, palo santo cordial, plum bitters and ginger ale. Give it a quick stir if you wish, then garnish with fresh mint and candied ginger for extra flair.
Hot tip
As you're committing to cocktail hour, you may as well level up with some charcuterie. "I'm Italian and I love to drink sparkling cocktails with some mortadella and salami on the side," Maffietti tells us.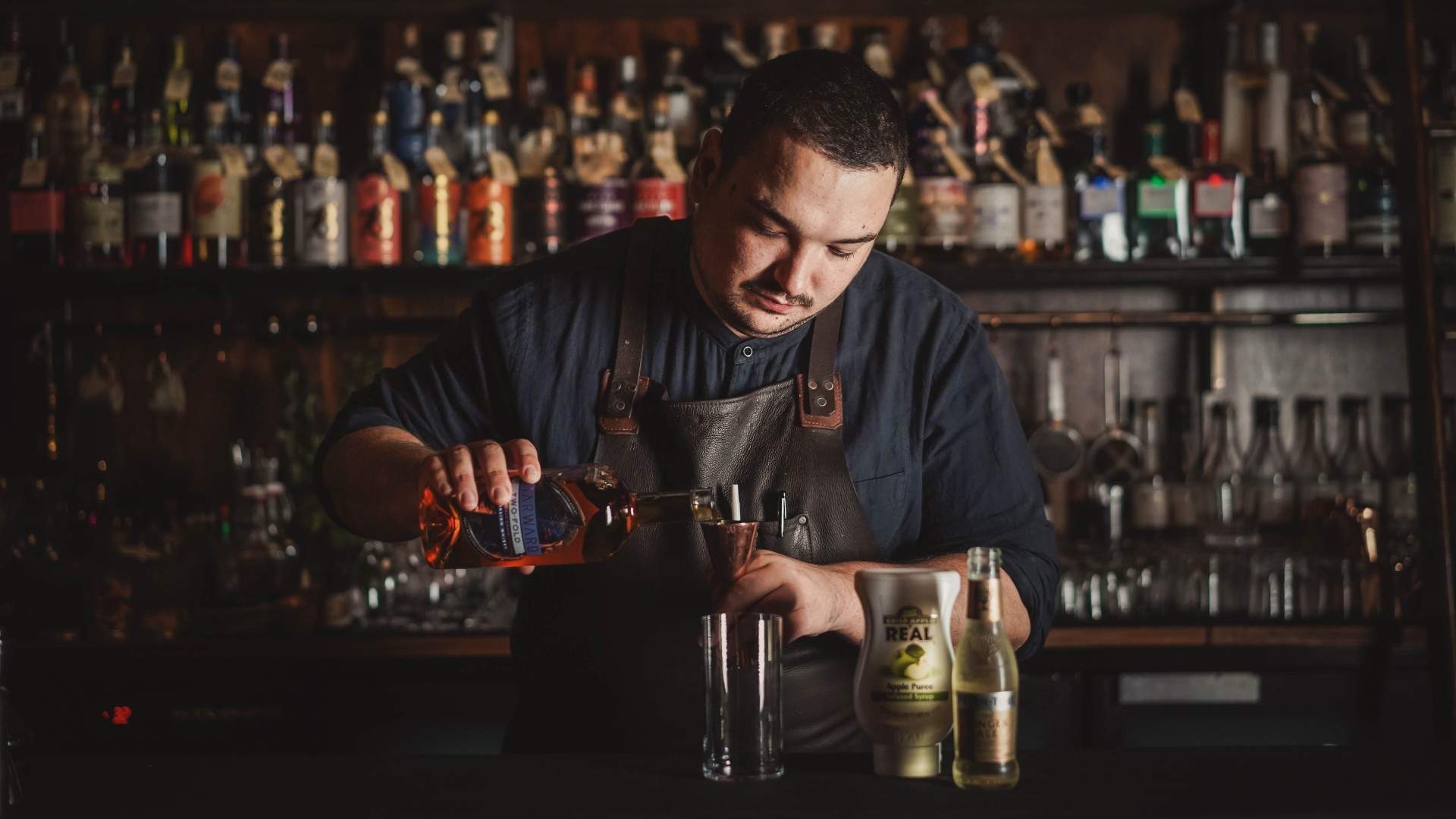 The Get Real
Savile Row's Tim Speechly
Opulent Brisbane speakeasy Savile Row has one helluva whisky collection. So, it goes without saying that bar manager Tim Speechly stirs up some seriously good whisky-based tipples. And, luckily for you, he's all about keeping cocktails approachable — especially if you're making them at home. We asked for a twist on the highball, and he delivered with his Get Real cocktail. Speechly says the drink is ideal for chilled out afternoons — and "easy as hell' to make. Result.
Apples are the star of Speechly's concoction, which gives a nod to the zesty apple profiles of Japanese whisky that's often a favourite in highballs. As for the booze, he uses Melbourne-made whisky Starward Two-Fold for its bold, sweet-yet-spicy flavour profile and smooth mouthfeel. He's also added a hint of absinthe — AKA the green fairy — to the mix. "Bartenders have been doing it for years, but putting a little absinthe in things just makes it better," he says. "It creates a subtle complexity that makes the drink all come together."
GET REAL
Serves one
Ingredients
45ml Starward Two-Fold
20ml Crisp Apple Reàl apple puree-infused syrup
15ml lemon juice
2–3 dashes of absinthe (or any pastis)
Fever-Tree Dry Ginger Ale
Fresh apple fan for garnish
Ice
Method
Pour Starward Two-Fold whisky, the apple puree-infused syrup (a pre-mixed delight) and lemon juice into a highball glass, and then add a few dashes of absinthe. Add ice cubes, stir, and top with Fever-Tree Dry Ginger Ale.
Hot tip
Speechly's twist on the classic cocktail doesn't need any bells and whistles. "But," he says, "if you've been in lockdown for a few weeks, you'll want to feel a little bit ooh la la, so definitely garnish your drink." He suggests a fan of apple slices for the perfect fancy-at-home finish.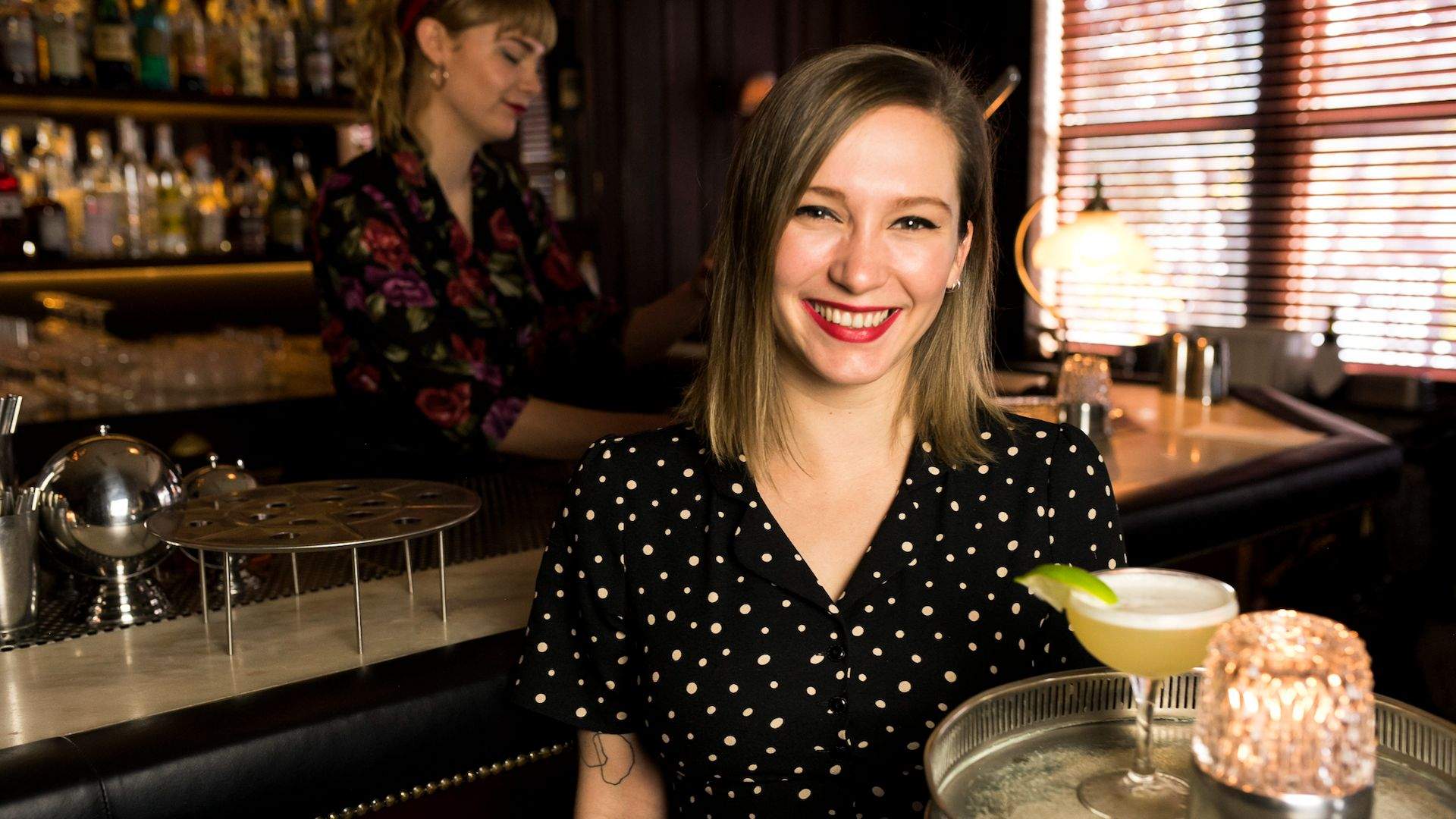 The Fourth Quarter
The Everleigh's Katya Owens
For Katya Owens, venue manager at buzzing Melbourne cocktail den The Everleigh, simplicity is key, with classic techniques at the heart of every drink. The 1920s-inspired bar takes a page from 'the golden age' of cocktails, when fixes, fizzes, old-fashioneds, sours and sazeracs were à la mode. So, naturally, Owens has brought an elegant twist to the classic whisky tipple, which she's dubbed Fourth Quarter.
"The classics give you a structure and then that's how modern classics are created, where you infuse other flavours on that ground base that's really balanced," she says.
This medley of flavours is reminiscent of popular ginger-forward beverages on The Everleigh's menu, but comes with a bit of extra kick. Her use of Glen Grant 10 YO single malt scotch is a smart one, too, as its light, malty notes pair perfectly with the sour citrus of the lime juice. Best of all, though, is that it's easy-as to make — but still an impressive glass of whisky goodness.
FOURTH QUARTER
Serves one
Ingredients
60ml Glen Grant 10 YO
30ml fresh lime juice
22.5ml simple syrup
4 dashes absinthe
Fever-Tree Dry Ginger Ale
1 cucumber coin for garnish
Ice
Method
Fill cocktail shaker with some ice, and add Glen Grant whisky, lime juice, simple syrup and absinthe. Shake for about 30 seconds. Then, pour mixture into a highball glass, and top with ice, ginger ale and, should you wish, a garnish.
Hot tip
According to Owens, "the Fever-Tree Dry Ginger Ale is quite subtle, with just a little hint of sweetness." So, to balance it out, she's added a few dashes of absinthe for its herbal aroma. Plus, she recommends garnishing with a cucumber coin to give the cocktail an even more refreshing, savoury palate.
Want to hear top Aussie whisky producers talk about their secrets to mixing up a good tipple? See Fever-Tree's video below.