Gelato Messina's Handmade Chocolate Bon Bons Are Back Again for Valentine's Day
Level up your Valentine's Day box of chocolates with Messina's nutty pink- and red-hued bon bons.
Whether you started getting emails about it before Christmas even hit, you just know that February is almost here, or you've spotted pink and red hues — and roses and chocolates — at your local shops, yes, Valentine's Day is almost upon us again. And if your sweetheart has a sweet tooth and a love of Gelato Messina, the ice cream chain has whipped up some of its favourite non-gelato treats for this year's romance-fuelled occasion.
Never one to miss an opportunity to experiment with new ways to inhale desserts, Messina has been cooking up novelty treats for Valentine's Day for a couple of years, and it's going with a twist on a tried-and-tested option for 2022. That'd be its bon bons, which it usually serves up for Mother's Day — but hey, fancy choccies are a go-to on plenty of occasions for good reason.
An important note, though: while Messina's chocolate bon bons were filled with gelato to begin with, the chain has been doing all-chocolate versions for a couple of years now. And, that's what's on offer again this Valentine's Day. They come in three nutty varieties all in the same box, all in shades of red and pink — and, with Messina recently stepping up its in-house chocolate-making capabilities, you'll be tasting some of the gelato chain's new wares.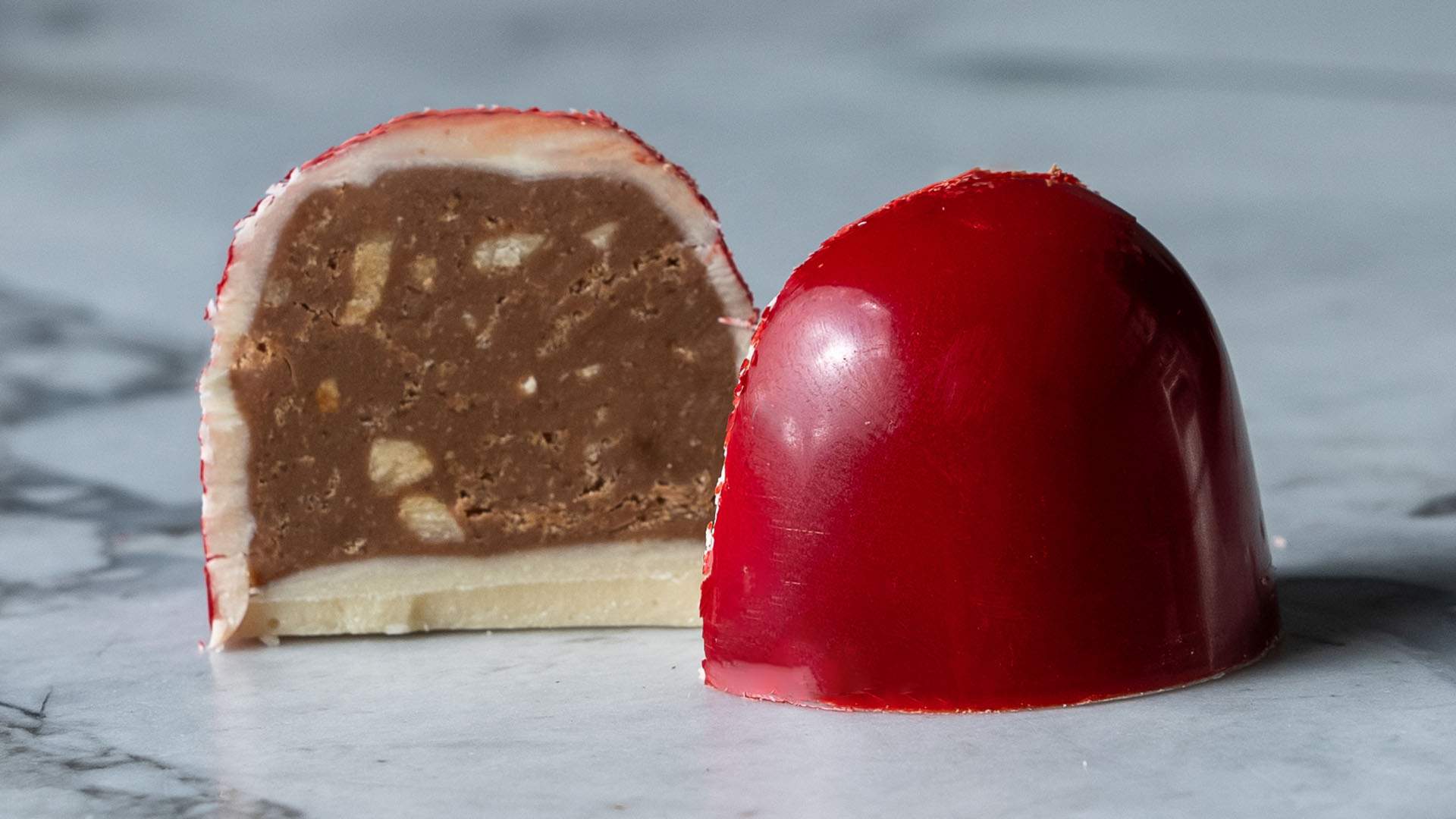 Each box features with four versions of each of the three different flavours: peanut praline, which fill a milk-chocolate shell with milk chocolate, wafer and salted peanut praline; macadamia and coffee praline, which opt for a white-chocolate shell, plus roasted and caramelised macadamia and coffee praline; and hazelnut praline, again with the white chocolate exterior, but this this time with milk chocolate, roasted hazelnut and wafer praline inside. So, your special someone will have a variety to feast on. And hey, if they don't like one of the flavours, maybe they'll share it with you.
Boxes cost $45 each for 12 bon bons and you'll need to place your order on Monday, January 31, with times varying depending on your state. You can then pick up the choccies between Sunday, February 13–Monday, February 14.
Gelato Messina's Valentine's Day Bon Bons will be available to order on Monday, January 31, from 9am local time in Queensland and the ACT, 9.30am in Victoria and between 10am–11am in New South Wales.
Published on January 27, 2022 by Concrete Playground