The Best Things to Do in Brisbane This Week
Hang out in an igloo, or sip your way through 11 different types or martini.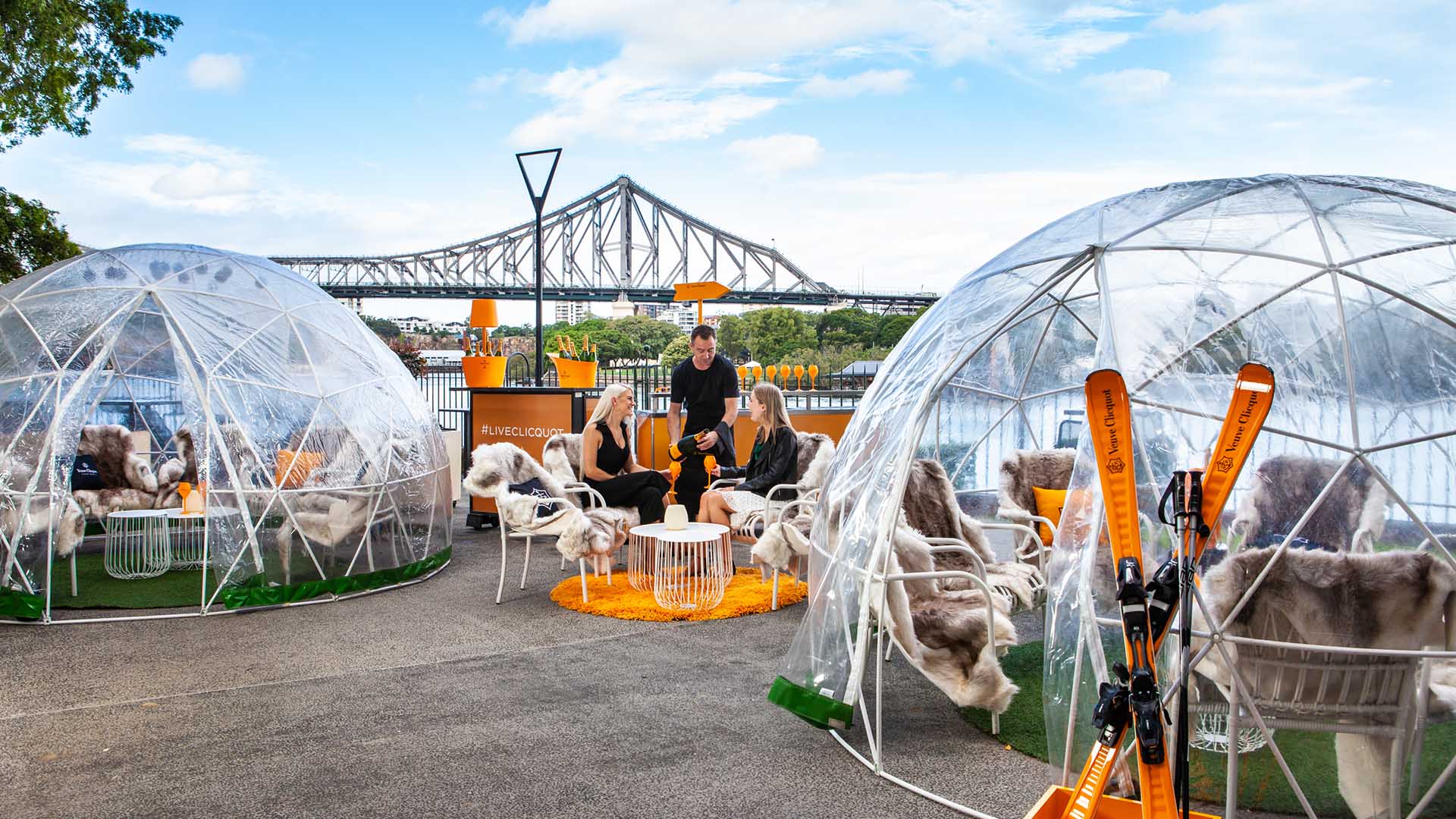 Heading back to the ol' daily grind can be pretty damn awful after a bright and shiny weekend of picnicking, bar hopping and patting dogs that aren't yours, but luckily Brisbane's a 'keep the ball rolling' kind of city and has plenty of events, exhibitions, theatre, film festivals and live music for you to inject a little awesomeness into your week. Sure, use Monday for Netflix. Then get out there and sink your teeth into Brisbane's best happenings this week.
Image: In the Snow at Customs House
Food & Drink

With Paniyiri pushed back to October due to the wet weather, The Greek Club is putting on a two-day postponement party.

Arts & Entertainment

Brisbane's Institute of Modern Art is hosting the first-ever Australian solo exhibition by Grammy-winning artist, filmmaker and Beyoncé collaborator Jenn Nkiru.

Arts & Entertainment

Bringing Stephen King's 1980 novel to the big screen for the second time, this dull remake only burns two things: its audience's time and patience.

Food & Drink

Eat and drink your way around Paddington's terrace precinct, with 38 venues dishing up food specials and cocktails across three days.

Arts & Entertainment

Don't just stare at Hamilton's waterside scenery — spend two months peering at sculptures big and small at this free art festival.

Arts & Entertainment

A topsy-turvy house is popping up in Brisbane providing you with the perfect backdrop to nail your next Insta shot.

Food & Drink

Spend winter sipping champagne and eating Moreton Bay bug croissants in igloos by the river.

Arts & Entertainment

After reimagining Henry Lawson's short story for the stage and page, Leah Purcell brings her First Nations, feminist and anti-colonial take on the tale to cinemas.

Arts & Entertainment

'Portrait of a Lady on Fire' filmmaker Céline Sciamma returns with a magical and insightful tale about childhood — and it's one of her best movies yet.

Arts & Entertainment

'Drive My Car' may have won an Oscar, but Ryûsuke Hamaguchi's second powerful and poignant drama of the past year is equally as masterful.

Design & Style

Support the next wave of independent artisans at this three-day art and design market.

Arts & Entertainment

See theatre, comedy and cabaret performances in bars, laneways, churches, old paint factories, nurseries, sports centres and an underground reservoir.

Arts & Entertainment

Directed by 'Evil Dead' legend Sam Raimi, the latest MCU film about surgeon-turned-sorcerer Dr Stephen Strange is darker and trippier but still dispiritingly standard.

Food & Drink

From riverside dumplings at dusk to nights full of negronis and pasta, May is the month to eat out in Brisbane.

Arts & Entertainment

Colin Farrell is haunting in this exceptional sci-fi drama about androids, memory, family, the ties that bind and what it truly means to live.

Arts & Entertainment

Despite its title, the second 'Downton Abbey' movie serves up more of the same upstairs-downstairs dramas — but Maggie Smith still steals every scene she's in.

Food & Drink

Get a box filled with 31 different flavours of rocky road delivered to your door.

Food & Drink

TGI Fridays at Robina is doing 30-percent off set-menu lunches every weekday till the end of May.

Travel & Leisure

Visit this interactive digital space for beauty education and plant-powered skincare prizes.

Arts & Entertainment

This dazzling after-dark festival turns Brisbane's City Botanic Gardens into a luminous outdoor art gallery.

Food & Drink

Cheap lunches, ten-course Italian degustations, wine walks and oyster trails — this month-long food program has it all.

Arts & Entertainment

Check out the A-to-Z of Lego — including more than 150 impressive models, plus six interactive building zones.

Food & Drink

Slurp down $1 oysters every Thursday while soaking in city views.

Arts & Entertainment

GOMA's Australian Cinémathèque is dedicating two months to movies about heists — from Hitchcock right through to 'Hustlers'.

Food & Drink

Twenty-five of Brisbane's favourite bars are whipping up exclusive cocktails during this month-long festival of booze.

Arts & Entertainment

Listen to free live music and grab snacks from food trucks at this free monthly hangout in the Brisbane City Botanic Gardens.

Arts & Entertainment

Head to Dendy Coorparoo for a tenner every Tuesday — or hit up Portside for $8.

Arts & Entertainment

Movies starring Penélope Cruz, Antonio Banderas and Javier Bardem feature prominently in this year's 34-film showcase of Spanish and Latin American cinema.

Food & Drink

Tuck into cheap chook pieces in Bowen Hills every Thursday night.

Arts & Entertainment

Brisbane's annual celebration of street art is back with its largest festival yet — including 50 new large-scale murals popping up around town.

Food & Drink

Pair margaritas, pancakes, avocado on sourdough, bacon and eggs, and brie and crackers with old-school 90s and early 00s R&B tunes once a month.

Travel & Leisure

Take to the streets of Brisbane to solve this interactive murder-mystery.

Arts & Entertainment

Brisbane's annual laughfest returns in April and May, with Nazeem Hussain, Ross Noble, Tom Ballard and Melanie Bracewell on the bill.

Food & Drink

Two days dedicated to tasting the best burgundy from the southern hemisphere.

Food & Drink

Double your dumpling fix for the same price every Tuesday at Harajuku Gyoza.

Arts & Entertainment

With artwork dating back two centuries, this city-focused exhibition surveys pieces that've captured Brisbane and its changes.

Food & Drink

Pair cocktails and Mediterranean bites by the river every Sunday.

Arts & Entertainment

Improve your Wednesday with free live tunes over a brew in this leafy beer garden.

Arts & Entertainment

Take a dive into this ocean-focused exhibition, which showcases creative ways of thinking about earth's blue spaces.

Food & Drink

Margarita jugs and tacos are on the menu every Sunday in Teneriffe.

Food & Drink

Eat creamy pasta scooped out of a wheel of cheese every week.

Food & Drink

Spend your Tuesday night tucking into tacos, drinking tequila and playing trivia at Bloodhound Bar.

Food & Drink

Sip gin cocktails, sangria and Pimm's cups over a shareboard brunch.

Travel & Leisure

Hit the water from the City Botanic Gardens to spend three hours floating past historic landmarks.

Food & Drink

Dumplings, prawn rolls and bubbles, right by the river.

Arts & Entertainment

Brisbane's 2021 laughfest was affected by lockdown, so the event has rescheduled some of its big names — and big giggles.

Food & Drink

Sip frosé slushies, hit up the oyster bar and listen to live tunes at Brisbane's inner-city winery.

Food & Drink

Start your Sunday with a boozy brunch, then hang out by the pool all day.

Arts & Entertainment

A multi-sensory playground with light-filled mazes and inflatable bubbles is taking over South Bank.

Food & Drink

Brisbane's latest rooftop bar is serving up soda cocktails, Mediterranean-inspired dishes and R&B tunes every Sunday.
Tap and select
Add to Home Screen
to access Concrete Playground easily next time.
x