The Best Things to Do in Brisbane This Weekend
Make plans.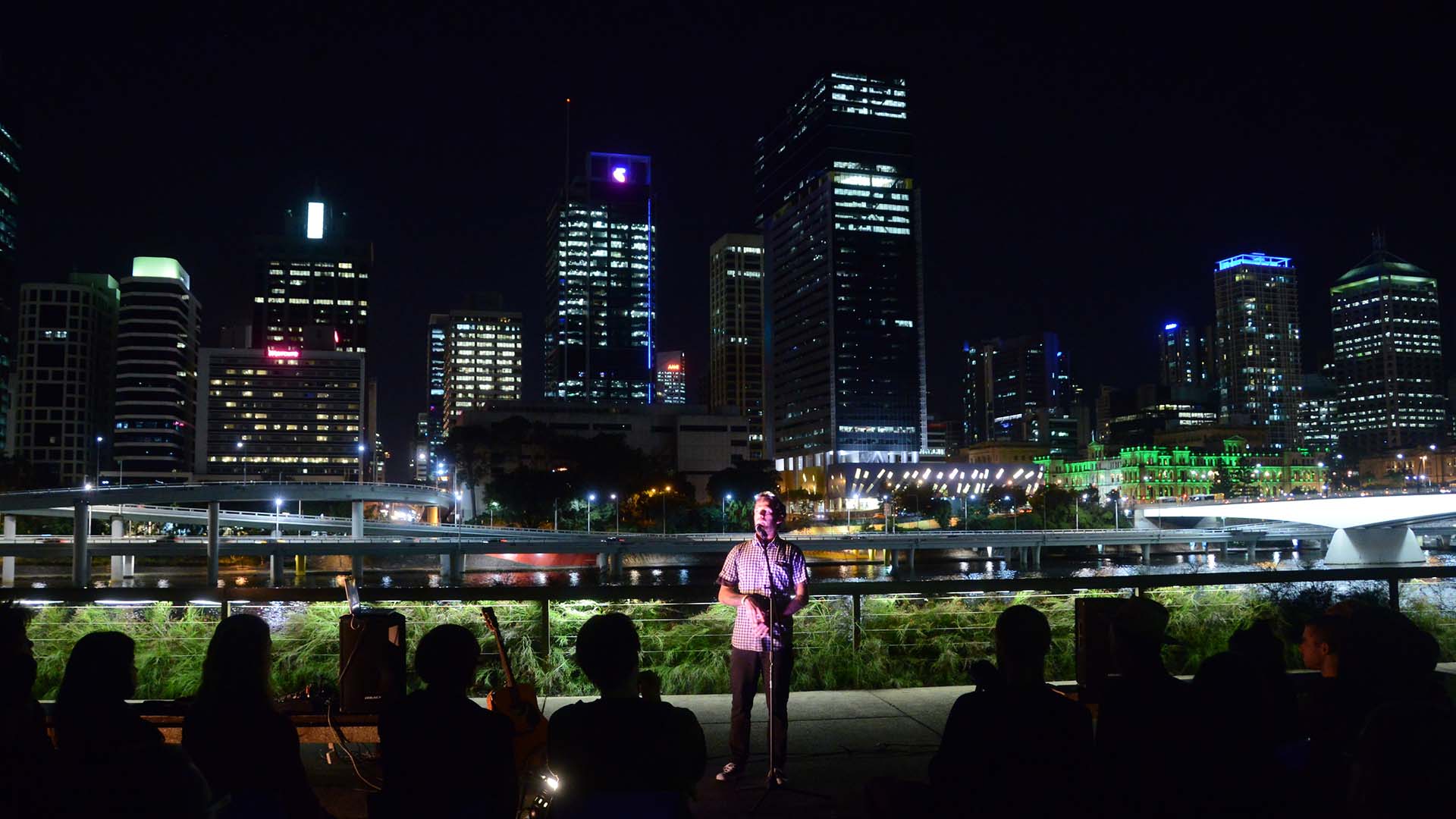 Weekends are precious. You want to make the most of those glorious days devoid of responsibility and overflowing with possibility. Luckily, Brisbane's got plenty happening to make sure you don't spend the days indoors binge-watching Netflix and instead discovering new bars, absorbing art and feasting your way through food markets. Here are our picks of the weekend's happenings.
Image: Anywhere Festival, Stuart Hirth
Arts & Entertainment

Brisbane's Institute of Modern Art is hosting the first-ever Australian solo exhibition by Grammy-winning artist, filmmaker and Beyoncé collaborator Jenn Nkiru.

Arts & Entertainment

Bringing Stephen King's 1980 novel to the big screen for the second time, this dull remake only burns two things: its audience's time and patience.

Arts & Entertainment

Celebrating the creative partnership between Nick Cave and Warren Ellis is a transcendent experience in this phenomenal music documentary.

Arts & Entertainment

Don't just stare at Hamilton's waterside scenery — spend two months peering at sculptures big and small at this free art festival.

Food & Drink

When you're not learning how to make sweet treats, you'll be eating them.

Food & Drink

Spend winter sipping champagne and eating Moreton Bay bug croissants in igloos by the river.

Travel & Leisure

Spend an afternoon celebrating pooches over a few pints at Welcome to Bowen Hills.

Food & Drink

This boozy festival is bringing 27 craft gin distillers from around the country to Fortitude Valley for three days of masterclasses and tastings.

Food & Drink

More than 40 distilleries are headed to Albion's Craft'd Grounds for a huge rum-fuelled afternoon — with over 100 different varieties on offer.

Arts & Entertainment

After reimagining Henry Lawson's short story for the stage and page, Leah Purcell brings her First Nations, feminist and anti-colonial take on the tale to cinemas.

Arts & Entertainment

'Portrait of a Lady on Fire' filmmaker Céline Sciamma returns with a magical and insightful tale about childhood — and it's one of her best movies yet.

Arts & Entertainment

'Drive My Car' may have won an Oscar, but Ryûsuke Hamaguchi's second powerful and poignant drama of the past year is equally as masterful.

Arts & Entertainment

See theatre, comedy and cabaret performances in bars, laneways, churches, old paint factories, nurseries, sports centres and an underground reservoir.

Travel & Leisure

Forget machines — everything at this monthly market in Queensland Museum's Whale Mall made by hand.

Arts & Entertainment

Directed by 'Evil Dead' legend Sam Raimi, the latest MCU film about surgeon-turned-sorcerer Dr Stephen Strange is darker and trippier but still dispiritingly standard.

Arts & Entertainment

Spend three days watching weird and wonderful flicks — including cult 80s hits, new horror gems and a documentary about the original 'It' TV miniseries

Arts & Entertainment

Colin Farrell is haunting in this exceptional sci-fi drama about androids, memory, family, the ties that bind and what it truly means to live.

Arts & Entertainment

Despite its title, the second 'Downton Abbey' movie serves up more of the same upstairs-downstairs dramas — but Maggie Smith still steals every scene she's in.

Food & Drink

Get a box filled with 31 different flavours of rocky road delivered to your door.

Food & Drink

TGI Fridays at Robina is doing 30-percent off set-menu lunches every weekday till the end of May.

Travel & Leisure

Visit this interactive digital space for beauty education and plant-powered skincare prizes.

Food & Drink

Take your love of wine to the streets on this self-guided stroll between Brisbane bars.

Food & Drink

Cheap lunches, ten-course Italian degustations, wine walks and oyster trails — this month-long food program has it all.

Arts & Entertainment

Check out the A-to-Z of Lego — including more than 150 impressive models, plus six interactive building zones.

Arts & Entertainment

GOMA's Australian Cinémathèque is dedicating two months to movies about heists — from Hitchcock right through to 'Hustlers'.

Food & Drink

Twenty-five of Brisbane's favourite bars are whipping up exclusive cocktails during this month-long festival of booze.

Arts & Entertainment

Movies starring Penélope Cruz, Antonio Banderas and Javier Bardem feature prominently in this year's 34-film showcase of Spanish and Latin American cinema.

Food & Drink

Pair cocktails and Mediterranean bites by the river every Sunday.

Arts & Entertainment

Brisbane's annual celebration of street art is back with its largest festival yet — including 50 new large-scale murals popping up around town.

Arts & Entertainment

With artwork dating back two centuries, this city-focused exhibition surveys pieces that've captured Brisbane and its changes.

Food & Drink

Bright lights, glitz and a drag queen bubbling with charisma — lose yourself in a no-expense-spared fantasy.

Arts & Entertainment

Take a dive into this ocean-focused exhibition, which showcases creative ways of thinking about earth's blue spaces.

Travel & Leisure

Shop for fashion, art, homewares, plants and ceramics beneath Newstead's heritage-listed old gasometer.

Arts & Entertainment

Brisbane's annual laughfest returns in April and May, with Nazeem Hussain, Ross Noble, Tom Ballard and Melanie Bracewell on the bill.

Arts & Entertainment

A multi-sensory playground with light-filled mazes and inflatable bubbles is taking over South Bank.

Food & Drink

Margarita jugs and tacos are on the menu every Sunday in Teneriffe.

Food & Drink

Sip gin cocktails, sangria and Pimm's cups over a shareboard brunch.

Travel & Leisure

Hit the water from the City Botanic Gardens to spend three hours floating past historic landmarks.

Food & Drink

Dumplings, prawn rolls and bubbles, right by the river.

Arts & Entertainment

Brisbane's 2021 laughfest was affected by lockdown, so the event has rescheduled some of its big names — and big giggles.

Food & Drink

Sip frosé slushies, hit up the oyster bar and listen to live tunes at Brisbane's inner-city winery.

Food & Drink

Start your Sunday with a boozy brunch, then hang out by the pool all day.

Food & Drink

Brisbane's latest rooftop bar is serving up soda cocktails, Mediterranean-inspired dishes and R&B tunes every Sunday.

Food & Drink

Stop by Riverside Markets every Sunday for tastings and cocktail flights.
Tap and select
Add to Home Screen
to access Concrete Playground easily next time.
x