FOOD & DRINK
The Best Things to Do in Brisbane This Weekend
Explore this new art exhibition, catch the latest films or sip spritzes by the river.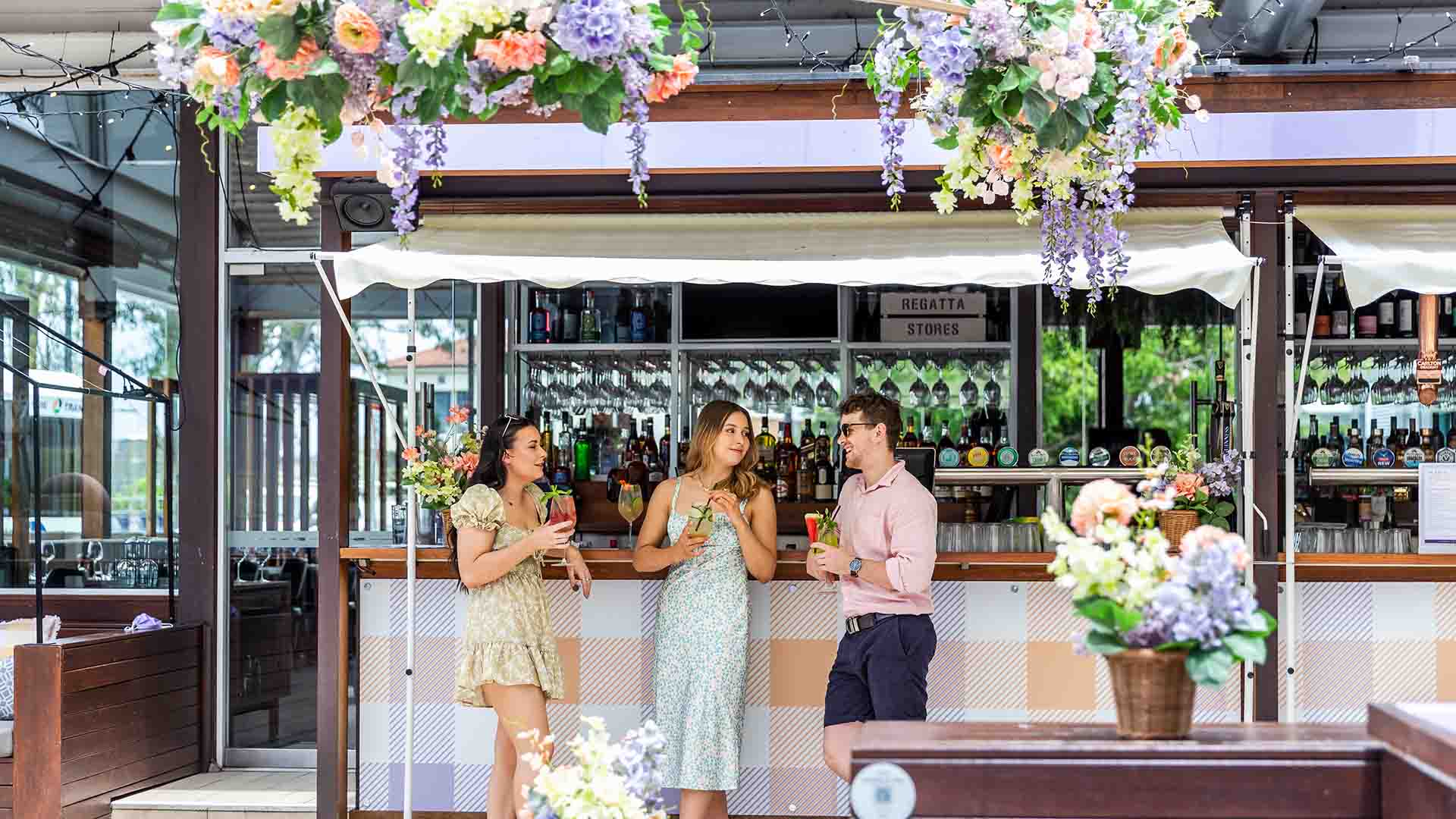 Weekends are precious. You want to make the most of those glorious days devoid of responsibility and overflowing with possibility. Luckily, Brisbane's got plenty happening to make sure you don't spend the days indoors binge-watching Netflix and instead discovering new bars, absorbing art and feasting your way through food markets. Here are our picks of the weekend's happenings.
Image: Regatta In Full Bloom
Arts & Entertainment

QUT Art Museum's summer-long exhibition explores the thought process that brings objects, products and experiences to fruition.

Arts & Entertainment

As tense and suspenseful as any thriller, this wild art-world documentary explores the story of recently discovered potential Leonardo da Vinci painting 'Salvator Mundi'.

Arts & Entertainment

Featuring infectious tunes by Lin-Manuel Miranda, this lively Disney musical is a gorgeous and heartfelt love letter to Latin American culture.

Arts & Entertainment

Oscar Isaac is exceptional in this weighty and compelling gambling drama from 'Taxi Driver' screenwriter and 'First Reformed' director Paul Schrader.

Food & Drink

Spend your summer sipping spritzes and eating octopus bruschetta by the river.

Design & Style

Support the next wave of independent artisans at this pop-up outdoor art and design market.

Arts & Entertainment

Phenomenally cast, staged and shot, this Timothée Chalamet-led version of sci-fi's desert-dwelling space thriller is spectacular.

Food & Drink

Tex-Mex chain El Camino Cantina is celebrating summer with bright-hued, candy-flavoured margaritas — complete with edible candy garnishes.

Travel & Leisure

Head to Toombul this festive season to wander through the snow, build a snowman and make snowballs.

Arts & Entertainment

Queensland Art Gallery and the Gallery of Modern Art's three-yearly survey of Asia Pacific art is back — this time with a participatory shrine installation and a ten-metre-long loom of human hair.

Arts & Entertainment

Unpacking a sex-tape scandal — as well as the state of the world today — this Romanian award-winner is scorching and searing from its first frame to its last.

Arts & Entertainment

Tom Hardy and his parasite are back in this gleefully ridiculous sequel to 2018's box-office hit — and watching the actor argue with himself is the best thing about the film.

Food & Drink

Woolloongabba's C'est Bon is serving up cinnamon brioche, croque monsieurs, baguettes and other French bakery goods until Christmas.

Arts & Entertainment

Following a serial-killing car model, this ferocious and unflinching body-horror thriller is only the second-ever movie to win a female filmmaker Cannes Film Festival's coveted Palme d'Or.

Arts & Entertainment

The Oscar-winning directors behind 'Free Solo' swap climbing peaks for diving deep, this time chronicling the rescue of 12 Thai schoolboys and their soccer coach from the Tham Luang Nang Non cave system.

Arts & Entertainment

With potent performances and a dreamy-yet-gritty look, this deeply moving drama tackles America's immigration laws and their punitive impact.

Arts & Entertainment

2015's viral 148-post Twitter thread about a Florida trip gone wrong comes to the screen, complete with candy hues, a bold approach and a savvy dissection of social media.

Food & Drink

Kick off your Saturday with a drag show, two hours of drinks and a non-stop pile of pancakes.

Food & Drink

The Wickham has decked out its beer garden California-style — and it's doing themed cocktails, slushies and bottomless drag brunches.

Food & Drink

The Regatta is celebrating the warmest part of the year with spritzes, mushroom sliders, peking duck shanks and live tunes.

Food & Drink

Dumplings, prawn rolls and bubbles, right by the river.

Arts & Entertainment

Watch everything from 'Shang-Chi and the Legend of the Ten Rings', 'A Quiet Place Part II' and 'Dear Evan Hansen' to 'Dirty Dancing', 'Love Actually' and 'Home Alone' under the stars.

Design & Style

Spend two days shopping for creative Christmas gifts at QAGOMA.

Arts & Entertainment

Daniel Craig farewells his time as Bond in a thrilling, weighty and emotional swansong that isn't afraid to shake and stir the franchise's usual elements.

Food & Drink

Pair orange-hued cocktails with bites from Eagle Street Pier's eateries at this six-week-long pop-up bar.

Travel & Leisure

See one of Brisbane's most popular spaces in a completely new light.

Travel & Leisure

'Tis the season to shop for greenery, pots, ceramics, crafts and more.

Arts & Entertainment

Catch classic Disney, Pixar and Christmas flicks at this pop-up outdoor cinema on the Gold Coast.

Travel & Leisure

You'll feel like you're wandering around a European-style market hall at this inner-east mix of stalls and food trucks.

Design & Style

A big festive market in the middle of King George Square.

Food & Drink

Lune Croissanterie is bringing its three-course croissant degustations to its new South Brisbane store.

Food & Drink

One Fish Two Fish is hosting decadent weekend lunches, pairing four courses of seafood with bottomless spritzes.

Arts & Entertainment

This immersive exhibition lets you walk through Michelangelo's Sistine Chapel artworks without leaving Brisbane.

Food & Drink

Drink unlimited bubbles from a fountain every weekend.

Travel & Leisure

Browse your way through festive stalls under fairy lights — then stop at the North Pole-themed bar.

Arts & Entertainment

Brisbane's 2021 laughfest was affected by lockdown, so the event has rescheduled some of its big names — and big giggles.

Food & Drink

Paint your own panna cotta and pair cocktails with edible prints at this art-themed high tea.

Travel & Leisure

'Tis the season to putt your way around this festive mini golf course.

Food & Drink

Sip frosé slushies, hit up the oyster bar and listen to live tunes at Brisbane's inner-city winery.

Travel & Leisure

Hit the water from the City Botanic Gardens to spend three hours floating past historic landmarks.

Food & Drink

Start your Sunday with a boozy brunch, then hang out by the pool all day.

Food & Drink

Howard Smith Wharves' rooftop bar is doing Sunday boozy brunches throughout spring and summer.

Arts & Entertainment

UQ Art Museum's latest free exhibition ponders the labour, data, infrastructure and all-round pervasiveness of our always-online world.

Arts & Entertainment

A multi-sensory playground with light-filled mazes and inflatable bubbles is taking over South Bank.

Arts & Entertainment

See more than 3000 large-scale images of the Dutch master's works projected onto walls, columns and floors at Northshore Hamilton.

Arts & Entertainment

Postponed from its winter slot due to lockdown, this multi-gig music festival is now spending spring spreading a heap of shows across inner-city Brisbane.

Design & Style

It's the first exhibition in Australia that'll solely focus on Gabrielle 'Coco' Chanel's contributions to fashion and culture.

Arts & Entertainment

Australia's longest running and most prestigious art awards for Aboriginal and Torres Strait Islander artists is back — and you can catch it IRL or online.

Food & Drink

End your working week with a leisurely — and boozy — midday meal.

Arts & Entertainment

Yuwi, Torres Strait Islander and Australian-born South Sea Island artist Dylan Mooney gives First Nations characters a comic book-style makeover.

Arts & Entertainment

The Tivoli and The Princess Theatre are showcasing live music during this six-month series of gigs.

Arts & Entertainment

Museum of Brisbane's latest free exhibition embraces Brissie's subtropical reputation and vibe.

Food & Drink

Brisbane's latest rooftop bar is serving up soda cocktails, Mediterranean-inspired dishes and R&B tunes every Sunday.

Travel & Leisure

Listen to DJs drop beats while you bust out your best downward dog.

Food & Drink

Gerard's Bar is serving up a weekly rotating shawarma for $20.

Arts & Entertainment

The 15-time Tony Award-nominee will reopen the Theatre Royal Sydney in December.

Food & Drink

Stop by Riverside Markets every Sunday for tastings and cocktail flights.

Travel & Leisure

This sky-high Fortitude Valley bar hosts fitness classes with a view — at sunrise and sunset.

Food & Drink

See out the weekend at Brisbane's newest overwater bar.

Travel & Leisure

The next-level party boat has two bars, a stage and a dance floor — and it's sailing through Brisbane again.
Tap and select
Add to Home Screen
to access Concrete Playground easily next time.
x