Five Romantic Brisbane Date Ideas for This Week From Budget to Blowout
Just think of us as your cultural wingman.
Tired of the classic movie and dinner date night combo? Us too. That's why we're always on the hunt for new things to do, scouring the city for not-boring Brisbane activities — ones that are guaranteed to take your next date way beyond done-before beers at the pub. Whether you're taking someone on a second date or doing your 100th with your significant other, we've got some killer (and, yes, cute) ideas for dates to go on this week, no matter how much money you've got to spend. Just think of us as your cultural wingman. You're welcome.

FREE

PICNIC IN ROMA STREET PARKLANDS WITH A LIVE SOUNDTRACK
After the work-week marathon, holing up at home all weekend can be mighty tempting. Still, while technology has gifted us with the amazing ability to get both food and entertainment without changing out of our PJs, you and your plus one might still feel like fresh air and socialising. So, on the first Sunday of each month — including on Sunday, October 2 — swap the hermit life for an outside hangout.
The Sound Society is an initiative that fills Roma Street Parklands with music on the regular, with live tunes echoing through different parts of the inner city spot depending on the day and date. This time around, if a slow Sunday lunchtime with a soundtrack is your style, this is the place to head — picnic blanket in hand.
Head along from 11am–2pm for tunes by various musicians, with Dezzie D and the Stingrayz doing the honours in October on the Lakeside Lawn.
Food trucks will also be onsite, and The Garden Room Cafe does picnic hampers — or you can BYO snacks if you prefer.

UNDER $50
GET LOST IN A MAZE OF WOOL AT THIS STUNNING GOMA EXHIBITION
It's been home to David Lynch's eerie filmscapes, Yayoi Kusama's infinity and obliteration rooms, Gary Carsley's projected jacarandas and Patricia Piccinini's forest of flowers that aren't quite flowers. It has also welcomed a riverbed, a snowman and a suspended installation that visitors can climb through, too. Marvel has taken over the place, and European masterpieces from The Met have graced the walls as well. But a labyrinth of red and black wool? That's now completely transforming Brisbane's Gallery of Modern Art — and only for a few more days.
Yes, GOMA loves an immersive installation. It loves this one in particular — and yes, it should sound familiar. Originally, Chiharu Shiota: The Soul Trembles was announced as part of the gallery's 2020 lineup; however, we all know how that year turned out. So, it's on display now in Brisbane, as an Australian exclusive, until Monday, October 3.
The eye-catching exhibition showcases the Berlin-based Japanese artist and her work over the past quarter-century, dazzling Brisbane — and you and your other half — after premiering in Tokyo back in 2019. And while it doesn't sit 53 storeys up or come with panoramic views of the city, like it did in Japan, Shiota's string-heavy installations deserve all of the attention. Fashioned from millions of strands, they resemble weaved, maze-like webs and take up entire rooms.
The Soul Trembles is the largest-ever solo exhibition by the artist — and art-loving couples can peruse an array of sprawling installations, sculptures and video footage of Shiota's performances, as well as photographs and drawings. Highlighting her fascination with intangible concepts, such as memory, anxiety, dreams and silence, the ticketed display is Brissie's big art date right now.

SIP FRUITY COCKTAILS WHILE WANDERING AROUND A CHERRY BLOSSOM TREE
Goodbye winter, hello spring — yes, September is upon us for another year. 'Tis the season for you and your special someone to shed those woolly jumpers, smell the blossoming flowers, enjoy the sunny weather and say cheers to Brisbane's sultry climate with a cocktail or several.
One place where you can do just that: Brisbane Quarter, with the CBD precinct embracing spring on Thursday nights in September — including Thursday, September 29 — via a pop-up it's dubbed Spring Spritz at BQ. Here, you can add fruit-flavoured cocktails, DJ-spun beats and a wander around a cherry blossom tree to your evening between 5.30–7pm.
If the tipples have caught your attention, you have two to choose from, both thanks to the W Brisbane bar team. The Malfy Gin and Tea cocktail comes with your choice of Malfy Gin (limone, grapefruit or arancia) and TBAR iced tea (apple oolong, Japanese cherry or hibiscus flower), and will set you back $16 — or there's the Glenlivet Spring Breeze with Glenlivet Caribbean Reserve whisky, apple juice, ginger candy and mint for $18.
Live DJ sets will soundtrack the evening — and the precinct will also boast that giant cherry blossom tree, plus a floral archway decked out in pink, red, lavender and white hues, and lawn furniture to hang out in.

UNDER $100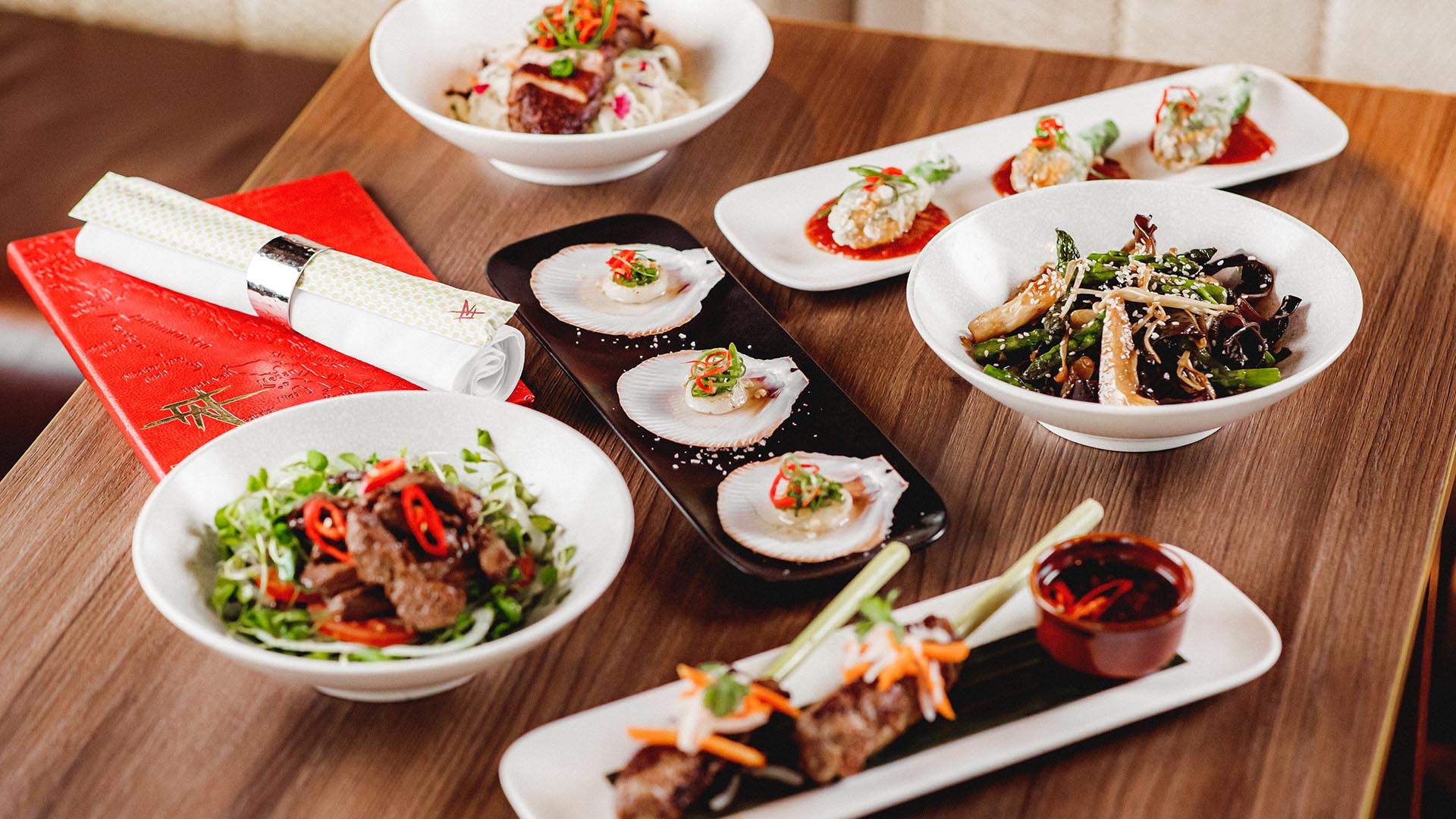 TUCK INTO A MALAYSIAN STREET FOOD FEAST THANKS TO LUKE NGUYEN
Despite its name, Fat Noodle doesn't just serve up the obvious. On chef Luke Nguyen's menu, you and your significant other will also find everything from grilled prawn skewers and banh mi to dumplings and caramelised barramundi with rice. Spotted the street eats influences among the home-style flavours? Of course you have — and Nguyen is leaning in even further in September.
Since July, the Treasury eatery has been hosting a Street Food Series, with dishes typically served on Southeast Asia's sidewalks in the spotlight. Each month will focus on a different country, starting with Vietnam in July, then heroing Thailand in August and now showcasing Malaysia in September.
Expect to tuck into bites that explore the absolute best street food flavours — the Malaysian spread is plating up chicken and prawn curry laksa, plus stir fry chicken and snake beans with chilli relish.
Also on the September menu: pork rib soup and char siu mee.

ONE BIG BLOWOUT
DANCE AWAY A SUNDAY AT LISTEN OUT'S BIG RETURN
Music festivals are back, following a chaotic couple of years for reasons that we all know and lived through. That's great news in general — and particularly ace news if you and your favourite person have been hanging out for the return of Listen Out, which hits Brisbane Showgrounds on Sunday, October 2.
Fuzzy's national electronic-meets-hip hop festival will make a huge comeback for its first gigs since 2019, complete with a hefty lineup led by Disclosure and The Jungle Giants. Also on the bill: everyone from BARKAA and Electric Fields to BBNO$ and Tove Lo.
The lineup goes on — however, in just as excellent news, Brisbane's leg is also timed across the October long weekend.
Spending a Sunday dancing in a crowd, then still having a day off afterwards? That's the perfect way to dive back into festival life.

Top image: Chloë Callistemon.
Introducing Concrete Playground Trips
Book unique getaways and adventures dreamed up by our editors