Five Romantic Brisbane Date Ideas for This Week From Budget to Blowout
This week, you and your plus one can get your skates on, sip your way through a tea festival or dance at the return of Laneway.
Tired of the classic movie and dinner date night combo? Us too. That's why we're always on the hunt for new things to do, scouring the city for not-boring Brisbane activities — ones that are guaranteed to take your next date way beyond done-before beers at the pub.
Whether you're taking someone on a second date or doing your 100th with your significant other, we've got some killer (and, yes, cute) ideas for dates to go on this week, no matter how much money you've got to spend.
Just think of us as your cultural wingman. You're welcome.
FREE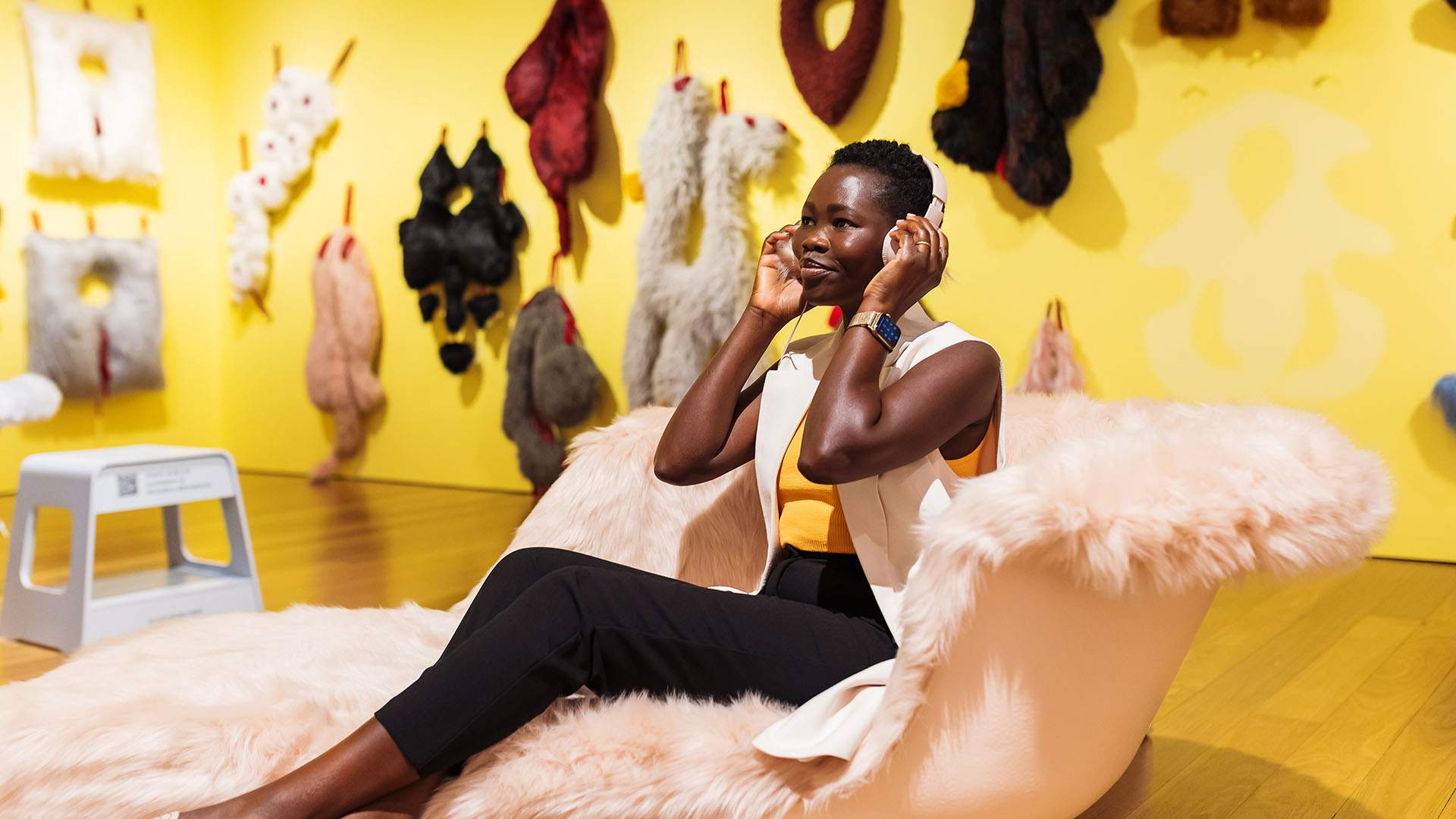 WANDER AROUND A PLAYFUL INTERACTIVE MUSEUM EXHIBITION
Whether we're putting stickers on everything because Yayoi Kusama told us to, or drawing on the walls because that's not just allowed but encouraged, everyone loves an interactive art exhibition. It's the reason that installation-based pop-ups filled with ball pits and supremely photogenic backdrops are such a hit, too. So, Museum of Brisbane is taking that idea and running with it at its latest showcase — and while sprinting through the City Hall gallery still isn't recommended, dancing, feeling and otherwise putting your hands on the art definitely is.
Running until Sunday, April 16, and free to attend, Play Moves is the CBD museum's largest participatory exhibition to-date, in fact, and it's all about the thing that you and your plus one have each been doing since you were born. Play isn't something anyone grows out of, after all, as the popularity of boozy mini-golf bars and challenge room hotels shows. While this exhibition is family-friendly — and doesn't involve drinks — it shares the same underlying idea that you're never too much of an adult to get creative and have fun.
Six major projects comprise Play Moves, each one immersive, interactive and designed for audiences to be a key part in making them what they are. Sure, a giant loom catches the eye just by existing, and so does a fur-lined bathtub. But when you weave on the former and relax into the latter, they're not just objects to view but items to engage with.
That loom comes via Slow Art Collective, while Sai Karlen's addition to the exhibition focuses on digital motion tracking. Or, thanks to Counterpilot, a party with dancing pot plants takes over an 80s-style office. Tara Patterden has art lovers focusing on a sound interactive environment, and Michelle Vine has contributed soft cocooned sculptures. Fancy a technicolour party as well? That comes via UnitePlayPerform.
UNDER $50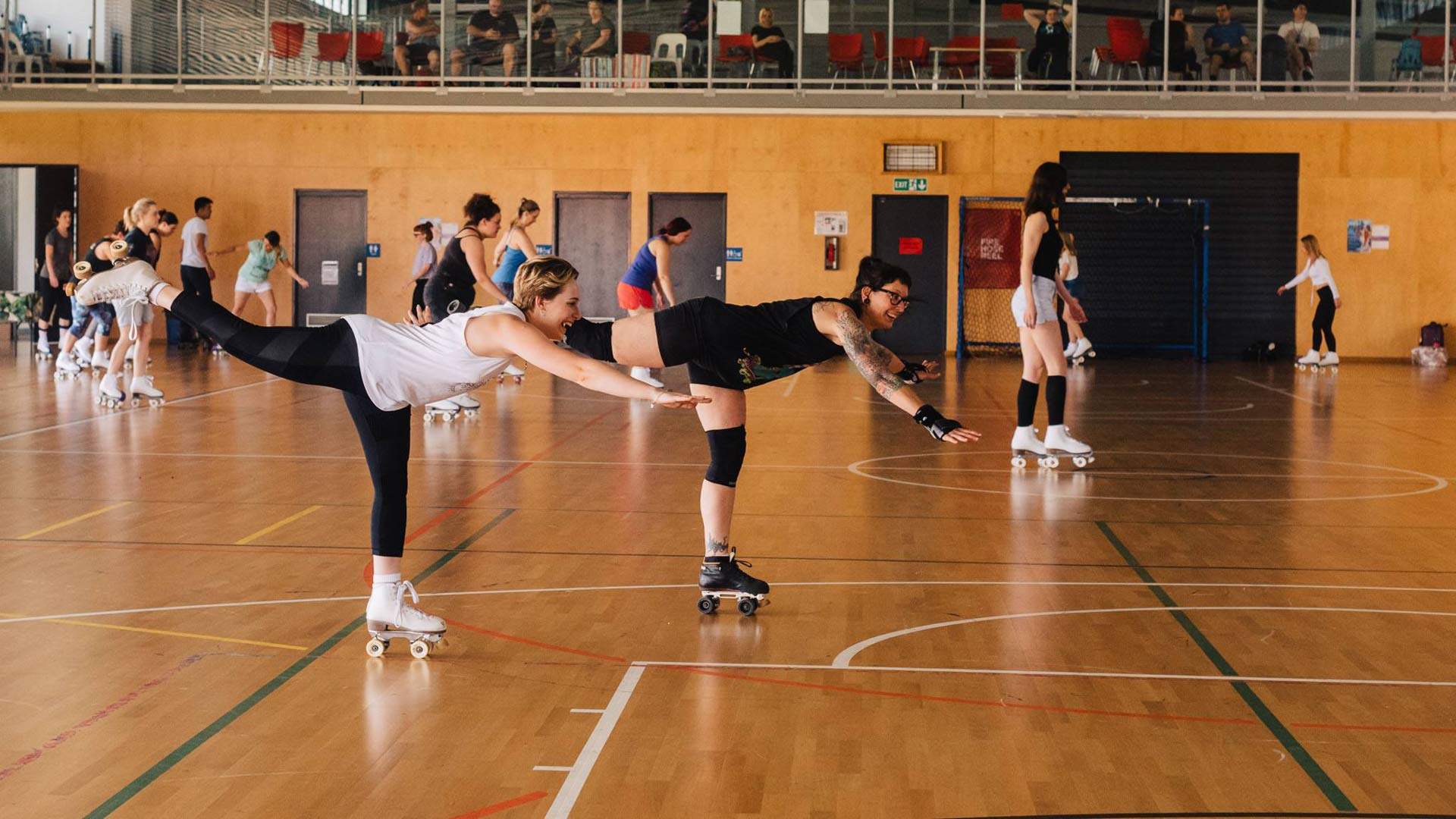 PUT YOUR SKATES ON
A skating session that's all about exercise — and sometimes rolling freely — Rollerfit finally arrived in Brisbane a few years back. It's still going strong in 2023, and it still wants you and your significant other to go for a spin. Two days a week, you can hit the rink at the PCYC Lang Park in Milton, with separate one-hour sessions for beginners just learning to skate and intermediate-to-advanced speedsters.
Yep, if this is the first time you've ever even thought about living out your Whip It or Xanadu dreams, don't worry — you're covered. The novice classes take place on Fridays from 6.30–7.30pm and Sundays from 3.30–4.30pm, while the more experienced skaters lace up on Friday nights from 7.30–8.30pm. And if you do just fancy rolling around openly, without instructors giving you tips, that's also on the agenda during disco hour from 8.30–9.30pm on Friday evenings.
Dropping in costs $25, or you can take that down to $20 if you plan to visit regularly and sign up for a $25 membership. Five, ten and 20-class passes are also on offer, which can bring your per-session fee down to $14.
If you don't have your own wheels, you can also rent them for an extra $5 per session. Rental covers sizes 5–13, and it's a first-come, first-served kind of deal.

SIP YOUR WAY THROUGH A LANEWAY TEA FESTIVAL
Making a cup of tea can be simple. Grab a teabag, pour in some boiling water, let it steep and voila, you and your favourite person have got yourselves one of the world's favourite hot beverages. Enjoying a cuppa can be much more creative, too — whether you're keen on pure green tea leaves, some chai or matcha, high tea, a sip of kombucha, frosty iced tea, bubble teas or a tea latte.
Expect tea in a variety of different forms at Brisbane's 2023 Laneway ParTEA, which takes over Burnett Lane from 11am–5pm on Saturday, February 4 as part of this year's BrisAsia Festival. Someone will be putting the kettle on for a day of tea tastings, tea classes and just tea in general.
Whatever kind of tea you fancy, you'll likely find it here — or discover yourself a new favourite. 2022's event also included a tea market, as well as live tunes, so fingers crossed they return for a second year.
While general entry is free, bring your wallet for all those cuppas you'll be sipping.
UNDER $100

EAT PASTA FROM A WHEEL OF CHEESE
Cheese and pasta go together like few food combinations. As great as they both are individually, a particularly enticing alchemy of flavours occurs when they join forces. But simply sprinkling grated mozzarella or ground parmesan over your spaghetti is definitely yesterday's news. Eating pasta served out of a cheese wheel is what it's all about now.
Salt Meats Cheese has been hopping on everyone's current favourite Italian culinary bandwagon for a while now, so its weekly night dedicated to the dish isn't new — but it's still tasty. Drop into the chain's Gasworks eatery on Wednesdays from 5pm, and you and your special someone can tuck into the cheesiest bowl of pasta you're ever likely to taste for $35 with a drink purchase.
Flavour-wise, there's a few available, because even a meal like cheese wheel pasta can use a few additions. Just classic cheese is still on the menu, as are two other varieties each week. In the past, everything from truffle and carbonara to pesto genovese, gorgonzola and smoked mozzarella have been dished up, so arrive hungry.
Bookings are essential and can be made online.
ONE BIG BLOWOUT
GET DANCING AT LANEWAY'S BIG RETURN
It's back, it's big and it's heading around Australia in February: St Jerome's Laneway Festival and its impressive lineup, that is. Returning for the first time since 2020 — since celebrating 15 years since Danny Rogers and Jerome Borazio first decided to fill a Melbourne alleyway with tunes — the beloved fest boasts a phenomenal list of talent taking to its stages for its huge and eagerly awaited comeback tour. Here are three names to get you started: HAIM, Joji and Phoebe Bridgers.
Laneway started teasing its 2023 return in early 2021, then locked in dates and venues — and come Saturday, February 4, it's hitting up Brisbane Showgrounds.
Also on the bill: Finneas, Fontaines DC, Fred again..., Girl in Red, slowthai and Turnstile, as well as 100 Gecs, Chaos in the CBD, Knucks and Mallrat. Yes, the lineup goes on from there.
Clearly, there's a whole heap of reasons for you and your date to be excited — from HAIM's first Australian tour since 2017 (and definitely the first since Alana killed it on the big screen in Licorice Pizza) to Bridgers' return after a huge few years, just to name a couple. Also on the list: just Laneway being back and livening up late summer in general.
Top image: Rollerfit.
Introducing Concrete Playground Trips
Book unique getaways and adventures dreamed up by our editors