TRAVEL & LEISURE
You Can Now Stay in This Adorable New Off-Grid Tiny Home in the Queensland Countryside
Named Norah, the secluded miniature house is now taking bookings for your next getaway.
If you're eager for a break from the city life, keen to get out of town now that Queenslanders are allowed to holiday within the state and looking to launch yourself into the wilderness this winter, there's a sweet little character named Norah that you might just want to meet.
Boasting its own unique personality, this little guy is the latest eco-friendly tiny home from the crew at In2TheWild Tiny Holidays. Now with 13 signature mini escapes located across NSW and five in Melbourne, In2TheWild has ventured north, launching Norah as its first Queensland edition.
Designed with a minimal environmental footprint and positioned in idyllic, natural surrounds, the off-grid home aims to offer an antidote to hectic city life. It also provide a chance to switch off, take a break from the grind and get back in touch with nature — and, by design, it's socially distanced, too.
Norah is located in the Toowoomba region, about a 2.5-hour drive west of the CBD, with the mini abode boasting both paddock and mountain views. If you're eager for a hike, there's also an hour-long trek nearby that'll take you up to a lookout.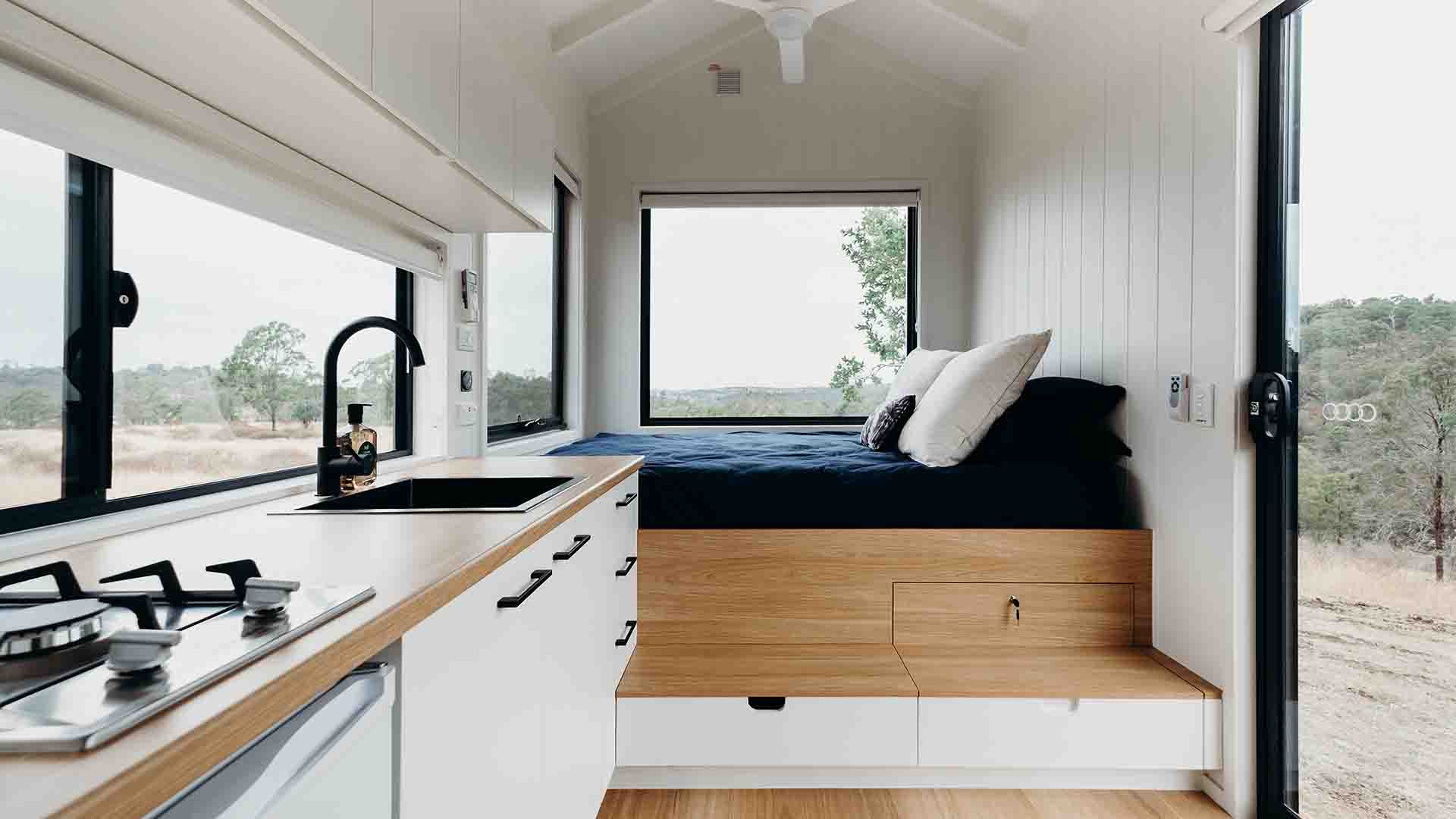 Each In2TheWild house features all the mod-cons necessary for a comfy countryside escape. In Norah's case, the tiny house design boasts a queen bed next to two big windows overlooking expansive views, as well as a double loft bed for extra guests. It's also decked out with heating, a fully equipped kitchen and a proper bathroom, complete with hot shower, toilet and basin.
An outdoor campfire, barbecue and seating mean the outside space also doubles as an extended living area. It's all powered by the sun and a couple of gas bottles, but you'll find books, boardgames, towels, linen and a USB charger to see you comfortably through your stay.
To help you really unplug, the exact locations of In2TheWild's tiny homes are shared just a few days before your stay — and they have little-to-no reception. However, they've all been carefully located to optimise that dose of Mother Nature, with easy access to activities like mountain biking, hiking, fishing and canoeing.
Norah is located in Toowoomba region and is now taking bookings, starting from $249 per night midweek, with a minimum two-night stay.
Images: Morgan Journal
Published on June 03, 2020 by Libby Curran