ARTS & ENTERTAINMENT
Five Melbourne Date Ideas for This Week That Aren't Dinner and a Movie
Just think of us as your cultural wingman.
Five Melbourne Date Ideas for This Week That Aren't Dinner and a Movie
Just think of us as your cultural wingman.
---
Tired of the classic movie and dinner date night combo? Us too. That's why we're always on the hunt for new things to do, scouring the city for not-boring Melbourne activities — ones that are guaranteed to take your next date way beyond done-before beers at the pub. Whether you're taking someone on a second date or doing your 100th with your significant other, we've got some killer (and, yes, cute) ideas for dates to go on this week, no matter how much money you've got to spend. Just think of us as your cultural wingman. You're welcome.


FREE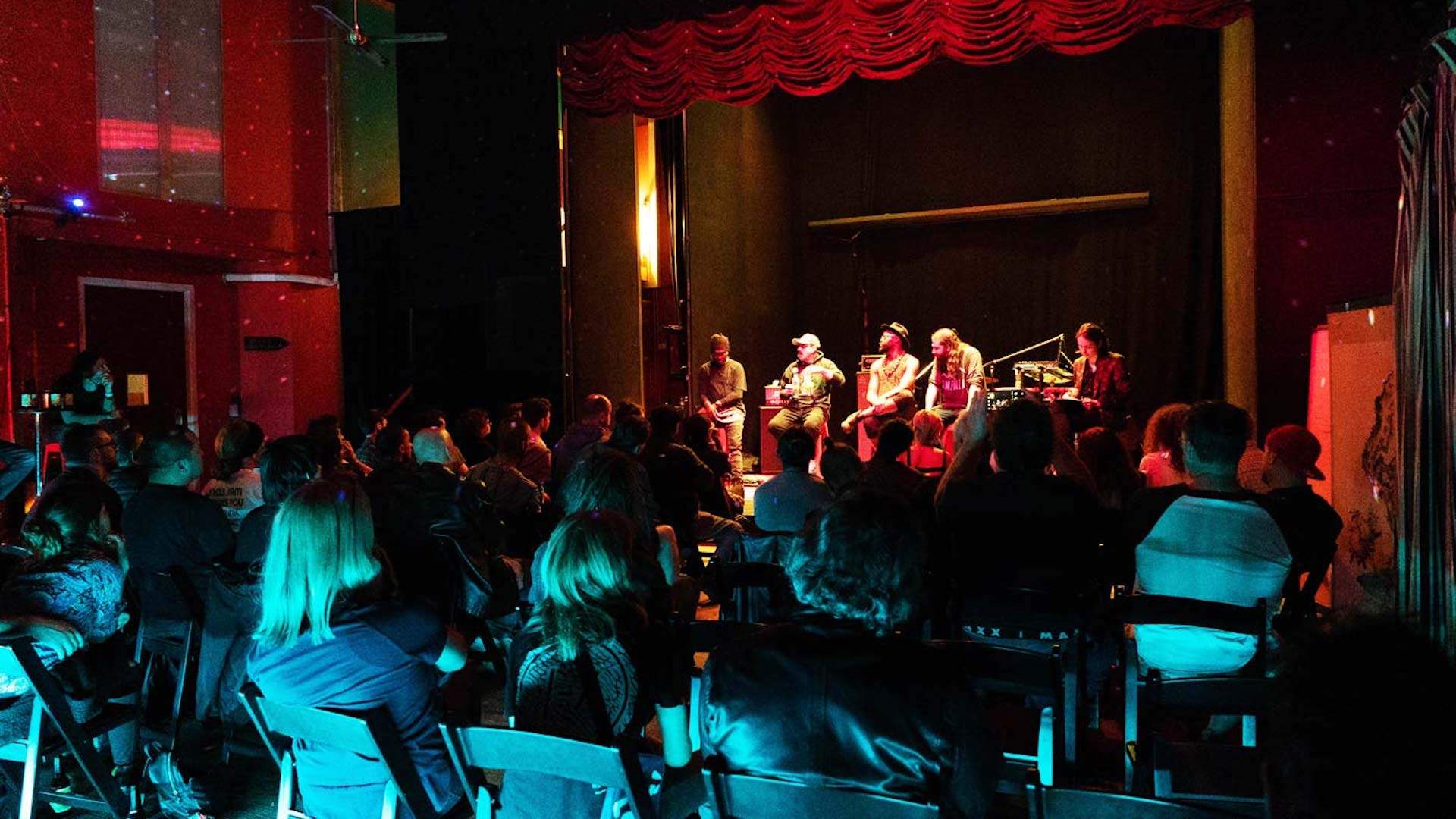 DANCE YOUR WAY AROUND A HEAP OF FREE GIGS
Just when things are starting to get shivery cold, West Set is here to warm you and your loved one up. Starting Friday, June 14, the festival will fill the inner west with free live music for nine happy days. More than 30 free gigs will take over pubs, bars, cafes, art houses and restaurants — all within walking distance of each other and Footscray Station. Start your day with a coffee and a singer-songwriter's soulful jams, then finish it with a craft brew and a rock concert.
Kicking off all the action will be a launch party at Footscray's The Line, featuring singer-songwriter Alice Skye, soul-jazz infused vocal trio The Dusty Millers and hip-hopper Ziggy Ramo. Other acts slated to appear during the festival include Huntly, Gordon Koang, Donald's House, Culte, Ruby Jones and more. And, if you're a musician working toward a professional career, make sure you get along to the West Set workshop, which will cover the pros and cons of making music independently in Australia.

UNDER $20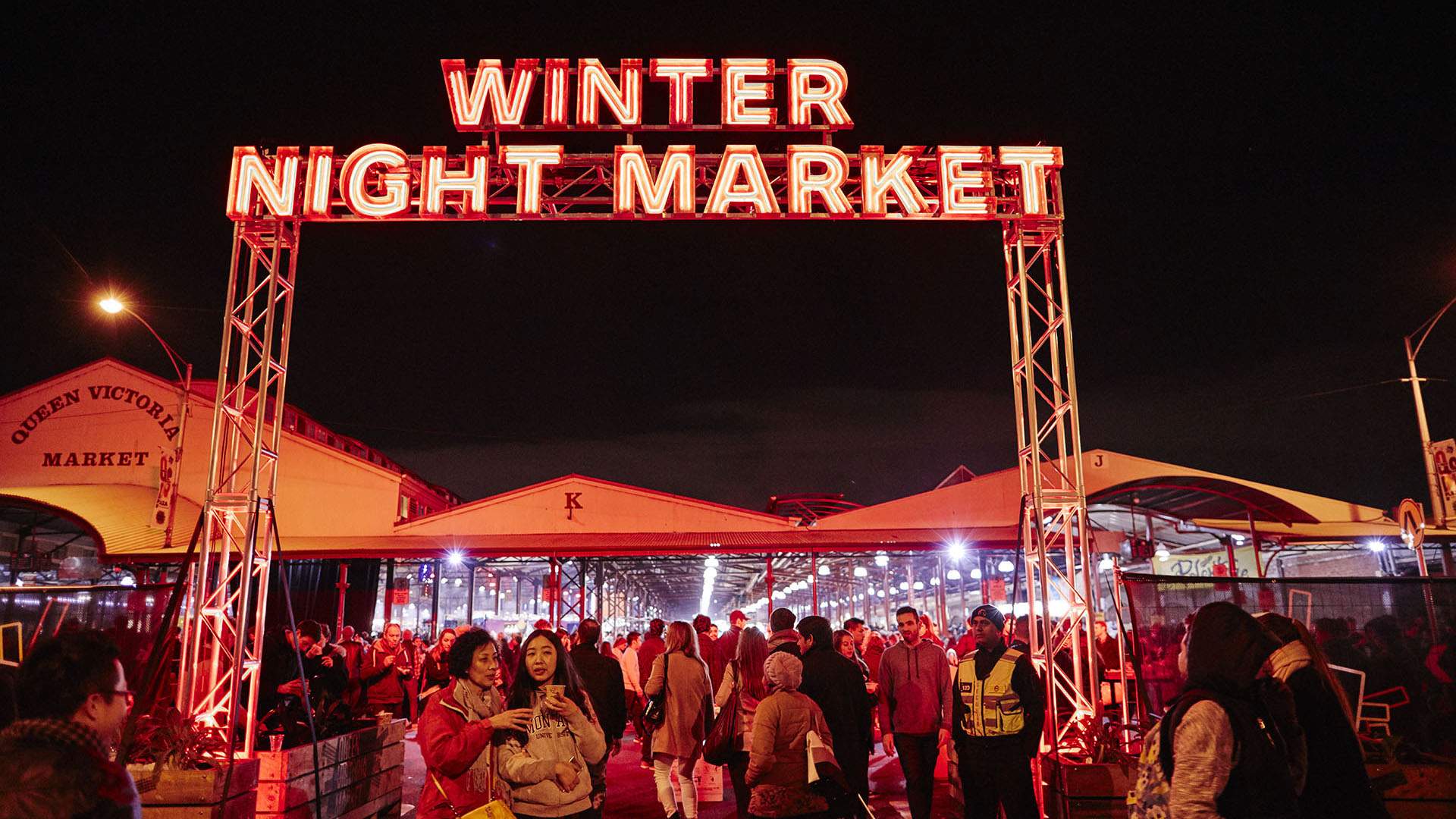 DOWN CHEESY PASTA AND HOT CIDER AT THIS WINTER NIGHT MARKET
One of the beacons of light on Melbourne's event calendar in a fairly glum cold weather stretch is the Queen Victoria Market's Winter Night Market. Happening every Wednesday night, from June 12, the market will pull together a global array of eats, a plethora of live entertainment and lots of snow.
The 30-strong lineup of food stalls will send you and your date across the world, eating the likes of traditional Italian loaded flatbread, churro bowls with oozy hazelnut sauce and vanilla ice-cream and That's Amore's legendary pastas, which are tossed in a parmesan wheel before landing on your plate. Of course, there'll be mulled wine and steaming hot cider from to warm your belly and hands as you browse over 50 design and specialty stalls. Top all that off with a dollop of live music, roving entertainment and a silent disco, and you've got one hell of a cosy winter date situation.

UNDER $50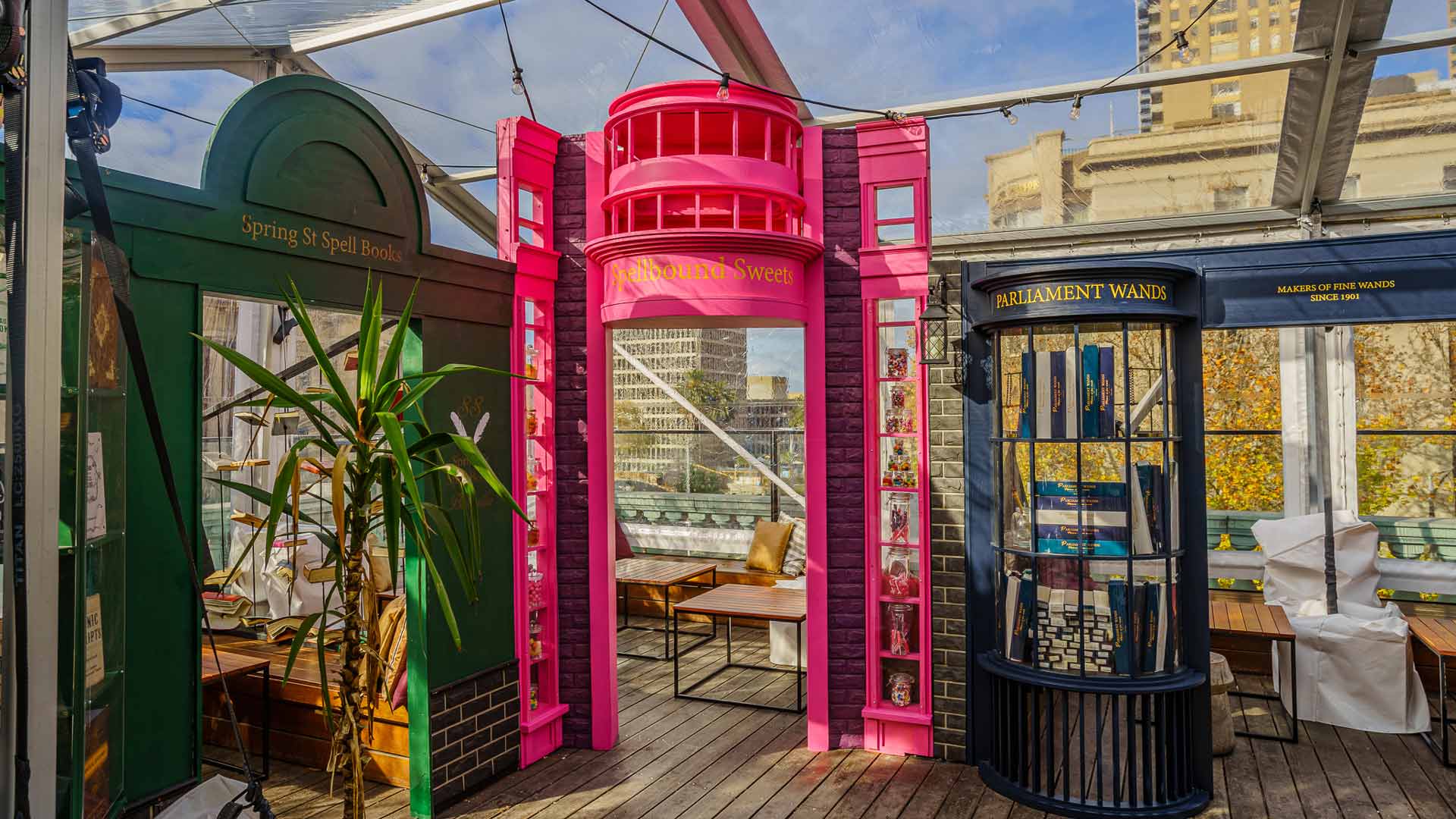 TREAT THE HARRY POTTER FAN IN YOUR LIFE TO BOOZY POTIONS HERE
On the top floor of a CBD pub a magical wizarding rooftop awaits. Located atop Bourke Street's Imperial, it's filled with alcoholic potions, magical wintry booths, an owlery and a supernatural sweet store. And it officially reopened its doors last week. You can once again climb to the top level of the Imperial, get comfy in sheltered booths (newly installed for winter), practice saying "accio cocktail!" and enjoy an all-round boozy celebration of the Boy Who Lived.
A brand new cocktail list includes the Chuckle Juice (gin, rosemary and grapefruit), FireWhiskey (Fireball, lemon and honey), Imperial Tattletale (Fernet Branca, rum, cream and honey) and True Love Potion (pomegranate, gin, sparkling wine and lime). You can check out the full menu here. The magical rooftop was very popular first time round, so we recommend you can make a reservation via the Imperial website.

UNDER $100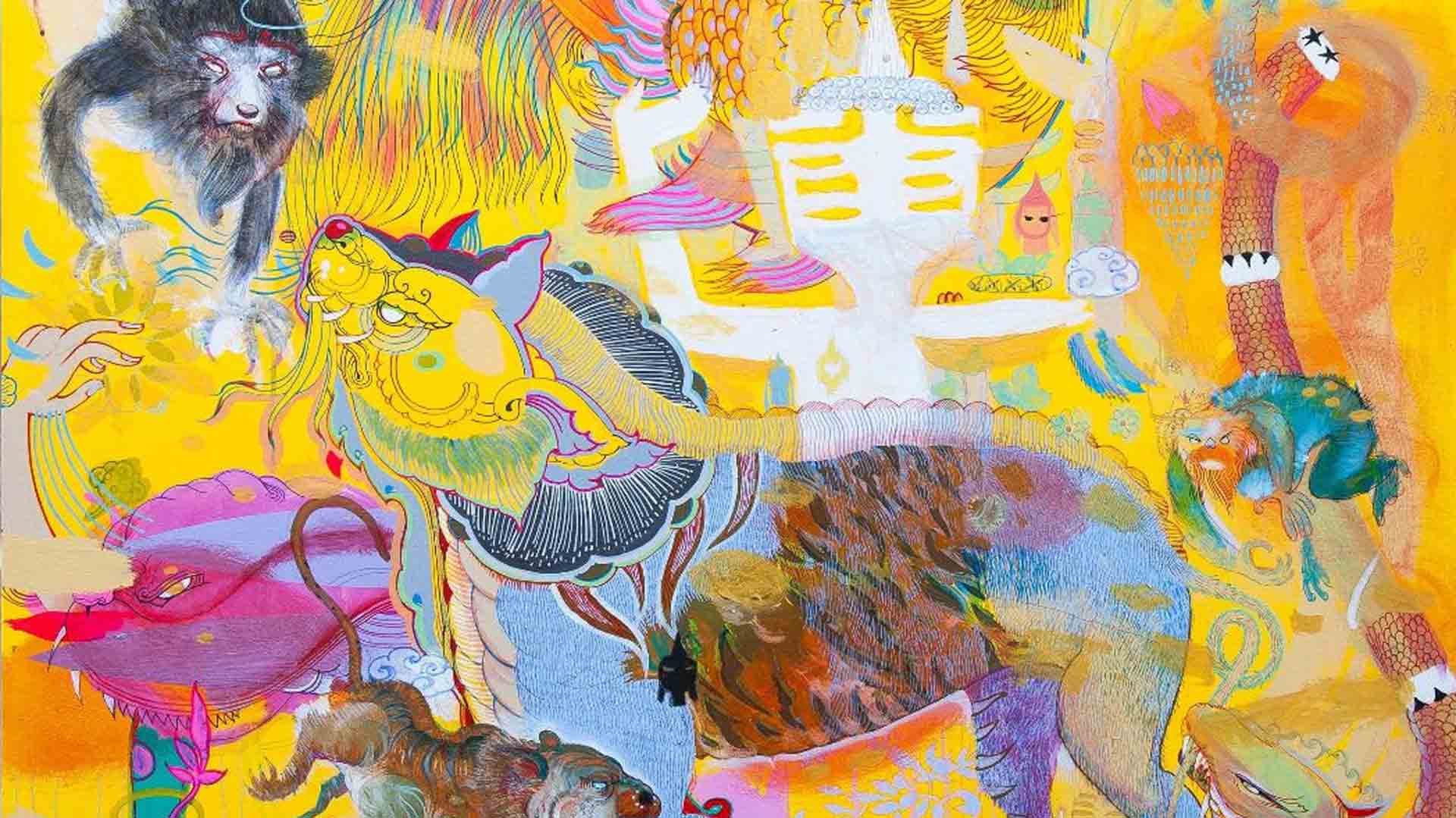 CATCH AN INTERACTIVE EXHIBITION WITH COCKTAILS AND LIVE ART
If your partner loves art and cocktails, this is the date night for them (and you). Launching this Thursday, Un-Thaid is the latest exhibition at Grau Projekt — Clifton Hills' relatively new art gallery and warehouse bar by famed Melbourne artist and bartender Matt Bax. The collaborative, multifaceted show by five contemporary Thai artists who are now living in Australia. These artists collectively explore their shared experiences of immigration and diaspora in their works.
The exhibition will run from June 13 and includes live performance, painting, ceramics, sculptures and video installations. And, as the gallery's founder Matt Bax is also an accomplished bartender, expect big things on the drinks side of things, too. A different (interactive) cocktail menu accompanies each exhibition and are available at the opening night and Trink Think Tours, which run every Thursday and Friday. You can nab tickets to the launch event here — the $35 tickets include entry, one cocktail and the chance to see a live performance by artist Nakarin Aron Jaikla.

DOWN BOTTOMLESS PIZZA TOGETHER
You'd be hard-pressed to find a better winter feasting situation than an all-you-can-eat pizza banquet, downing as many cheesy slices as you and your loved one can handle. And that's exactly what awaits and your date at award-winning pizza joint 400 Gradi, from now until the end of August. The Brunswick, Eastland and Essendon outposts are dishing up a new bottomless feed, available every day from 4pm.
You'll spend just $45 to enjoy a two-hour free-flowing feast of 400 Gradi's top-notch pizza and booze. Tuck into unlimited slices of margherita or vegan marinara pizza, matched to all-you-can-drink wine, cider, Peroni and cocktails. There's a classic Aperol spritz, along with a black mule, passionfruit business, G&T and vodka and tonic. Bookings are a must, with sessions from 4–6pm, 5–7pm and 6–8pm Monday to Thursday, and from 4–6pm Friday to Sunday.

Top image: Queen Vic Winter Night Market. 
Published on June 11, 2019 by Concrete Playground