ARTS & ENTERTAINMENT
Five Melbourne Date Ideas for This Week That Aren't Dinner and a Movie
Just think of us as your cultural wingman.
Five Melbourne Date Ideas for This Week That Aren't Dinner and a Movie
Just think of us as your cultural wingman.
---
Tired of the classic movie and dinner date night combo? Us too. That's why we're always on the hunt for new things to do, scouring the city for not-boring Melbourne activities — ones that are guaranteed to take your next date way beyond done-before beers at the pub. Whether you're taking someone on a second date or doing your 100th with your significant other, we've got some killer (and, yes, cute) ideas for dates to go on this week, no matter how much money you've got to spend. Just think of us as your cultural wingman. You're welcome.


FREE

EXPLORE THIS AFTER-DARK ARTS FESTIVAL (FOR FREE)
Throw on your winter coats and head out into the night as the Glow Winter Arts Festival returns to Melbourne's southeast for its sixth year. Running from August 15–18, this after-dark arts fest celebrates the best that local creatives have to offer, with plenty of dazzling light projections to tempt you and your loved one out into the cold.
This year, Malvern East's Central Park oval set to be lit up with lasers, projections and giant glowing puppets. If you rock up to the park between 6pm and 10pm, you'll be able to wander through a maze of lights and glowing installations. Step inside a dome of glowing lights in Wonderdome, visit a five-metre-tall puppet made from 600 LED lights and more than one-kilometre of rope or stop by The Indirect Object's Minor Disturbance, which is made from recycled plastics and will make you feel as though you're floating beneath the ocean. Best of all? It's all free to attend.
While you're there, you'll also find cheesy toasties and hot chocolates to warm up your hands (and stomachs).

UNDER $20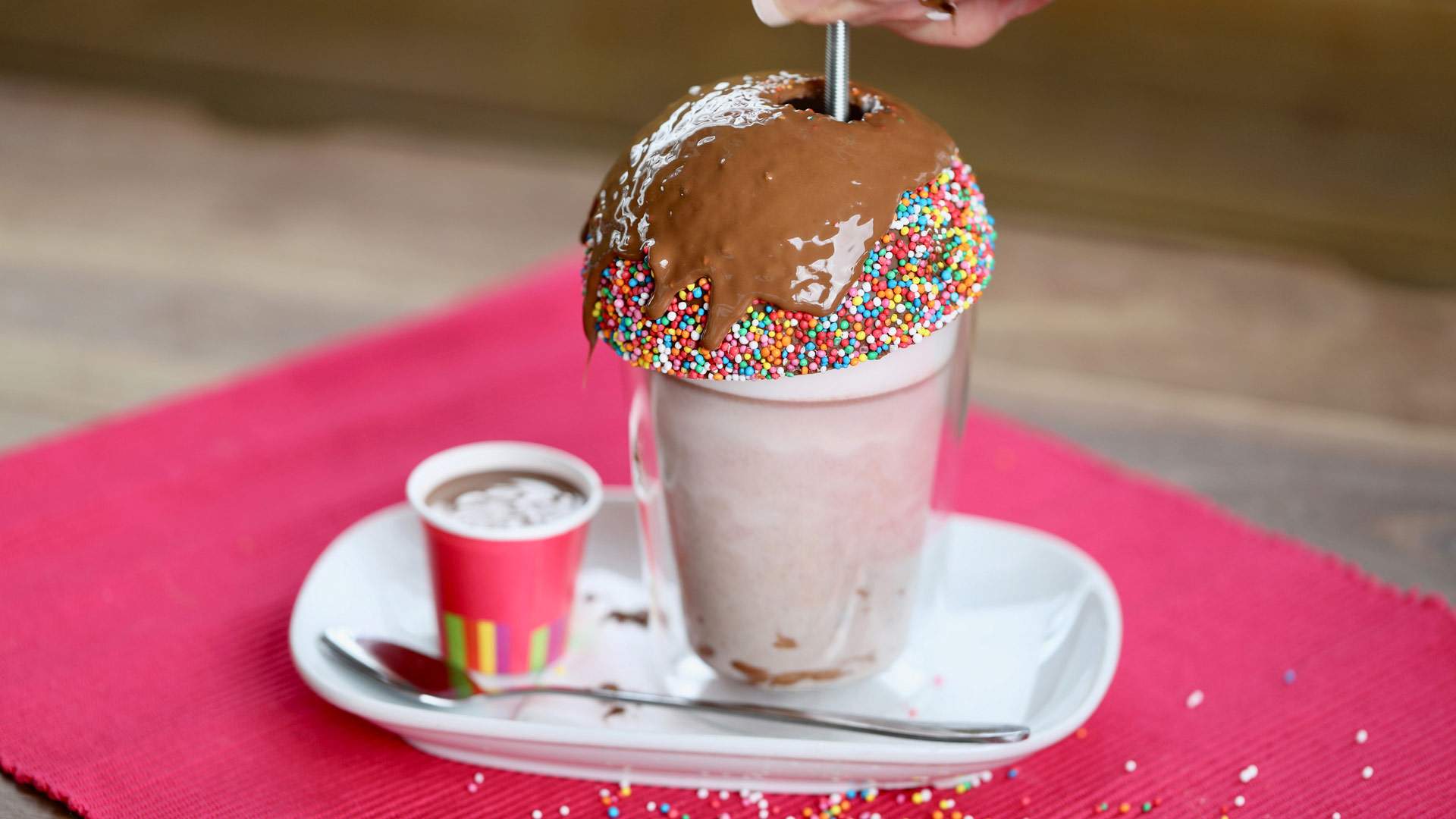 ROAD TRIP TO TRY 31 DIFFERENT HOT CHOCOLATE FLAVOURS
If you or your date has a serious sweet tooth, this is the festival for you. Victoria's Hot Chocolate Festival is back and churning out 31 hot chocolate flavours over 31 days throughout August.
This year, the festival will be run across three locations: the Yarra Valley Chocolaterie, the Great Ocean Road Chocolaterie in Bellbrae and the Mornington Peninsula Chocolaterie. Eight different flavours will be served up each week, so make sure you plan your visit(s) carefully as to not miss out on the best.
Fan favourite flavours like triple chocolate brownie and Nutella will return to this year's menu, along with the more adventurous likes of Mocha Margarita, Hot Shoey, which is served with a mini chocolate shoe, and the Green Goddess with kale and coconut. You can also book into a 45-minute tasting sessions — for $20 you'll be able to sample eight hot chocolates and make three of your own 'hot chocolate spoons' from over 50 ingredients to take home.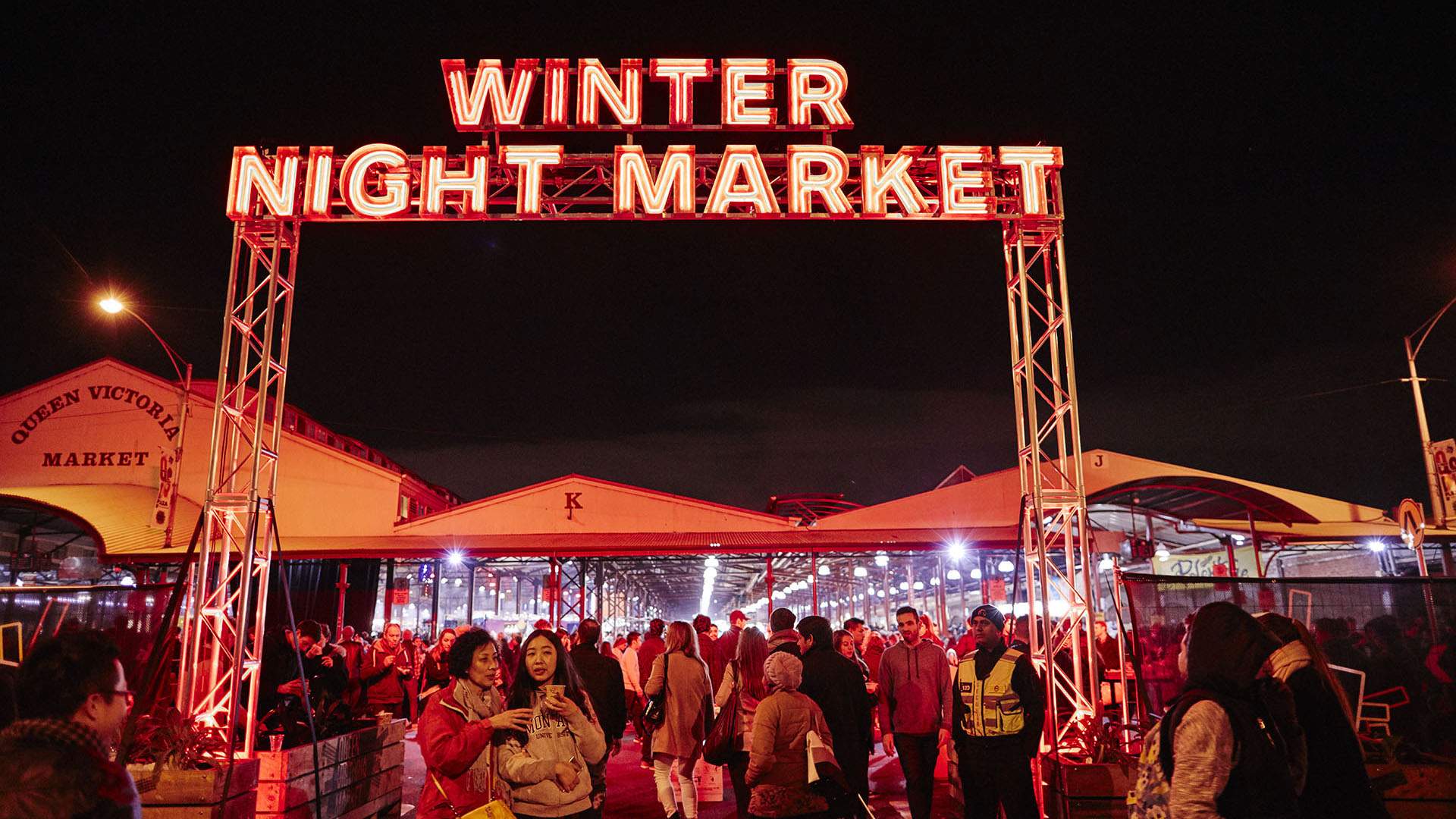 DOWN PIEROGIS FOR A GOOD CAUSE AT THIS WINTER NIGHT MARKET
One of the beacons of light on Melbourne's event calendar in a fairly glum cold weather stretch is the Queen Victoria Market's Winter Night Market. Happening every Wednesday night until August 28, the market is pulling together a global array of eats, a plethora of live entertainment and lots of snow.
The 30-strong lineup of food stalls will send you and your date across the world, eating the likes of traditional Italian loaded flatbread, churro bowls with oozy hazelnut sauce and vanilla ice-cream and That's Amore's legendary pastas, which are tossed in a parmesan wheel before landing on your plate. Of course, there'll be mulled wine and steaming hot cider from to warm your belly and hands as you browse over 50 design and specialty stalls.
And on Wednesday, August 14, you and your date will be able to eat (almost) free Polish dumplings at the market, too. The Pierogi Pierogi stall will be giving out plates of dumps to the first 100 people that donate to the Asylum Seeker Resource Centre tins, which will be located out the front of the stall, in honour of Saint Hyacinth. We suggest heading in at 5pm if you're keen.

UNDER $50
SHARE A PADDLE OF BEERS AT MELBOURNE'S NEWEST BREWERY
A former mechanics warehouse in Abbotsford is now home to a sprawling 400-person brewpub, dubbed Bodriggy — and it's the perfect spot for your next date night. While a 'huge warehouse' may not scream cosy and romantic, it has plenty of quiet nooks for you two to cosy up in.
It also has a whole heap of fun and funky beers for you to sip your way through together and we think the best way to do this is by ordering a paddle. For around $30 (depending on the beers you order), you'll be able to try five different brews — the smoky Midnight Zone wheat ale, perhaps, or the apricot sour Space Milk Vol 4.
With your extra $20, we suggest trying one of the tapped cocktails, ordering a round of empanadas ($7 a pop) or sharing the hefty 500-gram cauliflower steak starring chimichurri and crispy florets ($23).

ONE BIG BLOWOUT
GET LOST IN THIS EDGAR ALLAN POE-INSPIRED IMMERSIVE THEATRE EXPERIENCE
Imagine a fully immersive theatre experience with a 'choose your own adventure' twist and lots of macabre nods to Edgar Allan Poe, and you'll have some idea of what to expect when you and your number one head to A Midnight Visit.
It has been  brought to life across 36 rooms (so, yes, you can really get lost in it) in an eerie North Melbourne warehouse. Part performance, part playground and part film set, it'll be unlike any offering you've seen before.
Take on the dare and you'll be transported you into a dreamworld that takes its cues from those notoriously thrilling, dark-hearted works of Edgar Allan Poe. It'll channel more contemporary cult classics, too — think David Lynch, Stanley Kubrick and Stranger Things. Expect to plunge into a pink ball pit, crawl through tunnels and dance with the dead in a blood-red chamber.
If you're thinking you might need some sort of tipple to calm your nerves before all of that, or after, you'll find yourself in good hands at the on-site pop-up bar — The Raven's Rest —  which will be serving up snacks and libations. Tickets are not cheap, however, going for around $80 a pop.

Top image: Glow Winter Arts Festival
Published on August 13, 2019 by Concrete Playground