ARTS & ENTERTAINMENT
Five Melbourne Date Ideas for This Week That Aren't Dinner and a Movie
Just think of us as your cultural wingman.
Five Melbourne Date Ideas for This Week That Aren't Dinner and a Movie
Just think of us as your cultural wingman.
---
Tired of the classic movie and dinner date night combo? Us too. That's why we're always on the hunt for new things to do, scouring the city for not-boring Melbourne activities — ones that are guaranteed to take your next date way beyond done-before beers at the pub. Whether you're taking someone on a second date or doing your 100th with your significant other, we've got some killer (and, yes, cute) ideas for dates to go on this week, no matter how much money you've got to spend. Just think of us as your cultural wingman. You're welcome.


FREE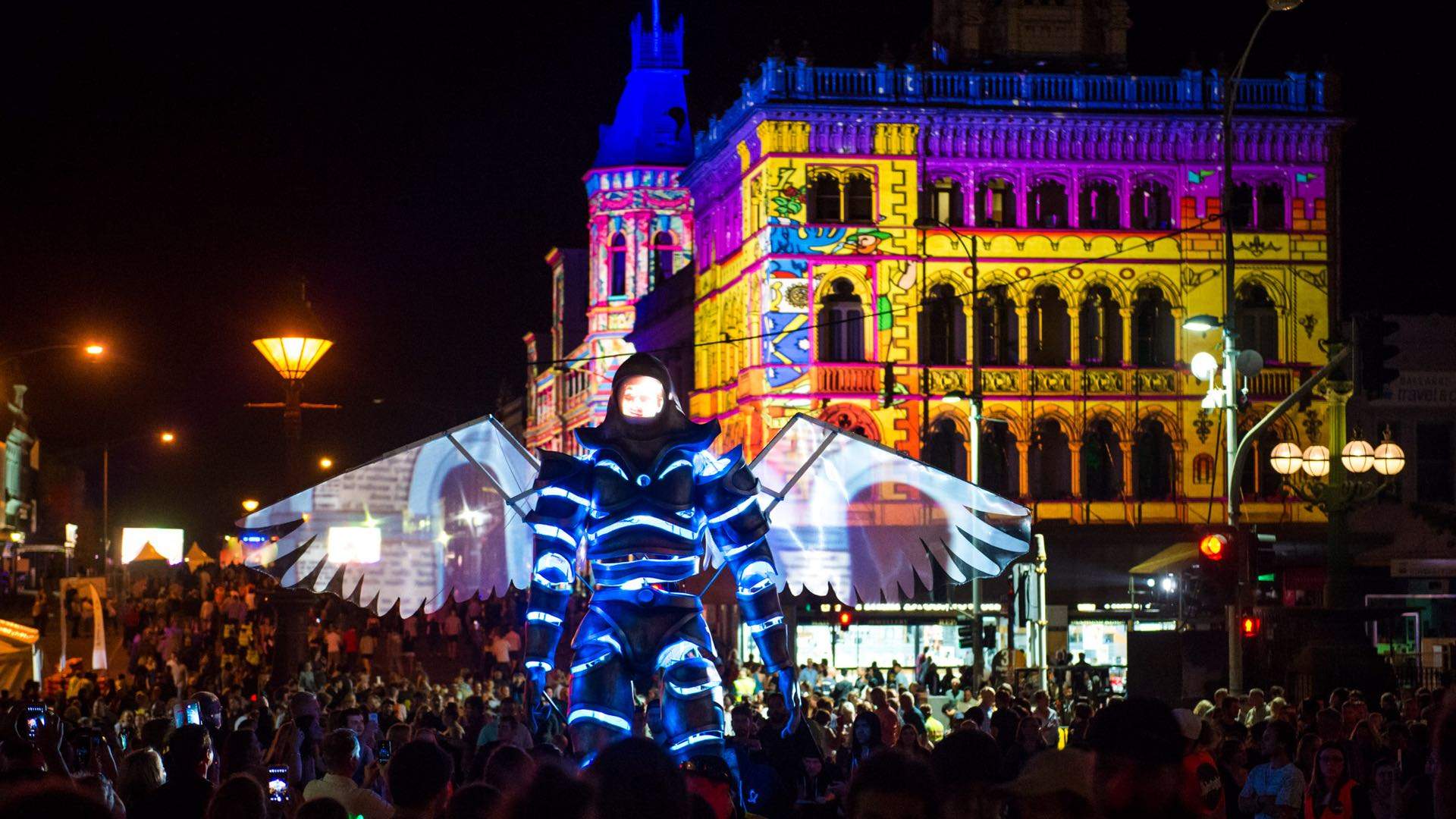 EXPLORE THE NEW AND IMPROVED WHITE NIGHT (FOR FREE)
If there's been a big, White Night-shaped hole in your calendar since the famed Melbourne after-hours fiesta wrapped up its last edition in February 2018, you'll be happy to know it's making a return this week. After making the move from summer to the deep of winter, White Night Reimagined is expanding to a three-night affair, and scrapping the all-nighter aspect of the old format. Although, frosty August probably isn't the best time of year for pre-sunrise wanderings, anyway.
This year's festival will run from 7pm until midnight on Thursday, August 22, and again on Friday, August 23, followed by a 7pm–2am session on Saturday, August 24. The new-format event has also expanded in scope, held across three key precincts with each boasting its own distinct theme. Treasury Gardens will take the form of the 'Sensory Realm', Carlton Gardens will be transformed into the mystical 'Spiritual Realm', and the 'Physical Realm' descends on Birrarung Marr.
Other famed Melbourne spots coming to the party include the Melbourne Museum, the National Gallery of Victoria and the State Library Victoria, all hosting their own programs of art, food and music, making for a pretty easy and cheap date night under the stars.

UNDER $20
ROAD TRIP TO GEELONG FOR A FARM-FRESH LUNCH AND A MOON GAZE
If the hustle and bustle of the city during White Night is not your idea of a relaxing date, hop in the car and head down to Freshwater Creek and the recently opened Common Ground Project for a coffee and some quality cafe fare. From the team behind beloved Melbourne cafes Top Paddock, Higher Ground and Kettle Black, this social enterprise cafe and community farm is looking to promote more sustainable farming and hospitality practices. The group's chefs are taking farm-fresh and locally sourced produce and whipping up some impressive dishes for $20 and under that you could feasibly share, like poached pear hotcakes with vanilla bean custard, and egg and bacon pizzas.
While you're in the area, don't miss the opportunity to visit the Geelong Gallery's The Moon exhibition, which is set to finish up on September 1. In honour of the 50 year anniversary of the moon landing, the expansive exhibition explores our endless fascination with the brightest light in the night sky. It combines visual art with film, literature, music and science in order to fully transport visitors to the lunar surface.
Entry to the exhibition is free, and all money raised at Common Ground Project goes to support regenerative farming practices and improved access to mental health support for those in the hospo industry. So you and your date can discuss moon landing conspiracy theories over coffee from Square One, or a house-made grapefruit, chilli and rosemary soda ($5), while supporting the industries that are nourishing Melbourne.

UNDER $50
WARM UP WITH TOASTIES AND HOT TODDYS
You and your date are keen to explore White Night Reimagined, cool, but you simply can't enjoy all those incredible art and lighting installations on an empty stomach. Thankfully, the chefs from 13 Melbourne restaurants and bars are reimagining the humble toastie and popping them on their menus for the citywide event — that is, this Thursday, Friday and Saturday night. And to keep you warm all the way to your toes, each venue is also whipping up its own riff on the classic hot toddy cocktail.
Perhaps you'll find yourself with the spicy pork and spring onion pancake concoction from Lee Ho Fook's Victor Liong, washed down with the Shanghai Nights (Adelaide Hills 78 sunset gin and Lee Ho Fook tea blend with rhubarb, green strawberry and pink Sichuan pepper shrub) all for $25, or maybe Whisky and Alement's decadent fusion of black pudding, smoky whisky bechamel and hot buttery bread. Get this plus an Earth, Fire and Ginger Toddy from the whisky experts for $28. Chin Chin has our vego friends covered with a yellow curry vegetarian toastie ($12.50), or a Thai bolognese option ($14.50) and classic toddy for $14.
Other venues participating in Toasted include Magic Mountain Saloon, Fancy Hank's, Good Heavens, Arlechin and Boilermaker House, and you can find a full list of delicious options and prices here. It's a perfectly respectable date option to toastie hop your way around the city until you've tried them all.


SIP COCKTAILS AND CUDDLE DOGS
What's a date if you can't bring your pooch along? Next up on Melbourne's spring calendar of pup-filled events is a series of Bottomless Drinks 'n' Doggos descending on Ascot Vale's permanent food truck park The Ascot Lot. Running from 2–4pm across three Sundays — including this August 25 — the dog-friendly session will feature lots of cute fluff balls and endless cocktails. For $45, humans can down endless mimosas, sangria and spritzes, as well as wine, beer and prosecco during the two hours.
A fresh lineup of vendors will ensure that there are food options galore, too, and four-legged guests are sure to go barking mad for the free doggy treats. During the event, the Garden Bar will be fenced off, so you don't need to worry about your pup escaping while you're getting a top up. If you and your date aren't quite ready to adopt a pet together, this is a great chance to smooch some pooches in a way that is not weird, with live acoustic entertainment and drinks flowing. Both humans and doggos are welcome to join in the day's festivities, with bookings essential.

ONE BIG BLOWOUT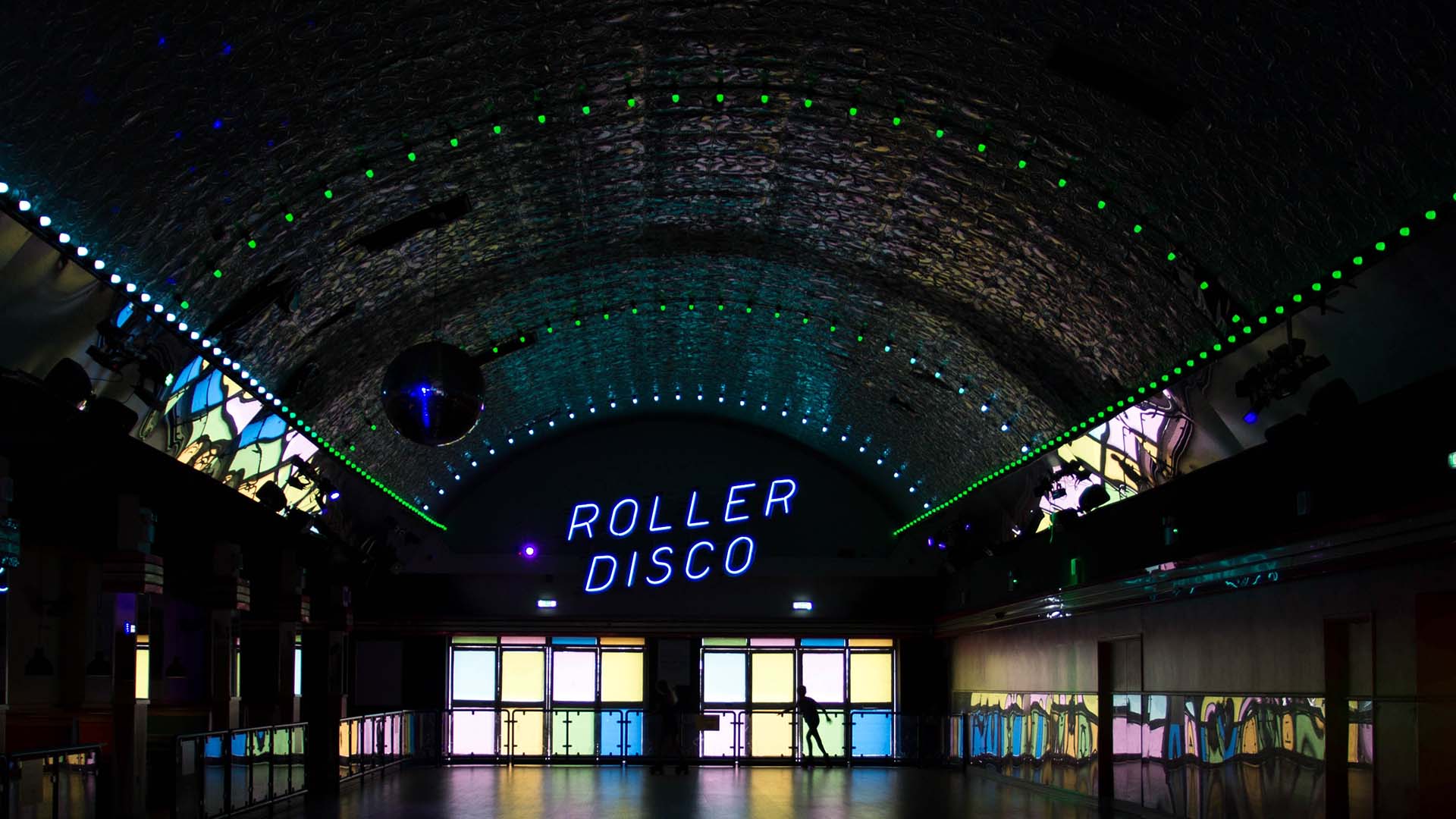 SKATE HAND-IN-HAND AROUND AND SIP MIMOSAS
On Saturday, August 24, it's time to dress up in your finest leotards, lycra, spandex and leg warmers and strap on a pair of roller skates. You can't dance around a Roller Disco Brunch without them. The rink will pop up at Seaworks in Williamstown, running in conjunction with the 1.5-kilometre Pac-Man-inspired maze — so you can do both in one day if you like to pack your dates with lots of activities.
When you're not wooing your love with your smooth retro moves and lip syncing to 80s hits, you'll be tucking into bottomless mimosas and pizza slices. There will be three 90-minute brunch sessions: at 11am, 1pm and 3pm. These will set you back $75.23 and include your food, booze and skate hire. If you just want to get your skate on, there'll be four more sessions on Saturday — at 5pm, 6.30pm, 8pm and 9.30pm — as well as three on Friday night. These just include a turn on the skates and are $39.55 each.

Top image: White Night Melbourne.
Published on August 21, 2019 by Concrete Playground