ARTS & ENTERTAINMENT
Five Melbourne Date Ideas for This Week That Aren't Dinner and a Movie
Just think of us as your cultural wingman.
Five Melbourne Date Ideas for This Week That Aren't Dinner and a Movie
Just think of us as your cultural wingman.
---
Tired of the classic movie and dinner date night combo? Us too. That's why we're always on the hunt for new things to do, scouring the city for not-boring Melbourne activities — ones that are guaranteed to take your next date way beyond done-before beers at the pub. Whether you're taking someone on a second date or doing your 100th with your significant other, we've got some killer (and, yes, cute) ideas for dates to go on this week, no matter how much money you've got to spend. Just think of us as your cultural wingman. You're welcome.


FREE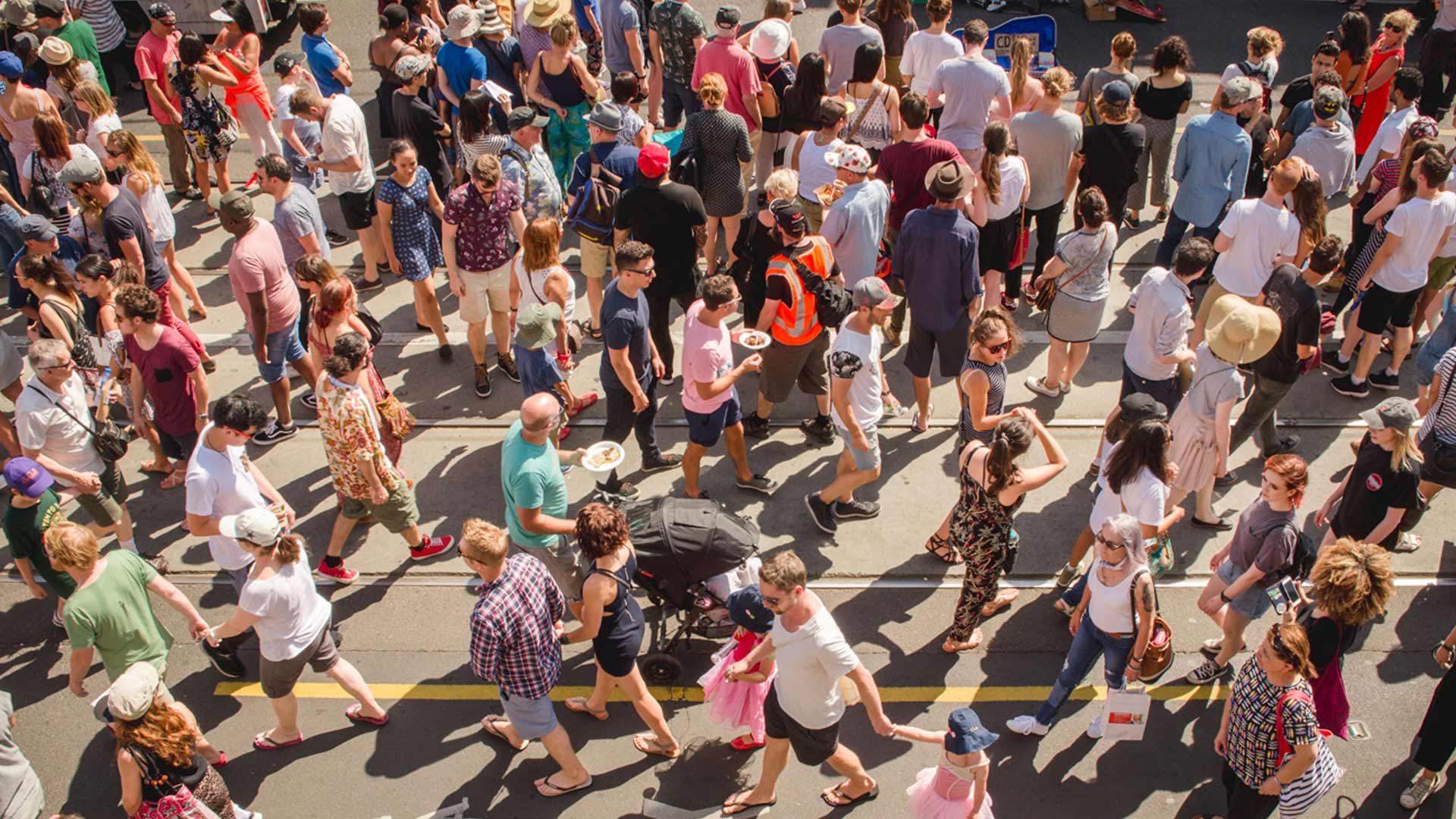 BOOGIE AT A FREE SUBURB-WIDE STREET PARTY
"There ain't no party like a free street party" may not be the original lyrics, but we think they ring true nonetheless. So, jump on the #19 tram and head up to Sydney Road as the Brunswick Music Festival returns for its 31st year. The needle drops on Sunday, March 3, with the Sydney Road Street Party, a massive event with more than 200 artists performing across seven stages, plus market stalls, food and more. Scrounge together some coins and buy a tinnie or just enjoy the free live tunes. If you'd like to continue the music theme across more date nights, check out the full festival lineup here.

WATCH THIS FREE AWARD-WINNING INSTALLATION — FOR 24 HOURS
Think you and your date could comfortably hang out for a full 24 hours? This one's for you. One of the most popular pieces of video art ever created has arrived at Melbourne's ACMI — and you can watch it for a full day (if you please).
The mammoth installation by artist Christian Marclay — fittingly, called The Clock — is comprised of images of clocks and watches, plus other mentions of and references to the seconds, minutes and hours passing — and it unravels in real time, which means every second of the day and night is represented. The full version runs for an entire 24 hours, operating as the most intriguing timepiece you're ever likely to come across.
If you want to check out the free exhibition, but don't think you could last the full 24 hours, you can do that, too. You can drop by daily during ACMI's opening hours to see time pass, or you can settle in for the long haul (all 24 hours) from 10am every Thursday until March 7.

UNDER $20

SOAK UP THE FINAL DAYS OF SUMMER ABOARD THIS FLOATING BAR
While autumn is fast approaching, Melbourne is looking to cop a sweltering final few days of summer. So, what better excuse to grab your loved one and a pint or a spritz and soak up the river views on Arbory Afloat before the cold weather hits. Melbourne's famed floating bar — which is a whole 50 metres long, by the way — has reclaimed its prime position on the Yarra, and, this year, it's inspired by train trips through the Cinque Terre. Would it be a visit to seaside Italy without spritzes? We think not. And luckily, there are plenty. Blood orange and Aperol spritzes are available on tap, sitting pretty on the drinks menu alongside less-Italian cocktails such as piña coladas and watermelon sangria — as well as eight different G&Ts.

UNDER $50

PUTT-PUTT AROUND THIS BEACHSIDE MINI GOLF COURSE
Want to take your date night outdoors? Head to St Kilda's newest pop-up — a (kidult-friendly) Pixar-themed mini golf course. Designed to challenge both eight-year olds and adults, Pixar Putt features nine- and 18-hole courses that take you past childhood heroes like Buzz Lightyear, Sheriff Woody and Elastigirl. Hit a few balls with Darla and Marlin from Finding Nemo, and flick one past Princess Atta from A Bug's Life. No need for a trip to Disneyland. Tickets will set you back $24.90 a pop for nine holes.
So, if you didn't beat your significant other at that game of pool the other night, challenge them to a rematch. All you need is your hat and A-game (and no pressure if you remain defeated, there's always the nineteenth hole nearby). Pixar Putt is also open for after-dark sessions every Friday and Saturday night — and they're only for adults.

UNDER $100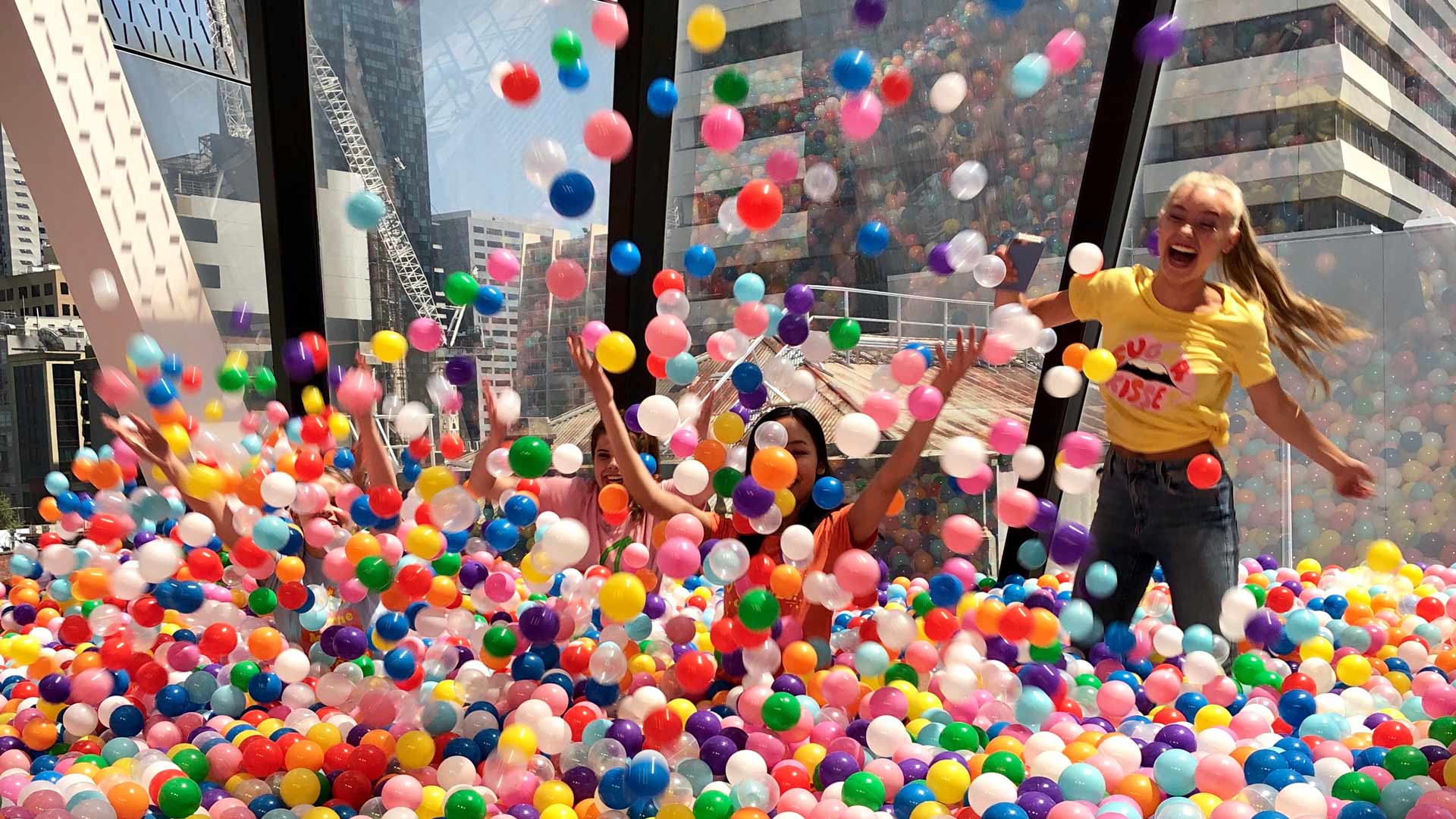 DIVE INTO THIS RAINBOW BALL PIT
This dessert museum may just be the sweetest date idea you'll find. Called Sugar Republic, the immersive pop-up features a huge rainbow ball pit, a giant birthday cake, a confetti shower and a sweets-inspired neon installation (the sugary list goes on and on). You'll also be able to bask in nostalgia inside an old-school lolly shop, a Charlie and the Chocolate Factory-inspired garden and a house made from cookies.
Throughout the colourful exhibition, you'll find many edible treats, including Hubba Bubba, Halo Top, Wizz Fizz, Skittles and Starbursts, and will be able to visit a Sugar Republic cafe, which will be serving up a whole host of sugary delights.
Worried the installation will be filled with littlies? Thankfully, it's opening on Thursday and Friday nights for adults only — so you can jump in the pit without fear of crushing a small one. Tickets will set you back around $35 a pop.
Published on February 27, 2019 by Concrete Playground