New Web Comedy 'The Katering Show' Skewers Foodie Culture
"The journey of a food intolerant, and an intolerable foodie."
in partnership with

If you like your TV viewing as deconstructed as you like your cheesecake, the new web comedy The Katering Show is for you. Written and directed by coincidentally alliterative comedians Kate McCartney and Kate McLennan, the series takes aim at our food-obsessed culture and its raft of related cooking shows. The "food intolerant" (McCartney) and "intolerable foodie" (McLennan) spend each episode trying to find the middle ground between the food that one loves and the food the other can digest, all while exploring such key culinary topics as Mexican cuisine, ethical eating, quitting sugar and food porn.
The duo already have one award-winning web series, Bleak, behind them, as well as a combined CV that name checks It's a Date, Offspring, Adam Hills Tonight and Kath & Kim. Now the The Katering Show's hilarious and on-point references to paleo, locavores and food trucks should get them even more notice.
How close to their real-life counterparts are the characters in the show? We'll probably never know, but they sure did turn it on for this interview. Read on for McLennan and McCartney's personal food philosophies, opinions on kale and feelings for Heston Blumenthal. Then head to ABC iView to watch all of season one of The Katering Show, with series two out very soon.

Where does your passion for food come from? Or, for McCartney, your aversion?
McLennan: I grew up in the country, so I've always had a strong connection to the food that we were killing and eating. One of my earliest memories is slaughtering a sheep with my grandfather and then feeding its shanks to my dolls.
McCartney: From hanging around people like McLennan. See above.
How would you describe your food philosophy?
McL: Cook from the heart, but also use your hands. And your eyes.
McC: If it's good enough for my cat, it's good enough for me.
When did you realise your food journey was one you had to share with others, via your web series?
McL: When we received funding from Screen Australia.
McC: When we received funding from Screen Australia.
What is the best use for kale?
McL: Kale is great to use in salads, frittatas, and to take to a picnic, if you want to meet like-minded people with no personality.
McC: I find if you soak it for an hour in cold water, it makes it easier to throw out.
What hybrid food (eg cronut, ramen burger) would you like to try inventing?
McL: I'd like to create a giant hotdog filled with Mac'n'Cheese and I'd call it "DON'T LOOK AT ME! STOP LOOKING AT ME!"
McC: I'd to combine macarons and dry-rubbed chicken to create something called a "MacChicken". Actually, I just want a McChicken. I'll probably just get a McChicken. Who wants a McChicken?
What is your relationship with sugar?
McL: Lately I've cheated on it with stevia, rice malt syrup and agave (I hope sugar isn't reading this) *giggles*
McC: Well, I can't have most alcohol, cheese, breads, cakes, which means I also can't have friends. So sugar is literally all I've got. If sugar leaves me, I'll have nothing. I'll have to embark on a life of crime just to feel something.
What's your favourite kitchen gadget?
McL: I have a smoking gun. It's a great little gadget, and if you don't qualify what it is, it's a great way to liven up a dull dinner party!
McC: I have a butcher's knife that was given to me by a very nice gentleman who I met a train station.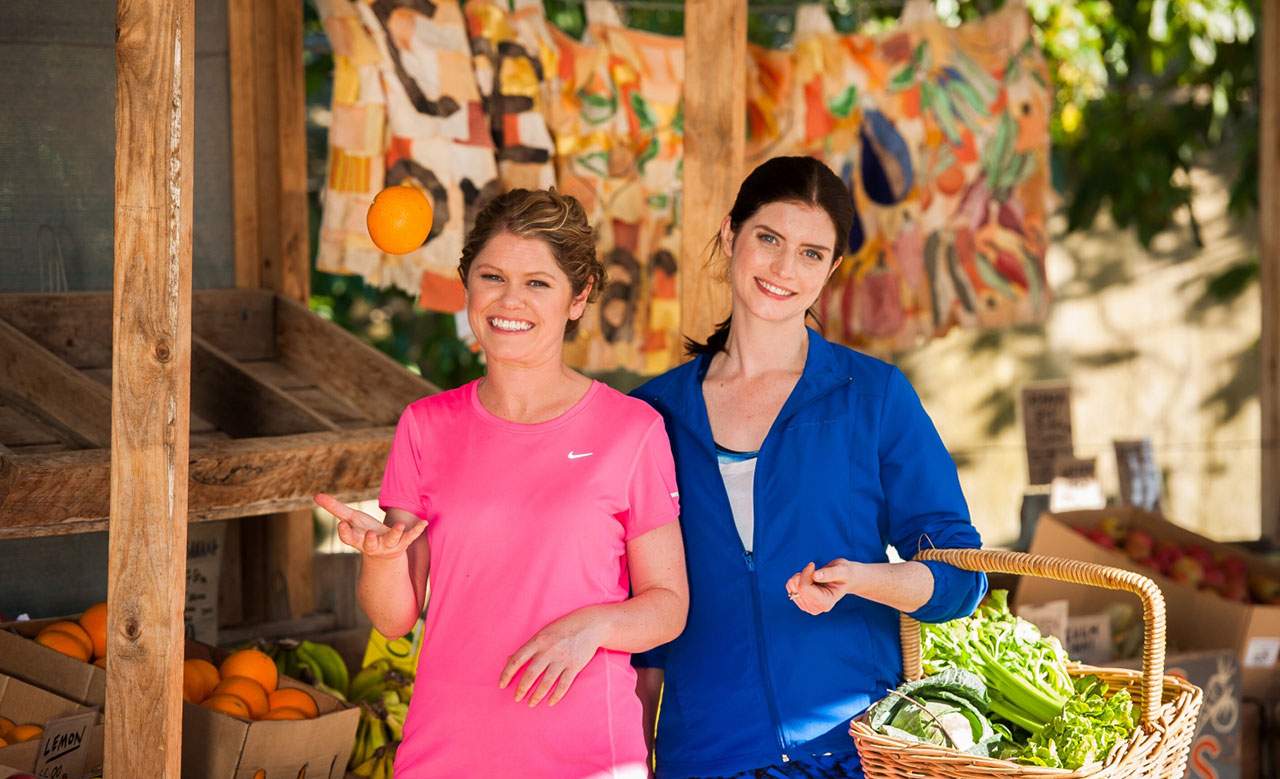 How do you make sure you're eating ethically?
McL: I honour the life of every living thing I eat by preserving their memory in a handmade quilt. It's getting very big.
McC: I personally kill every packet of two-minute noodles that I eat.
What is your rule of thumb for wine matching?
McL: Shiraz goes well with brisket, chardonnay goes well with barramundi, and chilled rosé goes well with drunk women at the races.
McC: From experience, any bottle of anything goes well with an $8 price tag.
Would you rather (a) eat at Heston Blumenthal's Fat Duck, or (b) not?
McL: Not, because there are so many starving people in the world, and I think I could probably do a better job at home.
McC: I'd eat there. I feel sorry for Heston, given his name in Greek means "to poop oneself".
Watch The Katering Show on ABC iView.