ARTS & ENTERTAINMENT
Cinema 3 Is the New Online Platform That Lets You Watch ACMI's Curated Film Program At Home
The Melbourne venue has a launched video-on-demand service — and it includes new and classic movies.
As first announced back in 2018, Melbourne's Australian Centre for the Moving Image will soon look rather different, with the screen culture-focused Federation Square site currently undergoing extensive $40 million renovations. When it reopens in 2021, visitors can expect revamped exhibition spaces, new immersive experiences and added interactive activations, including a permanent ode to Mad Max. Also part of the huge makeover: increasing the ways that everyone can engage with ACMI digitally, both when heading by in-person and from home.
As revealed back in October, ACMI will usher in a heap of new ways for folks to interact with its exhibitions. That includes giving visitors a handheld device made out of compressed cardboard, which they'll be able to while they're wandering around the place — and when they go home as well. ACMI's fresh additions also span online exhibition space Gallery 5, which is up and running already, and its own video-on-demand service called Cinema 3.
Of course, 2020 has already seen a very lengthy list of new streaming and VOD options hit the market, all competing for film and TV fans' eyeballs in a year that's seen us all spend more time on the couch — such as horror streamer Shudder, architecture and design-focused platform Shelter, short-form platform Quibi (which'll actually call it quits in December), female-focused service Femflix, and platforms from cinemas such as Palace and Golden Age, plus the team behind Sydney's Ritz and Melbourne's Lido, Classic and Cameo venues. Accordingly, ACMI joins a very busy space, but it's doing so with a tightly curated range of classics and new movies that's selected by its Director of Film Programs Kristy Matheson, and is updated fortnightly.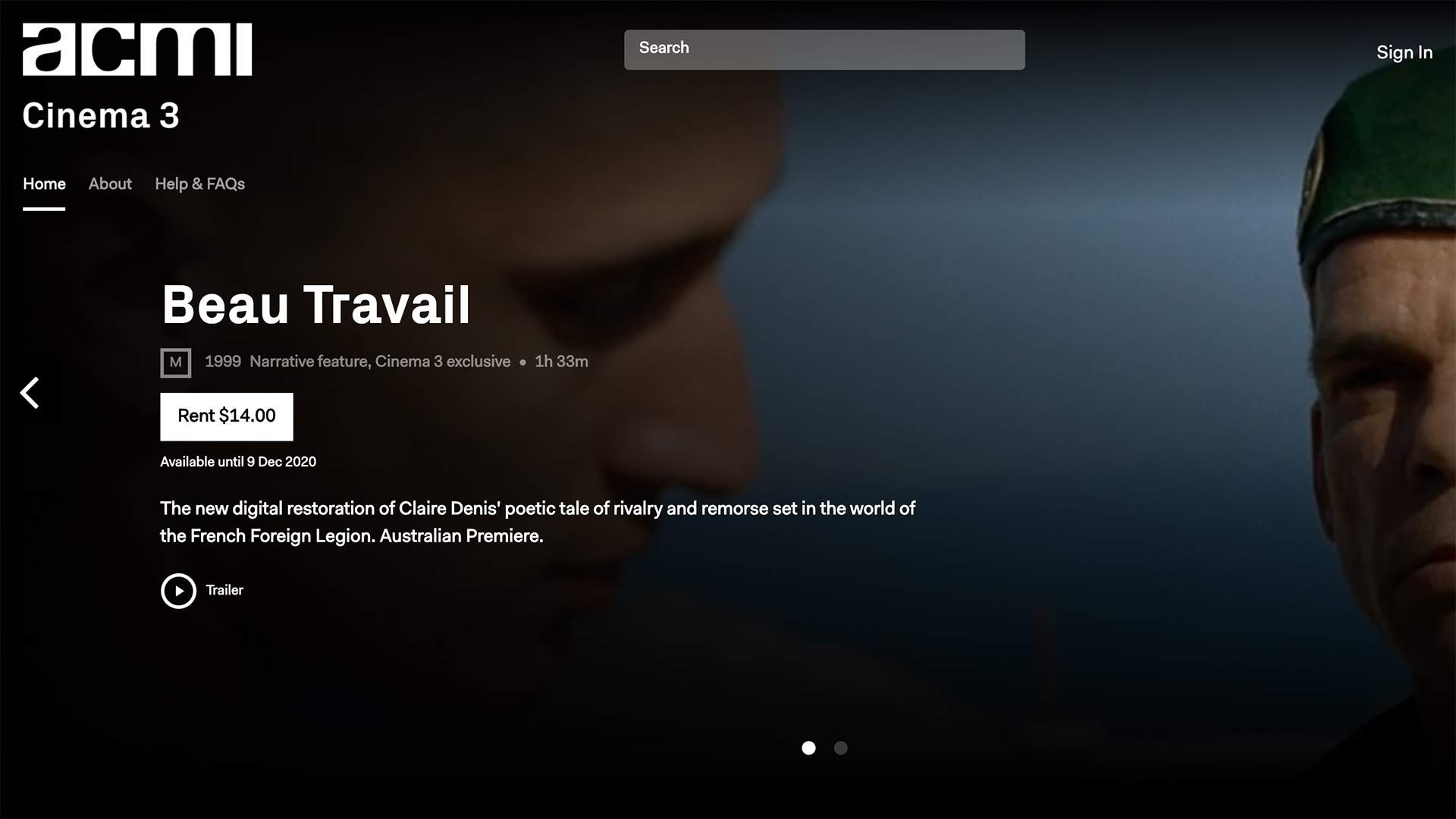 Available since Thursday, November 19, Cinema 3 currently features a digital restoration of Claire Denis' 1999 standout Beau Travail, plus 2019's acclaimed Romanian flick The Whistlers — neither of which you can currently watch in Australian cinemas. In the classic camp, it has grouped a number of movies into themes. So, you can check out 'fine films for grown-up tastes' such as The Two Faces of January, Our Little Sister, The Deep Blue Sea and The Third Wife, or opt to delve into cinema history via Berberian Sound Studio, Be Natural: The Untold Story of Alice Guy-Blaché, Last Man in Aleppo and Parasite.
Cinema 3 also presently features an Aussie-focused section as well, showing Noise, The Darkside, and documentaries Jill Billcock: Dancing the Invisible and Defiant Lives. The idea is that each area of the service acts as a shelf — for you to peruse and pick from at your leisure, depending on what piques your interest.
Films are available on a pay-per-view rental basis, with the current titles ranging from $4.99 to $14.
To check out ACMI's Cinema 3 video-on-demand service, head to the platform's website.
Published on November 21, 2020 by Sarah Ward