Four Pillars Gin Distillery
An experimental distillery, a gin shop and stunning bar by the Four Pillars crew.
Gin dreams are made of this: a sprawling distillery that doubles as an indoor/outdoor gin garden, lets spirits aficionados sip plenty of gin (obviously), and also serves up snacks made with spent gin botanicals. That's all on the menu at Four Pillars' redeveloped Healesville base, which relaunched to the gin-adoring public following a hefty $7 million makeover in April 2022.
Gin fiends of Australia have been singing the brand's praises for a decade, with the beloved distillery setting up shop in 2013, then opening up its Healesville digs to the public in 2015 — and the latter's revamp only evoked more cheers.
Sitting directly adjacent to the company's original home on Lilydale Road, the new 1000-square-metre space helps turn the brand's headquarters into an epic gin destination, and has almost tripled the area available to visitors. As well as the aforementioned Jude's Gin Garden — which overlooks leafy trees and has sliding floor-to-ceiling windows to let the outside in (when the weather permits) — there's multiple new event and function rooms, a dedicated Four Pillars Gin Shop, and a gleaming new copper bar.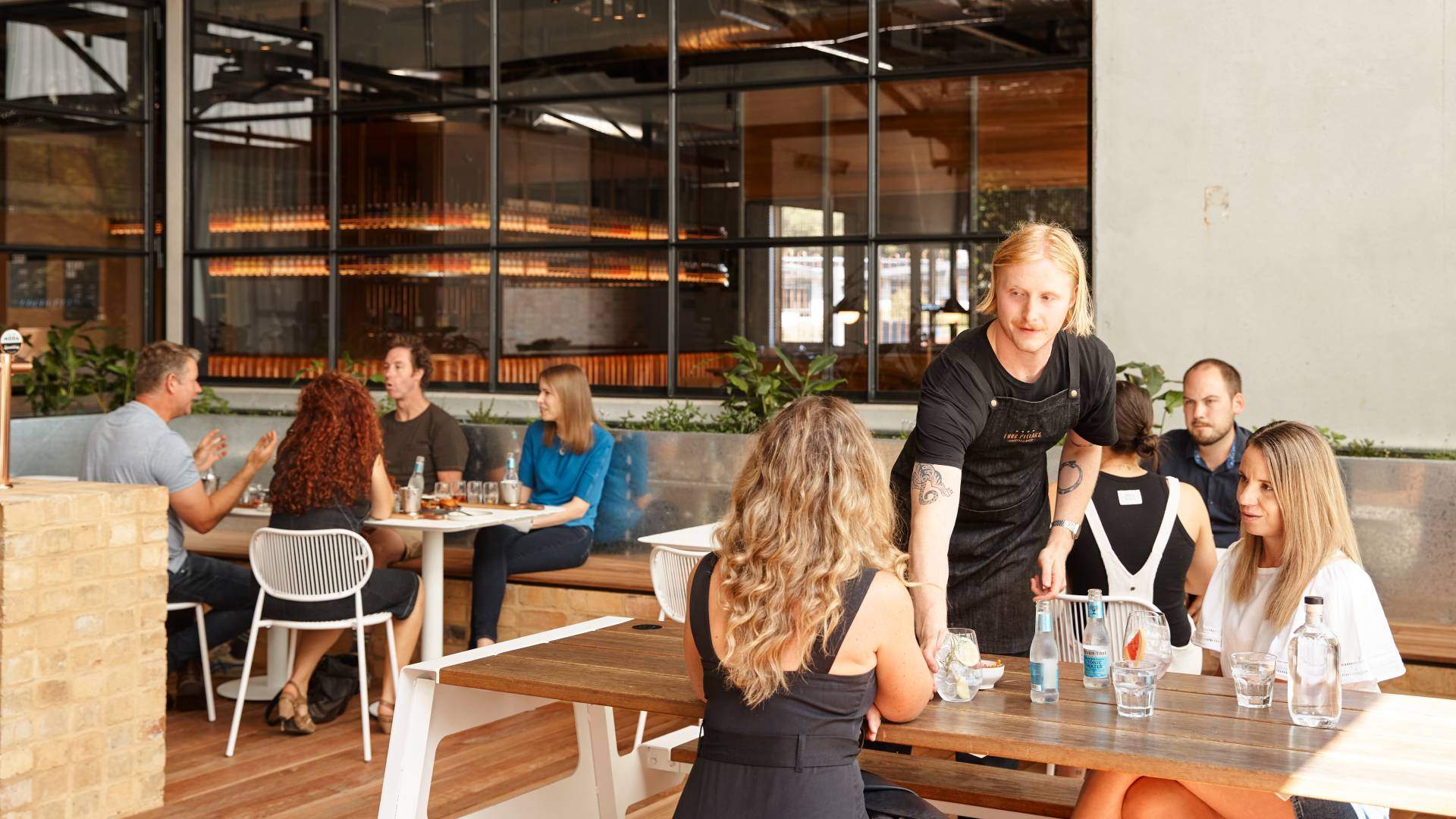 On the menu: a changing array that spans tasting paddles, gin classics and familiar cocktails, plus a snack range designed by Made From Gin's Matt Wilkinson with Caro Gray. Think: duck liver pate with Bloody Shiraz Gin jelly; bagels with olive leaf gin-cured salmon; plus gin-laced potato, zucchini and dill croquettes — all using those spent gin botanicals.
Still on food, the Four Pillars Tuck Shop also opened later in 2022, serving up more substantial dishes on weekends and public holidays.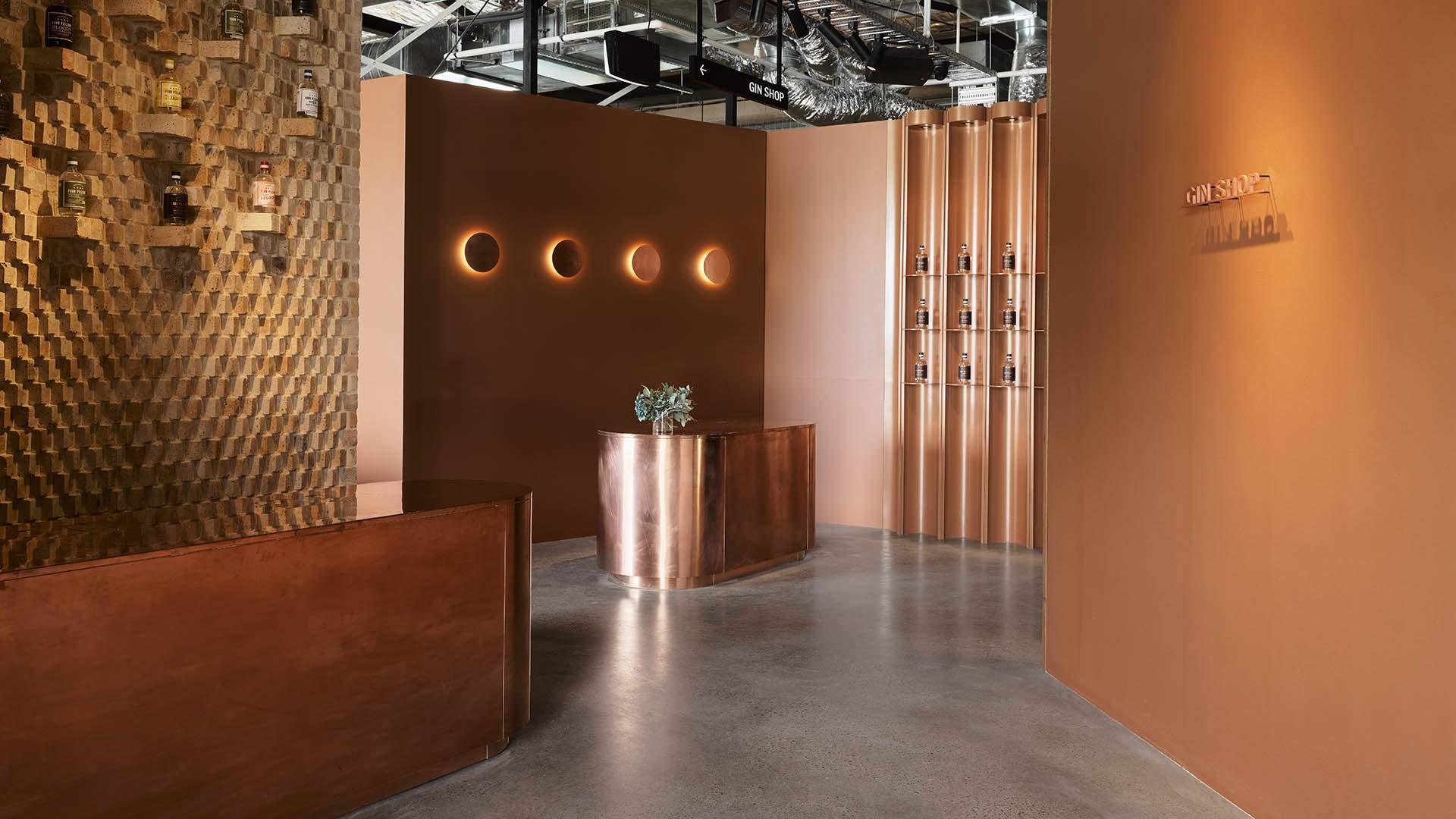 Of course, a visit to this gin-swilling spot is always going to be about the spirit in question — and here it's piped into the main bar using featured copper, all so that Four Pillars can reduce its glass waste. Tonic is largely being served from kegs as well for the same reason, at a site that goes big on solar and recycling to lower the venue's carbon and environmental impact. That shouldn't come as a surprise, with Four Pillars announcing that it had gone carbon-neutral back in 2022 as well.
Tubing is also a big design feature, with 1650 metres of raw copper tubing used to enclose the entire site — the OG building and the new base — in a veil. As well as looking stunning, it's designed to work as a natural heat exchange to reduce energy consumption.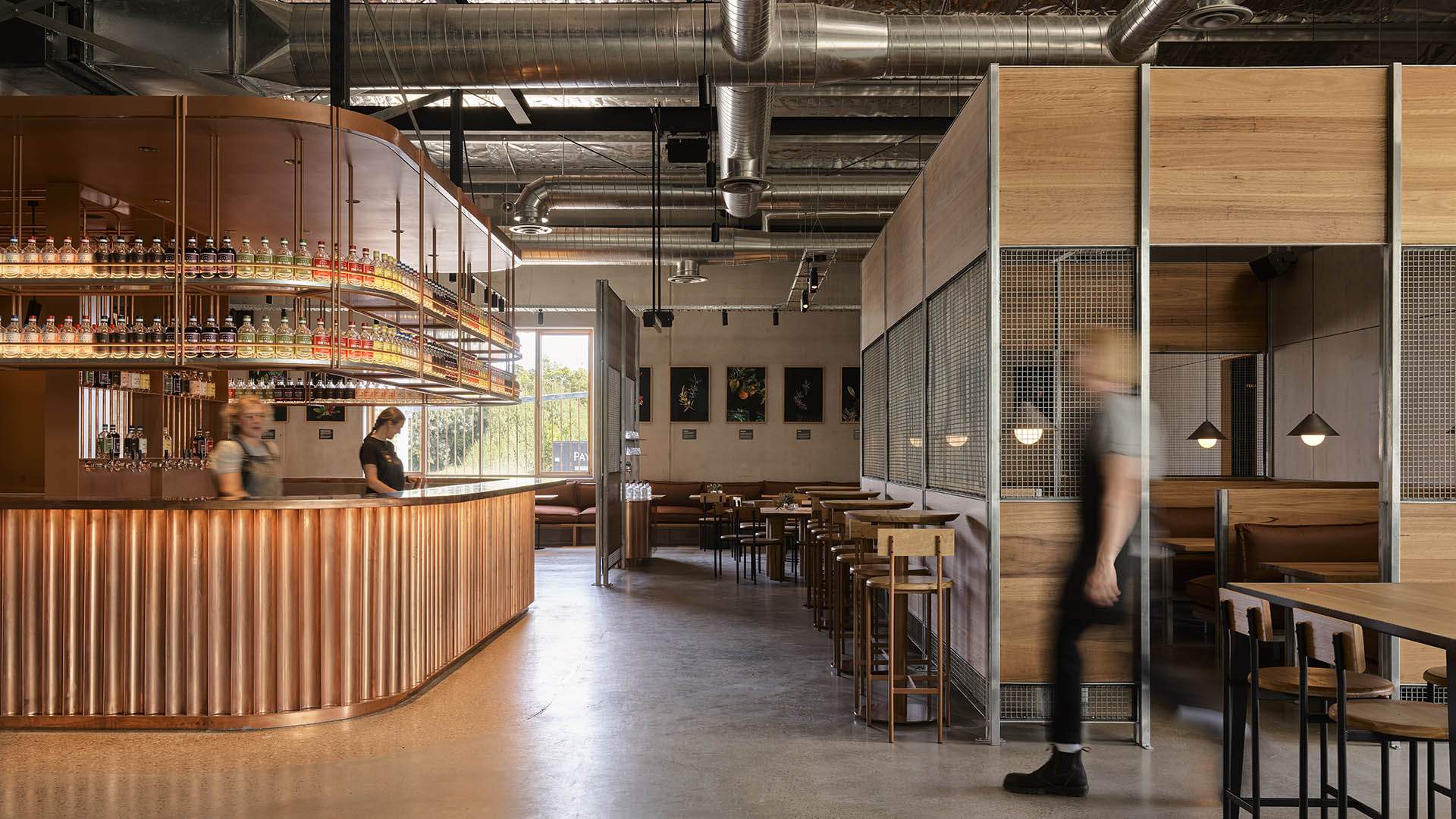 Melbourne's sustainability-led Breathe Architecture led the revamped spot's design, which also heroes recycled and upcycled concrete and bricks, plus pineapple 'leather' upholstery. The furniture has been sourced locally, and local natives and botanicals play a big part in the landscaping both indoors and out. And yes, many will end up in Four Pillars' gins in the future.
Updating the production side of things was also part of the makeover, allowing Four Pillars to now produce more than one million bottles of gin a year as well. To the delight of your tastebuds, that means more of its award-winning range — which includes barrel-aged, bloody shiraz, rare dry, yuzu, Christmas, overproof, olive leaf and summer-inspired gins.
And yes, Healesville 2.0's launch helps cap off a huge few years for the gin company. It was named the world's best gin producer for two years running, sold half of its business to beer behemoth Lion and opened a Sydney bar in the middle of the pandemic — and now, of course, this.
Concrete Playground Trips
Book unique getaways and adventures dreamed up by our editors