DESIGN & STYLE
Seven Easy Ways to Elevate Your Outdoor Space at Home This Summer
Want to take your outdoor area to the next level?
in partnership with

Getting amongst the great outdoors is essential in summer. And despite wanting to spend all summer road tripping with mates, sometimes you've got to get your outdoor fix a little closer to home.
Whether you've got a balcony, a courtyard, a back deck or a porch, there are few easy ways you can elevate your outdoor area to maximise your time outside this summer. If you feel like sprucing up your outside space, hit this list of simple hacks we've put together with King Living to take your al fresco evenings at home from good to great.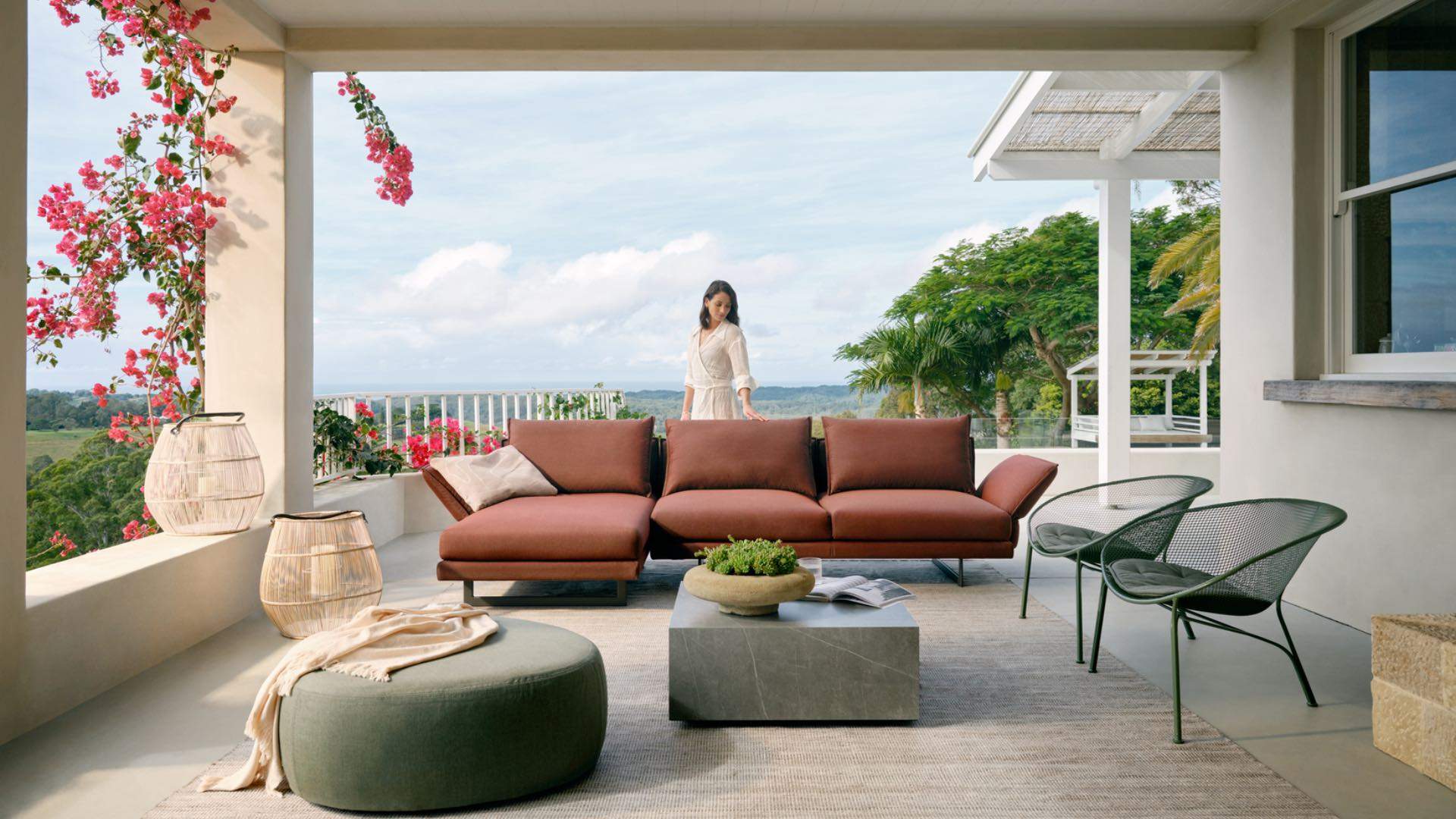 INVEST IN STYLISH PIECES THAT ARE MADE TO LAST
When setting up your outdoor space, choosing the right seating is key. Got a compact space you're working with? Try the Quay Outdoor sofa from King. Its light frame and removable legs make it simple to set up on even the most modest of balconies. If you have a bit more room to move, consider the King Cove sofa which easily transforms from sofa to chaise to daybed and back again. Alternatively, the Zaza Outdoor sofa has been designed in collaboration with Australian designer Charles Wilson if you're after something even more luxe.
Each of these sofas come with removable covers, making cleaning a breeze. And the best part? You can nab one with a generous discount during the King summer sale.

ADD FAIRY LIGHTS FOR SOME FESTIVE SPARKLE
Once your seating is sorted, it's time to think about lighting. First up, choose whether you want to create a warm or cool light. Then, figure out if you want lights that are solar powered, battery-operated or electrical.
For a small balcony, we suggest keeping it simple with one or two rows of festoons to get a decent amount of light without the fuss of too many wires in a compact space. Got a bit more room for creativity? Get festive with a fairy light canopy draped from the ceiling. Or, wind the lights around the perimeter of your courtyard to be hugged by a warm glow.


POPULATE YOUR PATIO WITH PLANTS
During the pandemic, we became hyper-aware of just how healing nature can be. So why not bring a little bit of nature into your outdoor areas at home?
If you're a new plant parent, opt for low-maintenance species to start out such as native plants, rubber trees, devil's ivy or succulents. Once you've nailed those, you can branch out into propagation, growing herbs or having a crack at raising some veggies from seeds.

HANG A HAMMOCK FOR IMPORTANT SUMMER SNOOZES
Falling asleep in the mid afternoon and waking up when it's still daylight is a true delight. So why not make your all-important summer snoozes even better by taking them outdoors this year?
Got a hammock stuffed in the back of your cupboard? Consider this your sign to finally hang it up. Or, if you've had one up for years and it's looking a little worse for wear, upgrade your sleep sling with this 100-percent recycled hammock from Nakie.


GET A QUALITY GRILL FOR SUMMER ENTERTAINING
Once you've set up your outdoor area with a new sofa, lighting and plants, there's a good chance you'll want to spend even more time outside — especially if you're entertaining.
To kill two birds with one stone by getting a good quality grill so you can cook for your mates and hang out outdoors simultaneously. For smaller spaces, the Weber Baby Q is hard to beat. MasterChef Australia fan? Time to finally get the hibachi grill you've been eyeing off.


GO VERTICAL TO MAXIMISE THE FLOOR SPACE
Another way to maximise your outdoor area is by utilising the space at eye level to take the focus of the eye around the room. Plus, if you include clever storage ideas, you can free up some floor space by storing things more efficiently.
If you've decided to add more plants and have a small space to work with, perch your green babies on mounted shelves to get them off the ground. Or, if you've got room to move and want to make your outdoor area feel even more spacious, add taller plants to accentuate the height of the area.

ADD SOME SCREENING FOR A LITTLE PRIVACY
Inner-city living got you feeling a bit exposed? Might be time to add some screening to increase your personal privacy.
Looking to block out a nosy neighbour without losing light? Frosted glass panels could help. Want to add some plants and privacy all in one go? Try incorporating some hedging into your garden. Or, if you're after something that's inexpensive and temporary, opt for an earthy bamboo screen.

Ready to elevate your outdoor area with the King summer sale? For more information and to find your nearest showroom, visit the website.
Published on January 10, 2022 by Courtney Ammenhauser