FOOD & DRINK
The Arbory Bar and Arbory Afloat Team Are Opening a New Four-Storey Eatery This December
The crowning jewel of the venue is a European garden party-themed rooftop, featuring 360-degree views of the city.
In December last year, we announced the latest ambitious project from the guys behind Arbory and Arbory Afloat: four stacked storeys of food and booze inside a 100 year-old CBD building.
Information was patchy in 2020 — all we knew was that this thing was going to be big — but now, we're happy to report, the project is opening next month. We've got a name and details and opening hours and everything.
The building will be called HER, a nod to the feminine architecture of 270 Lonsdale Street, and it'll be a multi-level hospitality, arts and music venue. Or, as the Arbory guys put it: "an entire building dedicated to the things Melbourne loves — fiery dining, immersive art and a vinyl soundtrack".
Each level will be connected by a bluestone-paved 'vertical laneway', featuring light installations from renowned lighting designer Hervé Descottes.
There's a lot to cover here. Four storeys' worth, in fact.
So let's start on the ground floor with HER BAR: a Parisian-inspired cocktail lounge, built around indie gins, aperitifs, spritzes and wine. There'll be an all-day French grazing menu down here, designed by Arbory's Executive Chef, Nick Bennett, and Head Chef, Josh Rudd. Expect woven cane ceilings, leather banquette booths and a 10-metre painting by local artist Eleanor Louise Butt.
Up on level one is the Music Room — literally an entire floor dedicated to sound. Inspired by the listening bars of Japan and Europe, the Music Room will feature scheduled DJ residencies throughout the week, pumping a handpicked collection of retro vinyl throughout the entire building.
With walls panelled in American walnut, and a ceiling light constellation designed by Hervé Descottes, Music Room guests will feel like they're sitting inside a giant speaker box. You can chill on the lounges here with bar snacks, boozy cocktails and a selection of top-drawer champagne.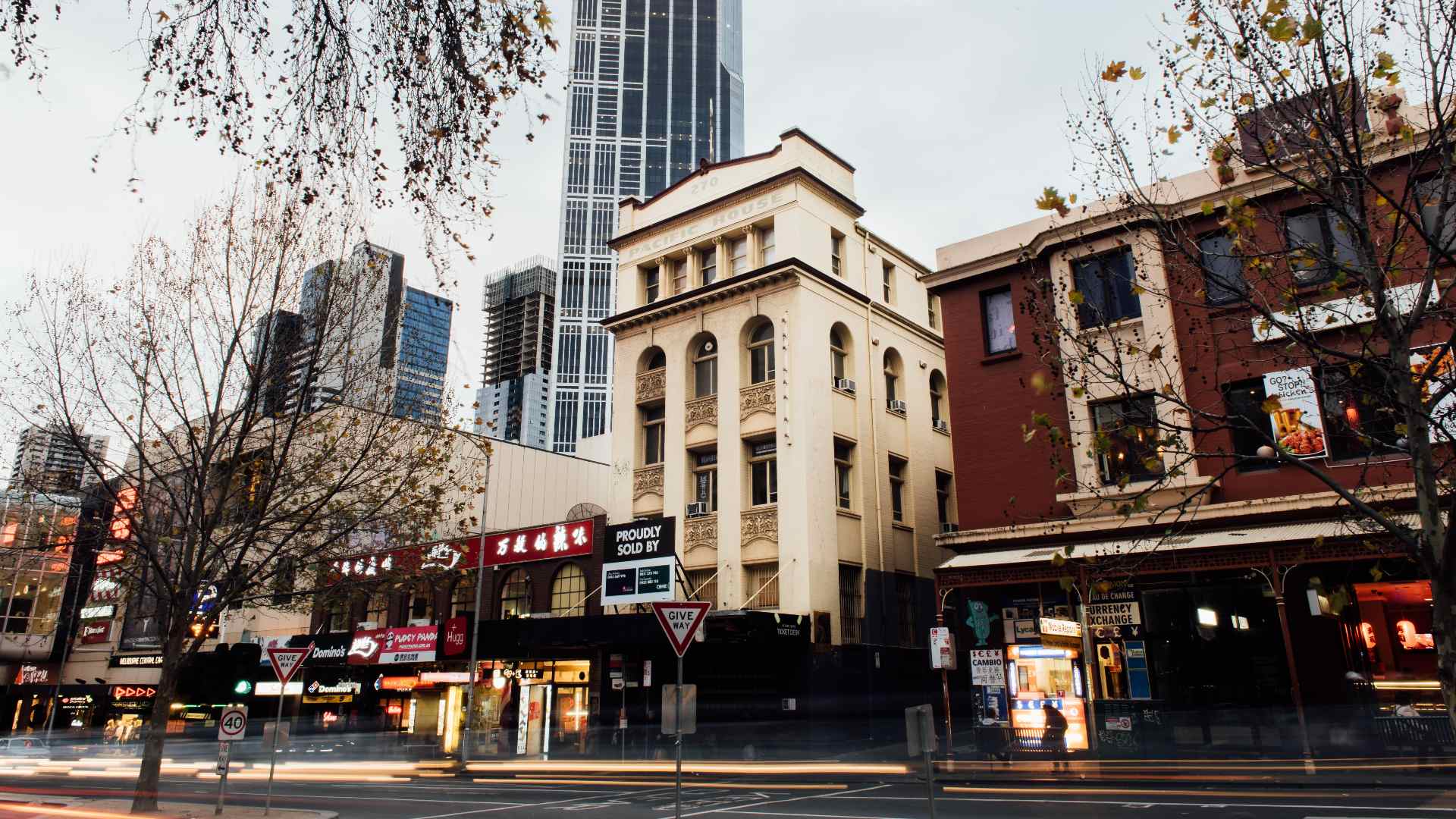 We're not done yet. On level three you've got BKK, a smoky Thai barbecue canteen, full of sizzle and spice. BKK is inspired by the night markets of Thailand, so expect plenty of LED advertising, Khao Soi BBQ skewers, fiery curries from north and south, and mugs of frosty Chang beer. Head Chef, Sungeun Mo and HQ Group's Executive Chef, Nick Bennett, are running the show up here, and this will be HER's primary dinner venue.
Finally, on top of the building, with 360-degree city views, we have HER ROOFTOP. Melbourne can never have enough rooftop bars, and this one looks ready to slot right into your weekend rotation. Sydney designer Tamsin Johnson has channelled a European garden party up here, with smashable drinks, wide awnings, French mid-century chairs and plenty of foliage. Food comes courtesy of BKK downstairs, and the bar will be pumping out summery cocktails all night long, including a potent Grapefruit Paloma.
"This project has involved so many creatives, people who love what they do, whether they express themselves visually, in design or in music, or make superb food or cocktails — and all in the one place. We think it's pretty special," says Georgie Larkins, Arbory's Marketing Director.
It's an ambitious project, for sure. In anyone else's hands, you might think the guys had bitten off slightly too much, but Arbory and Arbory afloat have polished their offering over the years, turning big-scale hospitality into a science, then an artform. We can't wait to taste this one from top to bottom.
HER is opening at 270 Lonsdale Street in December. Opening hours are as follows: HER BAR: 7am–3am, 7 days a week; Music Room: 4pm–3am, 7 days a week; BKK: 11:30am–3am, 7 days a week; HER ROOFTOP: 11:30am–1am, 7 days a week.
Published on November 23, 2021 by James Shackell