FOOD & DRINK
Flour to the People: Mark Free's Dream for the Flour Market
An interview with the mastermind behind the Flour Market, not your average bake sale.
Flour to the People: Mark Free's Dream for the Flour Market
An interview with the mastermind behind the Flour Market, not your average bake sale.
---
The line for the inaugural Flour Market in October last year could have been mistaken for a Beyonce meet and greet. So frenzied was the rush for specialty baked goods that the place was cleared of every last crumb within two hours. So popular was this super bake sale the first time around that early bird tickets were introduced (and sold out) for the keenest of beans to get first dibs before the crowds descended.
Mark Free is one of the masterminds behind the wildly successful Flour Market, a project he created to showcase the best of Melbourne's unrepresented emerging, artisan and underground baking community. With an impressive skillset including music making, party throwing, word doing and caffeine knowing, Free is somewhat of a jack (or in this case, Mark) of all trades, and as friendly as the nicest teacher from primary school.
One third of the dream team behind Collingwood's beloved Everyday Coffee (along with co-owners Joe Miranda and Aaron Maxwell), Free knows how to please a crowd. Their caffeine-focused cafe serves up some of Melbourne's best coffee along with delectable, special sweet treats to a strong crowd of loyal locals, 365 days a year.
While Everyday provides an outlet for a variety of bakers to sell their goods, Free recognised the need for a greater platform to bring together a much larger, relatively unknown baking community, and thus, the Flour Market was born.
Joining forces with the ever-fresh Seb Godfrey and Charlie Lawler of creative studio Open Season; endlessly hilarious, chronic doer-of-things Sarah Booth; and many others, Free built the Flour Market team into a tour de force of design, collaboration and puns (as good as the buns), supported by some of the most talented creatives in this city.
We spoke to Mark before he gets baked at Flour Market's third instalment this Sunday, April 13, at Fitzroy Town Hall.

Both of the previous Flour Markets sold out in a flash! Did you expect such an overwhelmingly positive response?
I don't really know what we expected. We just crossed our fingers, closed our eyes and hoped for the best.
How did you initially connect with the emerging, artisan, underground baking community, The Flour Market champions?
We searched high and low for the best of the best cakes and pastries when we opened Everyday Coffee, and as we met more and more of these specialist bakers I began to notice an emerging community. Now that Flour Market is established, lots of new talent seems to be coming out of the woodwork and contacting us, which is great.
What have you found the most challenging about the process of establishing the Flour Market?
Keeping up with demand while trying to remain true to our values.
Both Everyday Coffee and the Flour Market are known for collaborating with other local creatives. In general, how important is celebrating the local talent and community to you?
Collaboration is crucial. I believe there is strength in numbers when it comes to creativity. Melbourne's creative community has an almost small town feel to it. Everybody seems to know each other whether they're a painter, baker, barista, dancer, DJ or whatever, and each of us have a role to play in keeping this city vibrant.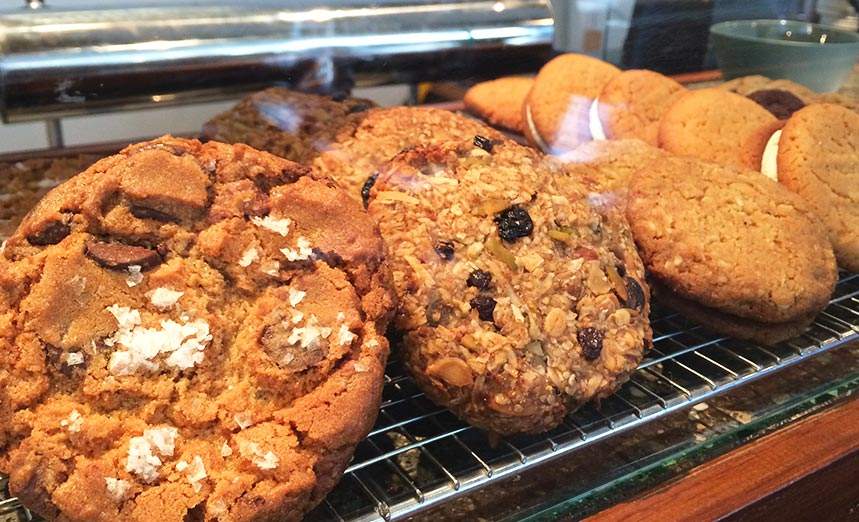 What's the *perfect* coffee snack?
This is tricky, because I like to tackle my treats one at a time, but a blueberry bagel and a sharp African coffee is a strong combo.
What goodies will you be taking home from the Flour Market this time?
That's if they make it home! All the vendors are amazing so it's hard not to sample one of everything. I think there will be a lot of Easter-themed goods, which I can't wait to sink my teeth into. I've asked the bakers to hot cross everything.
Each Flour Market has been bigger than the last; it obviously has the potential to continue evolving and expanding. What's next?
The sky's the limit! New York, London, the Southside … We've got heaps of great ideas that we can't wait to put in action. We'd love to take Flour Market to new places and connect with new communities. We'd also love to present some masterclasses to bring out the baker within for some home enthusiasts. I could go on all day; suffice to say, we're very excited about where Flour Market is heading.

The Flour Market Easter Bake Sale is this Sunday, April 13, at Fitzroy Town Hall, 201 Napier Street, Fitzroy. From 9am till sold out. Entry is by gold coin donation.
Published on April 10, 2014 by Sally Tabart