Everything You Need to Put in Your Diary for August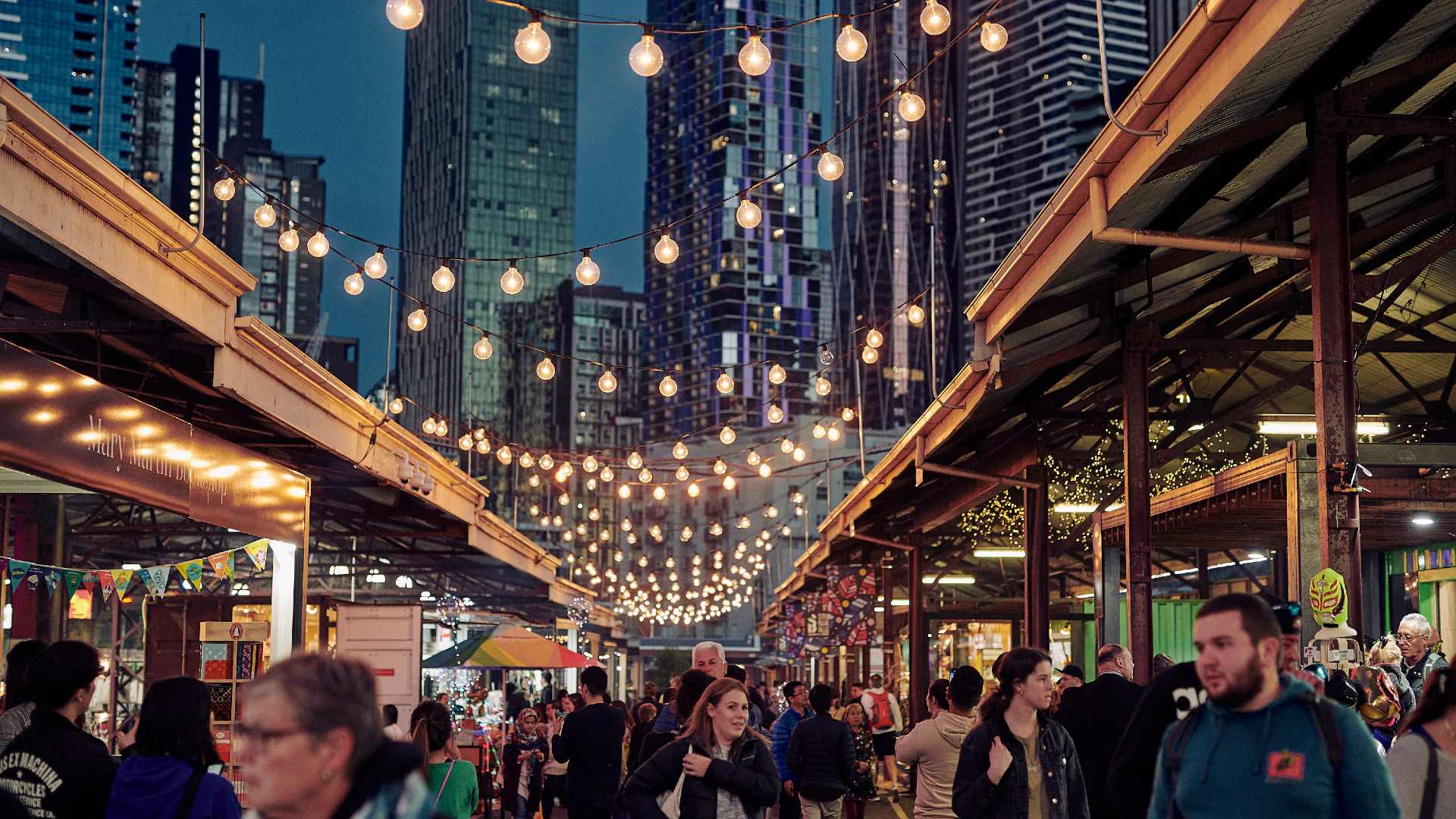 A lot happens in this big, bustling city of ours. Think movie marathons, exhibitions, and everything from booze-fuelled shindigs to outdoor adventures in between. And, of course, there's always more around the corner, with next month no different. That means that there's plenty to look forward to, and plenty of activities to fill your diary to the brim. To help you plot things out, make plans with the gang and make the most of every moment, we've rounded up Melbourne's best happenings for August. Don't say you don't have anything to do this month.
Top image: The Queen Vic Winter Night Market.
Design & Style

Bringing the Byron Bay lifestyle to Melbourne for three days of market stalls, food trucks and glamping inspiration.

Food & Drink

Hear First Nations artists chat art and activism over a lunch feast filled with native ingredients.

Arts & Entertainment

To celebrate the Carlton cinema's 30th birthday, Cinema Nova is winding back its tickets to 90s prices for one day only.

Arts & Entertainment

Set in Walmajarri Country, this powerful performance explores the displacement and survival of First Nations people.

Arts & Entertainment

The Brisbane indie-poppers are hitting the W Melbourne pool deck for a one-off dance party to celebrate their latest release.

Arts & Entertainment

Science Gallery Melbourne has unveiled its latest interactive exhibition — a series of creatively-charged large-scale works diving into the idea of collective social behaviour.

Arts & Entertainment

This lively Australian drama hops between local music fests — and will make you want to go to one ASAP.

Arts & Entertainment

Solely compiled from archival footage, this expertly edited documentary about Diana, Princess of Wales and her treatment by the media would make a gripping double feature with 'Spencer'.

Food & Drink

From the minds behind Melbourne's long-running gin markets comes this four-day celebration of dark booze.

Arts & Entertainment

Can't make it to MIFF in-person? Keen to fit more movies into your day? This year's Melbourne International Film Festival is streaming 77 films over two and a half weeks.

Arts & Entertainment

After 'Get Out' and 'Us', Jordan Peele adds another bold, intelligent, eerie and supremely entertaining horror masterpiece to his resume.

Travel & Leisure

Experience Minor Figure's new limited-edition sip — while soaking up tunes and coffee aromas in a psychedelic greenhouse.

Arts & Entertainment

A group of furry animal shelter residents have become artists — and you can browse and buy their work at this one-night-only fundraising exhibition.

Travel & Leisure

Pay tribute to Olivia Newton-John by donning lycra and getting physical — in-person in Sydney, or at home around the country via livestream.

Food & Drink

Prince Dining Room is teaming up with Firebird for a flame-driven feast fusing Vietnamese and Mediterranean flavours.

Food & Drink

Archie Rose is hosting a toasty cocktail session dedicated to warm gin concoctions through the ages.

Food & Drink

Feast your way through unlimited pork belly, chicken schnitzels, chicken wings and German sausages.

Arts & Entertainment

If 'Amelie' and 'Knives Out' combined, the end result would look like this candy-coloured French whodunnit.

Arts & Entertainment

Stare up at the full-dome screen with a drink in your hand as cosmic content enthrals you.

Food & Drink

Spotswood's huge food precinct is dishing up a three-day funghi fest, with a bounty of truffle dishes from all corners of the globe.

Arts & Entertainment

Brad Pitt's charisma, scene-stealing supporting players and spectacular stunt choreography help this assassins-on-a-train action-comedy mostly prove a blast.

Food & Drink

There's a new ice cream sandwich in town — and it's got its own pop-up drive-thru, slinging freebies all weekend long.

Food & Drink

Eltham's rising star distillery is hitting the eastern suburbs for a lavish cocktail-matched gin dinner.

Arts & Entertainment

This otherworldly, multi-artist exhibition will envelop the Abbotsford Convent grounds for five weeks — and it's free to explore after sunset each night.

Arts & Entertainment

This French standout turns a single mother and five-star hotel chambermaid's hectic daily routine into a relentless thriller.

Food & Drink

Come for the bottomless pizza — stick around for dance-friendly tunes from Boogs, Luke Vecchio, Sunshine and more.

Travel & Leisure

Immerse yourself in 90s nostalgia — and a dedicated cereal bar — at this retro winter pop-up.

Food & Drink

Right through August, tuck into exclusive $49, $79 and $99 three-course menus at restaurants across Melbourne.

Travel & Leisure

This annual event pulls in snowboarders of all ages and skills from beginners to Olympians.

Food & Drink

For one day only, this beloved cake biz is serving its masterful creations by the slice — along with cookies, brownies and more.

Design & Style

Hit the pub for a hands-on terrarium class led by The Plant Whisperer.

Food & Drink

This limited-edition weekly yum cha series will spice up your Sunday with dim sum, DJ tunes and teapot cocktails.

Food & Drink

Brunswick's free-flowing gnocchi and cocktail feasts are back — and this time, the menu's vegan- and gluten-free-friendly.

Arts & Entertainment

MIFF is finally back in-person for the first time since 2019 — and more than 370 features, shorts and extended-reality titles are taking over Melbourne's cinemas.

Food & Drink

A three-day celebration of dark beer and live music to warm up your winter.

Arts & Entertainment

Penélope Cruz and Antonio Banderas are fantastic in this sharp and witty Spanish Argentine comedy about filmmaking.

Food & Drink

The restaurant's firing up the spit for a month of lamb-centric menu specials.

Food & Drink

The former Bar Saracen chef and master of modern Middle Eastern cooking returns to Flinders Lane for another two-week feasting series.

Arts & Entertainment

This month, hit QT's all-weather rooftop bar for a Tuesday night flick and free popcorn.

Food & Drink

This month-long extravaganza will get you through to winter's end, complete with OTT, boozy and indulgent hot chocolates.

Arts & Entertainment

This 'Spicks and Specks' and 'Rockwiz'-style live variety show is hitting Brunswick Ballroom for two big nights.

Arts & Entertainment

This 2018 bestseller jumps from the page to the screen, but proves as pristine and polished as a swampy southern gothic murder-mystery melodrama can be.

Food & Drink

Each night of Melbourne's Splendour sideshows, this pop-up will be slinging street food, cocktails and big festival energy — and you don't even need a ticket to get in.

Travel & Leisure

This fiesta of foliage has something for every kind of indoor plant-lover, with expert talks, workshops and a huge array of leafy market stalls.

Arts & Entertainment

Reteaming with his 'Sinister' director Scott Derrickson, Ethan Hawke is unnervingly excellent in this tense and eerie 70s-set horror film.

Food & Drink

The Queen Vic Market's legendary winter sessions have returned to fire up your Wednesday nights.

Arts & Entertainment

Explore echo light chambers, bound your way into giant bubbles and wander between shimmering digital vines at Docklands.

Arts & Entertainment

Ryan Gosling and Chris Evans bounce off of each other with chalk-and-cheese aplomb in this globe-hopping action-thriller, Netflix's most expensive film to date.

Arts & Entertainment

Based on a true story, this entertaining Mark Rylance-starring underdog comedy focuses on the British man dubbed "the world's worst professional golfer".

Food & Drink

The Q is spending the rest of winter celebrating Marionette's innovative fruit liquers with a drinks showcase and special cocktail menu.

Food & Drink

Join Lagotto for a series of Italian truffle feasts filled with classic dishes that have been cleverly reimagined.

Travel & Leisure

This life-drawing class features a RuPaul's Drag Race star as your glamorous art model.

Food & Drink

For three weeks, El Camino Cantina is splashing together Long Island iced teas and margaritas in one boozy beverage.

Food & Drink

A spirits festival devoted entirely to Victorian craft booze, with a program of masterclasses you won't want to miss.

Arts & Entertainment

Taika Waititi's second 'Thor' film is a ball of playful, goofy, 80s-worshipping chaos — in both fun and messy ways.

Arts & Entertainment

Catch the Eric Bana-starring gem at this year's Melbourne International Film Festival — with a brand-new, completely original score played live.

Food & Drink

Mr Joe's new Thursday night deal will level up your midweek dinner game, with half-price paella and bottomless cocktails to match.

Food & Drink

Elevate your Tuesday night dinner with an unlimited side serve of hot, crispy fries.

Arts & Entertainment

Calling all Nordic cinema fans: Australia's annual showcase of Scandi movies returns to Melbourne.

Food & Drink

Windsor's long-standing modern Japanese diner is descending on QT Melbourne for a two-month dinner pop-up driven by smoke and char.

Food & Drink

Richmond's Baby Pizza is bringing the Euro holiday vibes, serving up spritz, beer and cocktail specials from 3–5pm daily throughout winter.

Arts & Entertainment

Strap yourself into a section of a real airplane, and prepare for an eventful and immersive experience.

Arts & Entertainment

Sydney Theatre Company's smash-hit production of the Oscar Wilde novel is a groundbreaking one — the one-person show features a sole actor playing all 26 characters. And, it's coming to Melbourne.

Arts & Entertainment

This West End hit explores the stories of Henry VIII's six wives — by getting them to sing at a pop concert.

Design & Style

An immersive, multi-sensory adventure awaits at Melbourne's premiere of this intergalactic exhibition.

Travel & Leisure

Satisfy your need for speed for an opportunity to win a trip to the Singapore Grand Prix.

Food & Drink

Now you can get your slurp on with budget-friendly bowls of ramen every Wednesday and Thursday evening at Brunswick's Project281.

Arts & Entertainment

See hundreds of years of iconic artworks from the NGV collection examined through a queer lens.

Arts & Entertainment

Munro's first Australian exhibition is an experimental, immersive light installation exploring the human experience.

Arts & Entertainment

The NGV's new exhibit explores Australian identity through unconventional portraiture.

Food & Drink

Fargo & Co's rooftop has scored a bunch of mini ski chalets, which you can book for a cosy session of Grey Goose drinks and pink chocolate fondue.

Food & Drink

Everything inside the zero-impact venue has been constructed from materials that are either recycled or can be reused or composted.

Travel & Leisure

Enjoy drinks, snacks and beats while you party poolside — even in winter.

Food & Drink

Don Taco is serving up all-you-can-eat vegan tacos every Tuesday for just $20 per person.

Arts & Entertainment

This ACMI retrospective showcases an award-winning documentarian and his commitment to examining American institutions.

Arts & Entertainment

Scope out more than 70 works by the Spanish artist, as well as 100-plus others from over 50 of his contemporaries.

Arts & Entertainment

This Melbourne-exclusive showcase from the UK's Tate galleries features more than 70 works, including pieces by Claude Monet and Yayoi Kusama.

Arts & Entertainment

This after-dark light show is taking over the Royal Botanic Gardens Melbourne this winter, featuring a 1.8-kilometre trail of light and colour.

Food & Drink

Bring the big weekend energy to your Saturday afternoon with this bottomless boozy bingo brunch.

Arts & Entertainment

A slice of Ancient Greece is coming to Australia, with 44 works and artefacts dating back to the early bronze age on display at Melbourne Museum.

Arts & Entertainment

From 'The Starry Night' to 'Sunflowers', the artist's masterpieces are on display like never before at Australia's first immersive digital gallery.

Food & Drink

A new Fitzroy market showcase a top selection of local food producers each Saturday.
Tap and select
Add to Home Screen
to access Concrete Playground easily next time.
x