ARTS & ENTERTAINMENT
The Best Things to Do in Melbourne This Week
Catch live entertainment at the Sidney Myer Music Bowl, or head to St Kilda to catch a series of never-before-seen artworks.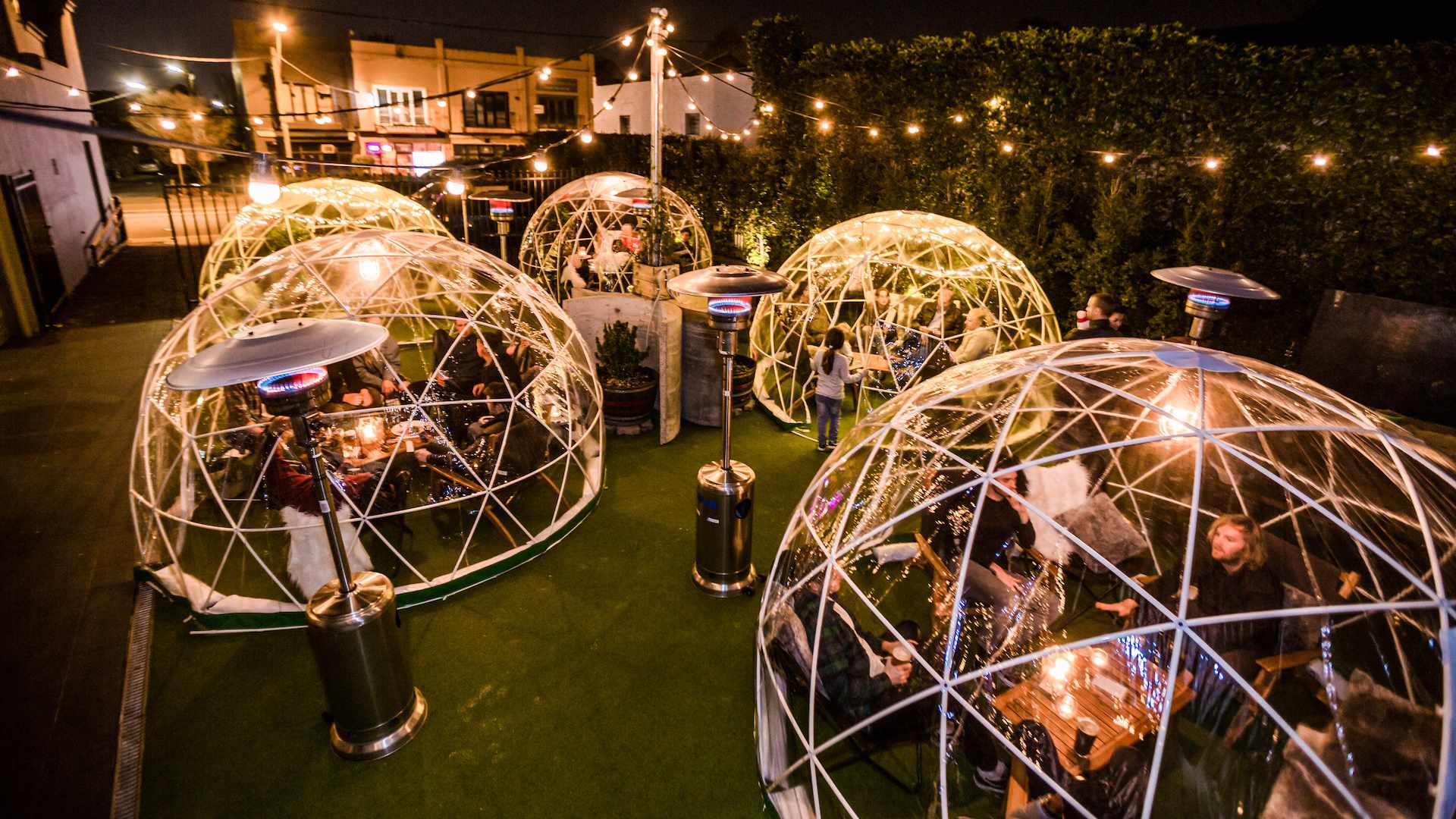 Heading back to the ol' daily grind can be pretty damn awful after a bright and shiny weekend of picnicking, bar hopping and patting dogs that aren't yours, but luckily Melbourne's a 'keep the ball rolling' kind of city and has plenty of events, exhibitions, theatre, film festivals and live music for you to inject a little awesomeness into your week. Sure, use Monday for Netflix binges. Then get out there and sink your teeth into Melbourne's best happenings this week.
Image: Winter Igloo Gardens
Arts & Entertainment

Sharp, relatable and also filled with cringe-inducingly awkward moments, this impressive debut feature spends a day at a shiva with a college senior.

Travel & Leisure

Put your trivia skills to the test via this regular live-streamed quiz night.

Food & Drink

This gluten-free patisserie is serving a special lineup of coeliac-friendly scones for one day only.

Food & Drink

Get a box filled with creative hot chocolate flavours delivered to your door.

Food & Drink

A month-long chocolate extravaganza to get you through to winter's end.

Arts & Entertainment

Immersive artworks, live tunes and French film masterpieces are all part of Fed Square's free winter program.

Arts & Entertainment

Melbourne's long-running citywide film festival returns — this time with a two-week online program that can be viewed nationally, and 11 days of in-cinema screenings.

Food & Drink

This food festival's Truffle Trail will send you adventuring through the market to scout out exclusive truffle-infused creations.

Arts & Entertainment

Dwayne Johnson and Emily Blunt make a delightful team in Disney's latest formulaic and corny flick based on a theme park ride.

Food & Drink

This ten-day festival showcases the Yarra Valley's cosiest winter offerings — and yes, that means wine in abundance.

Food & Drink

The Westin's cheese-themed high tea is back — with a limited-edition truffle-infused menu.

Arts & Entertainment

M Night Shyamalan's latest thriller is frequently unnerving, insidious and moving — and also a little too neat.

Arts & Entertainment

A winner at the 2020 Sundance Film Festival, this beautifully evocative existential drama follows unborn souls vying for a chance to live.

Arts & Entertainment

This female-focused action-thriller features stylish visuals and a stellar cast, but it also happily follows in other footsteps.

Arts & Entertainment

An advertisement masquerading as a movie, this 25-years-later sequel wastes both basketball superstar LeBron James and his animated Looney Tunes co-stars.

Arts & Entertainment

Australia's longest running and most prestigious art awards for Aboriginal and Torres Strait Islander artists is back — and you can catch it IRL or online.

Food & Drink

Richmond's Baby Pizza is serving up spritz, beer and cocktail specials from 12–5pm daily throughout winter.

Arts & Entertainment

Combining spy thrills with family dramas — and aided by a top-notch cast — the 24th film in the Marvel Cinematic Universe finally gives the first female Avenger her own solo feature.

Arts & Entertainment

You'll also need to listen to the three-part experience in your car — and in a room of your home.

Arts & Entertainment

Revisit this Heath Ledger and Rose Byrne-starring gem on the big screen, accompanied by a live score.

Food & Drink

This immersive winter pop-up is bringing a taste of the Italian Alps to inner-city Melbourne.

Arts & Entertainment

From the director of 'Sherpa' and 'Mountain', this documentary ponders how rivers shape the planet — and the ACO will perform its score live.

Food & Drink

Escape the winter chill inside your own cosy igloo, while sipping espresso martinis and mulled wine.

Food & Drink

Treat yourself to a sumptuous Sunday roast paired with free-flowing drinks.

Food & Drink

Banish those winter blues with cheese and bottomless wine.

Food & Drink

Head to Aperol's Après Ski Club this winter to enjoy a spritz in the city or on the slopes.

Food & Drink

The Westin's cheese-themed high tea is back — and it's as gouda as ever.

Arts & Entertainment

Explore the Mouse House's huge animated catalogue via more than 500 original paintings, sketches and drawings.

Travel & Leisure

Go ice skating, hang out in an igloo, enjoy a snow shower and dip marshmallows in espresso martini-flavoured chocolate fudge sauce.

Arts & Entertainment

Ahead of the NGV's much-hyped French Impressionism exhibition later this year, this show dives into Australia's own connection to the 19th-century art movement.

Food & Drink

Fitzroy North's Horn Please is serving up bottomless vegan curries (with rice and starters) every Sunday.

Food & Drink

St Kilda's PB's is hosting weekly all-you-can-eat pizza sessions — with endless margaritas, too.

Food & Drink

A gluten free, dairy free and nut free high tea that the whole crew can enjoy.

Arts & Entertainment

St Kilda's Jewish Museum of Australia will be home to never-before-seen Mora works.

Arts & Entertainment

Two-hundred of the oldest and strangest objects from London's Natural History Museum are coming to Melbourne.
Tap and select
Add to Home Screen
to access Concrete Playground easily next time.
x