The Best Things to Do in Melbourne This Week
Explore one of the city's many Christmas markets, catch a flick for The Astor's Scorsese birthday showcase, or hit Moon Dog's new pop-up bar for bevs and barbecue eats.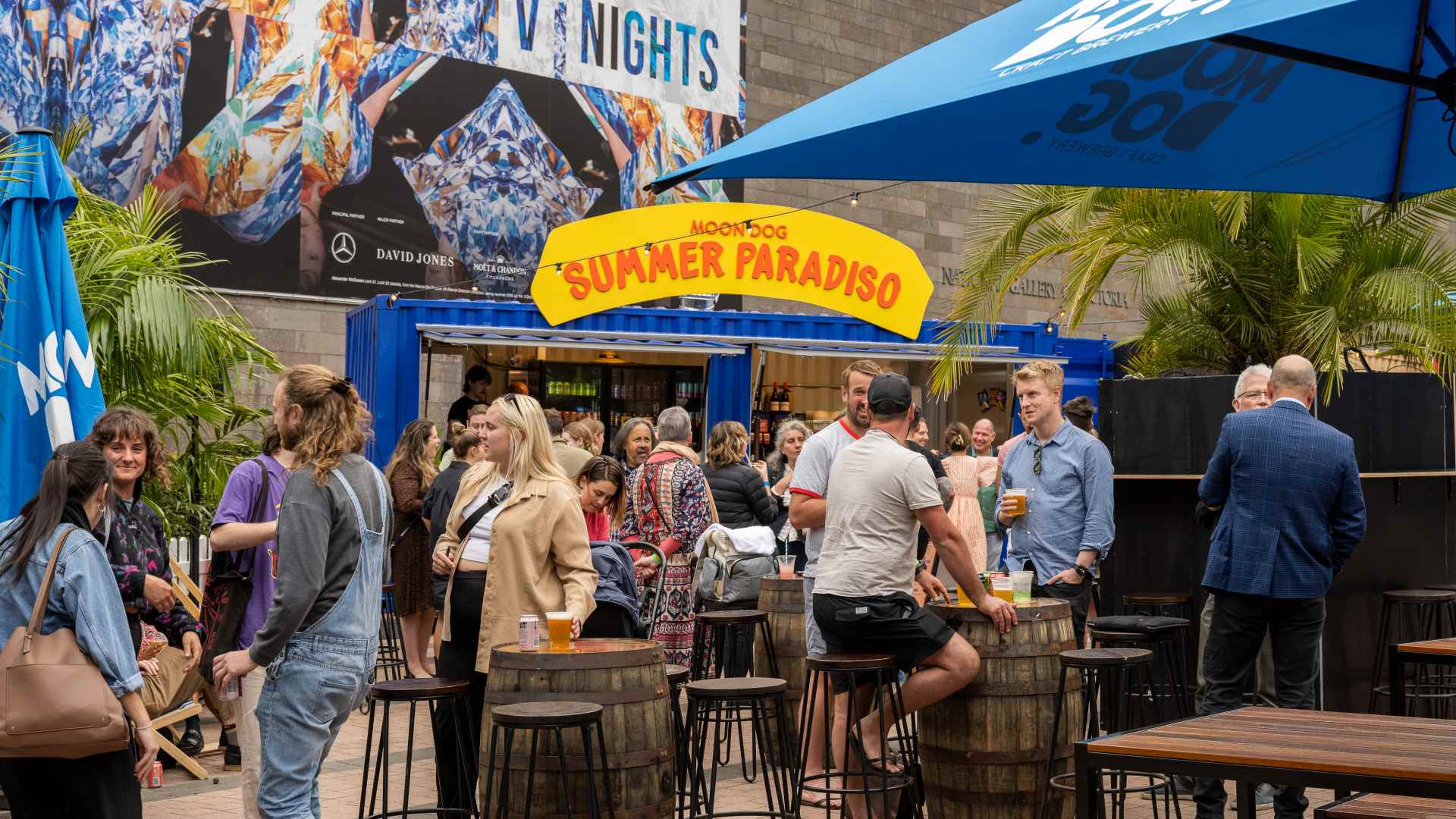 Heading back to the ol' daily grind can be pretty damn awful after a bright and shiny weekend of picnicking, bar hopping and patting dogs that aren't yours, but luckily Melbourne's a 'keep the ball rolling' kind of city and has plenty of events, exhibitions, theatre, film festivals and live music for you to inject a little awesomeness into your week. Sure, use Monday for Netflix binges. Then get out there and sink your teeth into Melbourne's best happenings this week.
Image: Moon Dog's Summer Paradiso.
Arts & Entertainment

Head north for three days of live tunes, market stalls, food pop-ups and family-friendly fun.

Arts & Entertainment

New Zealand filmmaker David Farrier has done it again, chronicling another story so wild that it can only be true — and this one started with an antiques store's car park.

Food & Drink

When The Beast CBD and Kenny Lover join forces, good things happen — including this fried chicken, waffles and Sriracha ice cream situation.

Travel & Leisure

Melbourne's Byron Bay-inspired market returns for a festive instalment — with a second all-vegan market running alongside.

Food & Drink

Put a Swedish spin on your festive season with three-course Christmas dinners at IKEA's Melbourne stores.

Arts & Entertainment

Taking a journey to the centre of an otherworldly realm, Walt Disney Animation Studios' 61st film is heartfelt, urgent and visually stunning.

Food & Drink

Nab some free chips in honour of this Aussie fish and chipper's birthday.

Food & Drink

Moon Dog is descending on the Arts Centre forecourt for a summer of bevs, beats and barbecue eats.

Arts & Entertainment

Casting David Harbour as a kick-ass Santa is a gift, but this festive action-comedy pilfers too many of its parts from other, better films.

Arts & Entertainment

Paying tribute to the one and only Dolly Parton, this Australian comedy follows a plucky impersonator swapping the nine-to-five for playing her idol.

Travel & Leisure

This festive pop-up will fill your Monday nights with gift shopping, Christmas carols and global eats.

Arts & Entertainment

The 'The Shape of Water' and 'Pan's Labyrinth' director's stop-motion take on the beloved 19th-century Italian tale might just be the most magical yet.

Travel & Leisure

Hit this monthly market for fashion, produce, food trucks, tunes — and a roller rink disco.

Arts & Entertainment

Timothée Chalamet and Taylor Russell play cannibal lovers road-tripping through America's midwest in this evocative and exquisite film from 'Call Me By Your Name' director Luca Guadagnino.

Food & Drink

Tuck into $9.95 schnitzels one day a week at The Bavarian.

Arts & Entertainment

A culinary thriller-slash-black comedy with bite, this Ralph Fiennes- and Anya Taylor-Joy-starring cinematic dish is savage, savvy and slickly satisfying.

Food & Drink

A little slice of New Orleans has landed in the Southbank Theatre Forecourt for summer.

Food & Drink

Pair this sweet and savoury high tea spread with bottomless, free-flowing drinks.

Arts & Entertainment

The Melbourne Shakespeare Company production is slated to arrive this December.

Arts & Entertainment

The Astor Theatre is paying tribute to a filmmaking icon with a month of movies, including rarely screened titles and select sessions on 35mm.

Arts & Entertainment

For his first movie in seven years, Oscar-winning director Alejandro González Iñárritu ponders the weight of being a filmmaker in a feature both spectacular and indulgent.

Arts & Entertainment

Carey Mulligan and Zoe Kazan lead this powerful newspaper drama, which follows the journalists who broke the Harvey Weinstein story.

Food & Drink

A star local distillery and a Fitzroy gallery are hosting Friday-night sips matched with after-hours art.

Travel & Leisure

Get your festive fix wandering through more than three million Christmas lights — plus, enjoy rides, entertainment and Christmas cocktails along the way.

Food & Drink

Melbourne's beloved nighttime food market is returning for a 15-week summer season, complete with global eats, live tunes, pop-up bars and shopping galore.

Food & Drink

Lean into summer — hit this Yarra Valley orchard for a day of cherry-picking, picnicking, live tunes and cherry ice cream.

Arts & Entertainment

This summer, enjoy live local jams and cold brews overlooking the waves at Melbourne's surf park.

Arts & Entertainment

This song-filled satirical stage version of the hit 90s sitcom will be there for Melburnians this year.

Arts & Entertainment

There's nothing false about this astute and hilarious NZ comedy about faking it till you make it in a social media-ruled world — or about Ana Scotney's exceptional performance.

Arts & Entertainment

Melbourne's digital gallery is diving into the French impressionist era with this multi-sensory exhibition.

Arts & Entertainment

Explore the iconic director's filmography on the big screen, including 'Taxi Driver', 'Goodfellas', 'The Departed' and more.

Arts & Entertainment

Discover the cultural and social diversity of working life over the years at the Immigration Museum's latest exhibition.

Arts & Entertainment

Cameron Mackintosh's spectacular new production of the legendary musical comes to Melbourne.

Arts & Entertainment

Hepworth's nature-inspired sculptors made her one of the leading artists of her generation, and notably the first female sculptor to achieve international recognition for her art.

Arts & Entertainment

Hawthorn's rooftop cinema returns for a fresh season with an impressive lineup of recent and classic flicks.

Design & Style

Powerful storytelling meets contemporary jewellery design for this compelling First Nations group exhibition.

Arts & Entertainment

Watch movies and sip drinks under the stars in Elsternwick over another spring and summer.

Food & Drink

This CBD spot is transporting you to the Amalfi Coast this summer, with holiday-worthy antipasto bites and Mediterranean cocktails.

Arts & Entertainment

Big releases, retro flicks, choc tops and popcorn — they're all back under the stars in Belgrave this spring and summer.

Food & Drink

Get messy with one of New Quarter's Cajun-Vietnamese seafood banquets — paired with bottomless booze, if you're thirsty.

Food & Drink

Chef Harry Mangat returns to his Red Hill home-away-from-home for a new spring weekend lunch series — and he's got some special guests in tow.

Travel & Leisure

Now, you don't even need to book a hotel room to spend a weekday living it up by W Melbourne's glam 14th-floor pool.

Design & Style

Melbourne Museum is playing host to the A-to-Z of Lego — including more than 150 impressive models, plus six interactive building zones.

Food & Drink

Bring the big weekend energy to your Saturday afternoon with this bottomless boozy bingo brunch.

Food & Drink

Elevate your Tuesday night dinner with an unlimited side serve of hot, crispy fries.

Travel & Leisure

This enchanting tiny palace features a roll-out stargazing sleep platform, luxe shower and eats by Alejandro Saravia.

Food & Drink

Don Taco is serving up all-you-can-eat vegan tacos every Tuesday for just $20 per person.

Food & Drink

A new Fitzroy market showcase a top selection of local food producers each Saturday.
Tap and select
Add to Home Screen
to access Concrete Playground easily next time.
x