The Best Things to Do in Melbourne This Week
Revel in the return of cinema with a movie under the stars, or sip local prosecco at a hidden rooftop bar.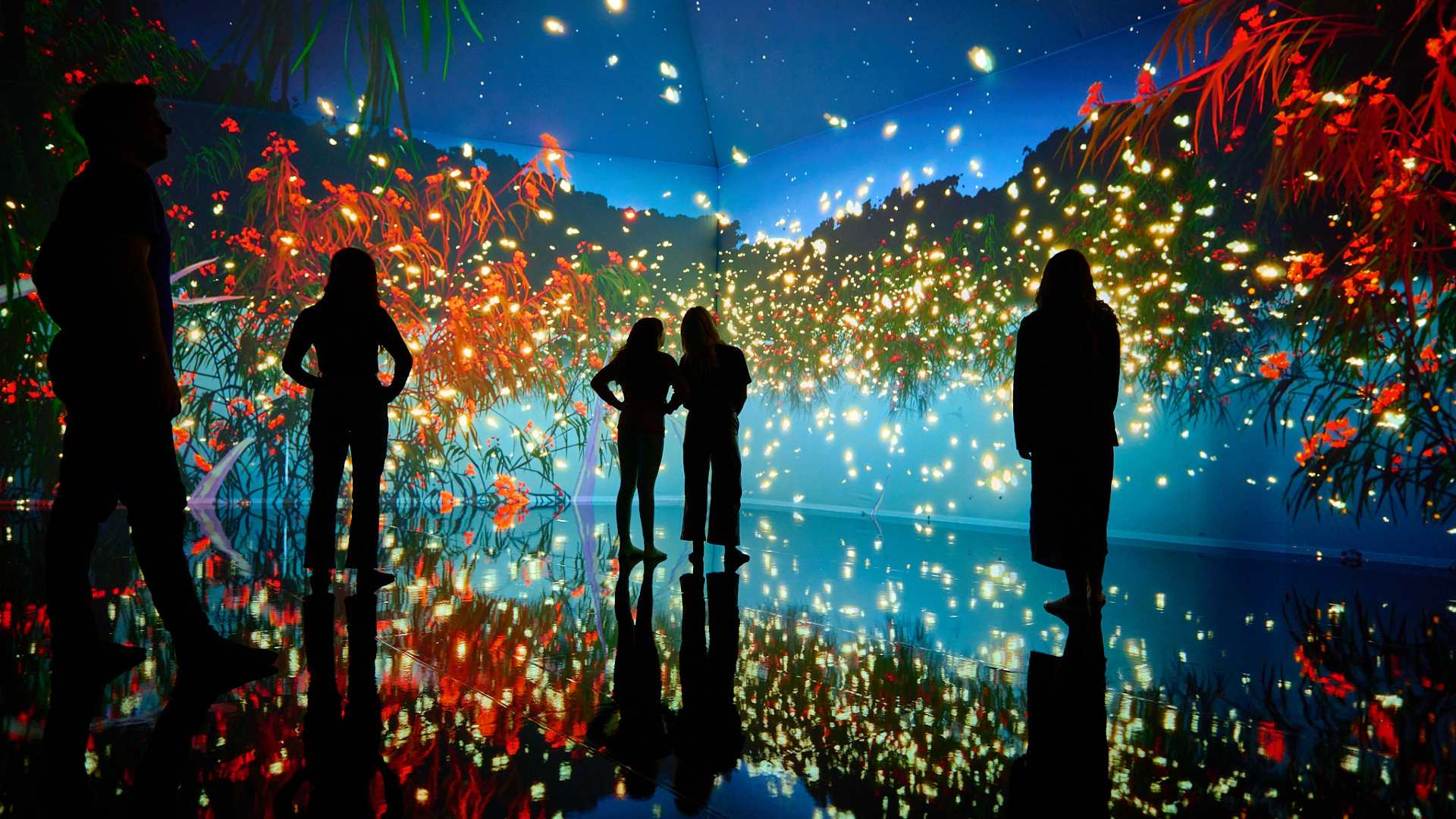 Heading back to the ol' daily grind can be pretty damn awful after a bright and shiny weekend of picnicking, bar hopping and patting dogs that aren't yours, but luckily Melbourne's a 'keep the ball rolling' kind of city and has plenty of events, exhibitions, theatre, film festivals and live music for you to inject a little awesomeness into your week. Sure, use Monday for Netflix binges. Then get out there and sink your teeth into Melbourne's best happenings this week.
Image: 'Tyama', by Eugene Hyland.
Travel & Leisure

Experience Minor Figure's new limited-edition sip — while soaking up tunes and coffee aromas in a psychedelic greenhouse.

Travel & Leisure

Pay tribute to Olivia Newton-John by donning lycra and getting physical — in-person in Sydney, or at home around the country via livestream.

Food & Drink

Archie Rose is hosting a toasty cocktail session dedicated to warm gin concoctions through the ages.

Food & Drink

Feast your way through unlimited pork belly, chicken schnitzels, chicken wings and German sausages.

Arts & Entertainment

If 'Amelie' and 'Knives Out' combined, the end result would look like this candy-coloured French whodunnit.

Arts & Entertainment

Stare up at the full-dome screen with a drink in your hand as cosmic content enthrals you.

Food & Drink

Spotswood's huge food precinct is dishing up a three-day funghi fest, with a bounty of truffle dishes from all corners of the globe.

Arts & Entertainment

Brad Pitt's charisma, scene-stealing supporting players and spectacular stunt choreography help this assassins-on-a-train action-comedy mostly prove a blast.

Food & Drink

There's a new ice cream sandwich in town — and it's got its own pop-up drive-thru, slinging freebies all weekend long.

Food & Drink

Eltham's rising star distillery is hitting the eastern suburbs for a lavish cocktail-matched gin dinner.

Arts & Entertainment

This French standout turns a single mother and five-star hotel chambermaid's hectic daily routine into a relentless thriller.

Food & Drink

Come for the bottomless pizza — stick around for dance-friendly tunes from Boogs, Luke Vecchio, Sunshine and more.

Travel & Leisure

Immerse yourself in 90s nostalgia — and a dedicated cereal bar — at this retro winter pop-up.

Food & Drink

Right through August, tuck into exclusive $49, $79 and $99 three-course menus at restaurants across Melbourne.

Food & Drink

Brunswick's free-flowing gnocchi and cocktail feasts are back — and this time, the menu's vegan- and gluten-free-friendly.

Arts & Entertainment

This month, hit QT's all-weather rooftop bar for a Tuesday night flick and free popcorn.

Travel & Leisure

This life-drawing class features a RuPaul's Drag Race star as your glamorous art model.

Arts & Entertainment

MIFF is finally back in-person for the first time since 2019 — and more than 370 features, shorts and extended-reality titles are taking over Melbourne's cinemas.

Arts & Entertainment

This thorny satirical drama benefits from Ralph Fiennes at his best, playing a loathsome wealthy Londoner holidaying in Morocco and immersed in a tragedy.

Arts & Entertainment

Penélope Cruz and Antonio Banderas are fantastic in this sharp and witty Spanish Argentine comedy about filmmaking.

Food & Drink

The restaurant's firing up the spit for a month of lamb-centric menu specials.

Food & Drink

The former Bar Saracen chef and master of modern Middle Eastern cooking returns to Flinders Lane for another two-week feasting series.

Food & Drink

Get creative hot chocolate flavours delivered to your door.

Food & Drink

This month-long extravaganza will get you through to winter's end, complete with OTT, boozy and indulgent hot chocolates.

Arts & Entertainment

This 2018 bestseller jumps from the page to the screen, but proves as pristine and polished as a swampy southern gothic murder-mystery melodrama can be.

Arts & Entertainment

Reteaming with his 'Sinister' director Scott Derrickson, Ethan Hawke is unnervingly excellent in this tense and eerie 70s-set horror film.

Food & Drink

The Queen Vic Market's legendary winter sessions have returned to fire up your Wednesday nights.

Arts & Entertainment

Explore echo light chambers, bound your way into giant bubbles and wander between shimmering digital vines at Docklands.

Food & Drink

The Q is spending the rest of winter celebrating Marionette's innovative fruit liquers with a drinks showcase and special cocktail menu.

Food & Drink

Join Lagotto for a series of Italian truffle feasts filled with classic dishes that have been cleverly reimagined.

Arts & Entertainment

Reawaken your connection to the natural world as you experience this exhibition's large-scale projections, interactive visuals and First Nations storytelling.

Travel & Leisure

Enjoy drinks, snacks and beats while you party poolside — even in winter.

Food & Drink

Bring the big weekend energy to your Saturday afternoon with this bottomless boozy bingo brunch.

Food & Drink

Windsor's long-standing modern Japanese diner is descending on QT Melbourne for a two-month dinner pop-up driven by smoke and char.

Food & Drink

Richmond's Baby Pizza is bringing the Euro holiday vibes, serving up spritz, beer and cocktail specials from 3–5pm daily throughout winter.

Arts & Entertainment

Strap yourself into a section of a real airplane, and prepare for an eventful and immersive experience.

Design & Style

An immersive, multi-sensory adventure awaits at Melbourne's premiere of this intergalactic exhibition.

Arts & Entertainment

Scope out more than 70 works by the Spanish artist, as well as 100-plus others from over 50 of his contemporaries.

Arts & Entertainment

See hundreds of years of iconic artworks from the NGV collection examined through a queer lens.

Arts & Entertainment

Munro's first Australian exhibition is an experimental, immersive light installation exploring the human experience.

Arts & Entertainment

This Melbourne-exclusive showcase from the UK's Tate galleries features more than 70 works, including pieces by Claude Monet and Yayoi Kusama.

Arts & Entertainment

The NGV's new exhibit explores Australian identity through unconventional portraiture.

Arts & Entertainment

A slice of Ancient Greece is coming to Australia, with 44 works and artefacts dating back to the early bronze age on display at Melbourne Museum.

Food & Drink

Fargo & Co's rooftop has scored a bunch of mini ski chalets, which you can book for a cosy session of Grey Goose drinks and pink chocolate fondue.

Food & Drink

Mr Joe's new Thursday night deal will level up your midweek dinner game, with half-price paella and bottomless cocktails to match.

Arts & Entertainment

This ACMI retrospective showcases an award-winning documentarian and his commitment to examining American institutions.

Food & Drink

Elevate your Tuesday night dinner with an unlimited side serve of hot, crispy fries.

Food & Drink

Everything inside the zero-impact venue has been constructed from materials that are either recycled or can be reused or composted.

Food & Drink

Don Taco is serving up all-you-can-eat vegan tacos every Tuesday for just $20 per person.

Arts & Entertainment

From 'The Starry Night' to 'Sunflowers', the artist's masterpieces are on display like never before at The Lume, Australia's first immersive digital gallery.

Food & Drink

A new Fitzroy market showcase a top selection of local food producers each Saturday.
Tap and select
Add to Home Screen
to access Concrete Playground easily next time.
x