ARTS & ENTERTAINMENT
The Best Things to Do in Melbourne This Week
Try range of new and unorthodox gelato flavours before heading to St Kilda to catch a series of never-before-seen artworks.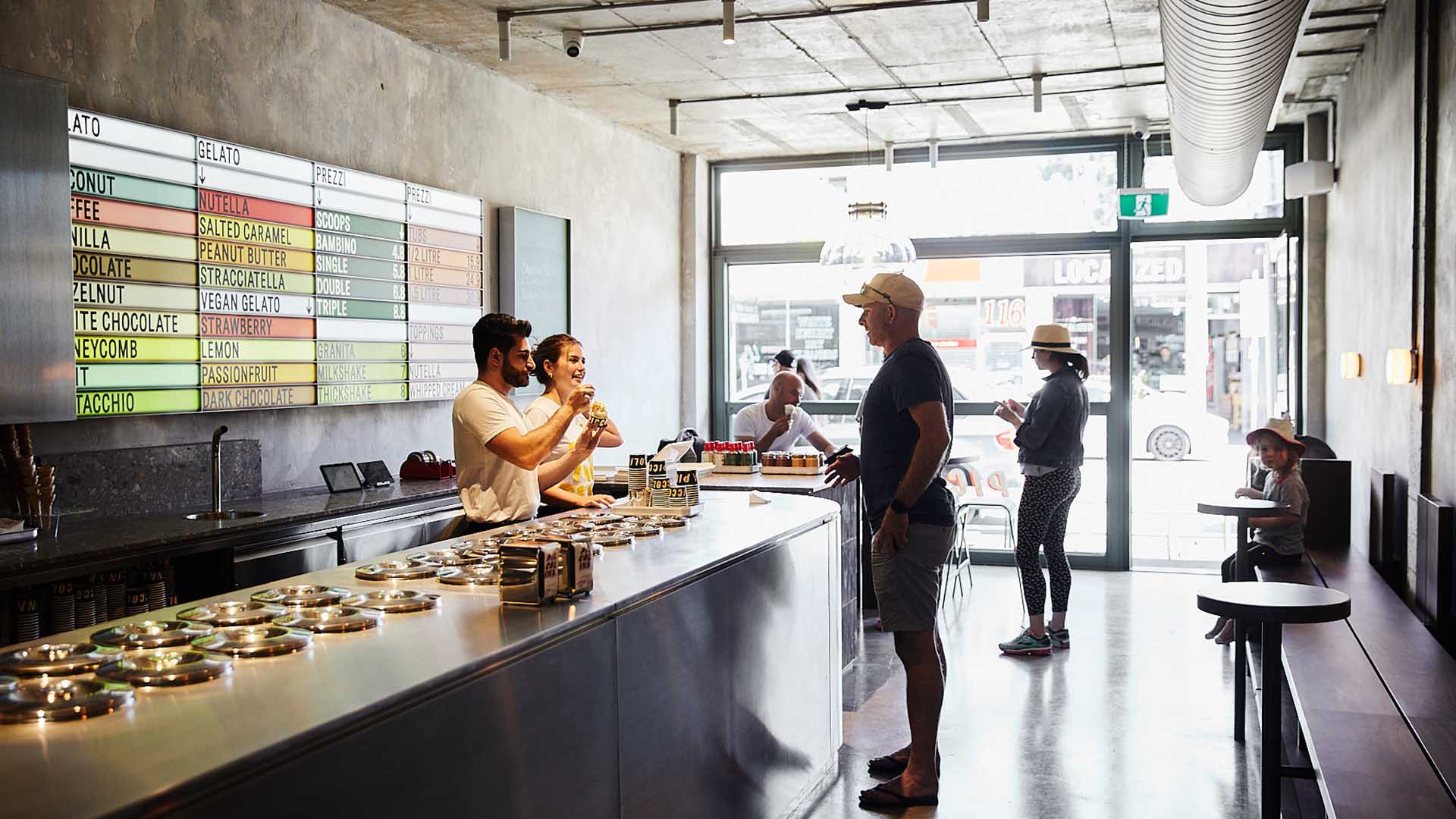 Heading back to the ol' daily grind can be pretty damn awful after a bright and shiny weekend of picnicking, bar hopping and patting dogs that aren't yours, but luckily Melbourne's a 'keep the ball rolling' kind of city and has plenty of events, exhibitions, theatre, film festivals and live music for you to inject a little awesomeness into your week. Sure, use Monday for Netflix binges. Then get out there and sink your teeth into Melbourne's best happenings this week.
Image: Piccolina
Food & Drink

An entire day of hot sauce, chilli shots and Melbourne's spiciest foods.

Arts & Entertainment

Nominated for two Oscars, this compelling and confronting Romanian documentary spirals from a tragic fire to corruption in the country's health system.

Arts & Entertainment

This space-set survival-of-the-fittest thriller brings plenty of other movies to mind, but manages to still feel resonant enough.

Food & Drink

This pooch-friendly beer fest features tastings, food trucks and even doggy brews.

Food & Drink

Enjoy Matt Wilkinson's latest brunch creations while looking over Montalto Estate's scenic winery.

Arts & Entertainment

Lego finds a way — with more than 50 dinosaurs, props and scenes from the movie built out of the popular plastic bricks.

Travel & Leisure

The fiercest rivalry in Australian soccer returns this weekend.

Food & Drink

A two-day gin festival celebrating Patient Wolf's new eco-friendly soda and tonic fountain.

Arts & Entertainment

Watch retro favourites on the big screen over a burger and a drink — all for $25.

Arts & Entertainment

With remarkable performances from Anthony Hopkins and Olivia Colman and a purposefully puzzle-like approach, this drama about dementia leaves a lasting imprint.

Arts & Entertainment

Bob Odenkirk stars in this 'John Wick'-style action-thriller, sliding into a gleefully OTT film with flair and texture.

Food & Drink

Ten weeks, ten creative schnitzel variations — and a cheeky $10 Wednesday special if you want to sample them all.

Arts & Entertainment

This fascinating, thoughtful and moving documentary tells an astonishing true tale about an artist confronting the man who stole two of her paintings.

Arts & Entertainment

This paws-versus-claws battle is at its best when it's going all-out on the action and fantasy fronts.

Arts & Entertainment

This stand-up series sees laughs from some top Aussie comedians, delivered via headphones.

Food & Drink

Queen Victoria Market is dedicating Wednesday nights in April to space-themed cocktails and tunes — and food trucks and street food stalls, too.

Arts & Entertainment

Check out Nicolas Cage as an OTT outlaw and watch a documentary about whether we're living in a simulation at this celebration of out-there filmmaking.

Arts & Entertainment

Flex your creative skills at this free weekly arts and crafts gathering held at the pub.

Food & Drink

Sip your way through mango, watermelon, passionfruit and grape Nerds-flavoured margaritas.

Food & Drink

Fitzroy North's Horn Please is serving up bottomless vegan curries (with rice and starters) every Sunday.

Food & Drink

Eight chefs, eight weeks and 24 inventive new gelato flavours — including one made with caramelised radicchio.

Food & Drink

St Kilda's PB's is hosting weekly all-you-can-eat pizza sessions — with endless margaritas, too.

Food & Drink

This northside brewery is sporting a new backstreet beer garden, complete with food truck eats, DJ sounds and fresh beer aplenty.

Food & Drink

A gluten free, dairy free and nut free high tea that the whole crew can enjoy.

Arts & Entertainment

St Kilda's Jewish Museum of Australia will be home to never-before-seen Mora works.

Food & Drink

Unlimited shuffleboard, free-flowing bubbly and lobster rolls — this is one baller bottomless brunch.

Food & Drink

Enjoy signature spritz and fat prawn rolls, at this dog-friendly, riverside pop-up bar.

Arts & Entertainment

It's screening everything from 'The Big Lebowski' and 'Fargo' to 'No Country for Old Men' and 'Inside Llewyn Davis'.

Arts & Entertainment

A two-month COVID-safe music festival at the Sidney Myer Music Bowl featuring the likes of Missy Higgins, Lime Cordiale and Birds of Tokyo performing with the MSO.

Arts & Entertainment

A multi-sensory playground with light-filled mazes, inflatable bubbles and a black hole simulator is taking over The District Docklands.

Travel & Leisure

A pop-up pet market complete with dog photography, beer specials and dog-themed temporary tatts.

Arts & Entertainment

Celebrated street artist Rone returns to his roots for an immersive new exhibition in Geelong.

Arts & Entertainment

Break out the butterbeer — the acclaimed play has brought its magic back to the stage.
Tap and select
Add to Home Screen
to access Concrete Playground easily next time.
x